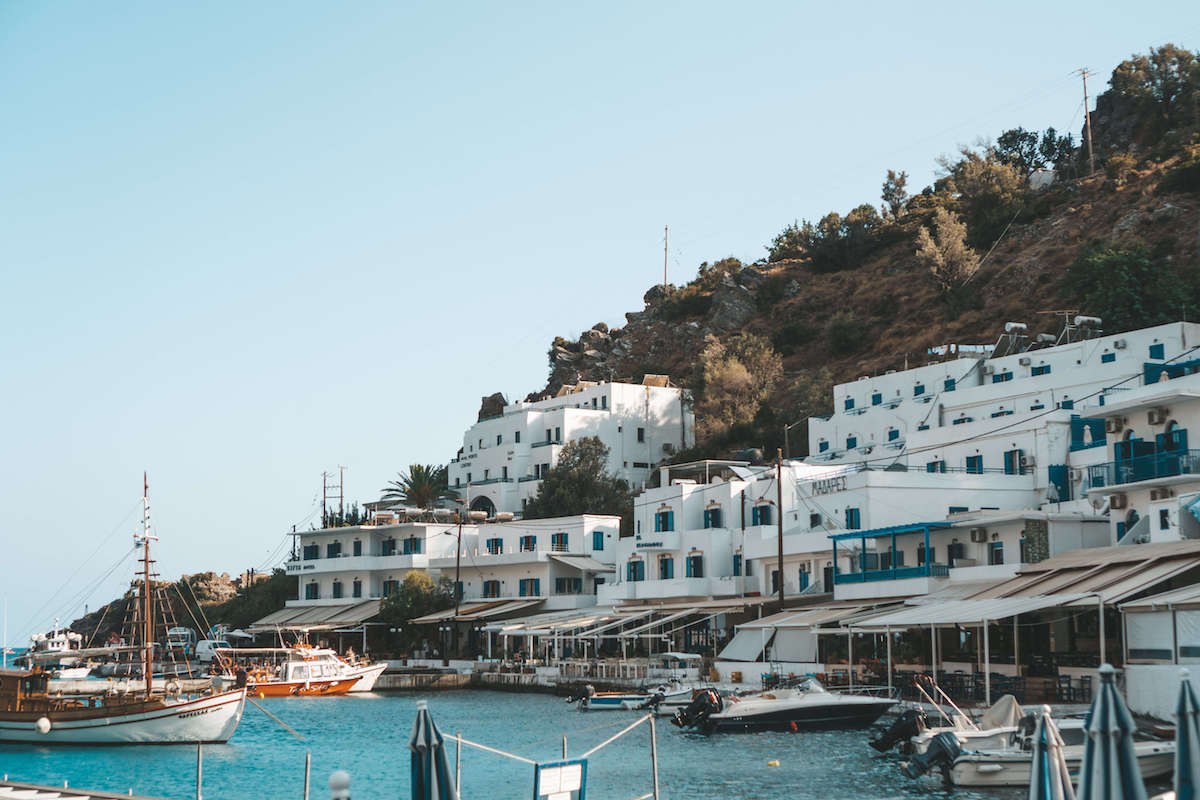 Loutro Crete is a sleepy fishing village on the South Coast of the Chania Region, featuring the ever-so-iconic white-washed villages of Greece. It's the best place we've ever seen and been to in all Europe, simply because of how untouched and offbeat this destination is.
It's a unique take into the landscapes and architecture of the Cyclades without all the crazy crowds that you often see in most Greek islands such as Santorini or Mykonos. 
It can only be reached by foot or by a small ferry boat, which guarantees an experience that is truly off-the-beaten track. Once you arrive, you will be taken aback by the crystal blue waters of the bay area along with rows and rows of whitewashed houses. 
Loutro is a secret paradise and this guide provides you with everything you need to know about how to visit this hidden white-washed village in Greece.
NO TIME TO READ? PIN THESE PHOTOS FOR LATER!
Loutro: A Hidden White-Washed Village in Greece
Loutro is located in the Chania Region, in the south coast about a 2 hour drive away from the main town of Chania.
It's the Southernmost point in all of Europe, nestled in the pristine waters of the Libyan Sea. Legends say that this town used to be the port of Anopolis and home to the ancient city of Phoenix. 
Due to its remote location, the town has an unparalleled charm to it. Hotels and restaurants are managed by locals.  The streets don't feel crowded and there are no roads built for cars. You can walk the whole town as you please and discover hidden pathways and viewpoints.
During our visit, there were only a handful of visitors while the rest were locals. In Loutro Crete, you can get a taste of what a relaxed and secluded destination in Greece should look like. 
It feels like the kind of thing you would only see in commercials of Greece, but that you don't believe actually exists in the same way. In this hidden white-washed village, we were blown away by how real it all was, and how it felt like stumbling upon a secret paradise. 
How to get to Loutro from Chora Sfakion
Ferry from Chora Sfakion to Loutro
As mentioned, there are only two ways to get from Chora Sfakion to Loutro Crete – by boat or by foot.  The most convenient way to go to Loutro would be by boat. The  ferry ride takes about 20 minutes and costs 6 euros.
Tickets can be bought from the booth at Chora Sfakion or at the boat itself. The schedules are also posted outside of the booth but generally, there is a boat every 2 hours starting from 10am until 7pm.
Alternatively, you can find the boat schedules here, if you want to plan in advance.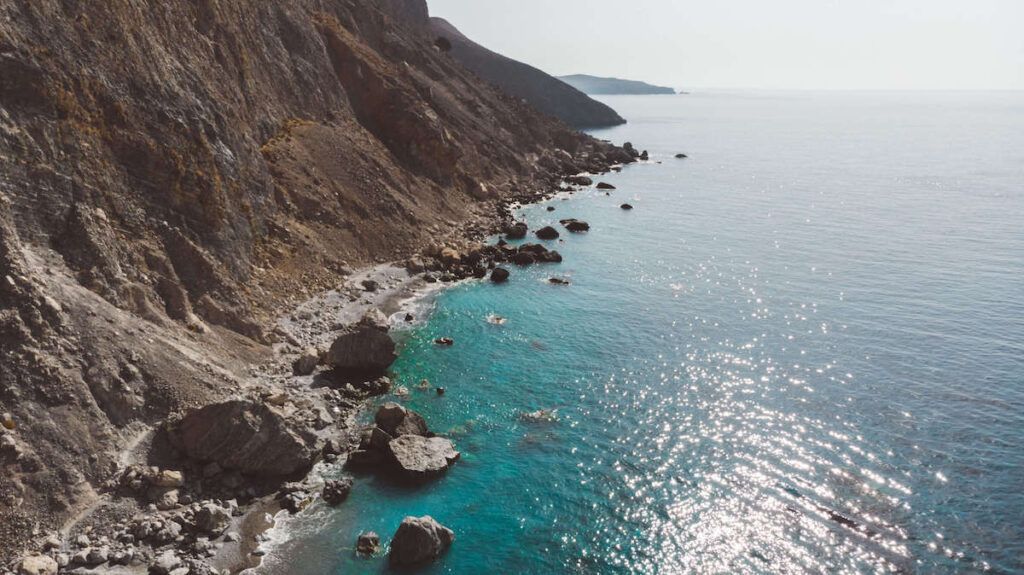 Hiking from Chora Sfakion to Loutro
For us, the best way to get from Chora Sfakion to Loutro Crete is to take the road less traveled by hiking. It's a relatively easy hike of 1 hour and 30 minutes to 2 hours through the E4 trail.
Below is a map of the trail you can follow from the jump-off point near the road following Ilingas Beach.
On the way to Loutro is the beautiful Sweetwater Beach Crete. It's the perfect place to take a break, lounge, relax, and simply, enjoy nature. This section of the hike takes about 20 to 30 minutes and from Sweetwater Beach to Loutro Crete, it's about 45 minutes to an hour.
We recommend to bring lots of water as the last leg of the hike can get quite rocky and hence, tiring, especially under the heat. It would also be good to bring hiking sticks with you as you will be walking through the edge of the cliff. Nonetheless, there are trail signs everywhere as well as ropes to guide you through the narrow pathways.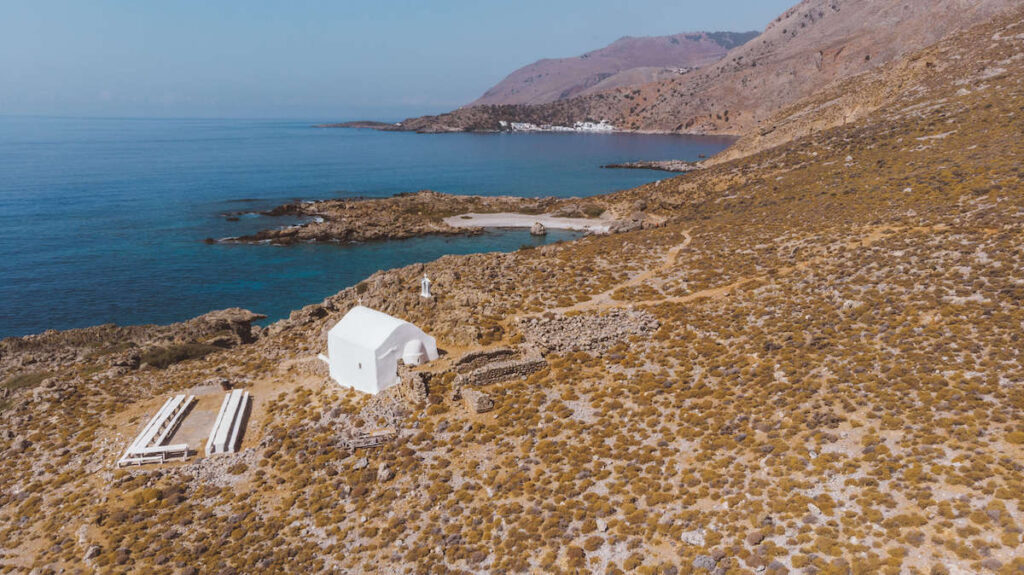 Where to Stay in Loutro Crete
Whether you're thinking of staying in Loutro for one night or for an entire week, there are many beautiful hotels you can choose from in this whitewashed village in Crete.
From beachfront properties to mountainous views, we've written up a separate guide that goes through the most beautiful hotels in Loutro Crete.
In this guide, we compare the options you can consider when planning your trip to Loutro with details such as the cost, the facilities, and the overall aesthetic of the hotel.
Read more from our blog post by clicking on the link below.
Things to do in Loutro Crete
Relax and do absolutely nothing
For us the best thing to do in Loutro is to do absolute nothing. This is the perfect place to simply relax, take in the boats coming in and out of the bay, lounge by the beach, get a tan, and eat delicious Greek food.
Loutro Crete is an ideal destination to have a secluded holiday where relaxation and basking in this hidden white-washed village in Greece should be your only priority.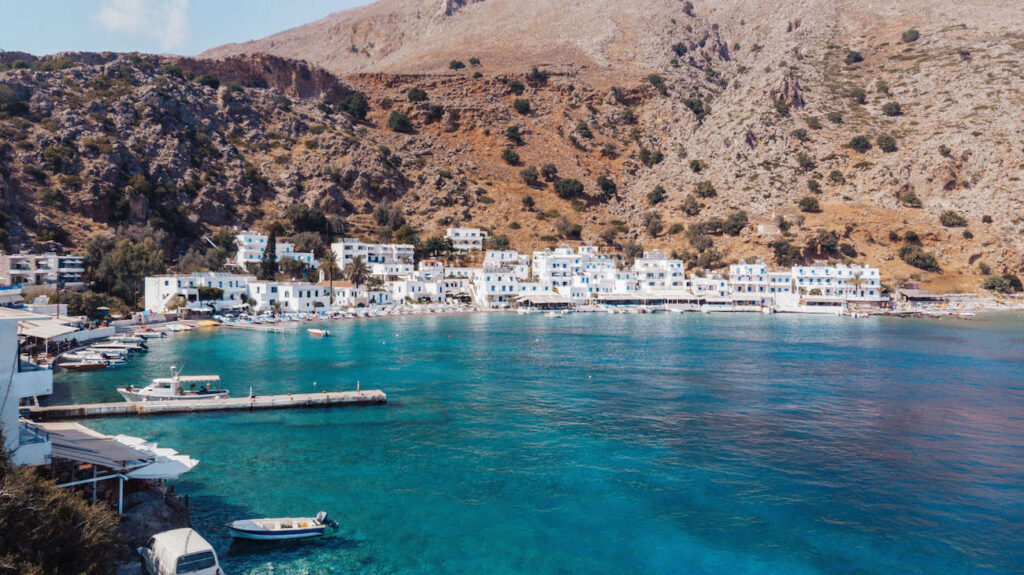 Eat delicious yet affordable Greek food with a view
In Loutro Crete, you can literally eat for 20 euros, good for two people (yes, we said 2 people!), yet have a beachfront view of the white houses that surround the bay.
When thinking of places like Mykonos or Santorini, it's way more expensive to find a seaside restaurant at that price point. That's what we loved most about this hidden white-washed village in Greece – it's offbeat yet budget-friendly.
Loutro has some of the clearest waters we've seen in all of Europe. As a tip, we advise you to bring your own snorkeling gear and rent a kayak or fishing boat. Explore the surrounding Libyan sea and dive into the water to discover some of the marine life.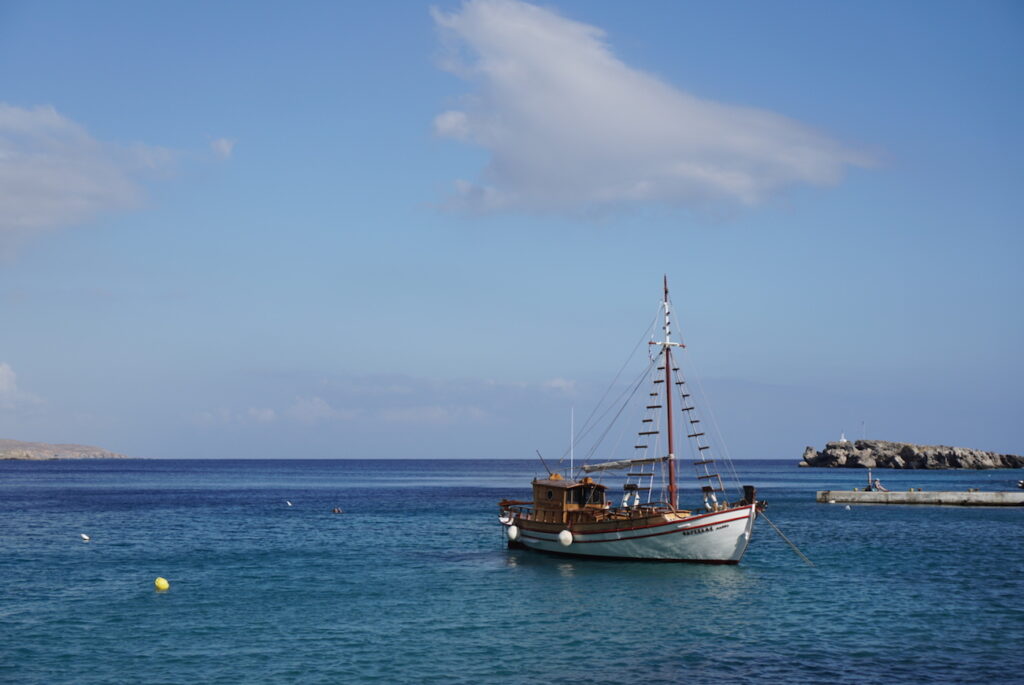 Stroll around the village and its viewpoints
There are absolutely no roads for cars in Loutro, which makes it an an enjoyable place to stroll around this hidden white-washed village in Greece. The town has been uniquely built to form a u-shape which makes it doable to walk from one end to another and be rewarded with the most stunning views of the town from afar.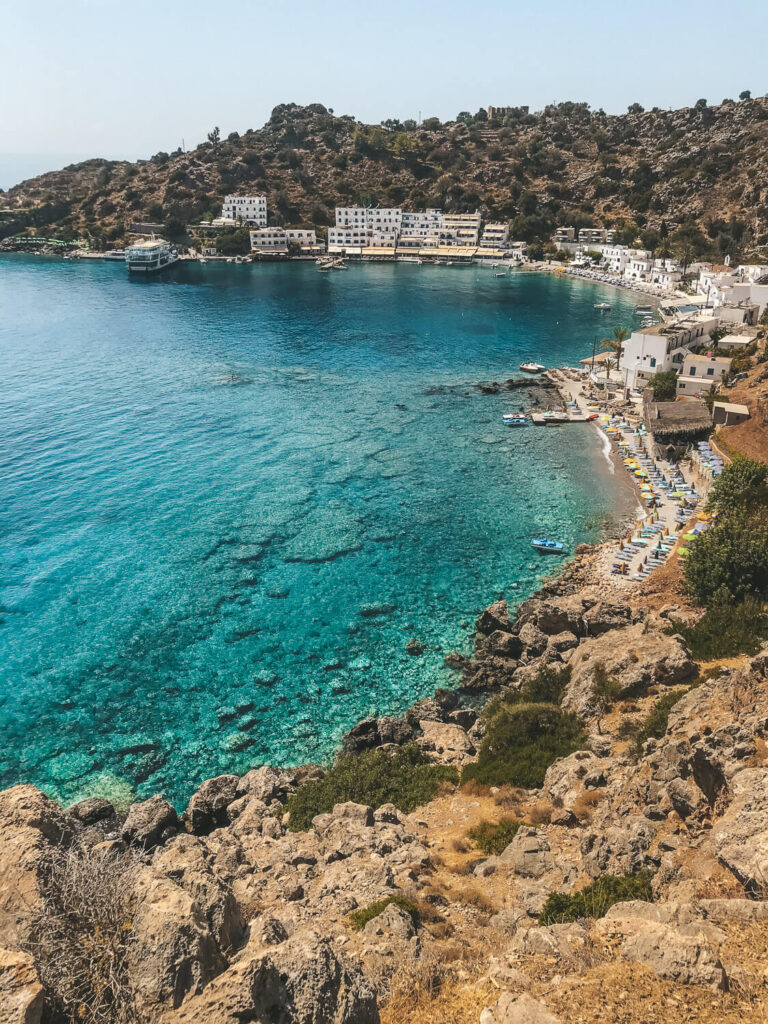 Things to do near Loutro Crete
Hike to the historic village of Anopolis
Crete is one of the best Greek Islands for families and near the town Loutro, you'll have many opportunities to go outdoors with your kids and loved ones.
One example is the historic Anopolis, wherein the wall dating all the way to the 3rd century can still be seen. It's about 2 hours away from Loutro. 
In Anopolis, you can see the Palace of Knossos which is one of the most spectacular archeological cities that remains from the revolution in Greece as well as discover some of the iconic Byzantine churches of Crete.
Below is a map of the trail you can follow to the ancient Anopolis.
Hike to Saint Catherine's Church
If you're already planning to go to Anopolis, a stop to Saint Catherine's Church is a must. It's about a 1 hour and 30 minutes ascent which can be quite difficult, but the view when you get there is so worth it! Going back to Loutro should be quicker at a 1 hour descent. 
Below is a map of the trail you can follow.
Hike to the nearby beaches
Aside from Sweetwater Beach, there are also other great remote beaches around Loutro, such as Marmara Beach, Finikas Beach, and Likos Beach. These are all within an hour hike away and offer a secluded experience similar to Sweetwater. 
Below is a trail you can follow to cover all these beaches near Loutro.
Hike the imposing wonders of Aradena Gorge
If you're feeling more adventurous and want to do a more difficult hike, you can take the trail all the way to Aradena Gorge. It is about a 2 to 4 hour hike but offers the most imposing views of the gorges in all its wonder. It's also less visited than the famous Samaria Gorge. 
Here, you will be surrounded by deep-red stone walls and coarse rocks, along with a beautiful view of the Libyan sea from high above. 
Do note that this trail is quite steep and narrow so it is only advised for more experienced hikers. As an alternative for those who don't want to do a long hike, you can also take the boat from Loutro to Marmara Beach and from there, hike all the way to Aradena Gorge.
Below is a map of the trail you can follow to Aradena Gorge.
Our Final Thoughts on Loutro Crete
So there you have it! We hope this helps you in your planned trip to Loutro Crete. It's honestly one of the best offbeat destinations we've been to in all of Europe and one we hope to visit again. This hidden white-washed village in Greece is a paradise we will always remember and that we would recommend to anyone who's looking for a secluded experience.
How about you? Have you been to Greece? Were you able to visit Loutro in Crete? Let us know your questions and travel stories in the comments below.
LIKE THIS POST? PIN IT FOR LATER!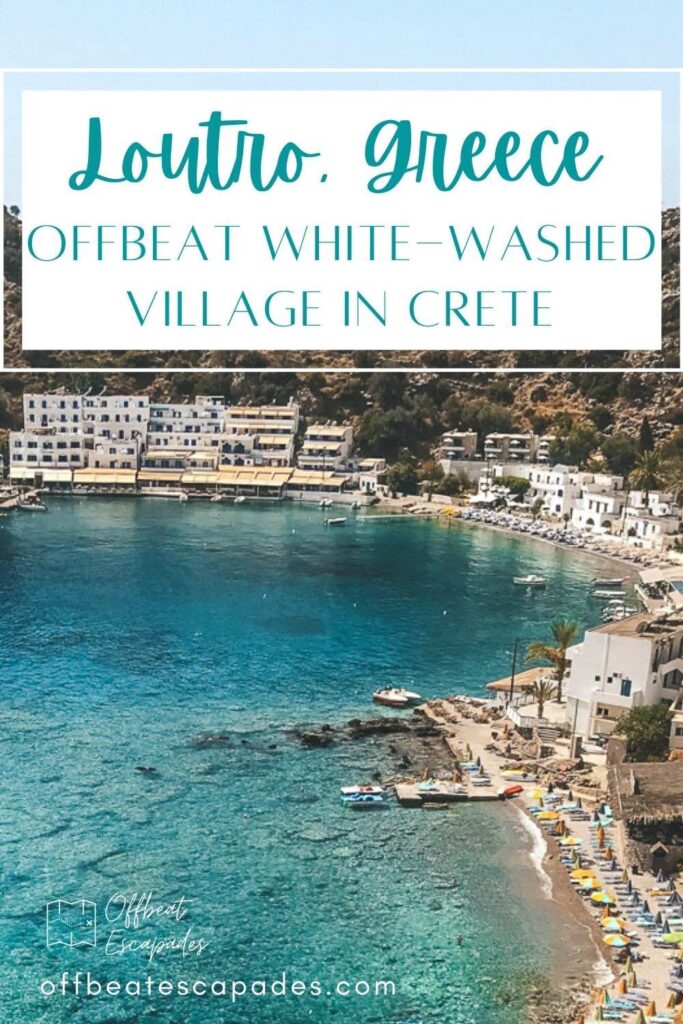 Or start searching for your next destination below