Monschau is a small, charming town in the heart of Germany's Eifel Region. This fairytale village feels reminiscent of destinations like Colmar with its colombage-style houses and cobblestoned roads.
Nestled in the Eifel Mountains in western Germany, this town has preserved its medieval charm over the centuries. With its cobbled streets, half-timbered houses, and stunning natural surroundings, it is a popular destination for travelers looking for a taste of old-world Europe.
Our travel guide will provide you with everything you need to know in order to plan a trip to Monschau Germany from the history, visiting on a day trip, things to do, and where to stay.
At the end of this article, you will also find a FREE MAP to use for your travels.
NO TIME TO READ? PIN IT FOR LATER!
History of Monschau Germany
Monschau has a rich history that dates back to the 12th century. It was first mentioned in historical records in 1198, and by the 14th century, it had become an important center for the cloth and textile trade. The town's strategic location at the crossroads of several major trade routes made it an important hub of commerce in the region.
Over the centuries, the town changed hands several times. It was ruled by various counts and dukes, and it became part of the Kingdom of Prussia in the 19th century. During World War II, the town was heavily damaged, but it was meticulously rebuilt in the years following the war, preserving its historic architecture and character.
It was also historically called Montjoie and its name changed later in 1918.
How to Get to Monschau Germany
The most convenient way to get to Monschau is by car. 
Looking at a map, you will find that the town is located approximately 140 kilometers west of Cologne and also very close to the Belgian border.
The town is easily accessible by car via the A44 and A61 motorways.
From Cologne to Monschau, take the A4 westbound towards Aachen, then continue on the A44 to Monschau.
If you're coming to Monschau from Belgium, then you can take the E40 motorway, which connects Brussels and Liège with Aachen, a city located approximately 25 kilometers west of the village. 
The nearest train station to Monschau is in the town of Aachen, approximately 25 kilometers away. From there, you can take a bus or taxi to Monschau. 
There are several trains that run between Aachen and major cities in Germany, such as Cologne, Düsseldorf, and Frankfurt.
If you're coming from Belgium, you can take a train from Brussels or Liège to Aachen and then take a bus to Monschau. The journey takes approximately 2.5 to 3 hours, depending on your starting location and the connections you choose.
You can check train and bus schedules and book tickets on the websites of the national rail operators SNCB (Belgium) and DB (Germany) and the local bus companies ASEAG and RVE.
Monschau is served by several bus routes, including regional buses that run from nearby towns and cities. The local bus company ASEAG operates several buses per day from Aachen. 
Alternatively, you can take a bus from Eupen, a Belgian town located near the German border. The bus company TEC operates several buses per day on this route, with a travel time of approximately 40 minutes.
Once you arrive in Monschau, the town is easily walkable, and most of the main attractions are located in the historic center. If you plan to explore the surrounding area or visit nearby towns, renting a car is a top recommended option.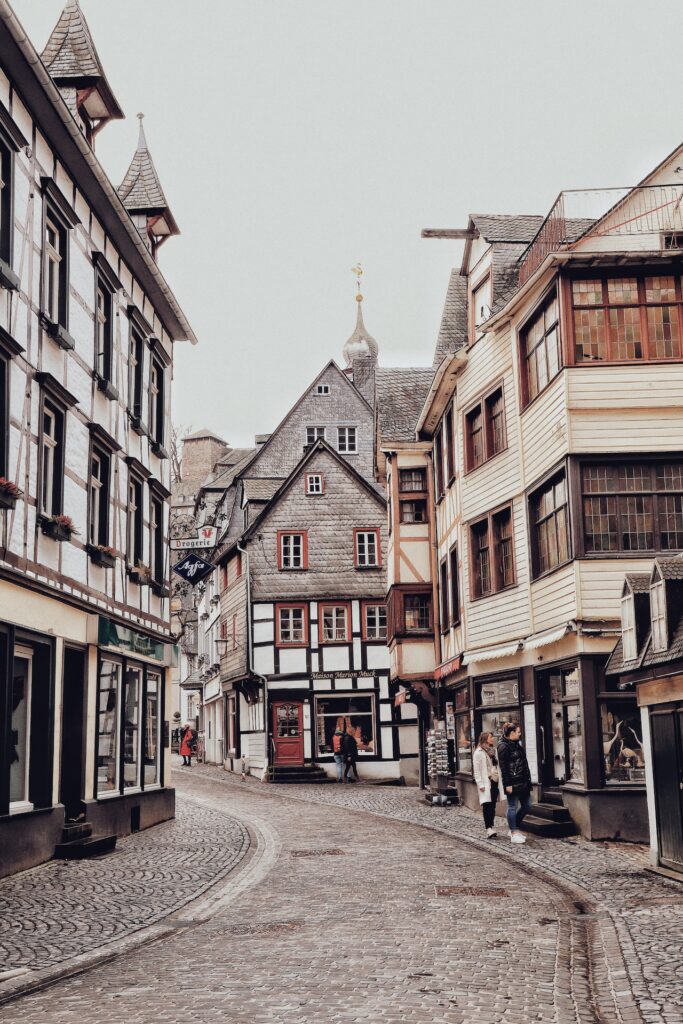 If you prefer a guided tour, there are several tour operators in Belgium that offer day trips to Monschau, combined with visits to other nearby attractions such as the Eifel National Park, Cologne, or the town of Aachen.
You can find tour options and book online through websites such as Viator or GetYourGuide.
Is it Worth Visiting Monschau on a Day Trip?
If you're wondering whether it's worth visiting Monschau Germany on a day trip, our answer would be a resounding YES.
Although it's a small town, it's packed with charm and history, and there are plenty of things to see and do to fill a full day of exploring.
The town is known for its well-preserved half-timbered houses, narrow cobblestone streets, and picturesque setting in the Eifel Mountains. 
Highlights of a visit to Monschau include taking a stroll through the historic center, admiring the views from the castle ruins, visiting the mustard mill museum, and sampling local beers and sweets.
The town is also located near several natural attractions, including the Eifel National Park and the Rursee Lake, which offer opportunities for hiking, cycling, and water sports. If you have more time, you could consider spending a few days in the region to explore these areas as well.
Overall, visiting Monschau is a great choice for a day trip from nearby cities such as Aachen or Cologne, or as part of a longer itinerary exploring the Eifel region.
Things to Do in Monschau Germany
Stroll around the streets of Altstadt (Old Town)
First thing you must do is to stroll around the historic center. The Old Town is a maze of narrow cobblestone streets, lined with half-timbered houses, many of which date back to the 17th and 18th centuries.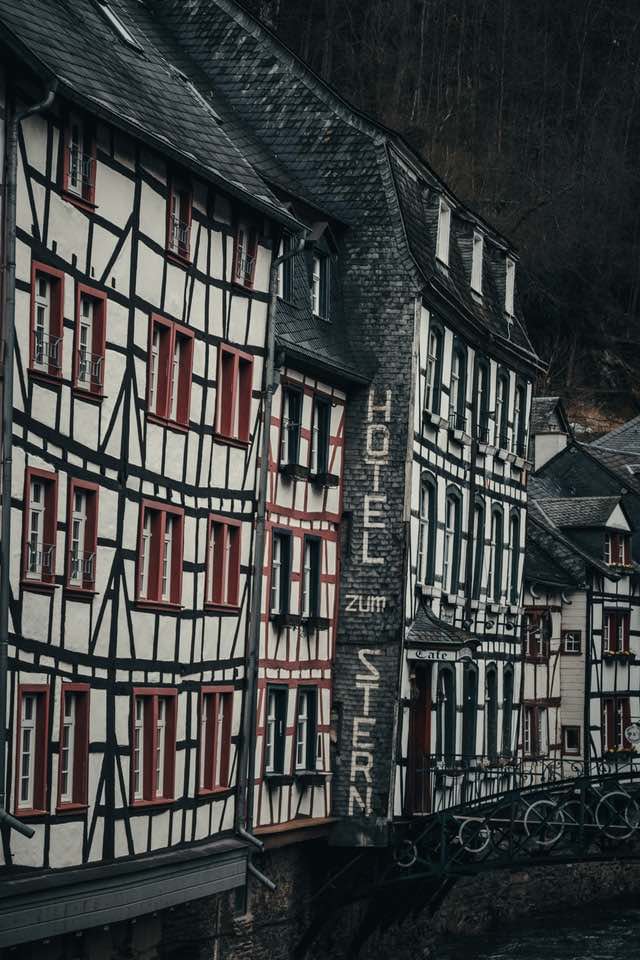 Catch the Rotes Haus Standing Out
The Red House (Rotes Haus) is one of the most famous half-timbered buildings in town and houses a museum that showcase local history and art. The museum offers a glimpse into the lives of former wealthy clothing merchants who once lived in the house.
Discover the remains of Monschau Castle (Burg Monschau)
The Castle of Monschau is a medieval fortress that offers sweeping views of the town and surrounding countryside. Although the castle is mostly in ruins, it's still worth a visit for its picturesque setting and historical significance.
Admire the views from Senfmühle Monschau (Mustard Mill)
The Senfmühle Monschau, or Mustard Mill, is another popular attraction for visitors. Mustard Mill offers guided tours that take you through the process of making mustard, from the grinding of the seeds to the final product.
You'll also learn about the history of mustard production in Monschau and get to sample different varieties of mustard. After the tour, you can shop for souvenirs or head to the restaurant for a delicious meal.
One other great thing about visiting Mustard Mill is that it's located on a hill overlooking the town. Meaning, it offers lovely views of the surrounding landscape where you can simply take a moment to enjoy the scenery and snap some photos.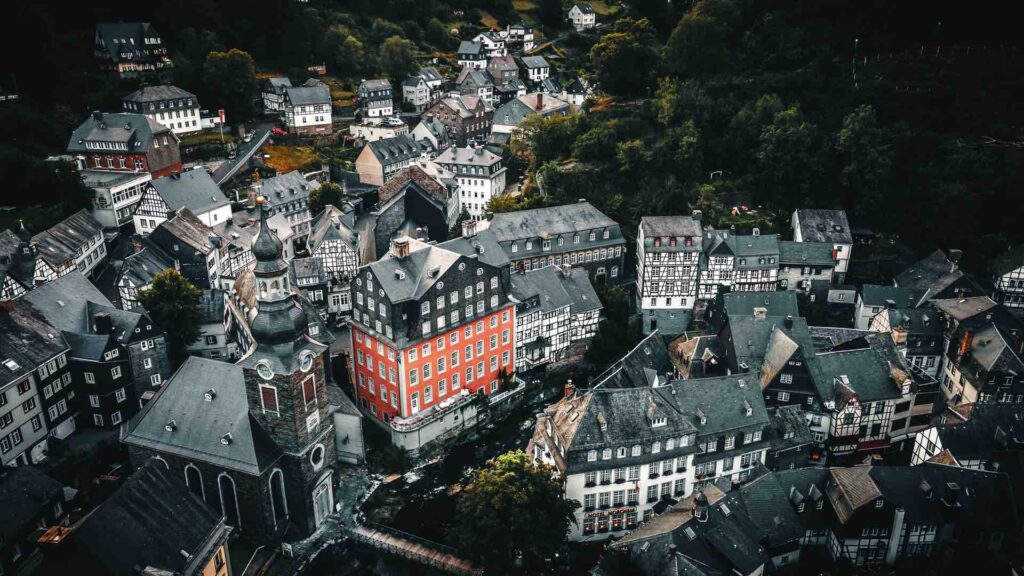 Grab a glass of beer near the river
Monschau is home to several cozy pubs and breweries where you can enjoy a refreshing beer and take in the beautiful scenery of the town.
Here are some places to grab a pint of beer in Monschau:
Brauerei & Biergarten Alt-Montjoie
This brewery is located near the river in a charming half-timbered house, and it offers a variety of locally brewed beers. The outdoor beer garden is a great spot to relax and enjoy the views of the river and surrounding hills.
Zum Haller is a cozy pub located in the heart of the old town, just a short walk from the river. They offer a variety of beers on tap and in bottles, as well as a selection of snacks and small dishes.
This brewery and restaurant is located just outside in the village of Höfen, but it's worth the short trip for their delicious beers and hearty meals. The outdoor terrace offers views of the rolling hills and countryside.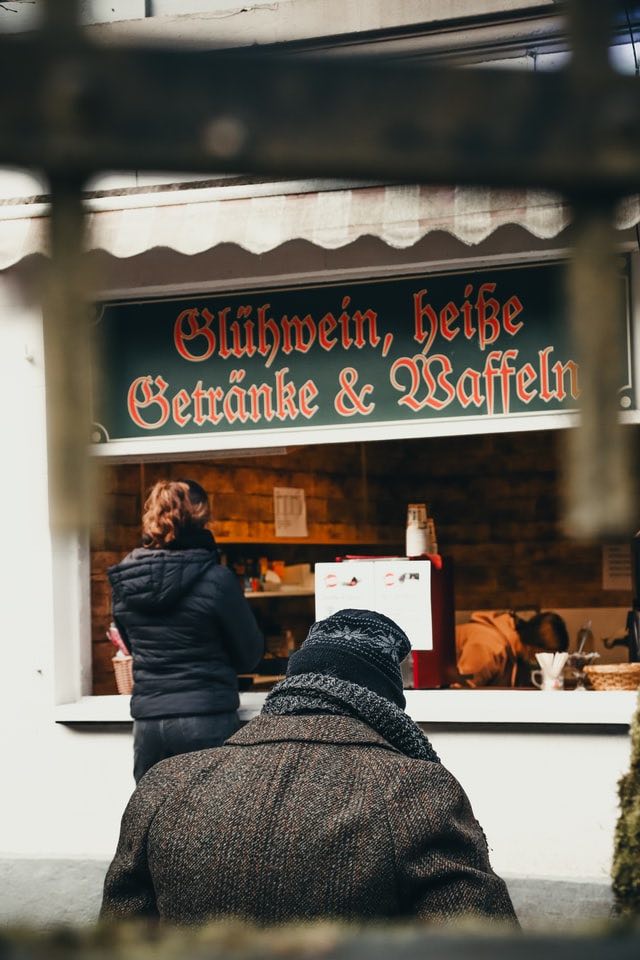 Visit the Monschau Glass Works Museum
The Monschau Glass Works Museum showcases the history of glass production in Monschau, which dates back to the 18th century.
Here you can learn about the techniques and tools used to create glassware, as well as the different types of glass produced in the region. 
It's also located in a lovely setting, surrounded by rolling hills and greenery, where you can take a leisurely stroll through the area and enjoy the scenery.
A cruise around the Rursee is a fantastic way to enjoy the natural beauty of the region. It allows you to take in the views of the surrounding hills and forests from the water.
During the cruise, you'll have the opportunity to relax and unwind. You can choose from a variety of different cruise options, ranging from short sightseeing tours to longer dinner cruises with onboard entertainment.
Along the way, you'll pass by charming villages, historic landmarks, and picturesque landscapes. You might even spot some local wildlife, such as birds, fish, and deer.
Enjoy the Monschau Christmas Market
If ever you visit Monschau in December, then their Christmas Market is a must-see!
The market takes place in the Old Town during the holiday season and features a variety of wooden stalls selling handmade gifts and souvenirs, decorations, and treats, such as gingerbread, sweet treats, roasted almonds and nuts, and mulled wine.
Visitors can stroll through the Christmas market while enjoying the twinkling lights and holiday music, and stop to warm up with a hot beverage or snack. There are also several carnival rides and games for children to enjoy.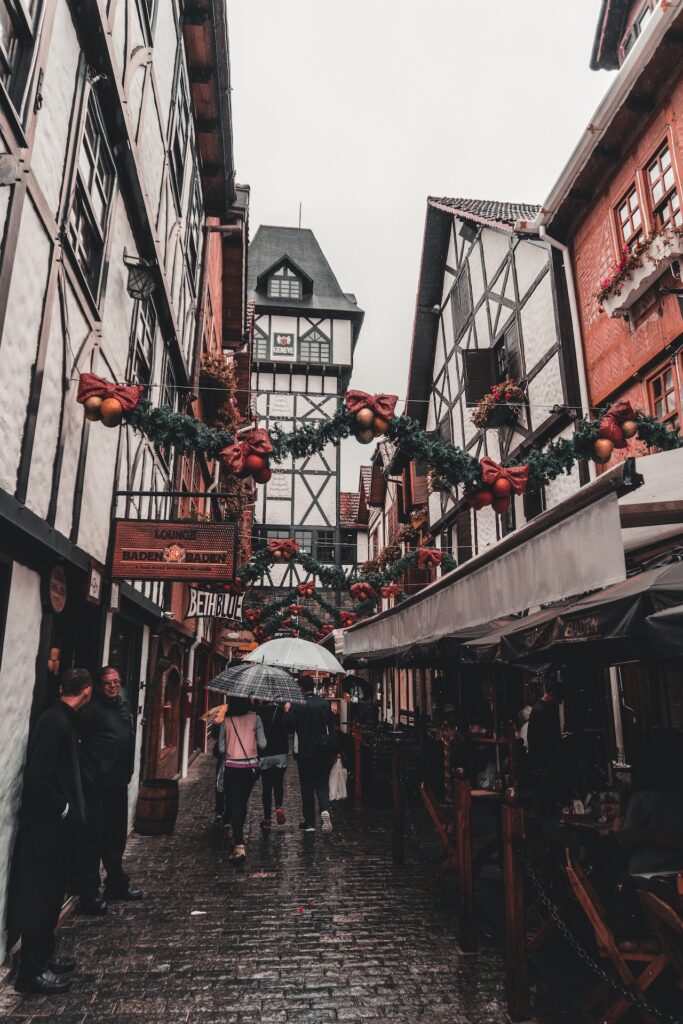 Discover Eifel National Park
If you end up staying in Monschau for a couple days, then it's a good idea to also take the time to visit the Eifel National Park.
This nature reserve is located near the town and offers visitors the opportunity to explore the landscapes of the Eifel region. 
You can explore the many trails of the National Park – either hiking, cycling, or you can simply relax and admire the view.
Best Hotels in Monschau Germany
Below we have compiled hotels in Monschau for every budget. They are all within walking distance to the Old Town or a short drive away and have a variety of room options for couples, families, and big groups.
Budget Hotels in Monschau
Youth Hostel Monschau: A simple and affordable option for budget-conscious travelers, this hostel offers dormitory-style accommodations and is located in the heart of Monschau.
Mid Range Hotels in Monschau
Hotel Horchem: This family-run hotel is located in a charming half-timbered building and offers comfortable rooms with modern amenities, such as free Wi-Fi and flat-screen TVs.
Hotel Alt Montjoie: This hotel is situated in a historic building in the center and features cozy rooms with traditional decor.
Luxury Hotels in Monschau
Hotel De Lange Man Monschau Eifel: This upscale hotel is located in a renovated 18th-century building and offers elegant rooms with luxurious amenities, such as whirlpool tubs and private balconies.
Hotel Restaurant Graf Rolshausen: Set in a historic castle, this elegant hotel features spacious rooms with antique furnishings and picturesque views of the surrounding countryside.
Final Thoughts and Free Map of Monschau Germany
So there you have it! We hope this helps you figure out how to visit Monschau Germany. This charming town was truly a surprise for us and quite the hidden gem!
Whether you're looking to explore the town's historic center, hike through the Eifel Mountains, or simply relax and enjoy some traditional German food and drink, there's something for everyone in Monschau.
Have you ever been to this town? What was your experience like? Let us know your thoughts in the comments below!
LIKE THIS POST? PIN IT FOR LATER!
Or start searching for your next destination below