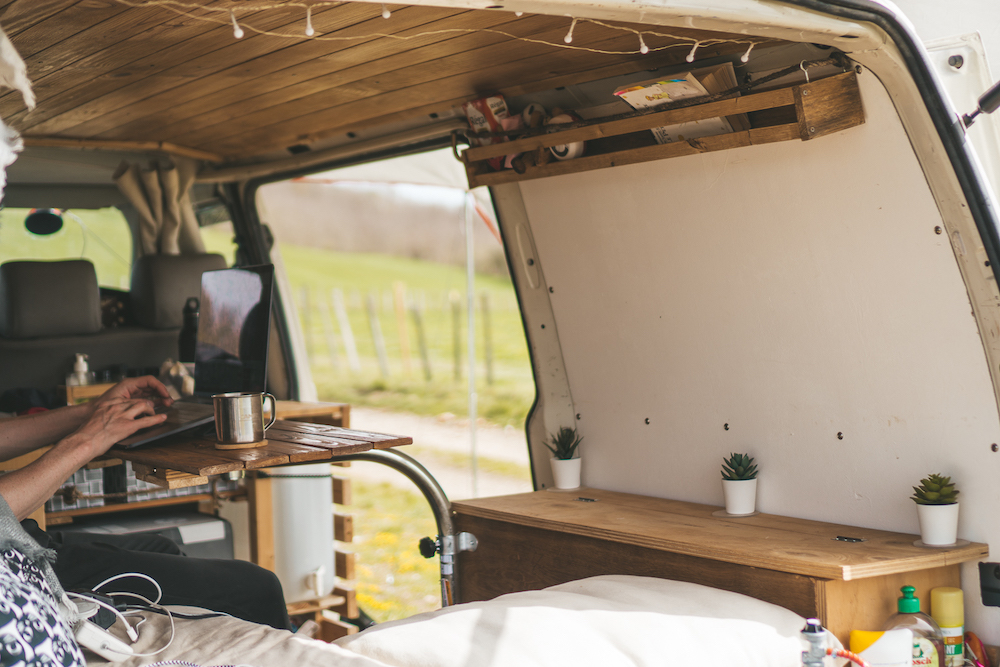 Hybrid and remote working is probably the most significant change to hit employees in the 21st-century workplace. 
The love child of technological advancement and a global pandemic that stopped most workers from leaving their homes, remote working is here to stay.  
Remote working has many advantages, not least ditching the time, expense, and carbon footprint of the daily commute. However, it's not without its drawbacks.  
Vanlife can counter most of these disadvantages, and you don't have to become the original digital nomad to join this particular club. If you're looking to try out remote working in a van, here are some considerations and tips to van it up.  
NO TIME TO READ? PIN IT FOR LATER!
Van life is for anyone, whether your horizons need to be endless or you're just happy with a spot in the local park. You don't need a big budget, and it counters almost all of the drawbacks of remote working. 
Dealing With Lack of Space in the Home
With more people than ever remote working, the novelty of everyone being in the house together has started to wear off. 
Unless you are fortunate, most homes don't have a designated office or studio space for remote workers. A dedicated work area becomes even more critical if your environment includes small children. 
A van offers the perfect retreat, even if it's just outside on the drive or on the road. Rather than invest in a log cabin in the garden, why not buy a home on wheels and try out remote working in a van?  
The great thing about a van is that it's mobile, so you can work (and vacation) from multiple locations near and far. 
If you're worried about power, especially if you plan to work from off-grid locations, then a portable power station can solve all your problems. 
Portable power stations are like giant batteries that can charge laptops, smartphones, hotspots, monitors, and more. You can recharge them using an AC outlet or a car adaptor—perfect for your mobile office and a mix of work and leisure off-grid!  
When the home office feels cramped and confining, take to the freedom of the open road, even if it's just for a few hours.  
Changing Up the Same Old, Same Old
You love your home, but staring at the same four walls day in and day out is driving you a little stir-crazy. It's a fact that for some people, remote working can put their mental health at risk. 
The US Bureau of Labor Statistics reports that in 2021, 38% of all employed people did some or all of their work from home. Employers are just starting to catch on to the impact this has on mental health and emotional well-being. 
The same view every day isn't good for us. Also, because it's difficult to set boundaries, home life and work tend to blur together, providing even less incentive to get out of one room, whether working in the kitchen or the bedroom. 
Remote working in a van means you could look at a different vista every day, even if it's just a mile or two from your home. The point is, it isn't your home.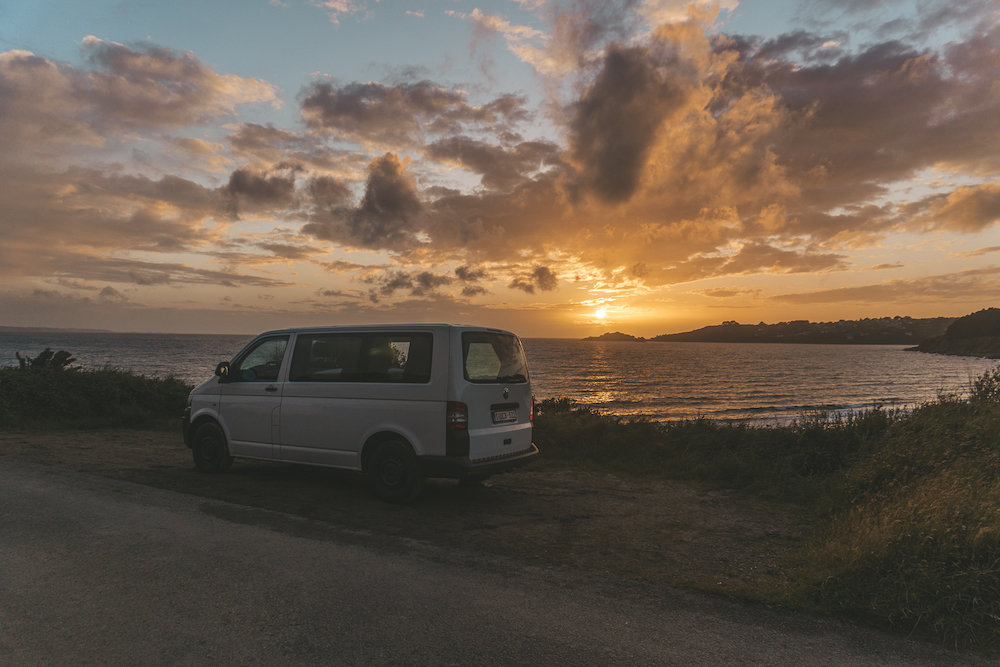 Isolation and disconnect from work colleagues are other drawbacks of remote working and are oft-cited reasons for mental stress. 
The Centre for Mental Health in England has estimated that up to 10 million people now require mental health support because of the pandemic. The social isolation brought about by home working is a major factor. 
Remote working in a van offers seclusion or inclusion, depending on where you go. Mix it up and pick locations for their splendid isolation or a real social buzz.
Van life is a great way to expand your horizons and meet new people, even when you're "out" of the office.  
Combatting Difficulty Unplugging
One of the features of working remotely is the lack of distinction between home life and work life, exacerbated by our 24/7 culture of non-stop emails and internet activity. 
Some people find it easier than others to maintain a line between home and work. Those pending tasks can sit heavily when you know they are waiting for you in the next room. 
Having a strict cut-off point at the end of the day only works for some people. If you juggle work with childcare and other domestic tasks, switching off is even harder, even when the kids are in bed. 
A designated workspace is another technique that helps to establish boundaries, but for some people, that's just not an option. 
Van life and remote working in a van can make the line between home and work easier to define. If you are working in a fabulous location, what could be better than stepping outside the van at the end of the day to hike, cycle, or just explore?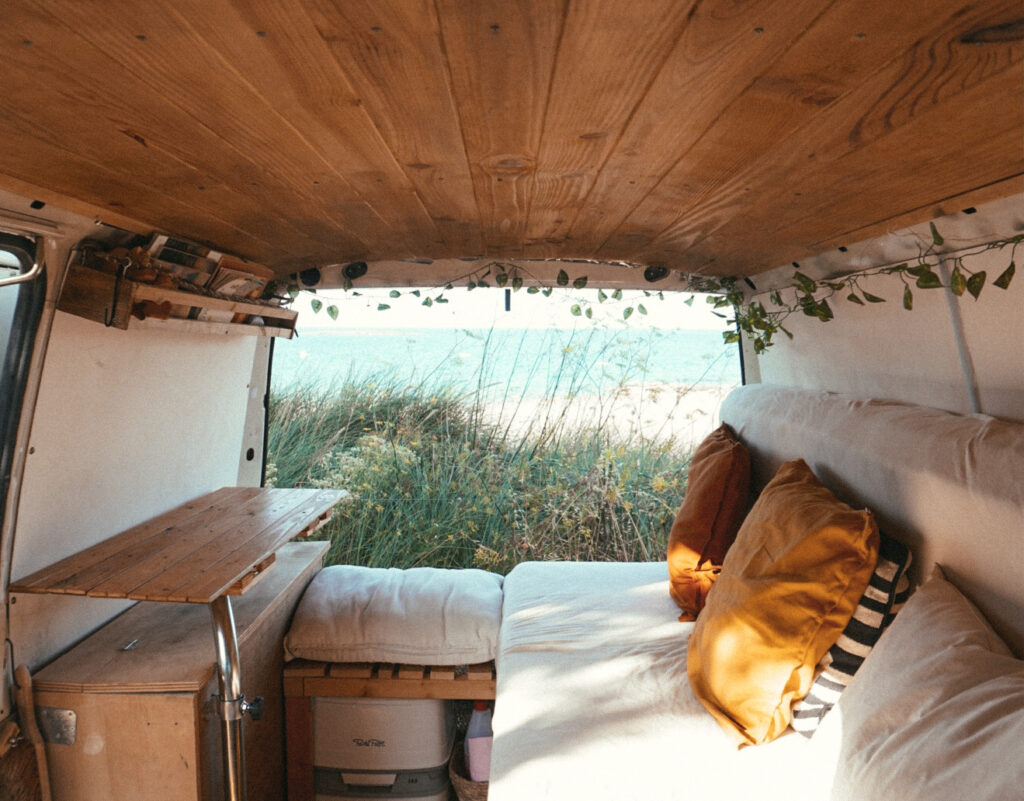 Before you part with money, think about the lifestyle your van needs to deliver. Is this designed to be no more than a mobile office that isn't going to travel very far, or do you intend to embark on a coast-to-coast journey taking your work with you? 
Will you live and sleep in this vehicle, or is it just an office specifically for remote working in a van? Some people buy a large van which then doubles up for family holidays, while others use it more occassionally.
Prices range from as low as $10,000 for a basic van to more than $100,000 for a deluxe model with accommodation for the family. But you don't need to invest in a permanent build. 
If you only want to move your office occasionally, you can customize a regular van that is cheaper. It may even be a vehicle already in your family. You can also consider upcycling some furniture you have at home to complete your van build.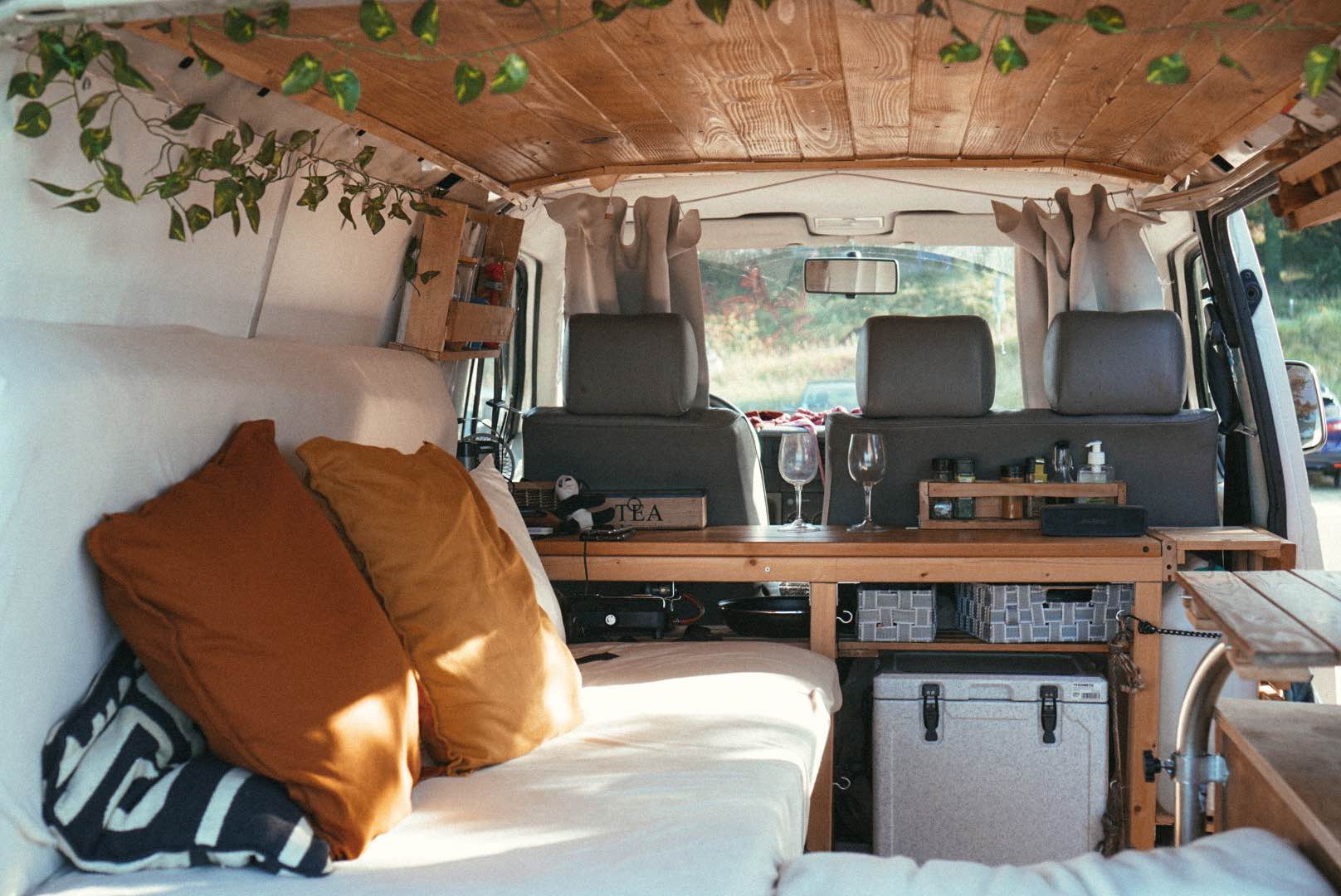 Switching your office to a mobile space and trying out remote working in a van requires some equipment. Here are the most important essentials you  need to consider: 
– A pop-up tent gives an alternative space to your new office. Plus, you can sleep under the stars if you stay on the road. 
– Comfortable furniture helps you keep a good posture and relax on your off-time. Furniture must fold down and be lightweight and portable. 
– A sun-proof awning will double your van space and keep the interior cool if you are in a hot location. Waterproof awning tarps are one of the most inexpensive options. 
– A portable toilet is essential. Compact and odor-free, this is one item you should never leave off your list. 
– A portable power station supports your workstation and powers your cooking appliances, coffee maker, fridge, electric fan, and more. 
– A cooler or mini-fridge lets you keep snacks on hand for those much-needed breaks.
Final Thoughts on Remote Working in a Van
A van can enrich both your professional and home life. Your own mobile office right outside the door—it's a bolthole, a den, the nerve center, or just your ticket to ride. 
As an alternative space for remote working, this solves all the problems of not having enough space or quiet in your house while offering an endless change of scenery. Stay local or upgrade your van and travel to different destinations. 
A van is also an investment that the whole family can use. Keep it professional when you're in the office, and then swap out the monitors and other items when it's time to take that long-awaited family vacation. For a mobile workstation, it doesn't get better.  
Have you tried remote working in a van, or van life, in general? How was your experience like? Share your thoughts and questions in the comments below!
LIKE THIS POST? PIN IT FOR LATER!
Or start searching for your next destination below