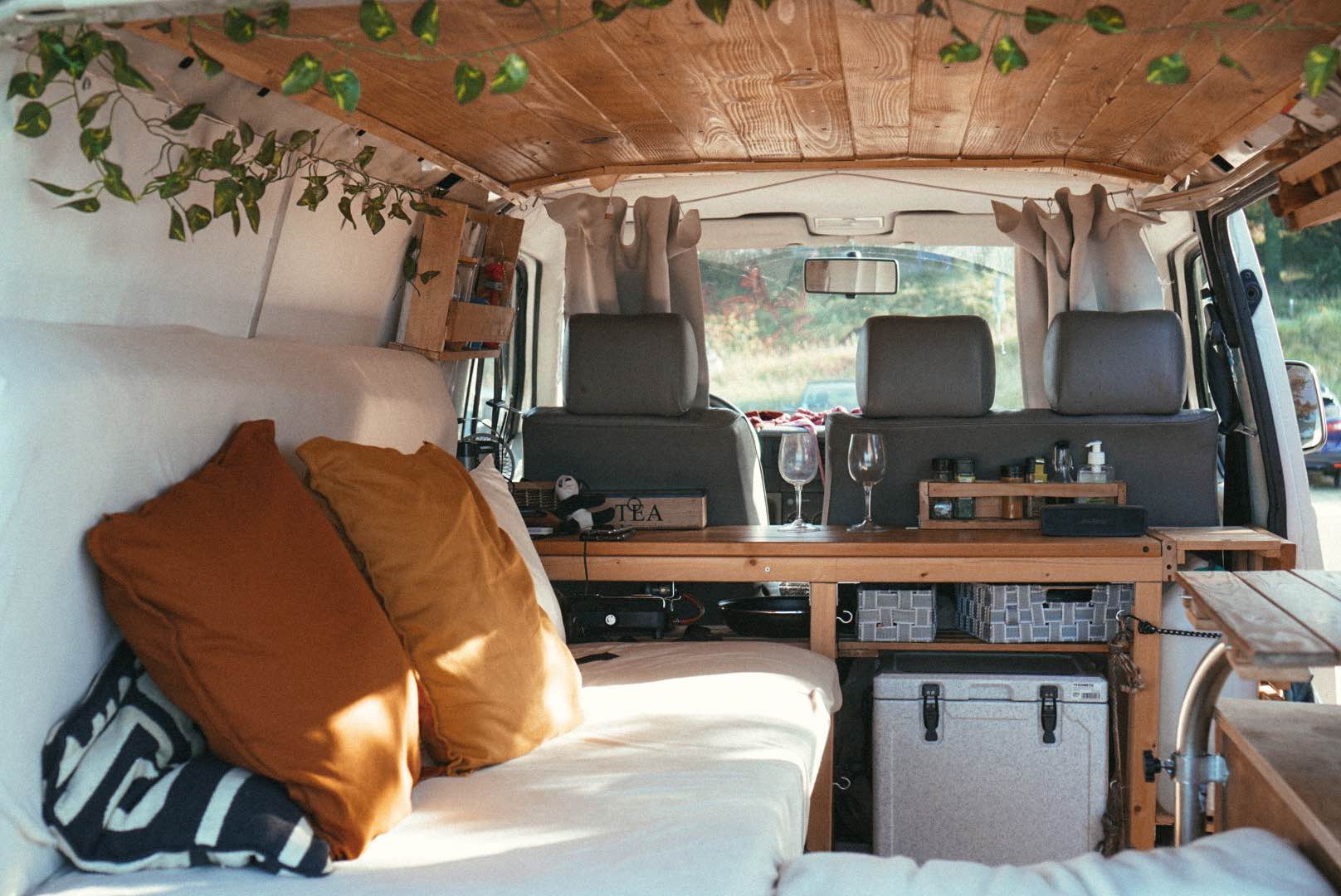 For us, the best budget campervan build is one that looks unique, tailor-made, and at the lowest possible cost. The best way to achieve this? By upcycling furniture!
There's so much satisfaction in making your own custom curtains, building cute wooden shelves, or repurposing old kitchen cabinets. With the right tools and a few old pieces of furniture or wood, a budget campervan build can really become elevated and doesn't have to look cheap! 
Here's our top reasons why upcycling furniture is the best way to build a budget campervan.
NO TIME TO READ? PIN IT FOR LATER!
Reuse existing furniture without much modification
Upcycling furniture is a great way to save time on your campervan build as you can use the existing structures of the original furniture. It's also perfect if you lack some woodworking skills or don't have many tools at your disposal. It is easier to transform than to build from scratch in many cases.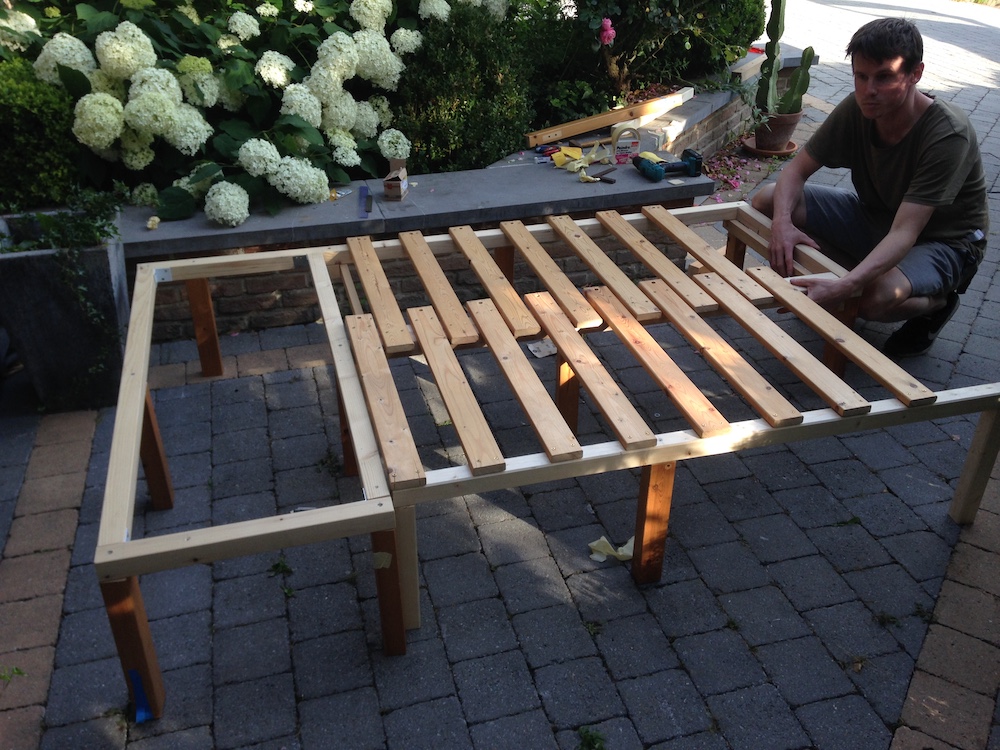 An old bed frame for instance can easily be turned into a pull-out bed. You'll just have to unscrew or remove the slats, and screw them on your next furniture base. You might also have to trim them but it will be way less work than building a bed from scratch.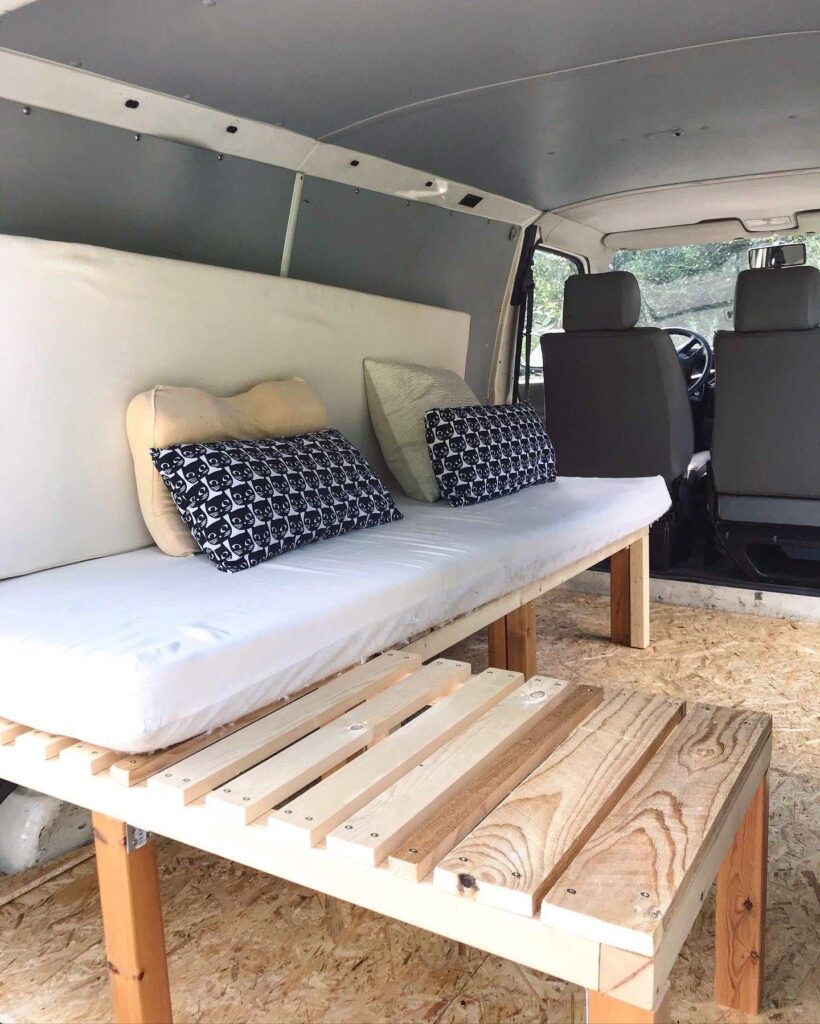 Alternatively, an old pine shelf is a great base to make a storage box, a drawer, or a table top to give your van a rustic feel. The only thing you need to do is to unscrew, cut, and reassemble. Feel free to sand and repaint your final product to match your interior.
Unlike reclaimed pallet wood (which is also useful for a budget van build), this is less toxic, potentially lighter, and with a better finish.
Upcycling is a cheap way to build a budget campervan
To state the obvious, a budget campervan build has to be as cheap as possible. For us, we were able to create a campervan build for under 250 euros merely by upcycling furniture. 
Junkyards, thrift stores, side roads or your parent's basement (haha!) are many places where you can find cheap or completely free furnitures or wood for your build.
While you might be concerned about the durability or look of the free furnitures, a little bit of sanding and painting can go a long way making it look rustic or good as new!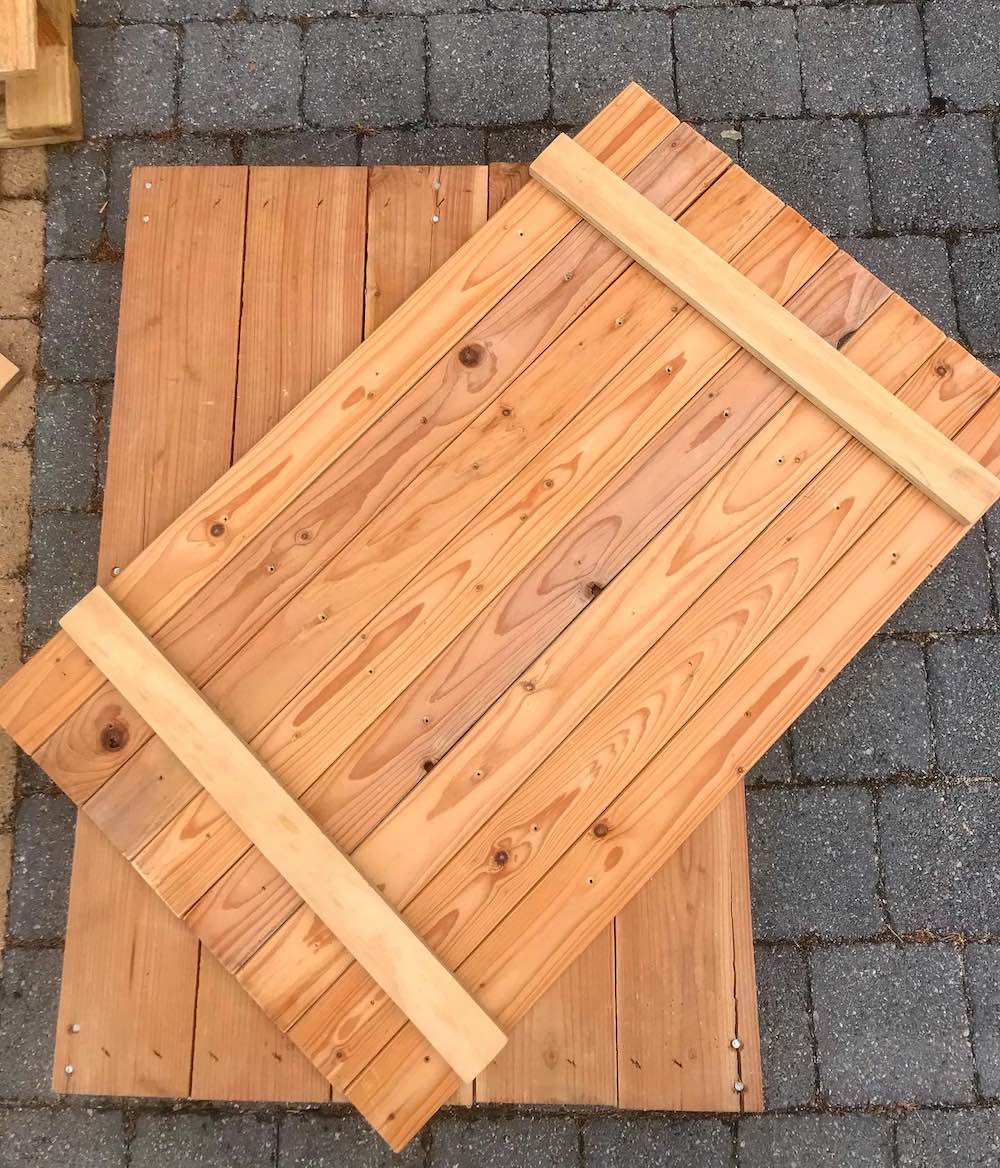 It's easy to find inspiration when upcycling furniture
When it comes to DIY projects and upcycling furniture, there's tons of inspiration, be it in existing van builds or in the home improvements boards on Pinterest.
It gives you more ideas but also more confidence. Since you know what the final product will look like and that if it works for other people, it will definitely work out for your budget campervan build.
As for us, we got really confident making our own van layout based on existing campervan builds. Making an L shaped pull out bed and a plywood chest with piano hinges were ideas we got from The Rolling Home, a British Volkswagen T4 build. There's plenty of DIY inspiration to help you make the right choice for your needs.
For the finishing touches, reusing things from thrift shops or basements will have the benefit to be unique to you. Think about door knobs, curtains, or a kitchen tap that no one else will have in their van.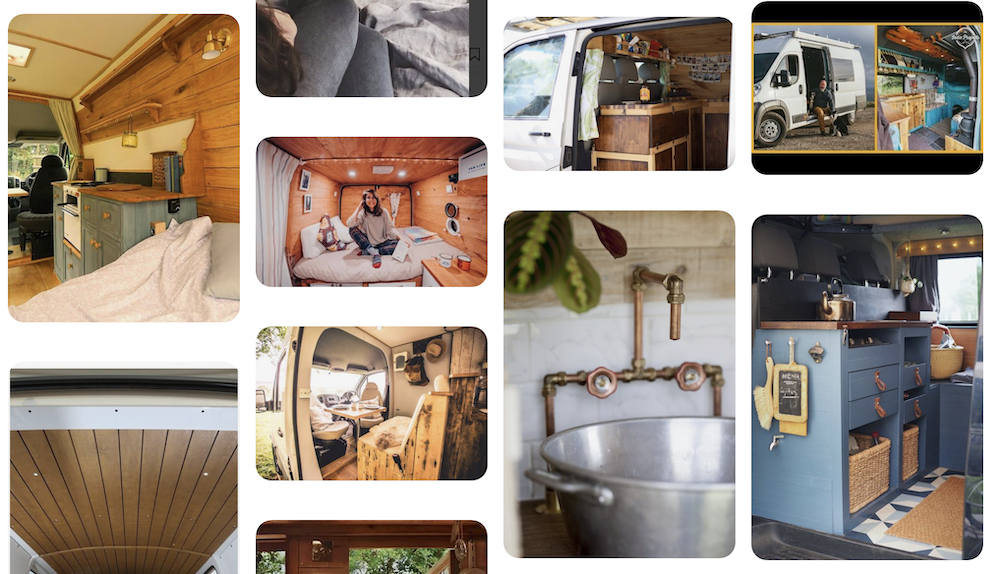 Ecological and good for the environment
While you have the personal satisfaction of giving a second life to an old cupboard or a shelf, it's worth knowing that you won't be contributing to the destruction of forests by upcycling furniture for your van. Producing wood panels and timber takes ressources, so does recycling it.
By re-using materials, you are making things better, twice! You might even make people happy by taking junk out of their basement. 
Develop a skill you didn't realize you had
Upcycling is the ultimate way to develop woodworking or crafting skills without taking too much risk. You can get creative or afford to fail and learn since the piece of furniture or reclaimed wood you had was bound to be thrown away anyway. Using old materials is a great way to gain confidence!
The first pallet shelf you build might not be the best but hopefully, you'll end up loving what you created and get even more satisfaction from it as you made it yourself. Let your creative juices flow and even add your own personal touches to elevate that rustic vibe to your campervan build.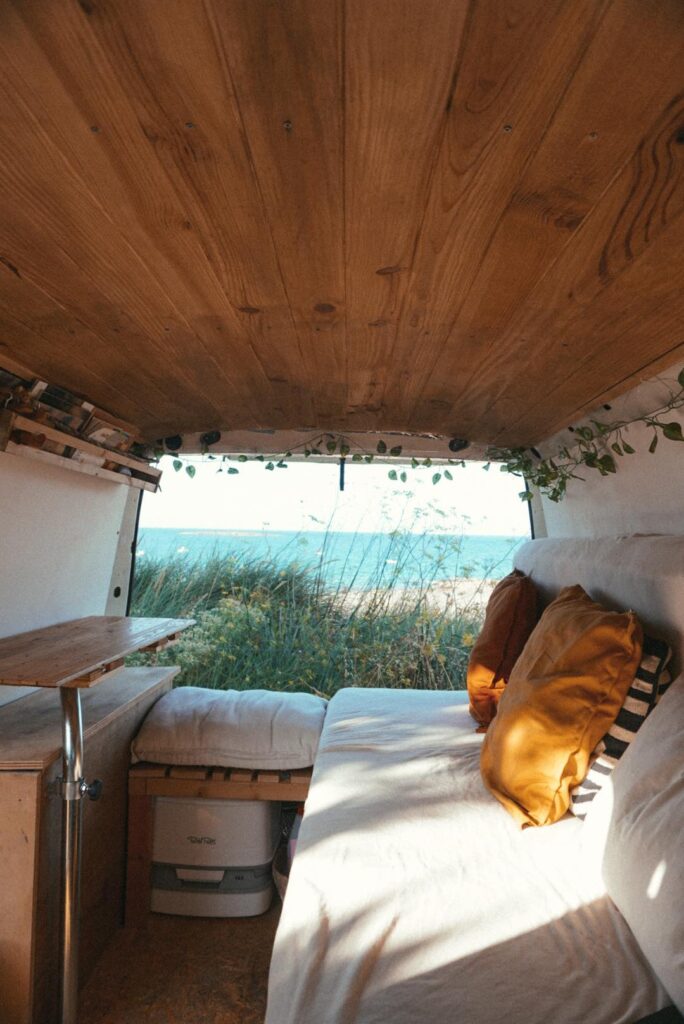 Conclusion: Upcycling Furniture for a Budget Campervan Build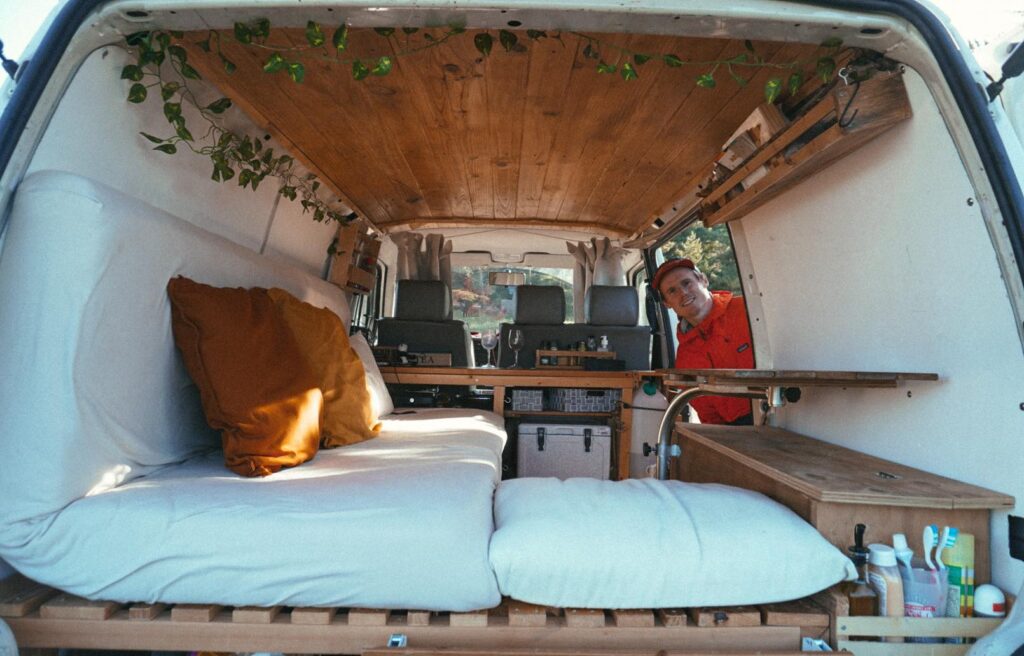 These are the advantages of using recycled materials for your DIY budget campervan build. Don't worry, a budget build doesn't have to be 100% upcycled. Sometimes you just need light and specific materials that you can scrape off of furniture or get for free.
We did still buy a few materials for our van such as timber to build the base of our bed frame and kitchen, OSB pannels for the floor, as well as pine cladding for the ceiling.
Upcycling furniture has truly helped us cut down the costs of building our campervan to under 250 euros. We were quickly be able to go on adventures with our van this past Summer and Fall because of this simple and affordable van build method!
Are you convinced that upcycling furniture is the best way to build a budget campervan? Let us know to which extent you have already done so or plan to do so for your van!
LIKE THIS POST? PIN IT FOR LATER!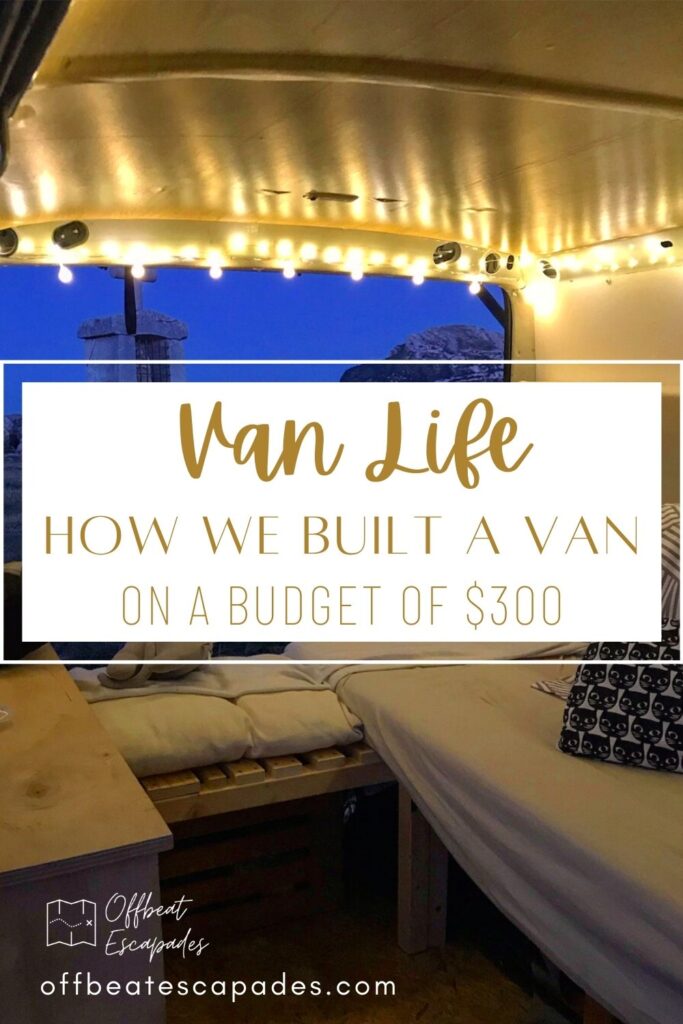 Or start searching for your next destination below