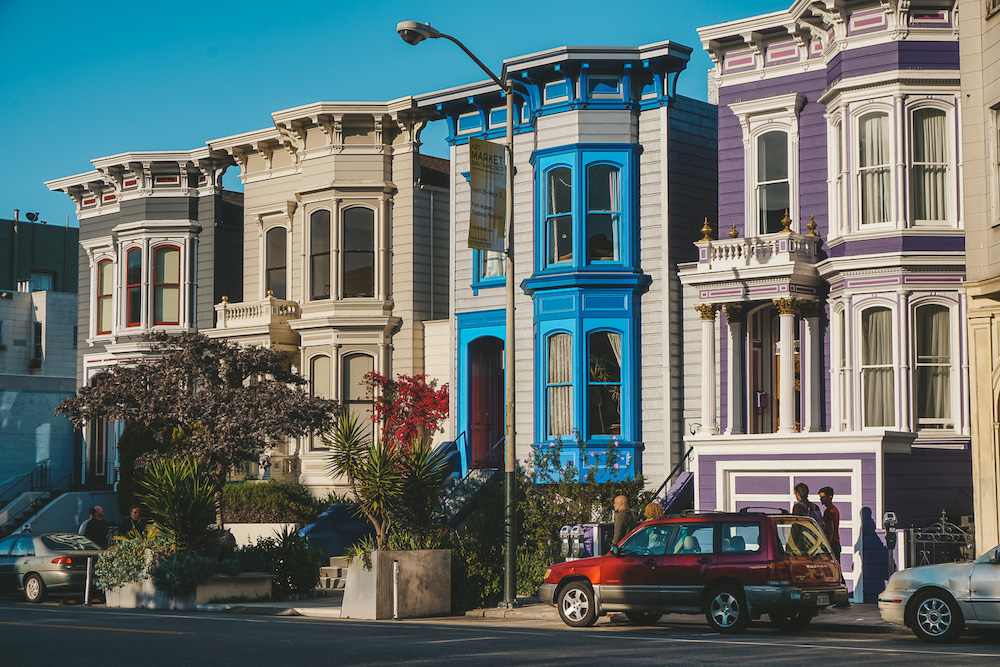 San Francisco is probably one of the most iconic cities in the United States, along with New York City. Most people have heard of its cable cars, Edwardian-style houses, and hilly streets but have you heard of the hip and Latino Mission District?
The Mission District San Francisco is a must when you visit the City by the Bay. Here are our 7 best things to do in Mission District San Francisco. We've also included useful information on where to stay and how to get there.
NO TIME TO READ? PIN IT FOR LATER!
Try the Local Cuisine and the Taquerias
As a diverse and predominantly Latino neighborhood, the Mission District has some of the best food from Latin America. The kind of burritos, tacos and Mexican dishes that give you the chills.
If you are not sure what to order and want to make it a fun experience, we highly suggest taking a secret food tour to learn about the cuisine and history of this vibrant community.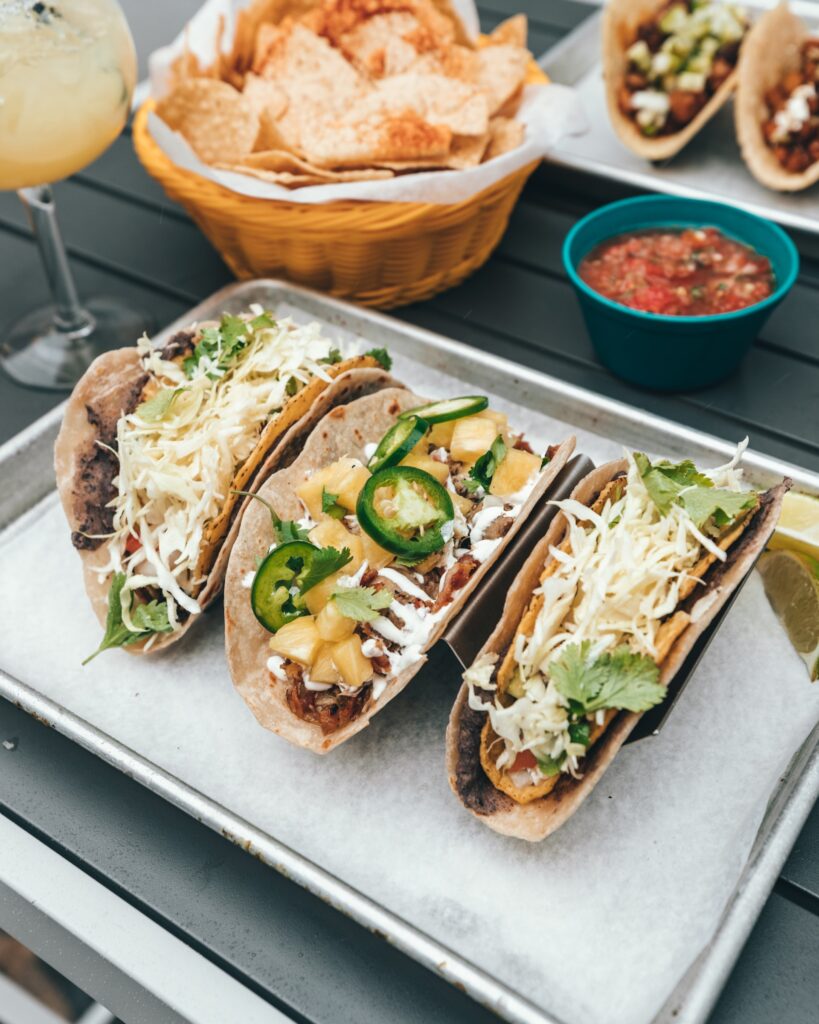 If you just want to grab lunch and don't have much time, head straight to one of the following taquerias in the Mission District: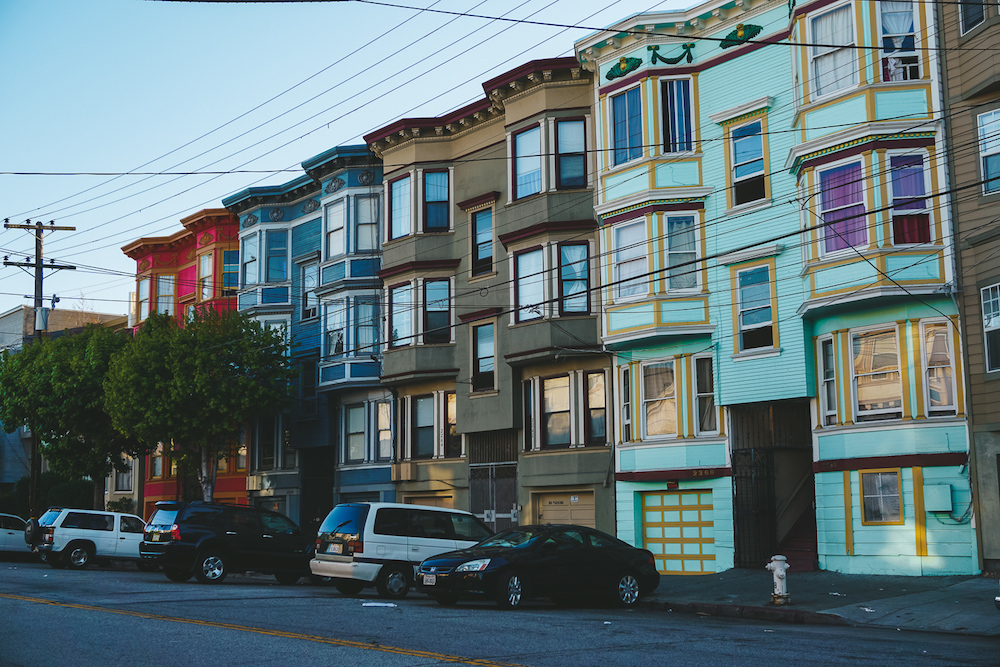 San Francisco has a vibrant artist community and this translates into beautiful murals all over the city. It has more than a thousand and the highest concentration can be seen in the Mission District.
Some hotspots include Balmy Ally, Cypress Street, and Clarion Alley. To be guided through this open-air museum, we definitely recommend a walking tour through the Mission District to get some valuable insight about the murals and the history of this iconic neighborhood.

Discover Bookstores and Vintage Shops on Valencia Street
Ever since the tech boom, the Mission District has seen more gentrification and it's even more true on Valencia Street. This is where you can indulge yourself in some shopping and find countless cafés and restaurants.
We especially love spending time at used bookstores, such as Dog Eared Books (On 20th & Valencia), record stores, and plenty of vintage clothes shops.

Hang Out in Mission Dolores Park
This is probably the most scenic park in San Francisco, period.
This park in the Mission District is great for sports, pets, or just hanging out on a picnic blanket and watching the world go by. The views of greenery and the skyline are simply splendid.
It is certainly not as big as Golden Gate Park (which is San Francisco's green lung), but it's the best spot to unwind after a day of exploring the City.
To make the experience more enjoyable, you can pick up food from a nearby taqueria or ice cream from Bi-Rite.
Venture Up to Bernal Heights Park
Right on the outskirts of the Mission District San Francisco, Bernal Heights has a stunning panorama of the city once you reach the top.
It is much easier to reach than Twin Peaks, especially if you don't have a car (which isn't recommended to explore San Francisco anyway). You can start climbing at the crossing of 24th St & Mission and on a clear day, the hike will be totally worth it.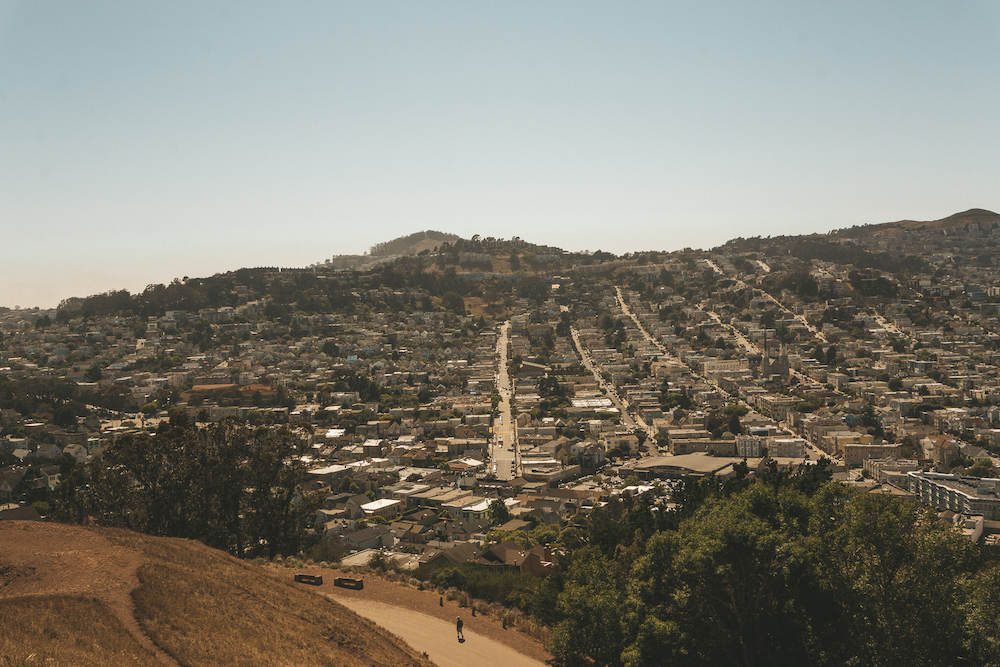 Enjoy Happy Hour in Mission District
If you're going to San Francisco, make sure to take part in happy hour! It's even more true in the Mission District, which has plenty of outdoor settings, such as rooftops and beer gardens.
You can indulge in some craft beers or Modelo on tap and discounted cocktails with an extra spazz. 
Here are some of our recommended bars to visit: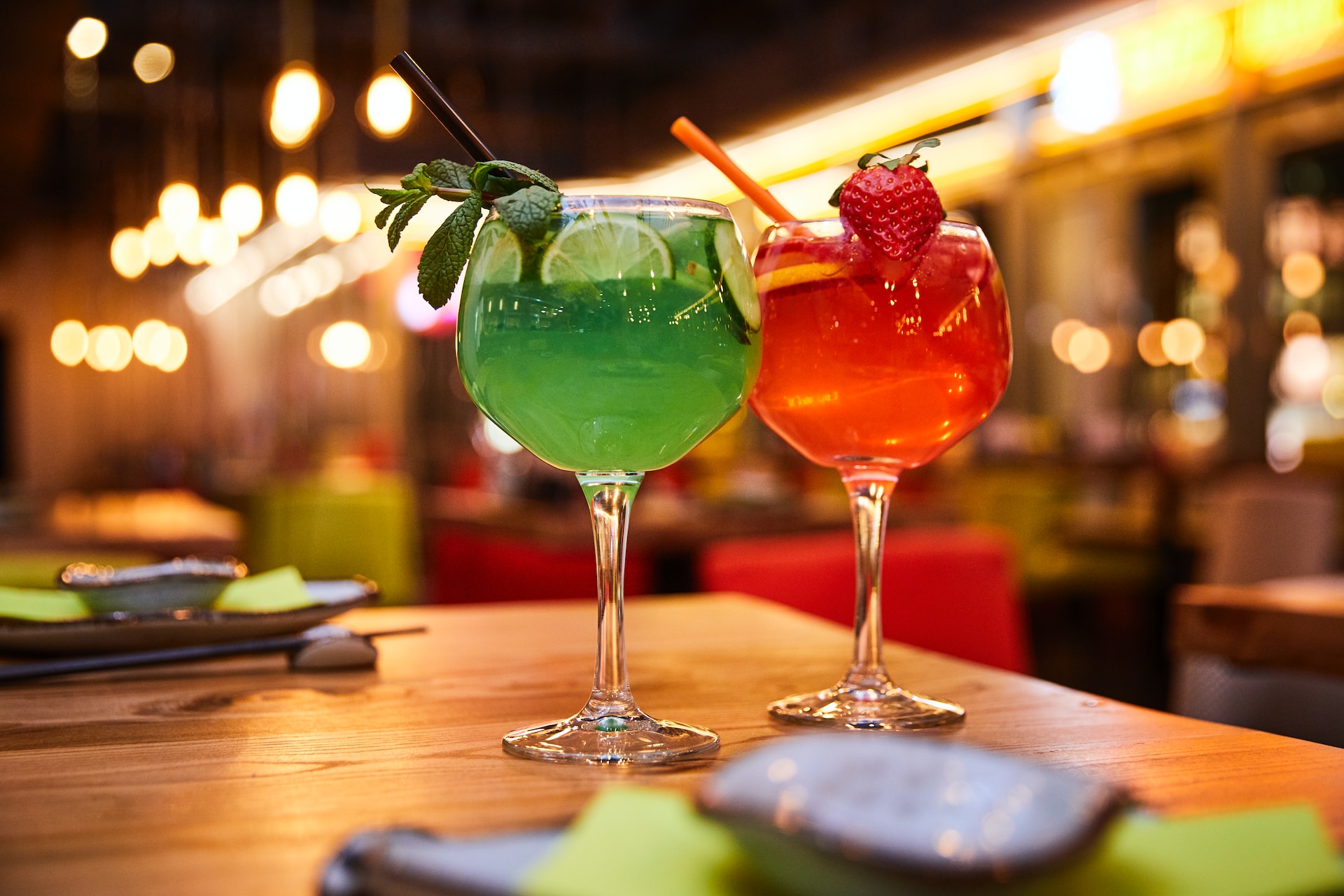 Experience the Buzzing Nightlife
Between dive bars, speakeasy cocktail bars, and live music venues, you'll find everything in Mission District for a fun night out.
Tip: You can combine some of the above bars (or "pre-game") to end up in one of the following (which are still open in 2023):
How to Get Around Mission District San Francisco
There are countless options to get around the Mission District or to get there from another neighborhood in San Francisco.

If you are on foot and staying in the area, walking will be fine as it is mostly flat, unlike other parts of the city. You can then see the cutest Victorian Houses and see where the locals live along the way

If you have to go further or travel to the Mission District from somewhere else, there are plenty of options using public transport. You can take the MUNI bus, which has many lines serving the Mission.
It also has a tramway stop right next to Dolores Park (J Line) as well as 2 BART (Bay Area Rapid Transit) stops at the intersections 24th and 16th street & Mission St.
You can use Google Maps or the MuniMobile App to figure out the best route.

If you are out late and/or sharing with friends, we would also suggest getting a shared Uber or Lyft. These ride-hailing services can be quite affordable, or at least more convenient than public transport depending on your itinerary.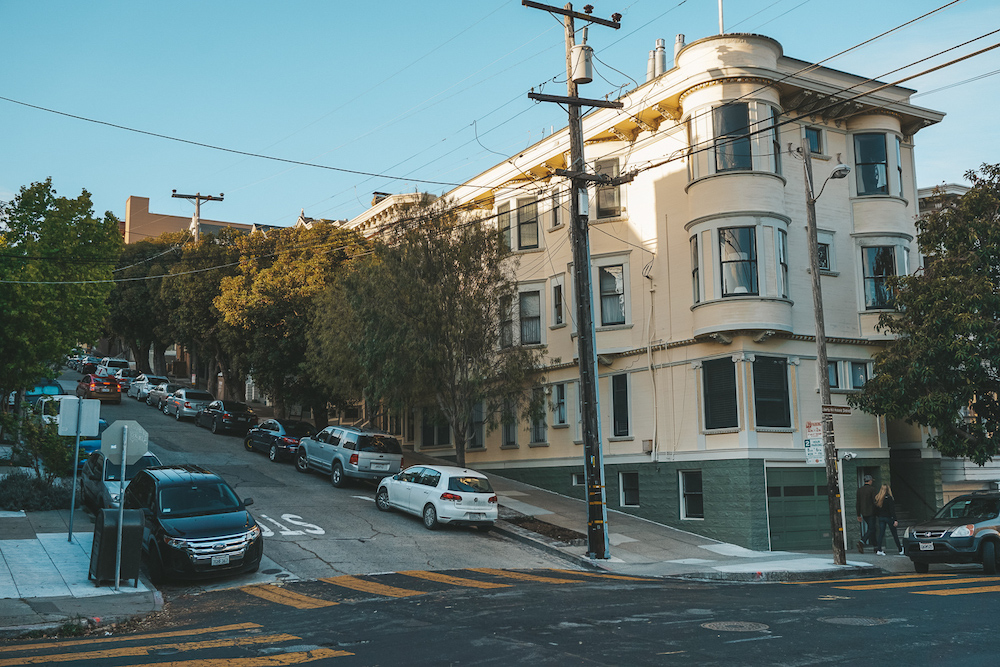 Where to Stay in Mission District
San Francisco isn't exactly affordable when it comes to accommodation. The city has known a few housing crises and is known for gentrification and high rent.
Although, we consider that you can stretch your budget, especially if you are just in town for a couple of days. Rest assured that there are still budget options to be found:
If you are after the authentic Victorian-style SF, this one is for you. The rooms are sumptuous and the hotel offers a delicious buffet breakfast included for around 240 euros per night.
Located in Noe Valley, this charming Victorian House is located in a more quiet and more residential area, which is still really convenient to explore the Mission District. It also comes with breakfast and costs around 260 euros per night.
This hotel is conveniently located a block away the Bart Station. The decoration is lovely and it features and patio as well as a lounge for around 130 euros per night.
This one is a steal, especially for San Francisco since it costs around 60 euros per night. While it can be noisy at times, it is right next to the Bart Station (16th & Mission) and other MUNI bus lines, which allows you to go anywhere in a few minutes.
---
Alternatively, you can also have a look at Airbnb or consider staying in other areas, such as Union Square or the Financial District, which offer more choices of accommodation. Although, you are more likely to find regular hotels than local homes.

Map of Best Things to Do in Mission District San Francisco
So there you have it, here are the 7 best things to do in the Mission District San Francisco, along with bonus tips and free map!
We hope this serves you to discover what we consider the heart of the City by the Bay. For the record, I have spent 3 months in the Mission (22nd/Bryant) back in 2015, and we speak from experience by stating most of the above.
Now, of course, the city might have changed a little bit in 7 years, but we are sure you'll find similar gems in this vibrant neighborhood.

Have you visited San Francisco or the Mission District before? We'd love to hear about your experience in the comments below!


LIKE THIS POST? PIN IT FOR LATER!
Or start searching for your next destination below