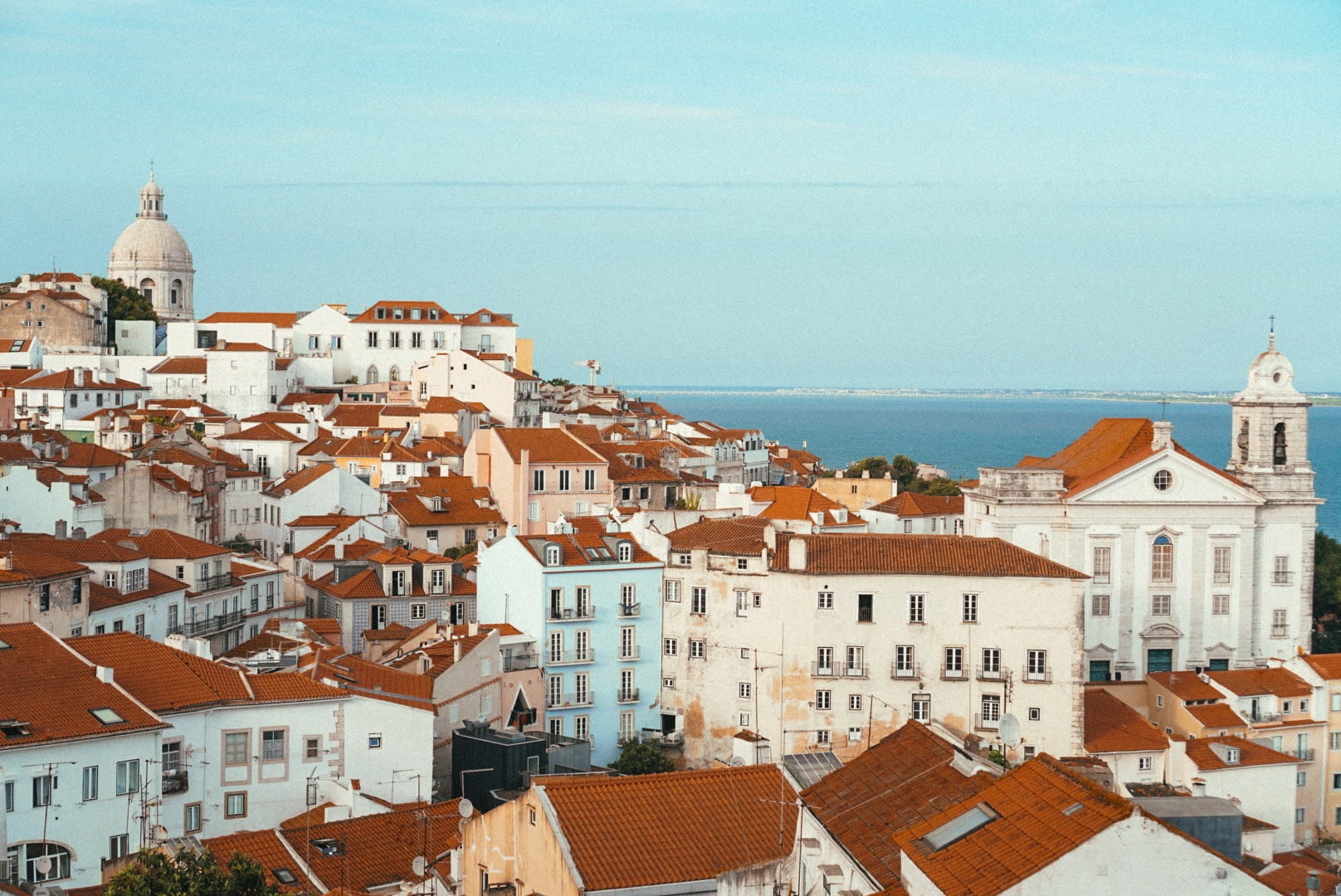 Alfama is one of the oldest and most picturesque districts in the city of Lisbon. It's known for its narrow cobblestone streets, historic architecture, and breathtaking views of the Tagus River.
In this guide, we discuss all the important facts and things to know when visiting Alfama Lisbon – from its history, how to get to get there, where to stay, and finally, all the best things to do in Alfama.
At the end of the article, we also created a free map that includes the different sights discussed in this guide so that you can download and import it into your google maps.
NO TIME TO READ? PIN IT FOR LATER!
Alfama is believed to be the oldest district in Lisbon, dating back to the 8th century when the Moors invaded the Iberian Peninsula.
The name "Alfama" is derived from the Arabic word "al-hamma," which means "hot springs" or "baths." The Moors built many public baths in Alfama, and the area became a center of commerce and culture.
In the 12th century, this district became the birthplace of the fado, a traditional Portuguese musical genre that expresses the feelings of longing and saudade (a sense of loss or melancholy).
Fado singers used to perform in the taverns and cafes, and the district became known as the home of fado.
During the 1755 Lisbon earthquake, Alfama was one of the few areas that wasn't fully destroyed. The district remained a hub of culture and tradition throughout the 20th century, despite being a poor and neglected area.
This is why when walking around the area, you will notice old buildings which look like they have not been maintained for a very long time. Alfama still remains to be quite a local neighborhood in Lisbon with its authentic charm.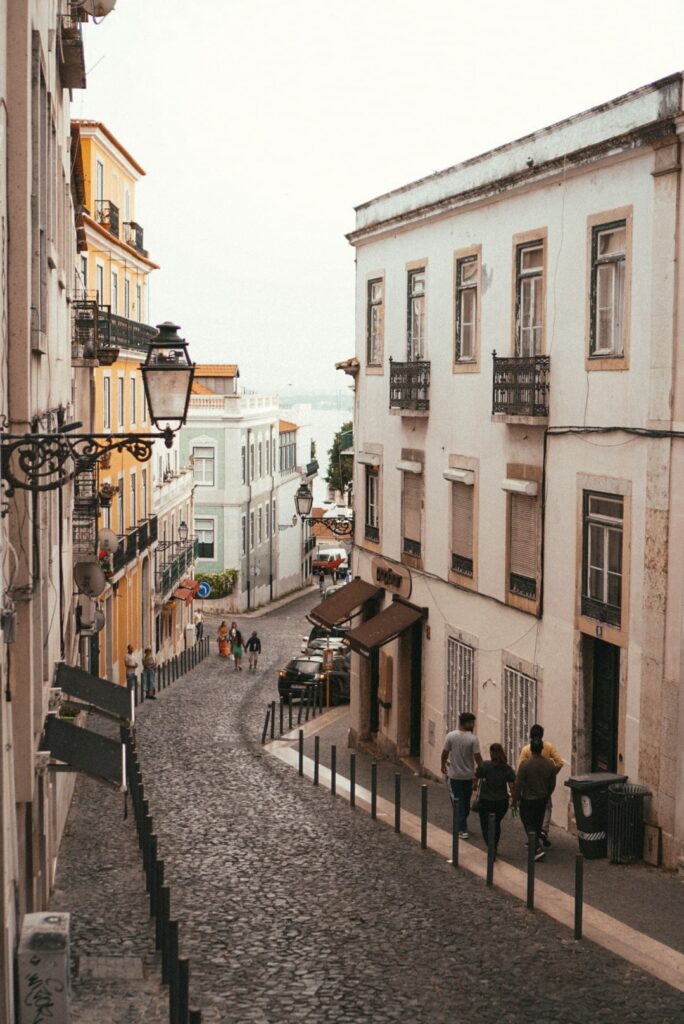 To get to Alfama from anywhere in Lisbon, you can either take the metro, the tram, or the bus. We'll discuss them more in detail below:
By Metro:
Alfama is well-connected by the Lisbon Metro System. The closest metro stations are Santa Apolónia and Terreiro do Paço. From either station, you can walk to the district or take a tram or bus.
By Tram:
The iconic Lisbon trams run through Alfama, providing a fun and scenic way to reach the neighborhood. The most popular tram lines for getting to the district are the tram 12 and 28.
The number 12 tram runs from Praça da Figueira to Martim Moniz, while the number 28 tram runs from Praça Martim Moniz to Campo de Ourique.
By Bus:
There are several bus routes that pass through Alfama, such as numbers 735, 206, and 735. These buses connect Alfama with other parts of Lisbon, including the airport and the city center.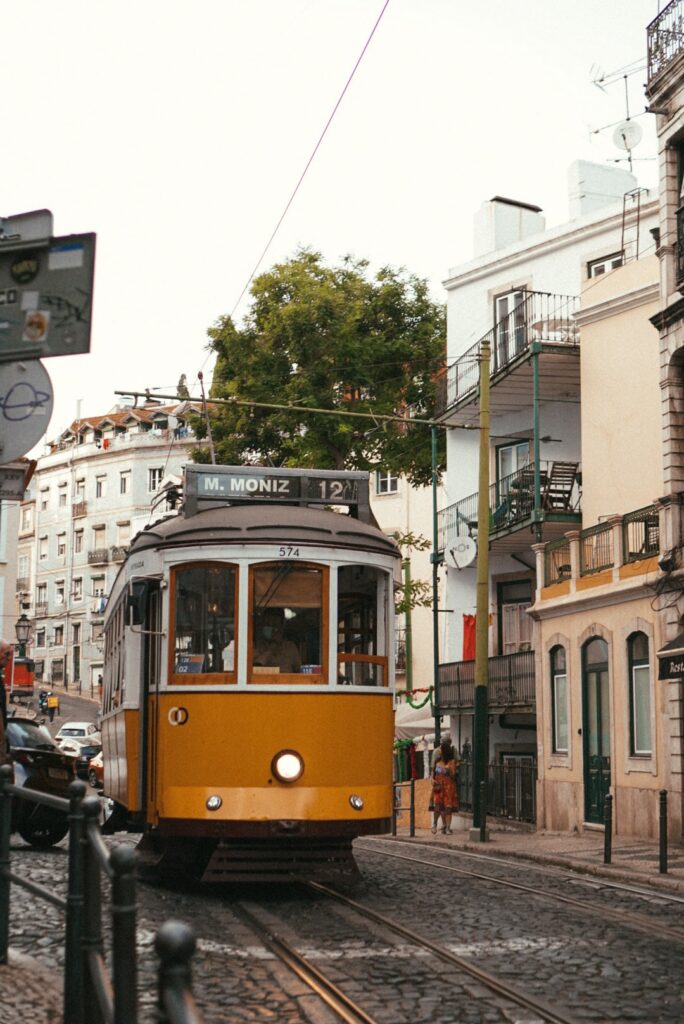 Taxis and ride-sharing services such as Uber and Bolt are widely available in Lisbon and can be a convenient way to travel. They are also quite cheap!
Just be aware that the narrow streets of Alfama can be difficult to navigate, so it's best to have the driver drop you off at the nearest accessible point and then walk to your destination.
This was our preferred method of getting around the district and the city of Lisbon, in general.
If you are staying in the city center or nearby neighborhoods, walking can be a pleasant way to explore the city. Just be aware that Alfama is located on a hillside, so the walk can be quite tiring but the street scenes are so worth it.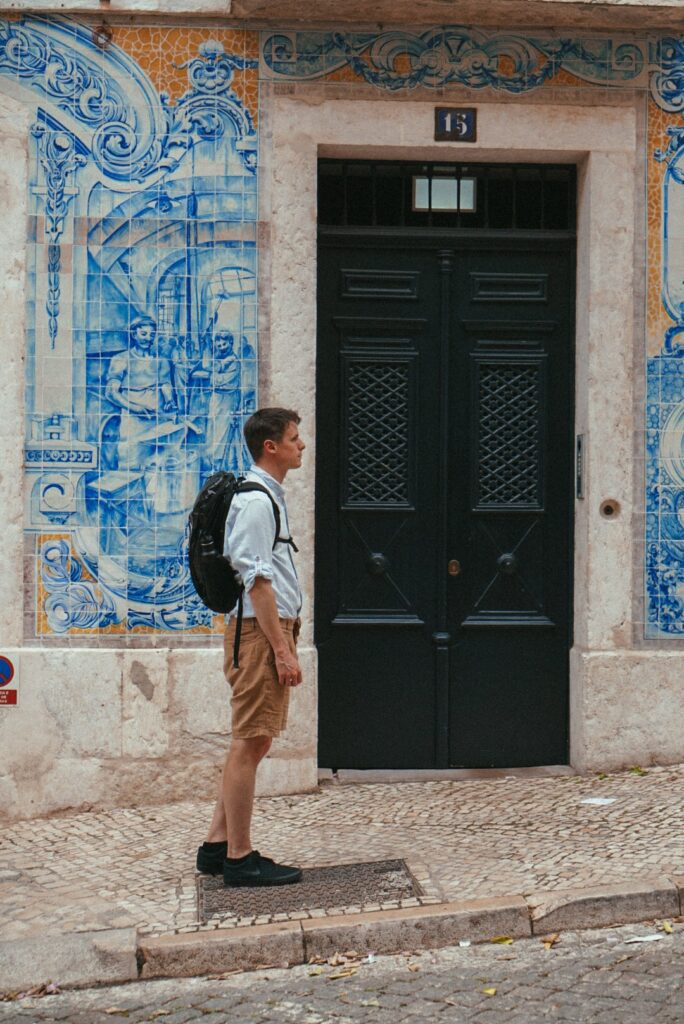 Where to Stay in Alfama Lisbon
Since the district is located in the middle of many attractions, there are many options for where to stay in Alfama to suit all budgets. 
Each of these places to stay has its own unique charm and amenities, allowing you to enjoy the district's rich history and cultural heritage in comfort and style.
Here are some of our suggestions for where to stay in Alfama based on different budget ranges:
Budget Accommodations
This budget-friendly hostel is located in the heart of the district and offers both dormitory-style and private rooms at affordable prices. The hostel features a shared kitchen, lounge area, and outdoor terrace, and guests can enjoy free Wi-Fi and a daily breakfast.
This guesthouse is located in a traditional Portuguese building in the center of the district and offers simple but comfortable rooms at budget-friendly prices. Guests can enjoy a shared kitchen and lounge area, free Wi-Fi, and easy access to the neighborhood's many restaurants and cafes.
Mid-Range Accommodations
This apartment-style accommodation is located in a renovated historic building and features fully-equipped apartments with private terraces and stunning views of the city. The apartments are decorated in a modern style and come with aircon, free Wi-Fi, and kitchen facilities.
This boutique hotel is located in the heart of the district and offers stylish rooms with traditional Portuguese decor and modern amenities. The hotel features a rooftop terrace with panoramic views of the city, a lounge area, and a bar. Guests can also enjoy a daily breakfast and complimentary tea and coffee.
Luxury Accommodations
This luxury boutique hotel is located in a restored 15th-century palace close to everything and it features some beautifully decorated rooms and suites with views of the Tagus River. The hotel features a spa, a rooftop terrace with a pool, a restaurant, and a bar.
Housed in a renovated 18th-century building that was once home to a noble family, this hotel features 14 individually decorated rooms and suites. The hotel also boasts a small museum on its lower level showcasing Roman ruins and artifacts discovered during its renovation.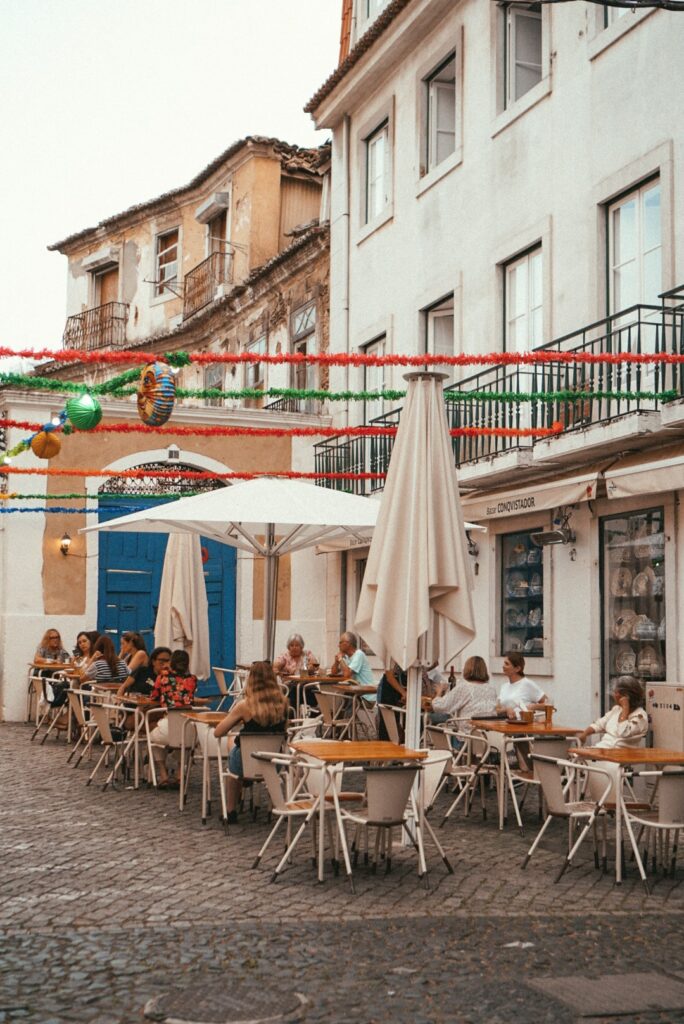 Best Things to Do in Alfama Lisbon
Explore the Winding Roads of Alfama
They say Lisbon reminds people of San Francisco, discovering the winding roads of different neighborhoods like Mission District and taking in unique architecture.
Well,  this part of Lisbon plays a big role in that comparison. One of the best things to do in Alfama is to simply take a leisurely stroll through the narrow, uphill streets. 
Don't forget to admire the colorful buildings, historic landmarks, and stunning views of the city.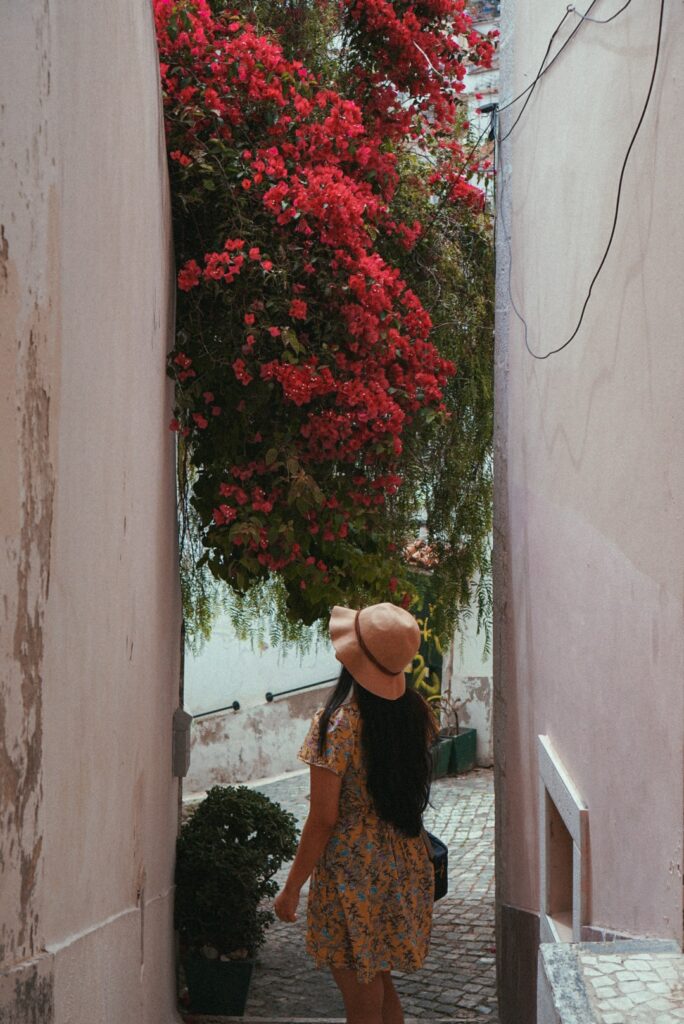 Visit the São Jorge Castle
This Castelo de São Jorge is located on a hilltop overlooking the Alfama District and the Tagus River. It was built in the 11th century by the Moors and later taken over by the Portuguese.
The castle offers breathtaking views of the city and the river. You can also explore the castle's towers, gardens, and exhibitions, and learn about the history of Lisbon and Portugal.
The entrance fee plus a guided tour costs around 31 euros and is free for children under 10 years old.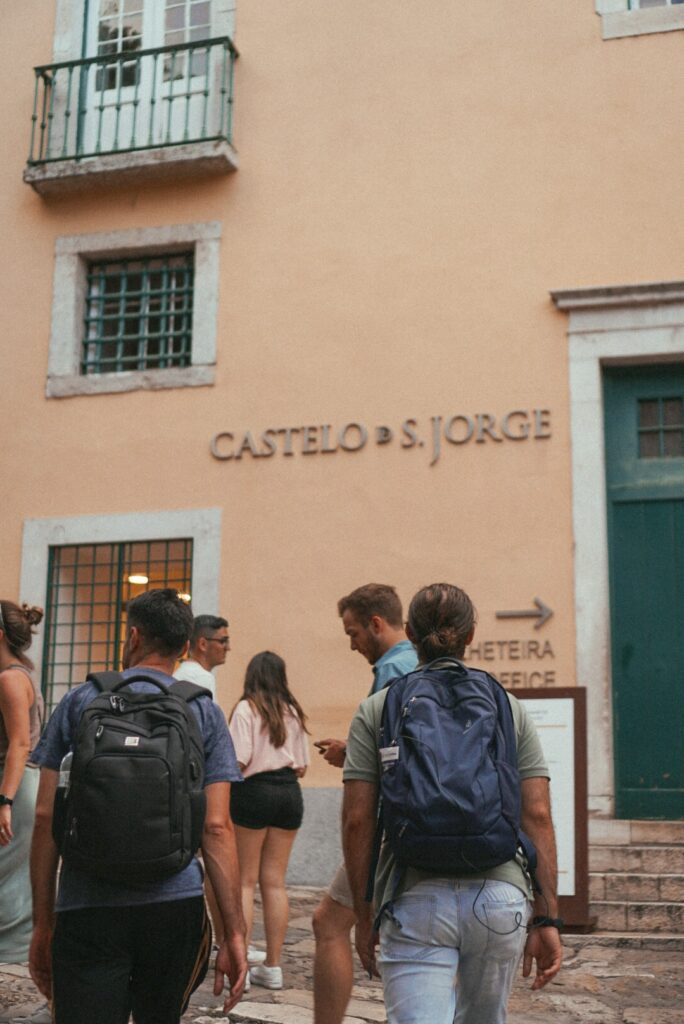 The district is known for its traditional Fado music, which is characterized by its mournful melodies and soulful lyrics.
Head to a local Fado bar or restaurant and enjoy an evening of live music and Portuguese cuisine.
You can also join a walking tour that ends with dinner and a night of Fado Music, all inclusive.
Check Out the Lisbon Cathedral
Also known as the Sé, the Lisbon Cathedral is one of the oldest buildings in the city. It was built in the 12th century and has survived several earthquakes and fires. The cathedral has a Gothic facade and beautiful stained-glass windows.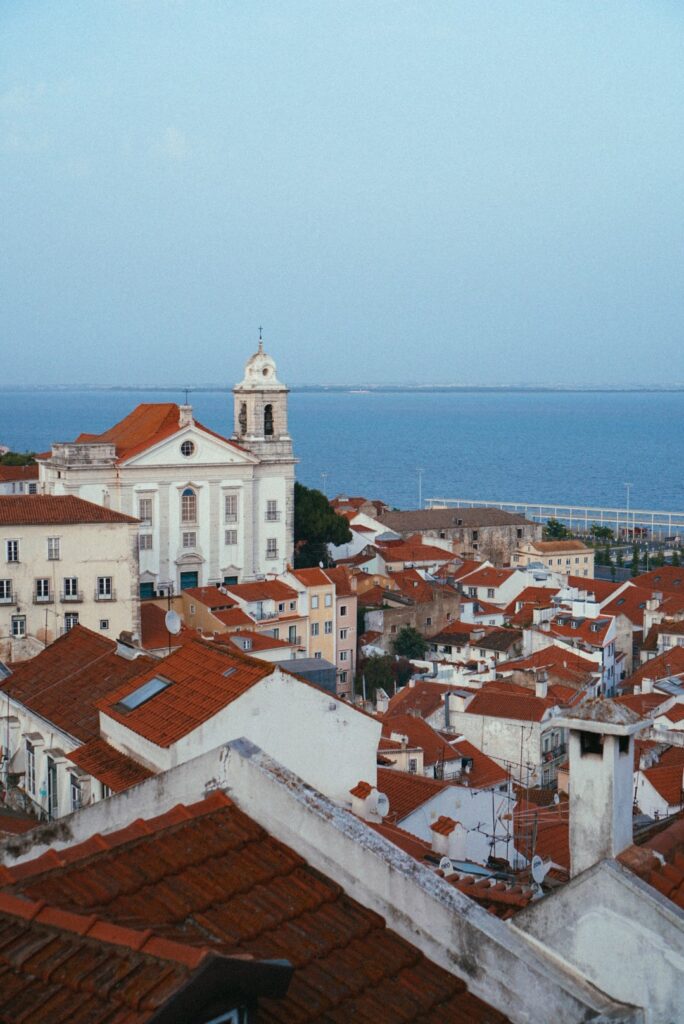 A trip to the District isn't complete without taking a ride on the famous Tram 28. This tram winds its way through the narrow streets of Alfama and offers a unique perspective on the neighborhood's historic architecture and landmarks.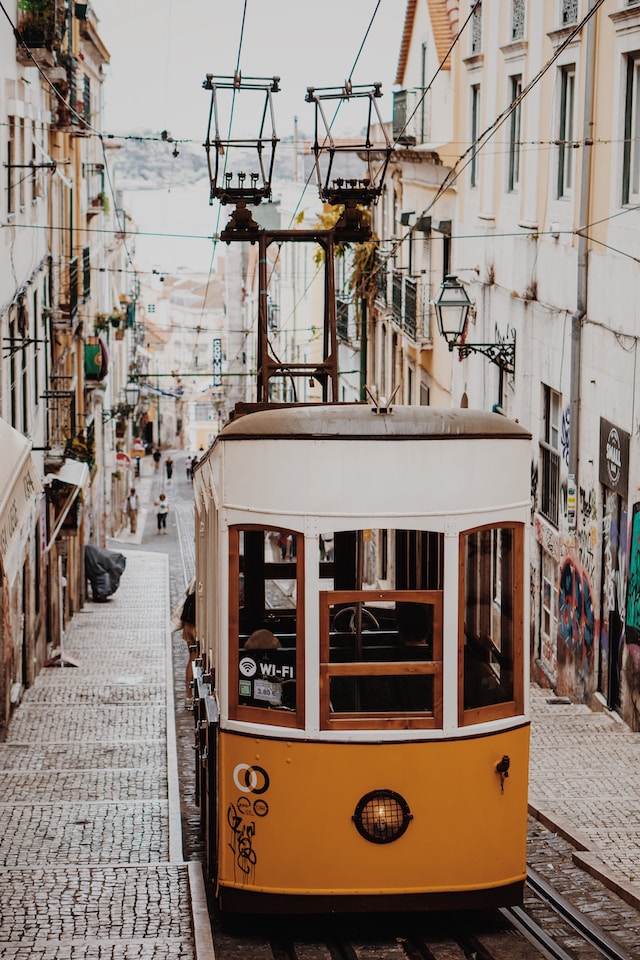 Tour the National Pantheon
The National Pantheon is a neoclassical building that was originally a church but was converted into a pantheon in the 20th century. It is the final resting place of many notable Portuguese figures, including poets, writers, and politicians.
It's a great place to marvel at the building's interior and enjoy the stunning views from its dome. The entrance fee is around 5 euros.
Appreciate the Views from Miradouro de Santa Luzia
Looking for the best view in Lisbon? Miradouro de Santa Luzia is exactly what you're searching for!
This viewpoint offers wonderful views of Alfama and the river. It has a garden with a fountain and a terrace with azulejo tiles depicting scenes from Lisbon's history.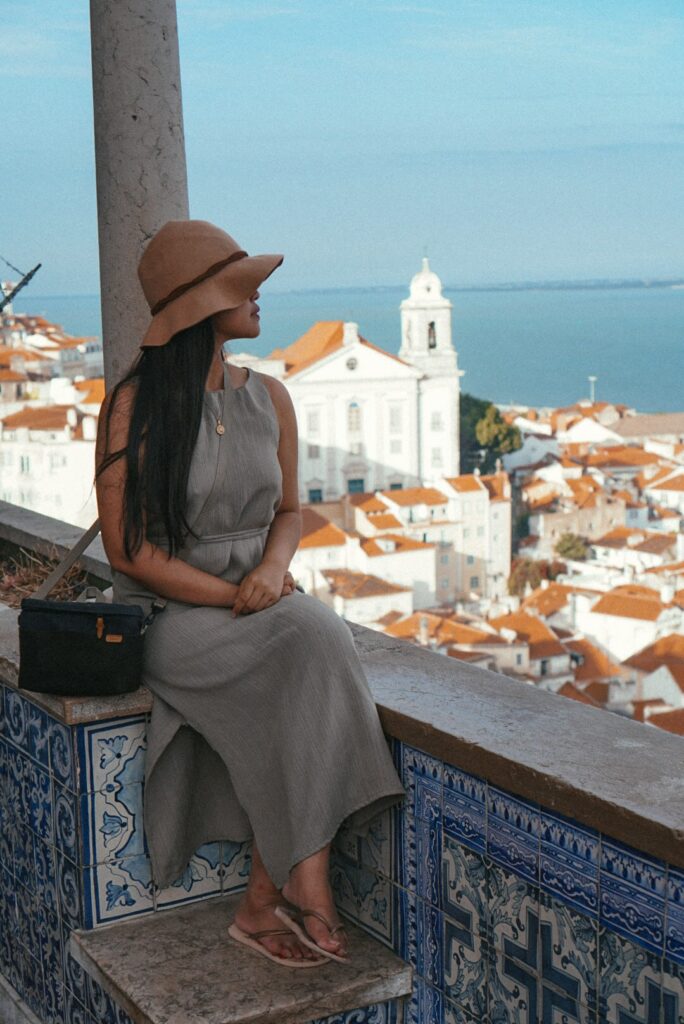 Learn the History of the Fado Museum
The Fado Museum is dedicated to the history and culture of fado music. It has a collection of instruments, recordings, and memorabilia from famous fado singers.
If you're a fanatic of this genre of music, then a visit to the museum should definitely be on your list. The entrance fee is around 5 euros.
The great thing about Alfama is that it's home to many traditional Portuguese restaurants, where you can sample dishes like bacalhau (salt cod), sardines, and grilled meats. Be sure to try a glass of Vinho Verde or Port wine to accompany your meal.
For dessert, don't miss out on the iconic Pastel de Nata! They're everywhere and super affordable at around 1 to 1.5 euros per piece.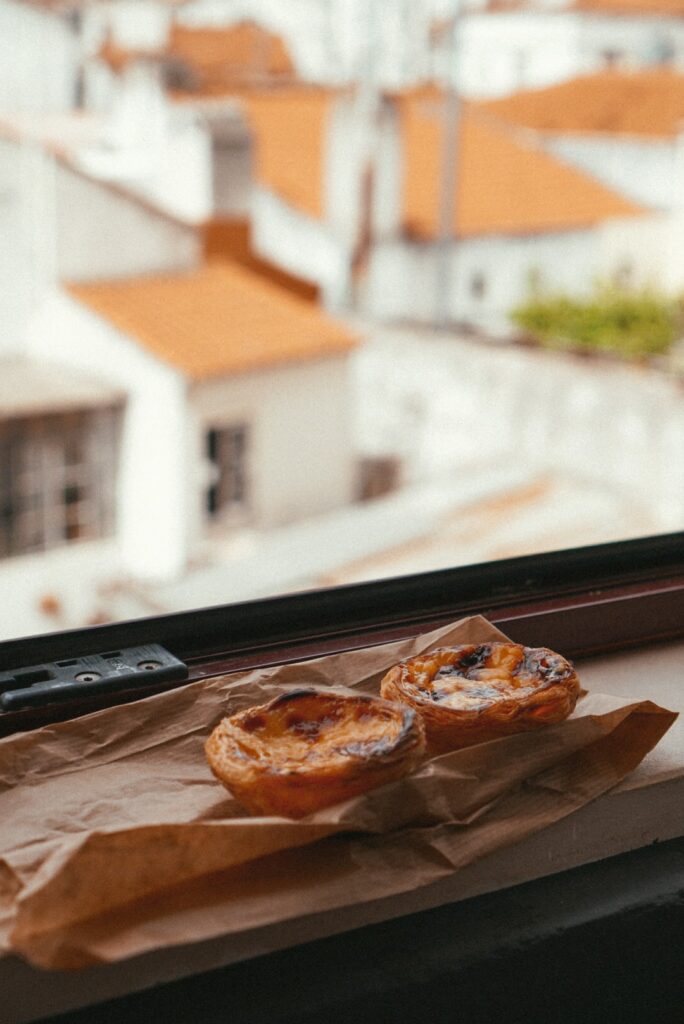 Walking Tour Map of Alfama Lisbon
Below we provide you with a free map of Alfama Lisbon and the mentioned things to do as well as places to stay that were discussed in this article.
As a recommendation for your walking tour, we recommend starting from the National Pantheon, moving to the Fado Museum then ending up in the heights either at the viewpoint or at the castle.
Otherwise, you can also do it the other way around by starting up in the heights then making your way down. 
As we've previously mentioned, this district in Lisbon is best done by walking.  Aside from a few tram rides, there's no need to take public or private transportation since the streets are narrow and winding.
It's more pleasant to walk anyway especially as every turn offers you a panoramic view of the city and of Alfama from up above. 
Final Thoughts on Alfama Lisbon
So there you have it! We hope this travel guide helps you plan for your trip to Alfama Lisbon.
It's a must-visit destination for anyone traveling to Lisbon. Its rich history, vibrant culture, and many attractions make it a unique and unforgettable neighborhood. 
Whether you're exploring the narrow streets, listening to fado music, or admiring the views from a miradouro, Alfama is sure to leave a lasting impression.
Now it's your turn to tell us: Have you ever been to Lisbon, specifically the district of Alfama? How did you like it?
Let us know your thoughts and any other questions you may have in the comments below!
LIKE THIS POST? PIN IT FOR LATER!
Or start searching for your next destination below