Barceloneta Beach Spain or La Barceloneta is one of our favorite neighborhoods in the city of Barcelona. This adorable seaside district is home to Barcelona's best beaches, beautiful architecture, and delicious tapas.
Chances are if you're headed to the city, you have most likely included Barceloneta Beach Spain or the area of La Barceloneta into your planned itinerary.
However, if you're looking for specific things to do in Barceloneta Beach, how to get there, the history, and the best hotels to stay at nearby – then this travel guide on Barceloneta Beach Spain has got you covered.
NO TIME TO READ? PIN IT FOR LATER!
Overview of Barceloneta Beach Spain
Barcelona Beach or La Barceloneta is located in the Ciutat Vella district of Barcelona in Catalonia, Spain.
A former fishing village, here are some Barcelona Beach Facts that you should know before going:
Being bordered by the Mediterranean Sea, Barcelona Beach Spain used to be a fishermen's village.
La Barceloneta, as it is today, was constructed by local residents during the 18th century. Prior to this time, it was unvisited except by fishermen.
Barcelona Beach Spain is one of the oldest beaches in the city. Legend says it was the place that inspired Miguel de Cervantes for the battle between the Knight of the White Moon and Don Quixote.
It is known for its sandy beaches and plethora of restaurants and bars that line its boardwalk.
La Barceloneta comprises of four main beaches:

Sant Sebastià

near the iconic W Barcelona Hotel. The main beach of Barceloneta with its fine sands. Sant Miquel, the setting for the L'Estel Ferit sculpture. And Somorrostro, which is the right beside the Port Olímpic.
The W Barcelona was first opened in 2009 and has become quite the controversial icon within Barceloneta Beach. Going to the seaside, you won't miss its eclectic style, similar to the shape of a boat sail. It has been named one of the best hotels in Europe but also one that has been scandalized by various environmental issues.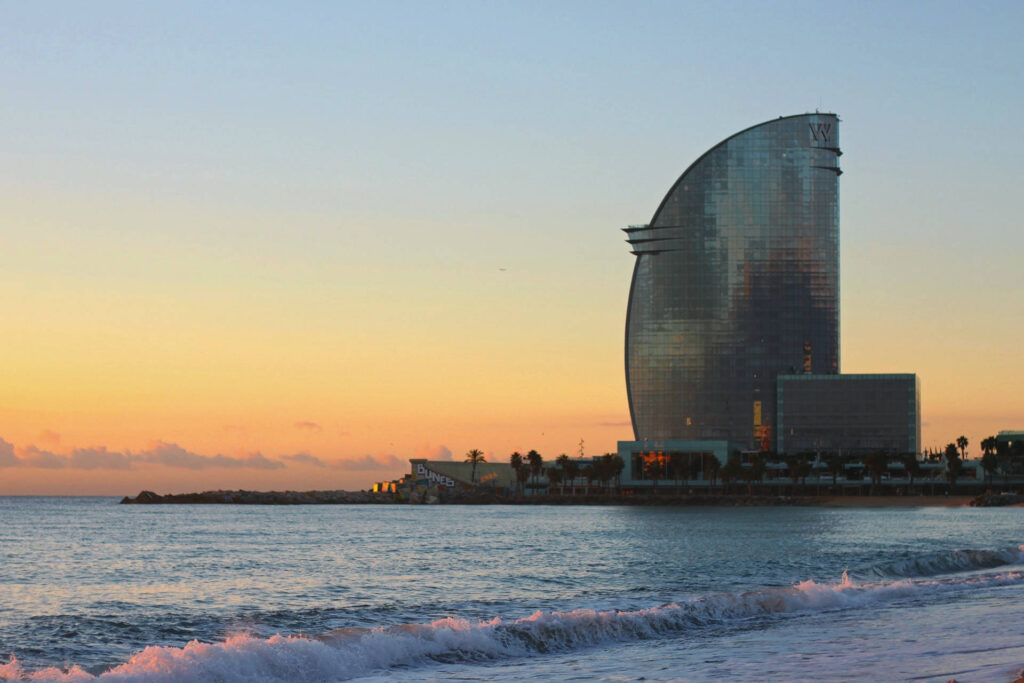 How to Get to Barceloneta Beach
How to Get to Barceloneta Beach by Metro
To get to Barceloneta Beach Spain by metro:
Take the Yellow Line (Metro Line 4) to Metro Stop: Barceloneta.
If you specifically want to get to the marina area of La Barceloneta, walk straight along the street of Passeig de Joan de Borbo for 10 minutes until you see the beach.
How to Get to Barceloneta Beach by Walking
It is also possible to walk to Barceloneta Beach Spain as it's not very far from the city center:
From the end of La Rambla (around the area of Rambla de Santa Monica or Rambla del Mar), it takes about 20 to 25 minutes. Below is a map of the walking trail you can follow to Barceloneta Beach Spain.
How to Get to Barceloneta Beach by Bus
Although not as fast as the metro method, to get to Barceloneta Beach Spain by bus:
Take the Bus D20, 45, 59 to Bus Stop: Almirral Cervera or Passeig Maritim.
Alternatively, you can join the Big Ben Hop On Hop Off Bus and get off the Bus Stop: Barceloneta.
Things to Do in Barceloneta Beach
Stroll around Port Olímpic and the connected Promenade
The Port's history dates back to the 1992 Summer Olympics, in which the structure was originally formed to accommodate. Today, it acts as a beautiful harbor to relax and enjoy the views of the sea and the sand. There is even a fish sculpture that was designed by Frank Gehry called the Piex Olímpic.
It is also connected to the rest of the promenade that lines the beach where you can walk from the port to as far as W Barcelona.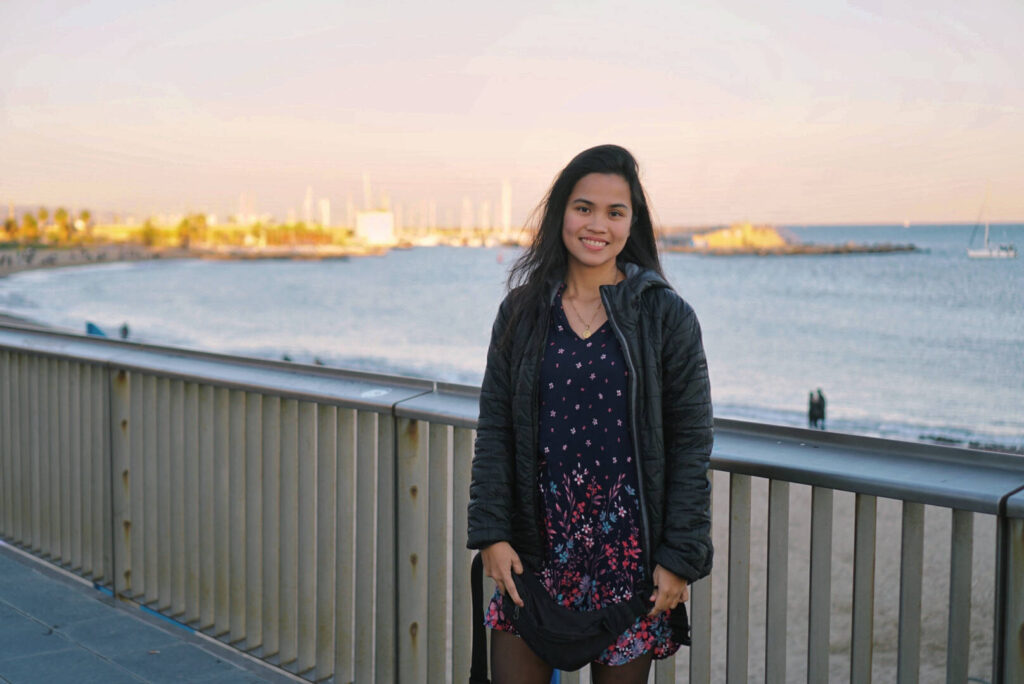 Ride the Cable Car to Montjuïc
Parc de Montjuïc is a great and unique sight in Barcelona but one of the harder places to reach. Fortunately, one can take the cable car to Montjuïc Hill.
The ride itself provides beautiful aerial views of the ocean and the entire Barcelona city. It's a different bird's eye as what you would normally see in places like Parc Guell.
Relax and Soak Up the Sun in Barceloneta Beach Spain
Barcelona maintains dominantly warm weather all throughout the year. Simply basking in the sun and enjoying the vibes is the best thing to do in Barcelona Beach Spain.
There are also water sports available should you choose to do so. Barceloneta Beach offers kitesurfing and windsurfing as a fun activity to engage in. Otherwise, you can do sports on your own by playing beach volleyball or football.
Admire the lines of yachts by Port Vell
The path along Port Vell offers stunning views of the lines of yachts that line the port. If you're into the boats or photography, this spot is a winner.
Should you want to do something more than admire the yachts, Port Vell also houses the Museum of Catalan History – a museum that tells the history of the Catalan region and what makes it unique from other parts of Spain.
Check out the whimsical L'Estel Ferit
L'Estel Ferit (or the Wounded Shooting Star) is an interesting sculpture by the beach that will surely catch your eye. Barcelona is no stranger to eclectic architecture and this one lives up to its name.
It is located at the area of the Sant Miquel, where four cubes are seemingly stacked on top of each other in random order. It's worth checking out and taking photographs of its cool structure.
Enjoy the Tapas and Drinks in Seaside Restaurants and Bars
Barceloneta Beach is home to some of the best restaurants and bars, promising a beautiful and relaxing atmosphere of the Mediterranean Sea.
Some of the noteworthy ones to look into are La Deliciosa, Santa Marta, Lal Guingueta, Escriba, Jefferson and Cal Pinxo. 
Either way, whichever restaurant or bar you choose to dine within the area of Barcelona Beach Spain, we honestly think you can't wrong with Spanish cuisine and their delicious tapas and paellas.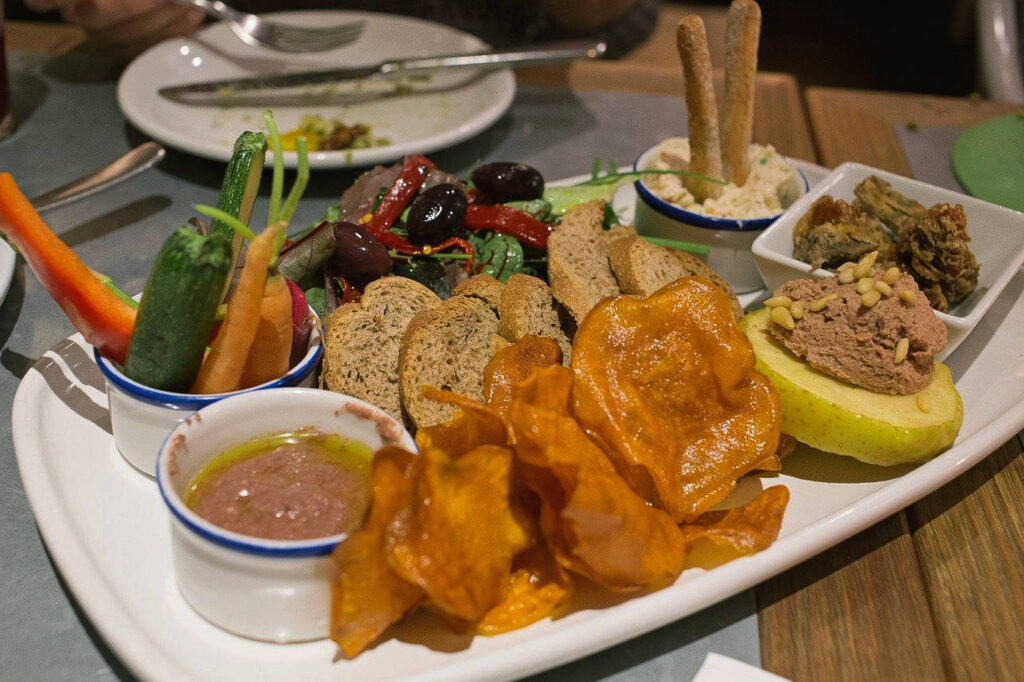 As mentioned, W Barcelona is one of the most iconic yet controversial buildings that can be found in Barcelona Beach Spain. With its noteworthy shape, you can't miss it as you walk through the beach and marina area.
It's worth checking out and coming closer to the hotel, or even dining at its beautiful seaside restaurant and partying at its rooftop club.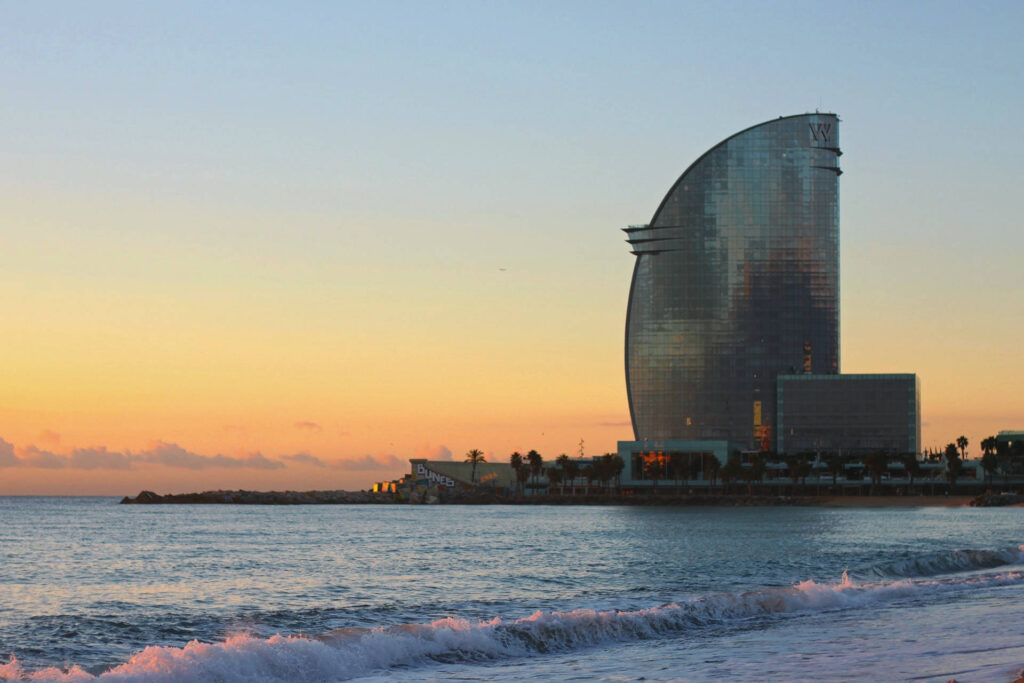 Discover the Old Town of La Barceloneta
Now the beachside area is not only the beautiful part of La Barceloneta, it's also a great experience to walk around the historical town center of the district.
The streets leading up to the beach are surrounded by beautifully colored buildings with small balconies, narrow streets, and palm trees all around.
We recommend checking out Placa de la Barceloneta and Carrer de la Maquinista. These areas are full of interesting alleyways and locals flooding out of bars and restaurants especially during the early evening.
There is a sort of buzzing energy to La Barceloneta where you can see how rich and lively the culture is in this part of Barcelona.
Budget Hotels on Barceloneta Beach
If you are still looking for where to stay in Barcelona, La Barceloneta is a great neighbourhood to look into. Imagine waking up and being walking distance to the beach already. It's one of the biggest draws to staying at this area, aside from the many great restaurants and bars that you can enjoy – whether breakfast, lunch or dinner.
There are many options on where to stay near Barceloneta Beach Spain and it doesn't have to be expensive. Below we've compiled a list of great hotels to check out with a rate of no more than 55 euros per night for two people.
Final Thoughts on Barceloneta Beach Spain
So there you have it! This is the ultimate guide to visiting Barceloneta Beach Spain. From learning about Barceloneta Beach Facts, how to get to Barceloneta Beach, the best things to do in Barceloneta Beach and finally, a list of great budget hotels on Barceloneta Beach – we hope this answers any questions and doubts you had about visiting the neighbourhood.
Being so close to the city center and La Rambla, La Barceloneta is definitely a must-see for your trip to Barcelona. With its fine sands, architectural sights, great food, relaxed ambiance, and cultural historic sights – there is a an unparalleled beauty to this seaside district.
What about you? Have you been to Barcelona? Did you get to see the area of Barceloneta Beach? Let us know of your travel experiences or questions in the comments below!
LIKE THIS POST? PIN IT FOR LATER!
Or start searching for your next destination below