If you're on a trip to discover Crete and are currently in Chania, then you may be thinking about traveling to Chora Sfakion next to have a more offbeat experience to Greece. This guide will explain all the best ways on how to travel from Chania to Chora Sfakion.
When we travelled to Crete, we realized there was a complete lack of information on this topic so hopefully, by providing you with this guide, you can better understand all the options on how to travel from Chania to Chora Sfakion.
We discuss the three types of travel methods you can take from the bus to a taxi and finally, the fastest and most convenient way, by renting a car. We discuss the pros and cons of each type of transportation method so that you can have the best outlook on how to travel from Chania to Chora Sfakion.
NO TIME TO READ? PIN IT FOR LATER!
Chora Sfakion: A Hidden Gem in Crete
Chora Sfakion (Hora Sfakion) is a small seaside, fishing village located about 75 kilometres away from the main town center of Chania, about a 1 and a half hour  drive. It's located in the south coast of the region of Chania and is the capital of the district of Sfakia.
This charming little town is far away from mass tourism and a perfect place for people who are looking for a relaxed and offbeat destination in Crete amidst the most stunning views of nature. 
It's a jump-off point to multiple hikes within Sfakia and a boat ride or hike away from Crete's hidden white-washed village – Loutro.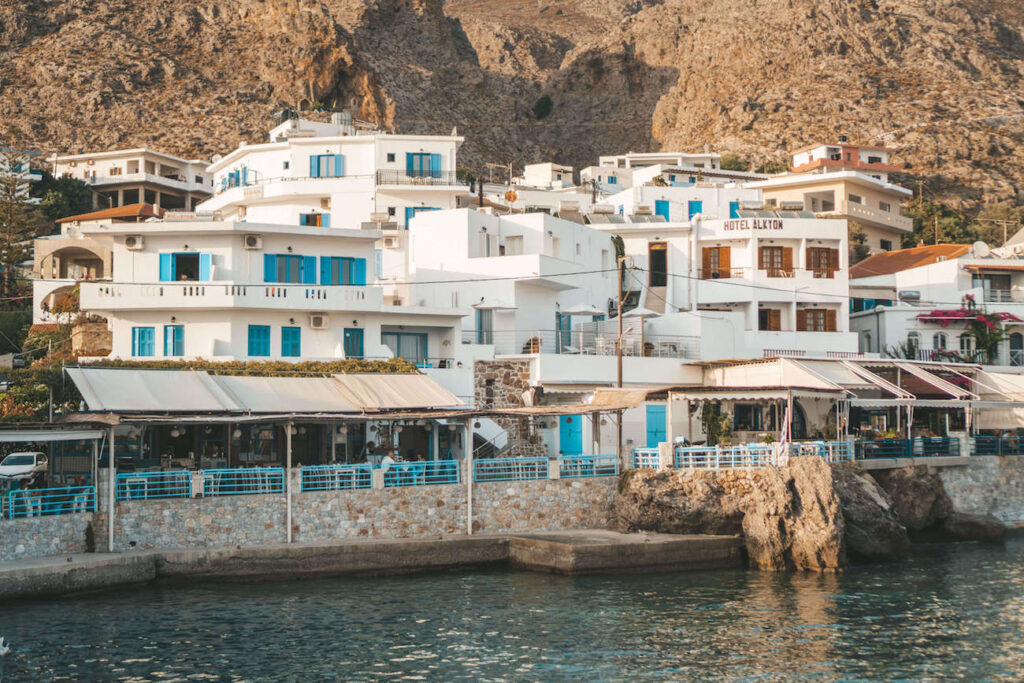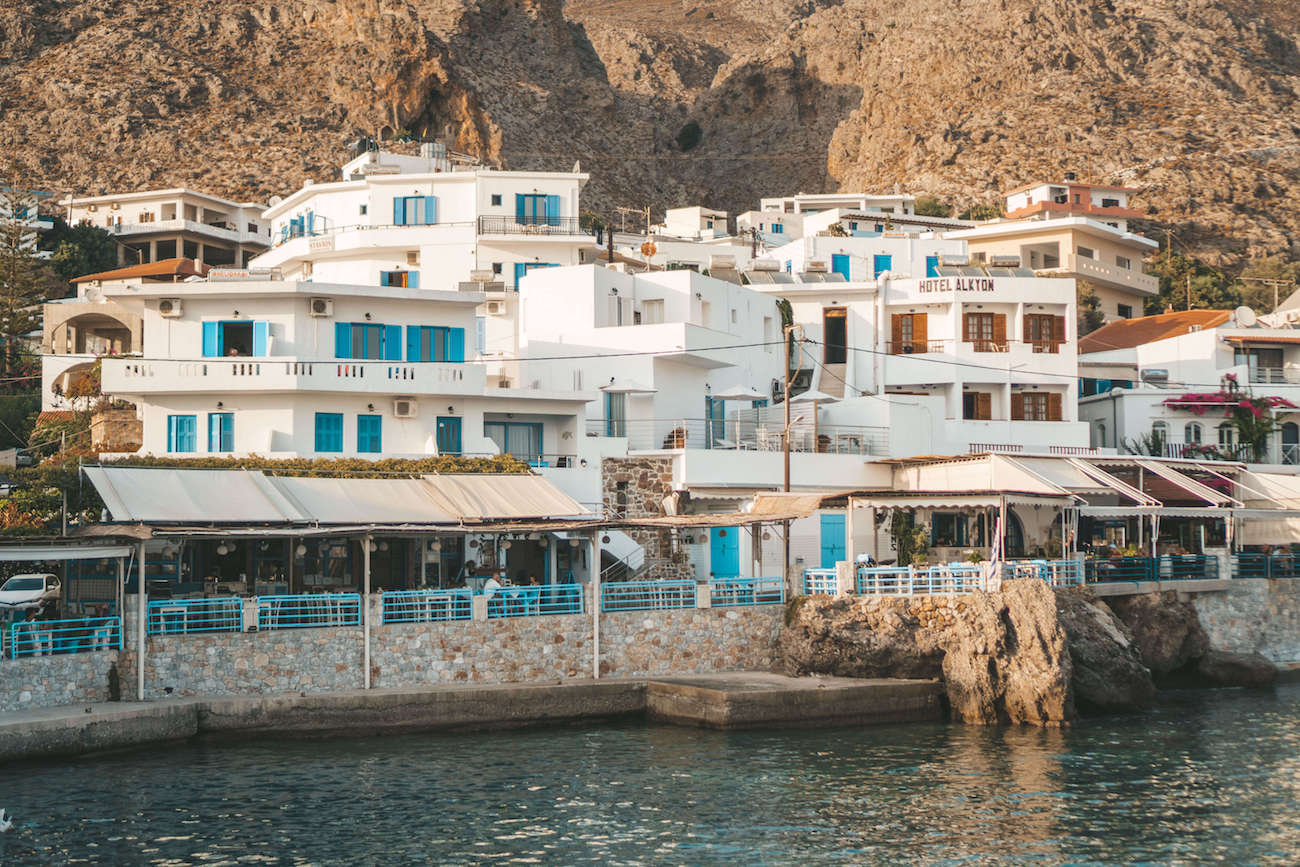 If you love nature or want to discover hidden gems in Greece, then Chora Sfakion and the area of Sfakia is a great choice. 
You'll also be surprised that the village of Chora Sfakion is quite the hidden gem. Like Loutro, it's a beautiful white-washed village, with colourful doors, paired with the deep brown tones of the Sfakia mountains in the backdrop.
It's an unreal sight to behold and a marvel why it's not more visited. Wherever you look, Chora Sfakion is every bit of picture perfect.
Travel from Chania to Chora Sfakion by Bus
Chania to Chora Sfakion Bus
Taking the bus is the most common way to travel from Chania to Chora Sfakion. But like most things in Greece, it can be a bit confusing to understand! This is why learning a few basic Greek words and phrases can be very useful, especially when navigating through the information provided in the bus stations or online.
If you choose to book your tickets online, you can use the following website to find the recently updated bus schedules from Chania to Chora Sfakion: https://www.e-ktel.com/en/services/dromologia/
Find the printable timetable under the section *with departure from Chania* and look for the route from Chania to Chora Sfakion.
The cost of a one-way ticket is 8.30 euros and it takes about 1 hour and 40 minutes to arrive at Chora Sfakion. The updated price list can be found here under *bus routes with departure from Chania.*
As the buses are limited to one, two or three per day, it's important to arrive at the bus station early or pre-book your tickets. These buses can get quite cramped with locals and visitors so plan ahead. Otherwise, go with our second option below, which is to rent a car (and we'll explain why!).
To buy the tickets, you have two options:
Book ahead online here.
Buy at the cashier booths in the Chania Bus Station directly. The location of the bus station can be confusing as Google Maps shows a lot of options. Hence, we've provided a map of the station's exact location below.
Travel from Chania to Chora Sfakion by Car
Rent a Car in Chania for as low as 15 euros/day
As the cost of a one-way bus ticket to travel from Chania to Chora Sfakion was already 8.30 euros and we were 2 people, then that would make it 16.60 euros one way for the both of us. 
Hence, we believed it was smarter to rent a car at a similar price and have the freedom to discover Sfakia with our own means of transportation. 
It also allowed us to make stops along the route such as taking a short hike in the gorgeous Samaria Gorge, stopping on the road to say hi to a couple of mountain goats, and having coffee at a beautiful viewpoint of the ocean before finally arriving at Chora Sfakion.
Our accommodation also had free parking so we didn't have to worry about paying extra.
To rent a car, we used the services of Rental Cars in Chania, specifically Caldera Car Hire. It's easy to book online and the process of receiving the car was super smooth. 
Depending on the company you choose, they will either bring the car for pick-up at the airport itself, right to your hotel, or any location that is agreed upon within Chania Town.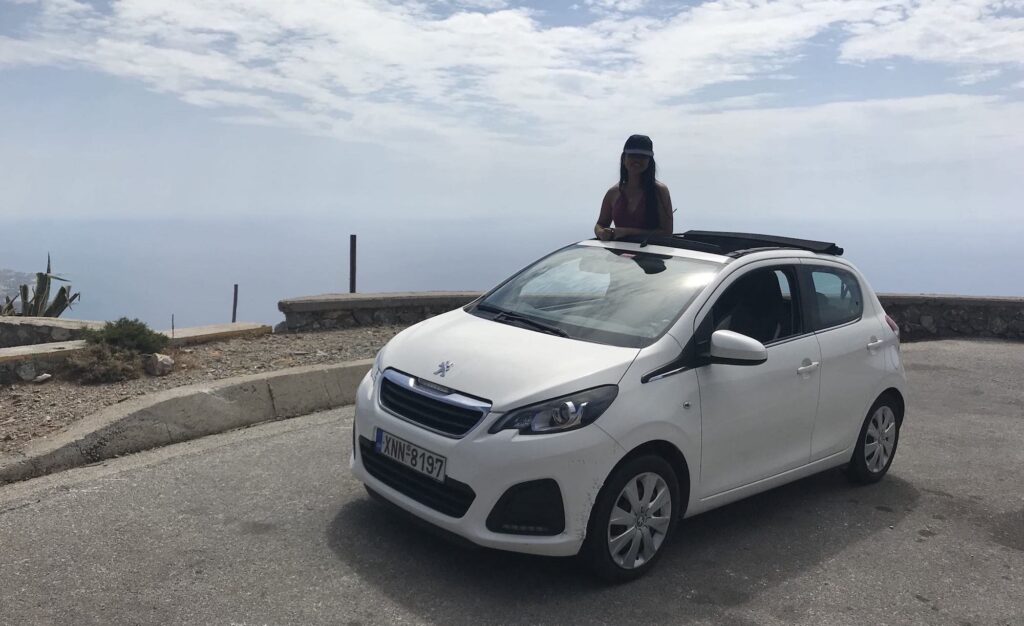 Travel from Chania to Chora Sfakion by Taxi
Taxis are ideal for big groups
Finally, you can also hire a taxi to travel from Chania to Chora Sfakion. It will take you straight from your location or hotel in Chania to Chora Sfakion. This option can also be ideal if you're a big group or a family, and you don't want to drive.
This method is definitely a more luxurious way to travel from Chania to Chora Sfakion as it can set you back around 80 to 100 euros.
Below is a list of reputable taxi services in Chania:
Conclusion: How to Travel from Chania to Chora Sfakion
So there you have it! We hope this helps you figure out how to travel from Chania to Chora Sfakion as we went through the same concern. With all the varying information online, it can be hard to understand what to do and end having to spend more money as a result.
Among all the ways explained above, we think that planning ahead, booking in advance and renting a car is the best option. Personally, this is what we did.
By advanced planning and renting a car, we were able to travel from Chania to Chora Sfakion at an affordable cost. Our car rental cost 55 euros for 3 days so about 28 euros per person, which is a decent rate in Europe.
However, if you're here because you have to make last minute plans and there are no more rental cars available, then we would recommend going for the bus and the last resort would then be to take a taxi.
If you have any questions on how to travel from Chania to Chora Sfakion that we were not able to cover in this guide, let us know in the comments below!
LIKE THIS POST? PIN IT FOR LATER!
Or start searching for your next destination below