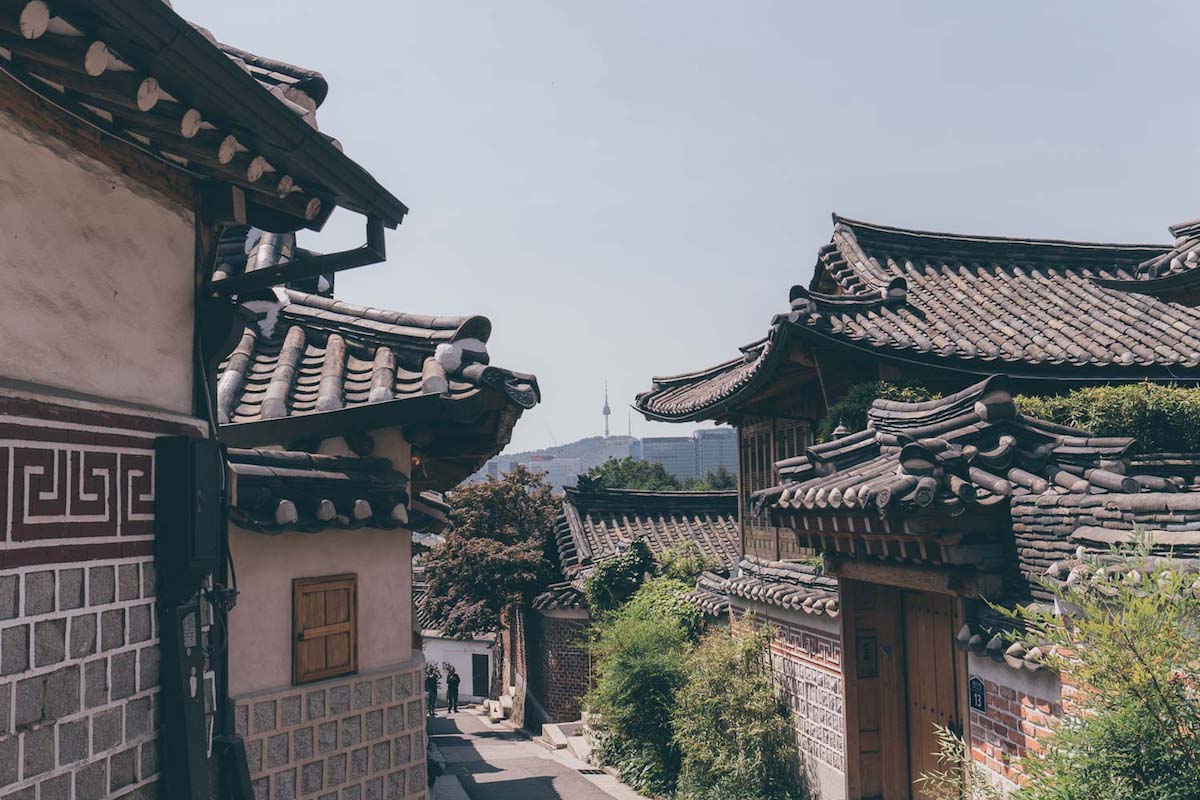 The city of Seoul is reminiscent of everything we love about Asian Mega Cities. There's so much to capture in the beautiful capital of South Korea. And in this guide, we've narrowed down both the best and the hidden Seoul photography spots that you should check out during your Seoul trip.
 Seoul is a dynamic blend of historical and modern influences, from the traditional villages to the uniquely designed skyscrapers, futuristic architecture, and lush greenery in the city's parks. You will surely be amazed at the variety of sights you can see in this eclectic town. 
At the end of this article, we also provide you with a free map of these Seoul photography spots so that you can easily find it and simply, add the map into your google maps mobile application!
NO TIME TO READ? PIN IT FOR LATER!
Seoul Photography Spots #1: Bukchon Hanok Village
Are you a fan of K-drama? If so, this Seoul photography spot is a treat for you! Bukchon Hanok Village is a historic neighborhood in Seoul, home to hundreds and hundreds of traditional Korean homes called the "hanok." 
It's quite popular among locals and travellers due to the many houses that have been converted into shops, cafes, small restaurants and inns. As such, we recommend visiting the area in the early hours of the morning right before or following sunrise. This will ensure that there are way less people plus the lighting will be absolutely amazing during this time.
Another tip, you can rent out a Hanbok, South Korea's traditional outfit, for an instagram-worthy frame of yourself.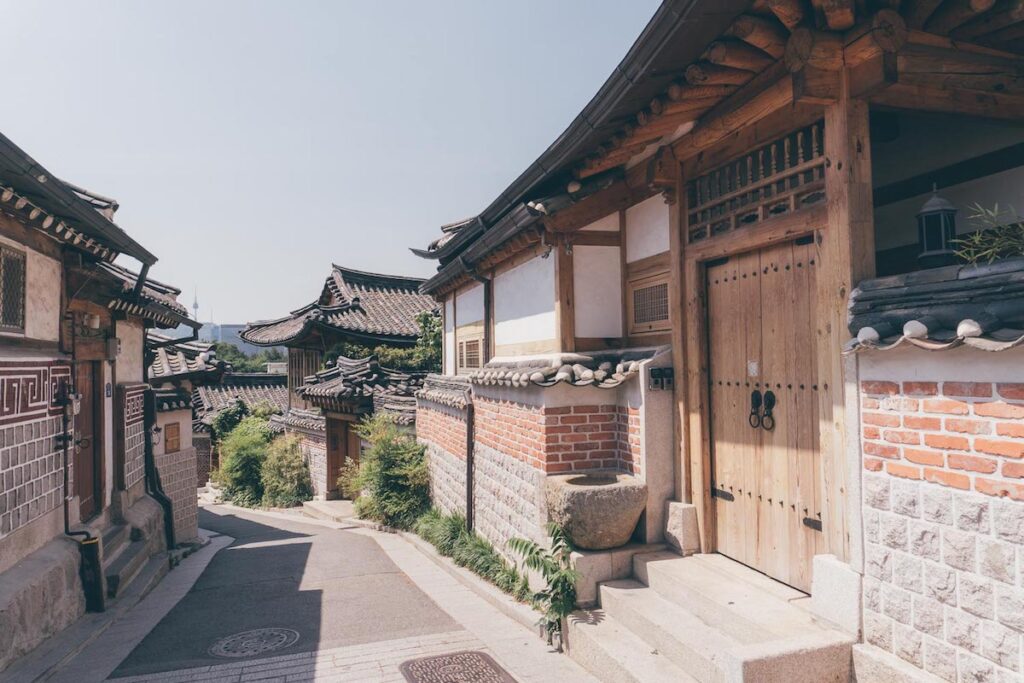 Seoul Photography Spots #2: Jeongdong Observatory
If you're looking to take some aerial shots of the Seoul skyline, then Jeongdong Observatory in the Seoul City Hall building is the place for you! It's completely free to visit and quite the hidden gem. 
Located in the 13th floor of the building, it offers panoramic views of Seoul. There's also a cafe within the observatory, which makes it the perfect spot to relax and take some long exposures as you sip on a cup of coffee paired with delicious pastries.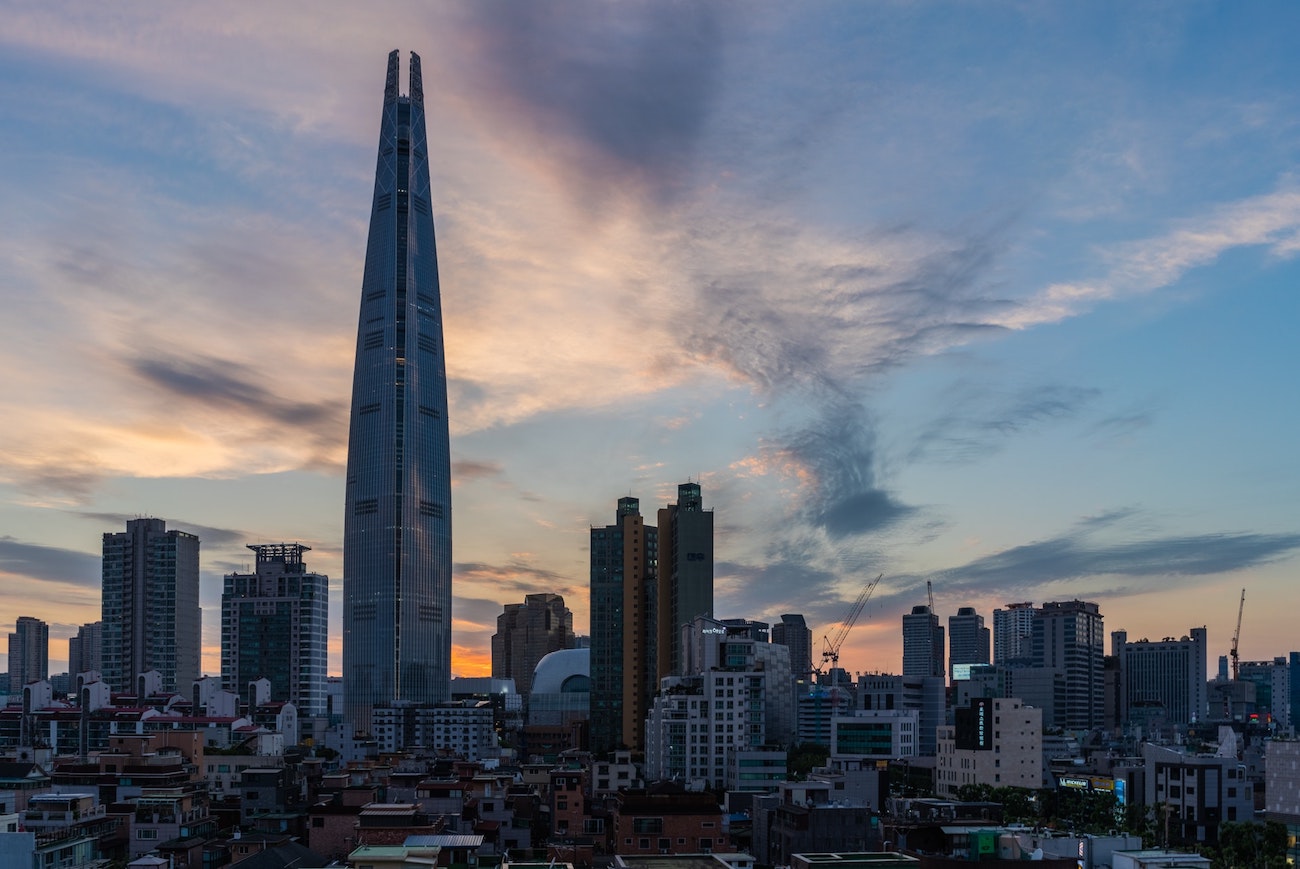 Seoul Photography Spots #3: Myeongdong
Myeongdong is a vibrant and bustling shopping street filled with locals and travelers, seeking to experience the lively energy of Seoul. To put it simply, it's like seeing the 5th avenue of New York or the Ginza of Tokyo but in a truly Seoul way of course. 
As a tip, we recommend visiting this spot at night when all the neon lights, bright advertisements and blinking signages are turned on for all to marvel at.
This makes it one of the best Seoul photography spots for street views and that cyberpunk vibe. Catching people in action with the lights shining all around, there's no better combo for an instagrammable place in Seoul.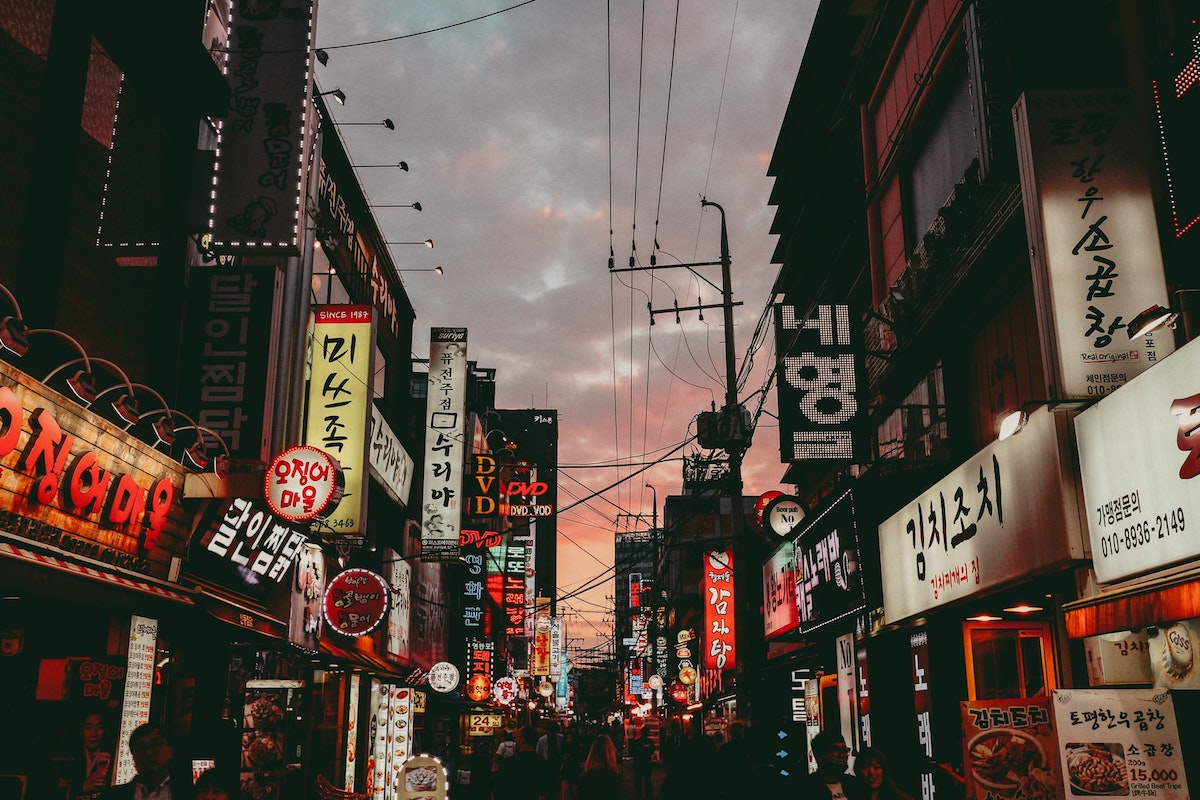 Seoul Photography Spots #4: Gyeongbokgung Palace
A trip to Seoul isn't complete without visiting the historic Gyeongbokgung Palace. You may have seen this iconic landmark in Korean Dramas or movies.
First built in 1395, Gyeongbokgung is the most significant palace out of the five grand palaces that can be found in Seoul. This palace is a symbolic representation of Seoul's historical origins and a great photography spot.
Furthermore, if you rent a hanbok, you get free entrance to the palace as well as many other attractions around Seoul. 
Seoul Photography Spots #5: Dongdaemun Design Plaza
Dongdaemun Design Plaza is a recently built art space with some of the most dynamic architectural designs you will ever see in your life, as designed by Zaha Hadid.
The Plaza was built to act as an incubator for local and international creative and forward-thinking designers. As a result, the design of the building itself feel quite futuristic and even cyberpunk.
The space combines artistic experiences and also shopping, open 24 hours a day for the added convenience of people visiting the surrounding Dongdaemun Market.
As a tip, we recommend you visit the area in rush hour to catch people crossing for some clean shots or in the early evening to get some shots in the soft sunset light. It's also a great photography spot at night, when the lights shine in all their wonder.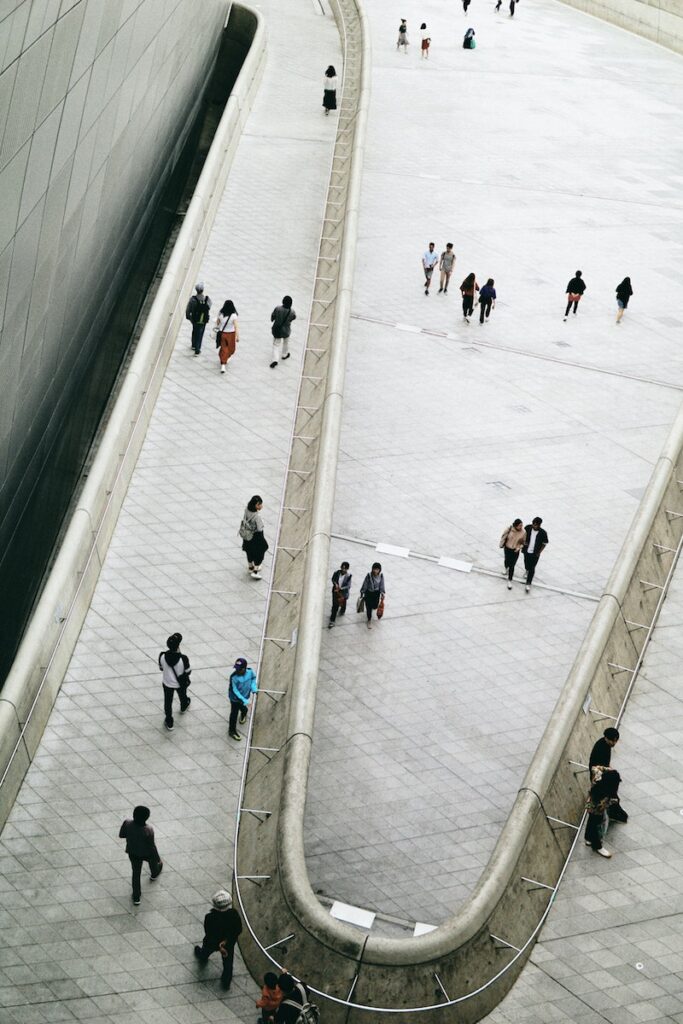 Seoul Photography Spots #6: Ihwa and Gaemi Mural Village
What we loved about Seoul is how it has so many beautiful mural villages.
These places have been developed by local artists and students a decade ago, as a response to the government's plans to demolish these neighbourhoods and turn them into more modern or commercialized spaces. 
The artists paint murals all over from the abandoned buildings to peoples homes, staircases and so much more. This then leads to the redevelopment of these areas as a must-see attraction and a truly amazing photography spot.
Ihwa Mural Village is the more popular and well-known photography spot. It is located in a hill near Naksan Park. For a more offbeat mural village, there is also Gaemi Mural Village. A peaceful and less visited neighbourhood at the foot of Inwangsan Mountain. 
We recommend you spend a couple of hour discovering the alleyways and staircases of these mural villages. There's something quite special about seeing the creations of these artists and students and how much an unlikely, shanty village has become a popular landmark and one of the best Seoul photography spots since the plans to demolish it.
Seoul Photography Spots #7: Starfield Library
Another unlikely Seoul photography spot, Starfield Library is one of the most beautiful libraries we have ever seen.
Located in COEX Mall in the world renowned Gangnam District, it's a gem of a photography spot because you would never think to find something like this in a shopping mall.
It features rows of rows of books reaching up to 13 meters high and consisting of over 50,000 books.
We recommend visiting during the hours when the sun is highest in the sky as the roof is made of glass. This creates light shadows and also, provides beautiful natural light for your frames, making it one of the best Seoul photography spots.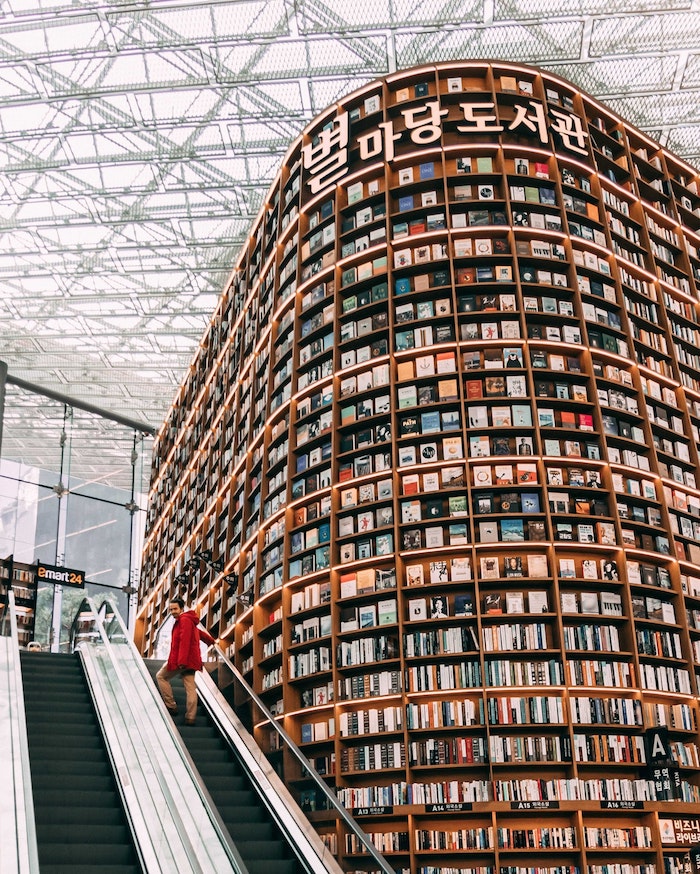 Seoul Photography Spots #8: Namdaemun Market
If you're looking to capture street scenes that showcase food markets, souvenirs, clothing and just seeing local businesses, then look no further than Namdeamun Market. This Seoul photography spot is located around Namdaemun Gate.
It's a great place to photograph busy street scenes, food stalls and vendors selling local products. The area is always bustling and full of energy.
We recommend visiting during early night as it's the time of the day with most action in the market. You'll having plenty of subjects during this time, creating for the perfect motion shots. However, if you're looking for a photography experience that's less chaotic, then we'd recommend visiting during the mid-afternoon. 
Seoul Photography Spots #9: Hangang River
These iconic bridge has some of the most stunning skyline views of Seoul, as it reflects over the Hangang River. 
We recommend going during sunrise or sunset when the sun's rays are less harsh and perfect for capturing silhouettes of the skyscrapers. 
Finally, bring a beer if you're going on sunset as this spot is a great place to just sit back, relax and take photographs while watching the majestic view of the Seoul skyline.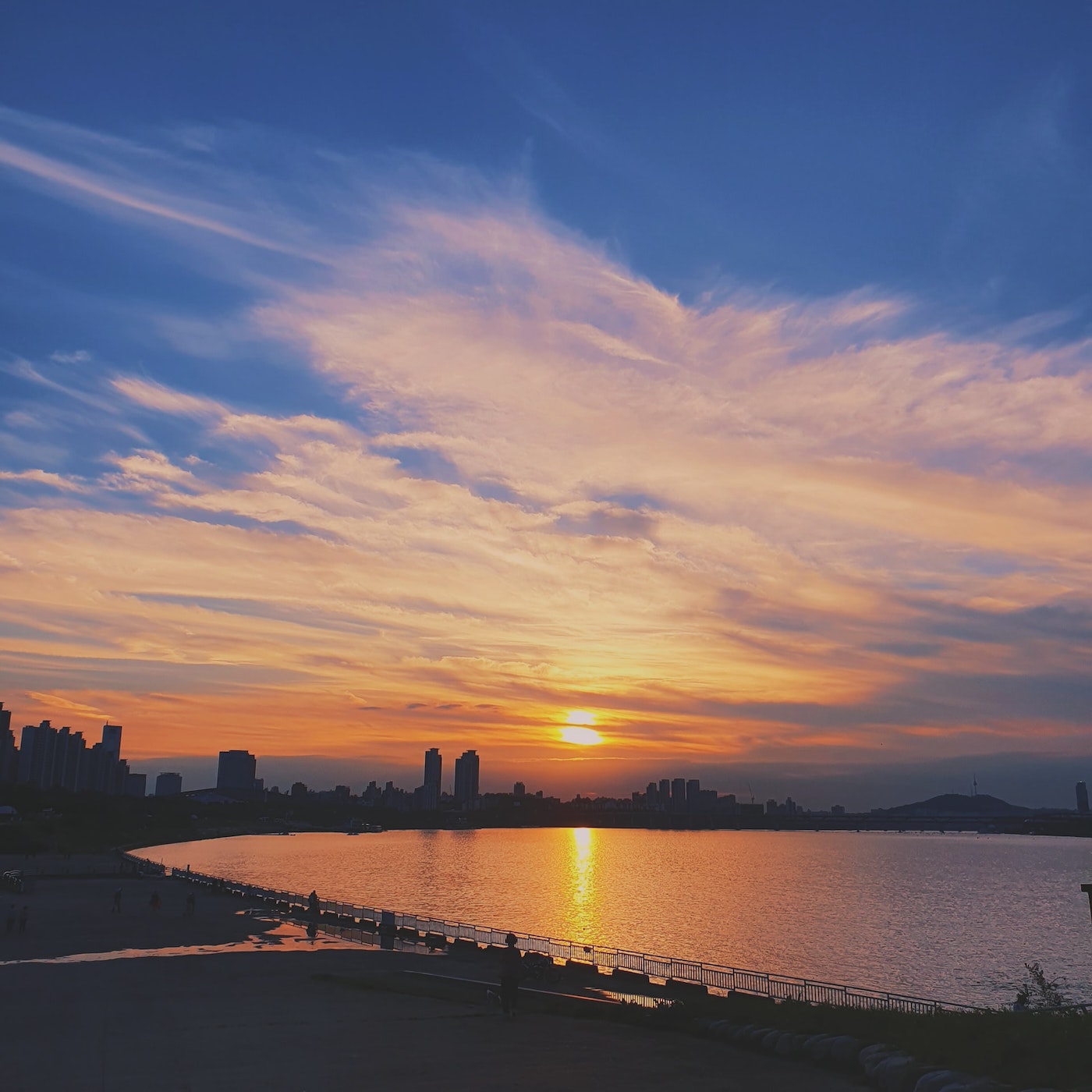 Seoul Photography Spots #10: Konkuk University Area
There's something fascinating about watching the way people live in a neighbourhood like Konkuk University Area or also called as Kondae. This particularly district is a rising spot among youngsters and students, which allows one an insight to the developing trends of beauty, fashion, dining and entertainment in Korean culture. 
We recommend a visit during night time to fully immerse in Kondae's lively atmosphere. It's when the area comes alive with its street scene, food markets, and nightlife. It's one of the more unique Seoul photography spots that is quite hidden, because it's so localized among the Korean youth.
Conclusion: Map of the Seoul Photography Spots
So there we have it. If you're searching for the best and hidden Seoul photography spots, then this google maps itinerary has got you covered.
Seoul is really a must visit city for its modern skyscrapers, futuristic architecture and bustling energy, similar to many countries in East Asia. It's one of our favorite countries to simply walk around, bask in the vibes and take amazing photographs of the people, the street scene and the unbelievable sights.
If you know of any other Seoul photography spots that were not covered in this guide, let us know in the comments below!
LIKE THIS POST? PIN IT FOR LATER!
Or start searching for your next destination below