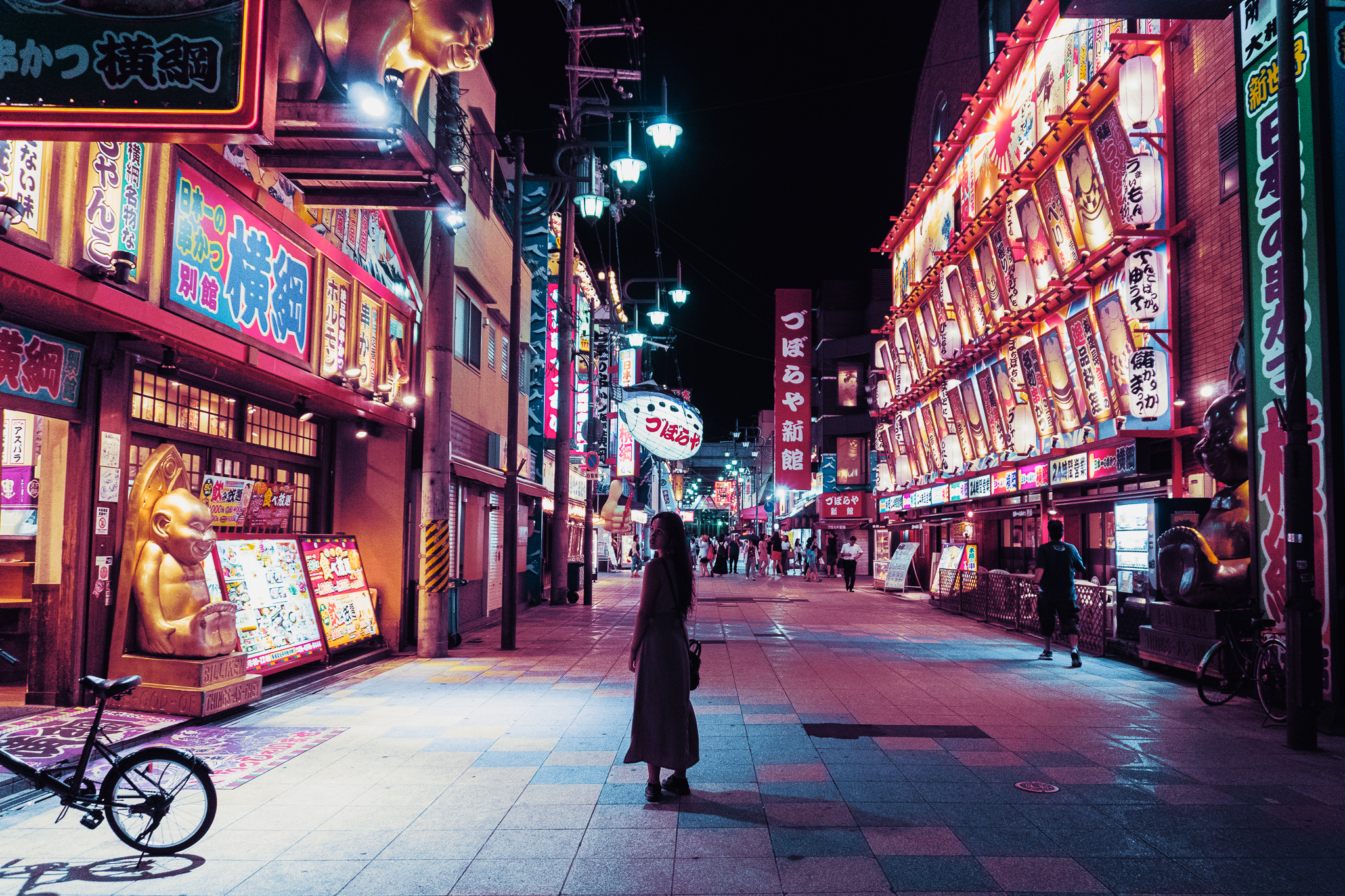 While Tokyo is more fast-paced with its vibe and energy – we adore the laid-backness and cultural side of Osaka. In this list, we go through  the 12 Best free things to do in Osaka Japan and provide you with a free map of where to find them.
Don't get us wrong, Osaka is just as much of a modern city as Tokyo but the difference is it's a bit cheaper, it's more "relaxed," and the people are also a little bit more different. 
Furthermore, food is the center of this city, especially street food. And what's even more amazing is that nearby, there are a variety of amazing cities within the Kansai region.
You can take a trip back to a more "traditional" Japan feeling by traveling to Kyoto or the charming town of Nara, famous for its adorable deer park. We'll get to those in another blog post. For now, enjoy this article on the 12 best free things to do in Osaka Japan!
NO TIME TO READ? PIN IT FOR LATER!
Go Shopping at Shinsaibashi
Shinsaibashi is one of the best free things to do in Osaka for window-shopping.
This street is a huge shopping arteria with all kinds of stores and all kinds of promos. If you're looking for clothes, skincare products, take-home giveaways – find it here!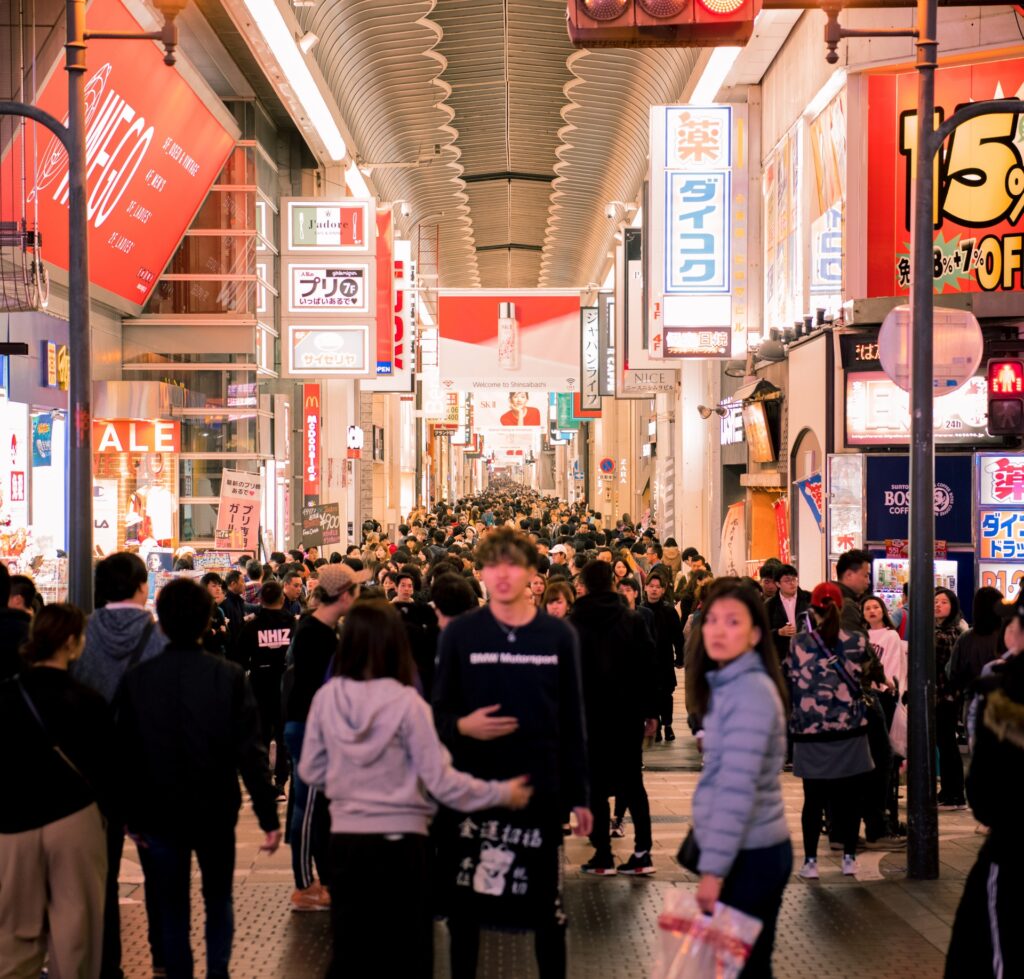 Bask in Nature at Sumiyoshi Taisha
Sumiyoshi Taisa is a historic Shinto Shrine amidst a scenic backdrop. The area surrounding the shrine is a peaceful garden and there is a beautiful red footbridge.
If you simply want to get away from all the noise and just sit with nature, this is the place to go and one of our favorite free things to do in Osaka.
Discover Old School Japan at Tsutenkaku - Shinsekai
We love this place and in this entire, Tsutenkaku is our top one free things to do in Osaka! It's a little more of "grungy" Japan vibe, but this old TV Tower is amidst some really cool shops, restaurants and stores that are illuminated in some very hip neon signs.
It's the perfect spot to get those cool cyberpunk shots just like we did in our Hong Kong Hidden Neon and Cyberpunk Photo Spots Guide.
Uncover How the Locals Live at Temma
A little hipster neighborhood in Osaka. If you want to see how locals in Osaka live, we recommend a visit to this spot and it costs you nothing to check it out!
A definite must-see amidst the best free things to do in Osaka. Also, don't forget to try out their street food.
Appreciate the Beauty of the Osaka Castle Park
Leading to Osaka Castle is a beautiful park with little streetside vendors. We personally did not enter the castle and just sat outside eating ice cream, marveling at its beauty.
If you choose to witness this landmark without entering, then it's one of the best free things to do in Osaka.
Indulge in the Lights and Street Food of Dotonbori
We adore Dotonbori, from its riverside alleys to its bright lights. Here you can find the perfect takoyaki, okonomiyaki, green tea ice cream, ramen shop, fish pancake – you name it!
It's the center for all kinds of street food and restaurants in Osaka. Not to mention, you should come and take a look at the famous glico man. This is truly one of the best free things to do in Osaka Japan!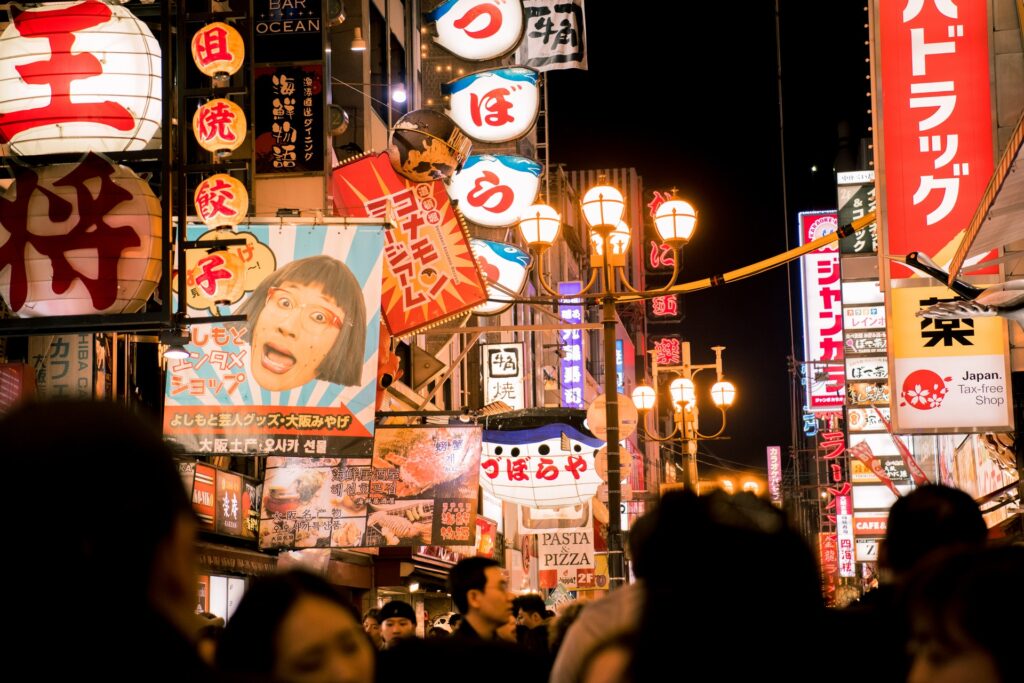 So you might be wondering – what is an Izakaya? It's a small bar that serves various small dishes and drinks in a very laid-back atmosphere.
These bars mostly have just a few seats and they all feel very cozy. It's a great place to soak in the local culture as it's uniquely Japanese.
They're practically everywhere in Osaka but we recommend checking out the areas of Umeda and Shinsaibashi.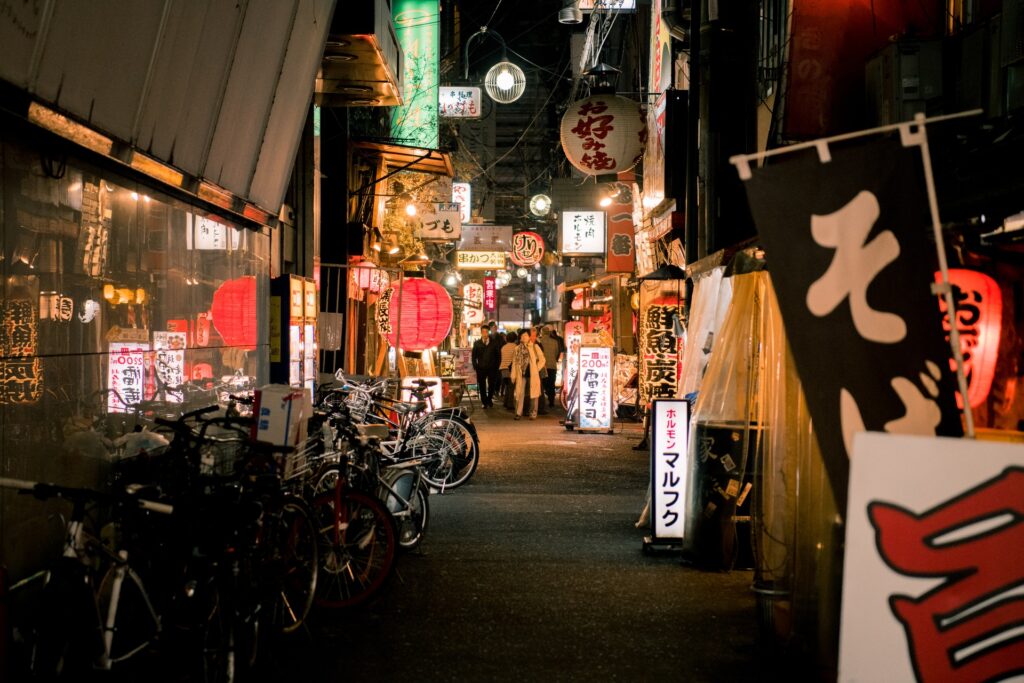 Play Mario Cart and Pachinko in the Arcades
What's a trip to Japan without a visit to the arcades? You can find them everywhere and anywhere. Usually, they are floors on floors of various games and aside from the games you play, there's no entrance fee which makes it one of the best free things to do in Osaka!
Our favorite ones are Mario Cart and Pachinko, the Japanese version of a slot machine. You can find these games at Round 1, which has everything from karaoke, bowling, and arcade games.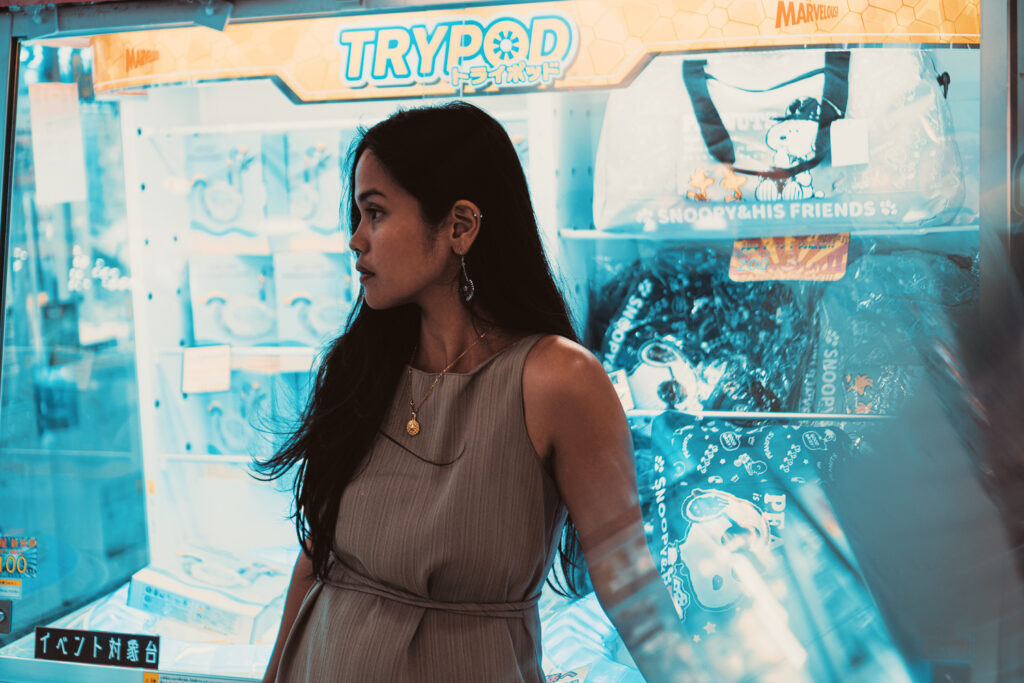 Party at One of Osaka's Buzzling Bars and Clubs
Osaka has a buzzling and great night life. We had a friend who was living there at the time and he took us to different clubs amidst the side streets of Dotonbori. These clubs are free for women.
The clubs to look at in this area are Giraffe and Club Pure. They're also just walking distance from one another. They host a fun and mixed crowd of foreigners and locals, with both modern and progressive music.
But anyway whichever club you end up in, watching the Japanese party is a great experience on its own and one of the cool free things to do in Osaka.
Final Thoughts on the 12 Best Free Things to do in Osaka Japan
So there we have it. If you're searching for the best free things to do in Osaka Japan, then this google maps itinerary has got you covered.
Osaka is truly an amazing place, and some would argue it may be more of an experience than Tokyo – just because of how cultural it is.
Nonetheless, whichever city you prefer, we definitely think Osaka is hands down a must-see city in Japan and that you should absolutely include it in your Japan itinerary!
If you have any other favorite free things to do in Osaka that you think should be part of this list, let us know in the comments below.
NO TIME TO READ? PIN IT FOR LATER!
Or start searching for your next destination below