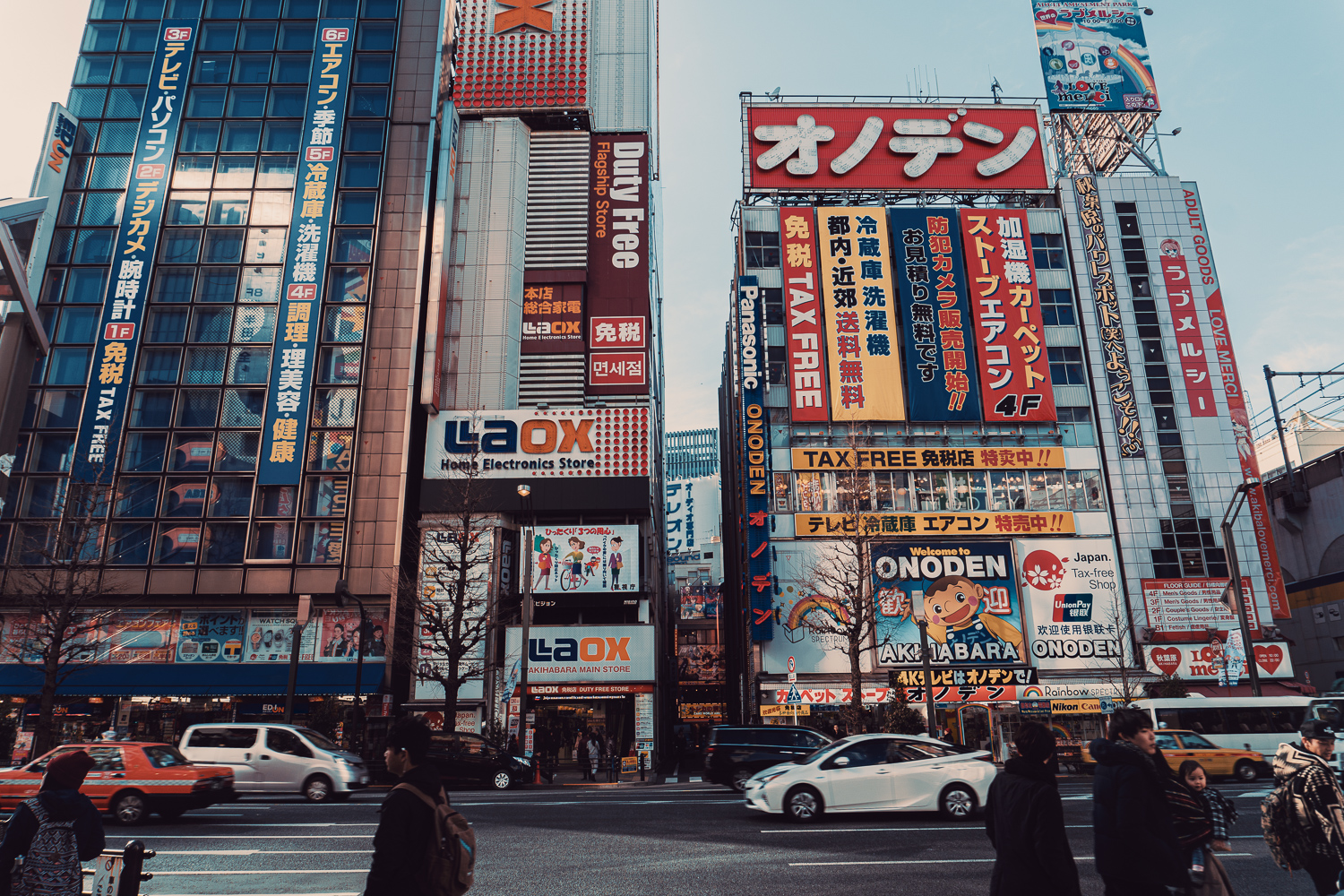 Japan is one the most exciting countries in the world, but it's also one of the most costly ones. The country is less affordable than its Southeast neighbours and that's no secret. Having visited the Land of the Rising Sun a couple of times and having discovered the city life of Tokyo and the Kansai region, we have just the budget tips to help you out. Here are 5 ways to save money while travelling in Japan from getting around, eating out, saving on accommodation, doing free activities and enjoying the nightlife.
NO TIME TO READ? PIN IT FOR LATER!
Getting Around Japan for Cheap
Fly in and out of different cities and pick the cheaper airports
If you can, we'd suggest flying in a city and out of another to maximise your time in Japan (Tokyo and Osaka for instance). It's also often cheaper to do so, especially if you are already in Asia. Once flights are booked, you have different options to get around the country. If you can, we have found flying into Osaka (KIX) airport cheaper than the Narita Airport of Tokyo (NRT). It's definitely one of the best ways to save money while travelling in Japan!
Taking the night bus in Japan
If the JR Japan Rail Pass (see below) isn't worth it for you and your time in Japan is limited, you might consider an overnight bus to cover long distances. It is often cheaper than a local flight or a bullet train and you avoid transiting to and from the airport, which can  take hours alone.
From experience, it is possible to ride from Osaka to the center of Tokyo (Shinjuku) in just 7 hours with the Tokyo-Osaka Overnight Highway Express Bus. It cost less than 50 euros, which is the cheapest way you'll find and one of the best ways to save money while travelling in Japan.
If you are worried about being tired or not feeling fresh upon arrival, you can rent a space at a manga café to rest, shower and grab a cup of coffee.
Using commuter trains and regional passes in Japan
Walking or Biking in Japan
Japan is such a clean and organized country, where walking and riding a bicycle is a bliss. Sometimes, you wouldn't realize how easy it is to just walk somewhere instead of using public transport, which can be expensive, especially in metropolitan areas. For a future trip, we are considering flying with our Brompton folding bicycles to make the most of the experience.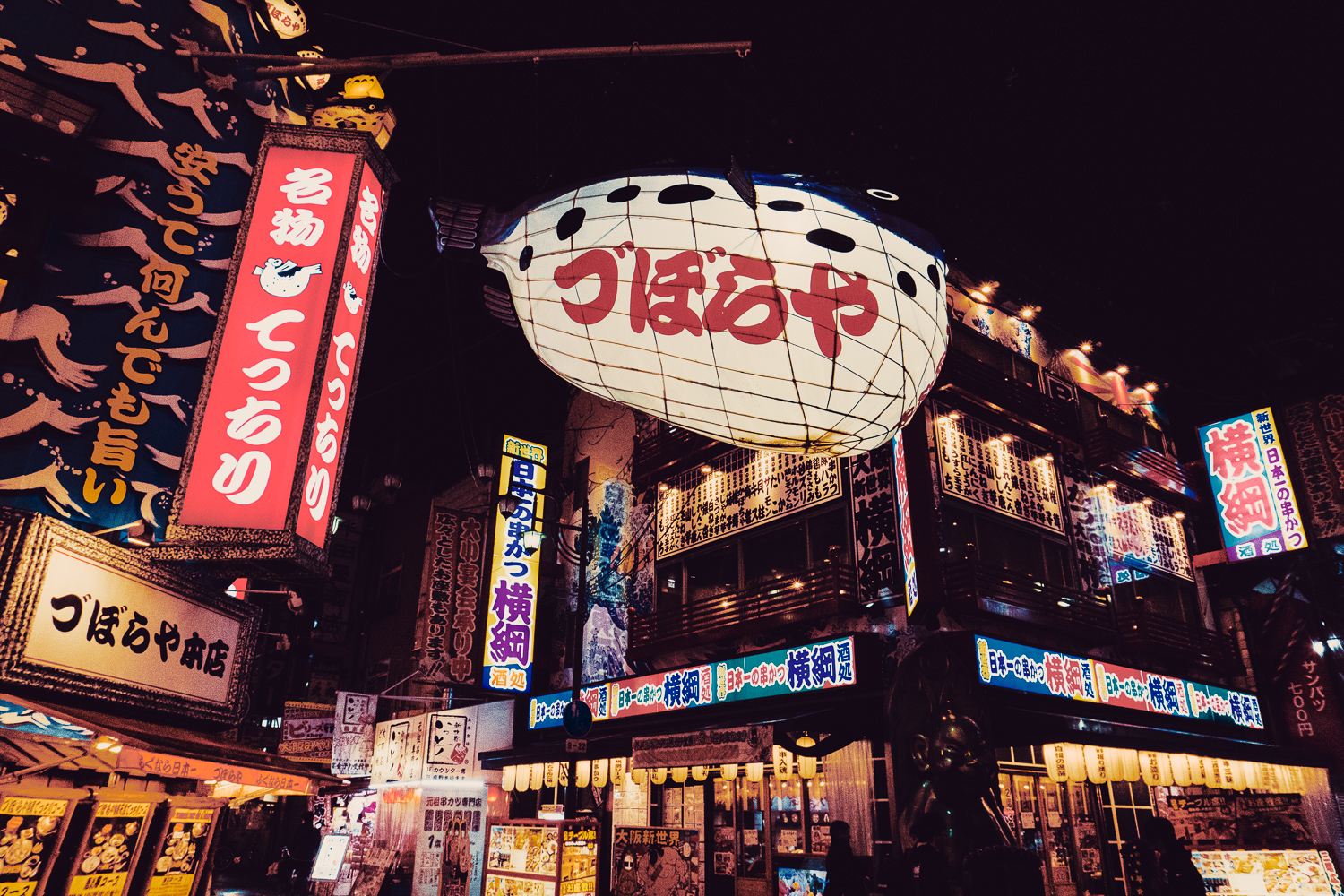 Affordable and Delicious Food to Try in Japan
Food isn't where one should make compromises, even on a budget. After all, the purpose of travel is to discover a new culture, and the cuisine is an important part of it. It's even more true in Japan, where the food and restaurants are truly unique. Not only the dishes but the way people eat out as well!
They are perfect for solo travelers, since the configuration makes it easier to eat on your own. Some of them facilitate the ordering process with a machine, where you can select your dish and pay in advance. This is convenient when you don't speak the language. It's also quite cheap: a bowl of ramen will range from 800 to 1200 yen. 
Our tip: An even cheaper alternative to the ramen bar is its standing version: you can find soba noodles for about 500 yen.
Conveyor Belt Sushi Restaurants in Japan
For as low as 100 yen per plate, you can get quite full on sushis in Japan. It's a very fun experience to spot plates you want to try out on the moving belt and grab them. You can of course order from the regular menu at the same price.
Konbinis (Convenience Stores) in Japan
This isn't exactly the most authentic or cultural option, but convenience stores offer a large choice of food, such as rolls, noodles or onigris (these triangles or rices wrapped in seaweed) . It is also open 24/7 in Japan. The staff can even heat the food for you to eat inside or on the go. Look for a  Lawson, 7-Eleven or Family Mart.
Family Restaurants in Japan
These are, in a way, the American "diners" of Japan. The chain Sukiya, for instance, offers a large array of food (curry, ramen) at an affordable price. These establishments also have extended opening hours.
An Izakaya is an iconic piece of Japanese culture. It's typically where salarymen (or anybody who wants to gather) meet after work to share tapas-style plates and drinks. Unlike the sushis conveyor belt and ramen bars, you'll sit in a small booth, which offer privacy and conviviality at the same time.
Have you heard of the famous Takoyaki (squid fried balls) or Okonomiyaki (Japanese pancake) from Osaka? You'll find them in stalls on the streets. While street food isn't as present as in other Asian countries, it is nonetheless delicious!
Our tip: Osaka is an absolute must for street food! We highly recommend you visit the city. We've found that Osaka is one of the cities where there are truly many budget activities or ways to save money while travelling in Japan. If you would like to find our best things to do in Osaka for free, our article below has got you covered!
Best Places to Stay in Japan
Where to Stay in Japan For Solo Travellers
Typically, travelers on a shoestring can choose between a hostel and something typically Japanese: the capsule hotel. Unlike their western counterparts, Japanese hostels maintain a sense of privacy and cleanliness that is much appreciated. There is often dedicated lockers and a privacy curtain for your bed. It's among the many ways to save money while travelling in Japan.
The traditional capsule hotel was originally for people working late and only for men. It can sometimes feel a too quiet and the pods where you sleep look like a space shuttle bed. It is although very clean and quiet if you are just looking to get some rest.
Where to Stay in Japan for Couples and Groups
While some hostels offer double pods, couples are better off finding an affordable hotel room or an apartment rental on Airbnb. You'll often find Japanese apartments with a single room and futons that convert into a bed.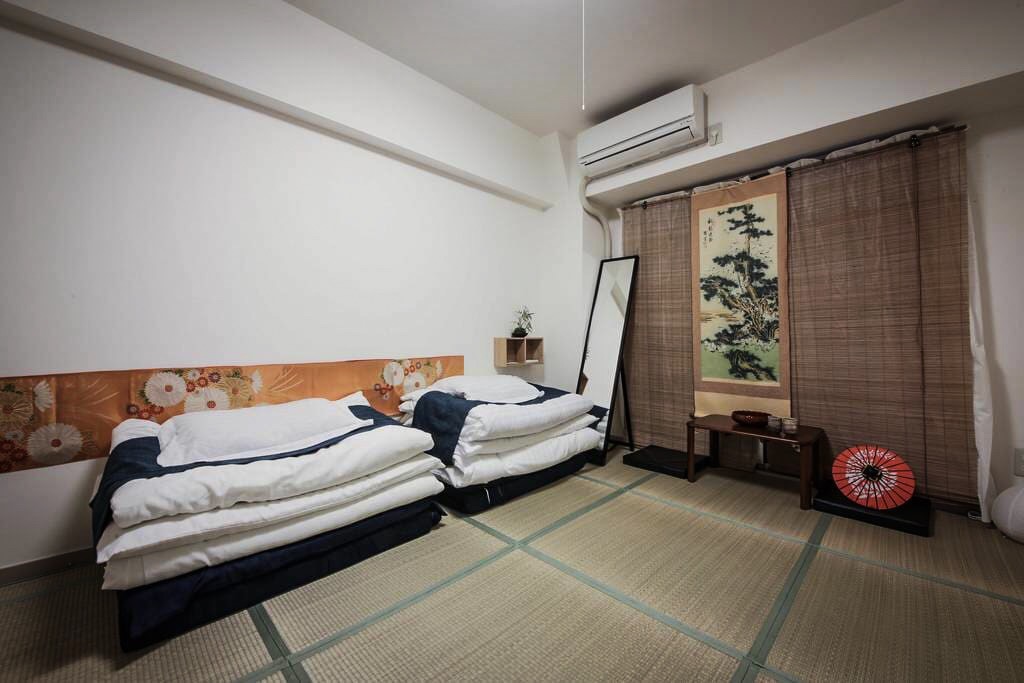 Things to do Japan on a Budget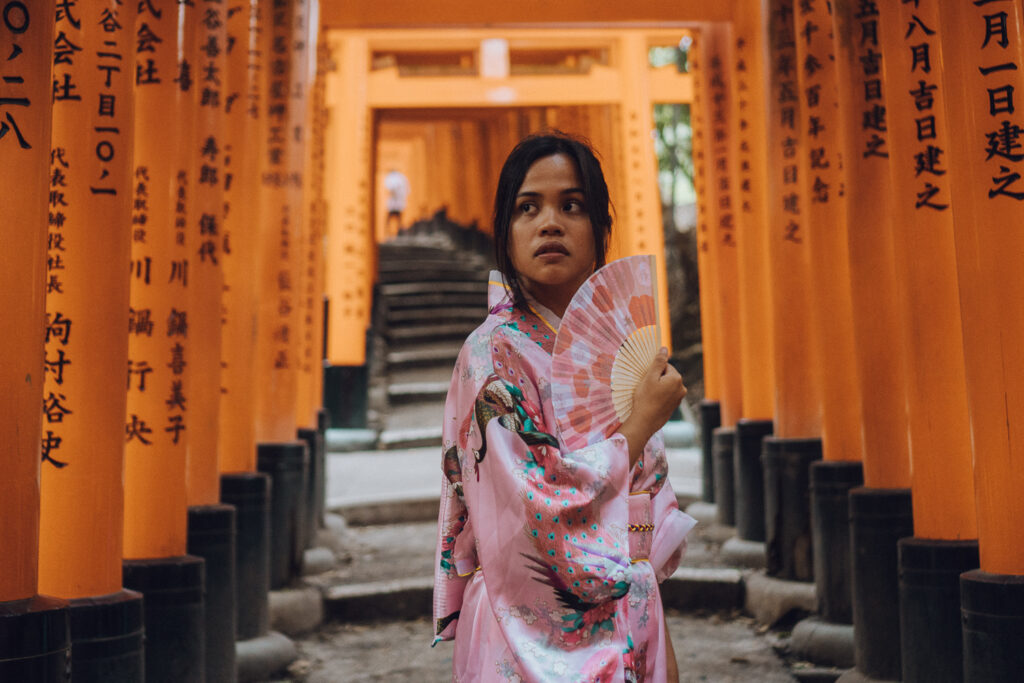 A lot of landmarks in Japan are 100% free. It is the case for parks and shrines, which are worth a trip to the land of the rising sun alone. Walking around urban areas and narrow streets is also activities you can do for free.
Shinto shrines and temples are a big draw to Japan. Fushimi Inari (Kyoto) or Senso-ji (Tokyo) are amongst the most impressive and it doesn't cost anything to get in.
Japan has some of the most unique and rich parks and gardens in the world! Shinjuku and Yoyogi (Tokyo) are gigantic oasis with a stunning flora, depending on the time of the year. In Kyoto, the Arashiyama Bamboo Forest is such a unique experience.
Visiting urban landscapes is what took the most of our time in Japan. If you enjoy photography, you can get really creative capturing the local life under all of its traits. The Dotombori and Tsutsenta-ku (Osaka), the neons of Shinjuku and Ginza (Tokyo) and the traditional streets of Kyoto are a playground of choice for every street photographer.
Our tip: Try going to an arcade! While it's not free to play the games, it's an entertaining and visually stunning experience.
Want to find the best things to do in Tokyo for free? Our article below has got you covered!
Nightlife Culture in Japan
Ways to Save Money While Travelling in Japan
Now, of course it won't be as cheap to party in Japan as compared to South East Asia's backpacker hubs. But there are still a few tips to lower down the bill and key nightlife areas to not miss out on.
As suggested above, Izakaya's are a great place to start the night and drink affordably.
Or you can simply have drinks from the konbini at a nice public location, such as Dotonbori (Osaka), Golden Gai or Shibuya (Tokyo). Just don't be that person who gets noticed in public, as Japanese tend to be respectful and disciplined.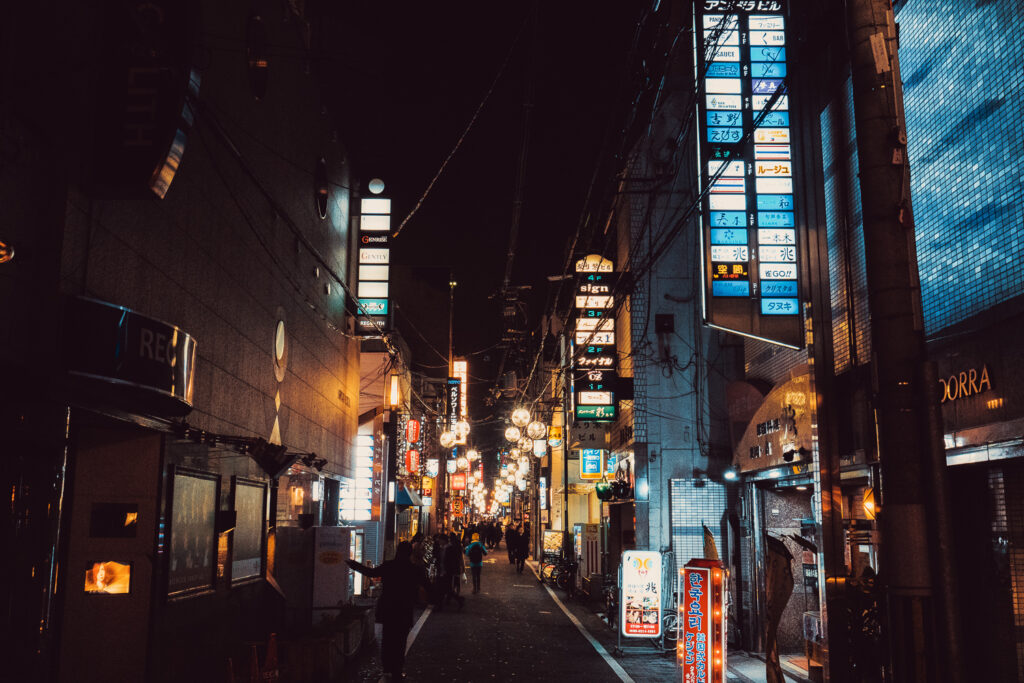 Some places also have deals in the early hours of the night. For the heavy drinkers, bars and clubs offer all you can drink deals (Nomihoudai). We have once found a deal in the Roppongi area of Tokyo that offered unlimited drinks for three hours for just 1000 yen – how awesome is that? It's one of our recommended ways to save money while travelling in Japan especially if you want to experience the nightlife.
A few places that include drinks with your ticket are Jumanji, Bar Mist, Bar Oath (Tokyo) and Ammona (Osaka).
While Japan is definitely not a cheap destination, it is still possible to travel here without breaking the bank. We would insist on planning ahead as compared to other destinations, because mistakes in Japan can easily be made and can be costly. Things like early hotel bookings or pre-booked transportation can really make your trip easier, especially in a place where English isn't widely spoken.
If you are planning to go to Japan or have lived there previously, we'd love to hear your other ways to save money while travelling in Japan. Let us know in the comments below any other tips you may have as we plan on going back in the future.
LIKE THIS POST? PIN IT FOR LATER!
Or start searching for your next destination below