A folding bicycle is an asset for your travels and for us, the Brompton is the best folding bicycle for nomads. It's a folding bike that folds in three and packs in a suitcase like no other, ready to accompany you in all your travels. So whether you're a digital nomad or long-term traveller, the Brompton could be a great fit for you.
Touring on a Brompton is a great experience – it has followed us in most of our adventures and we'll tell you why it's an amazing piece of gear that can change your life. Here's the ultimate reasons why the Brompton is the best folding bicycle for nomads.
What is a Brompton Bicycle?
A Brompton is a folding bicycle created by Andrew Ritchie in 1975 in the UK. While other folding bikes are often less expensive, not many compare to the Brompton, which is sturdy and comfortable enough to be a touring bicycle, yet compact enough to fit your suitcase, thanks to its unique folding mechanism.
Unlike its full size counterpart, it will circumvent most of the hassle and cost of travelling with a bike, which we believe makes it the best folding bicycle for nomads. There's really nothing quite like touring on a Brompton and this article will show you why!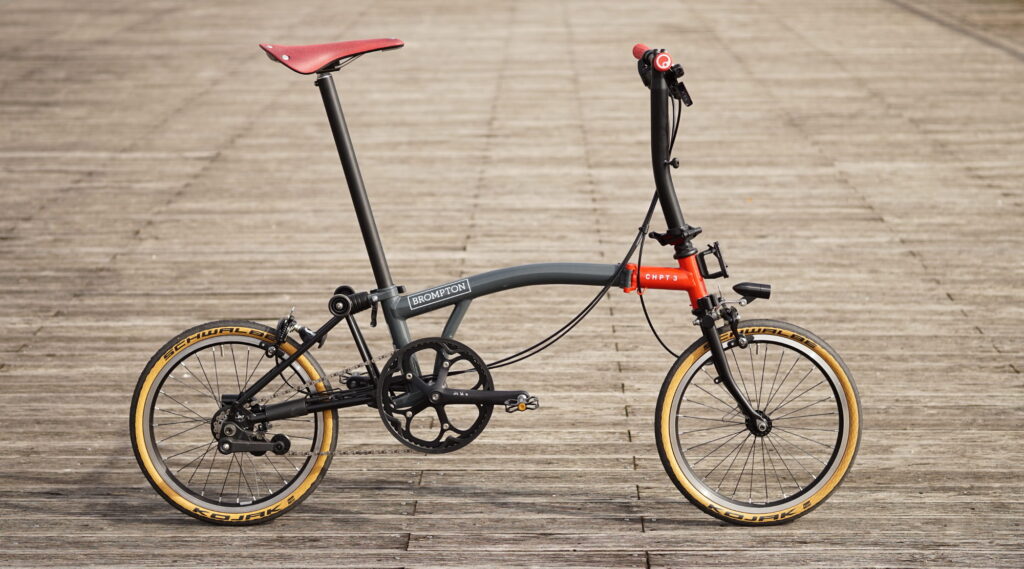 Why the Brompton is the ONLY Bike You Need
Touring on a Brompton is convenient, the bike is multimodal and flexible
There are a handful of different scenarios where we thought of the Brompton as the perfect bike for travelers. Let us explain:
First of all, it's a compact bicycle that fits most situations. Touring with a Brompton is even great for long distances as it feels like a real bike, but it's especially fit for urban areas. 
In big cities, you can take it in combination with public transport and quickly reach any location where you wish to bike (especially if it's far). You will never be charged extra for bringing a folded bike on public transport.
A compact folding bike is also great to get lost in new places as you always have public transport as a backup option, in case of a flat tire for instance. We once hailed a cab in Ho Chi Minh City and put the folded bike in the trunk after venturing a bit too far under the heat.
If you have sudden plans, want to stop for dinner or work at a café, the bike can come with you, under the table. You don't have to look for parking or even use a lock. The bike stays inside or with you, which makes it harder to steal.
The Brompton is also a bike for offbeat touring and longer distances. We have seen people using it on bike-packing trips. I used it myself from Belgium to the Netherlands and we plan to tour Japan with it one day. Speaking of which, it also has amazing luggage options, which you can find in another article we will link here soon.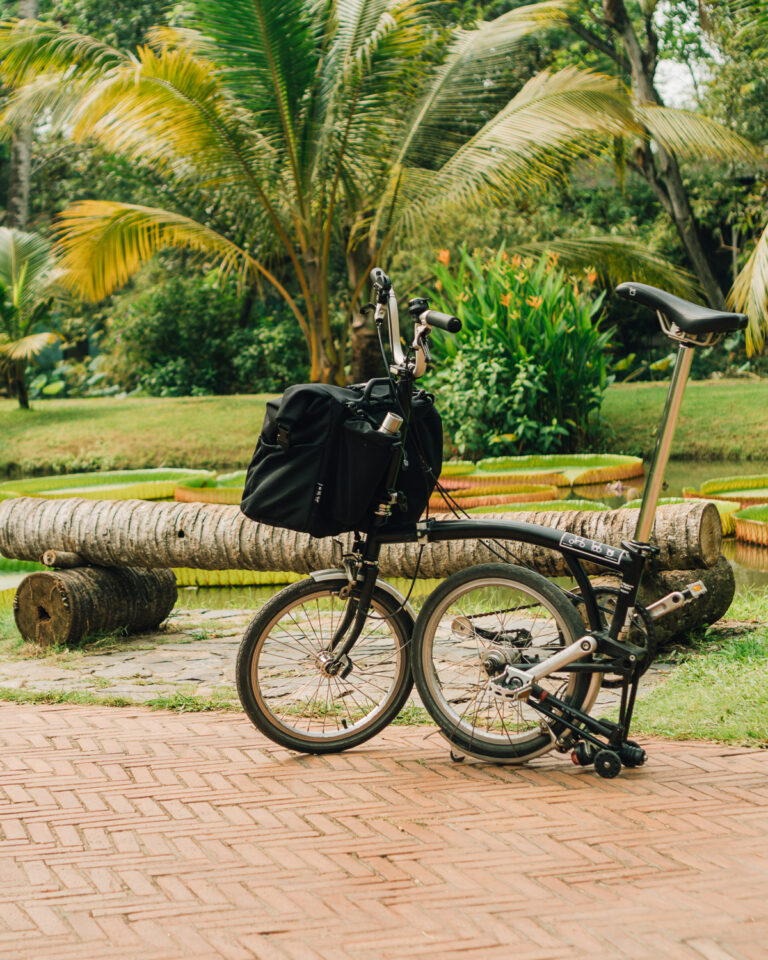 Why the Brompton Saves You Money
Brompton is the best folding bicycle for nomads to cut costs
A Brompton saves money. While it's not cheap to purchase, we guarantee you that it will pay for itself!
Back when I was a commuter, I would already use it daily and heavily reduce my public transport use, and therefore my monthly plan. There was also no need for a gym membership as it was my daily workout (see below).
While you are a digital nomad or simply travelling somewhere, a Brompton will save you a lot of money by cutting down on cabs or public transport. This can be quite expensive in places such as Western Europe, the Uniteed States or Japan for instance, the same places that often have good infrastructures for cyclists.
Also, unlike full size bikes, a Brompton will count as your only checked luggage on a flight, given that you pack it properly with a case, such as the Sightseer by Vincita. This soft padded suitcase allows you to pack your clothes  around the bike to protect it and folds neatly at your destination.
Finally, you will avoid renting a bicycle at your destination, which are targeted towards tourists and therefore can be costly and heavy. Travelling somewhere new with a bike that you know (and love using) is way more enjoyable! It's truly why we think the Brompton is the best folding bicycle for nomads.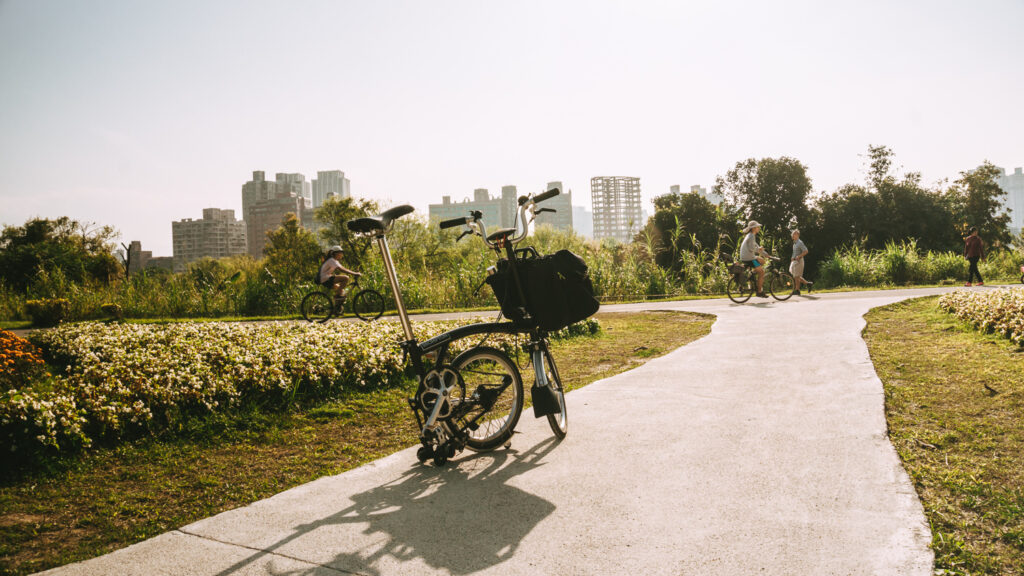 Why the Brompton is Your Daily Workout
Brompton is the best folding bicycle for nomads to exercise
Travelling or moving somewhere new across the globe can be damaging to your health and diet.
Let us explain:  Grocery shopping can be challenging, you are tempted to eat out more and probably struggle to maintain a workout routine. On the long run, travel can become unhealthy if you don't pay attention.
That's why a Brompton can bring back some exercise into a busy traveler's life. A daily commute can also be used as a workout, which would give you more time for other things.
Why the Brompton Offers a Fresh Perspective of Your Destination
Brompton is the best folding bicycle for touring
There are cities and places that are just so much fun to explore on wheels, because of their great weather, scenery or of infrastructures. It gives a new look on a place and makes you go where you wouldn't have explored by foot.
In Asia, take Taipei for instance: Taiwan's capital has a huge cycling lanes network and is every cyclist's dream. Kyoto in Japan is also an amazing place to see on two wheels, especially during the summer when it's too warm to walk. We also found ourselves exploring Ho Chi Minh City, surrounded by thousands of motorbikes with a Brompton.
In Western Europe, Copenhague, Rotterdam or even Paris are such lovely places to be discovered on a bike, with an impressive infrastructure. Touring on a Brompton feels like having wings, once you exit the bus or train station, the world is at your fingertips.
The Cons of a Travelling with a Folding Bicycle
Why the Brompton may not be the best choice
Arriving in new cities with your own folding bike sounds exciting, but it isn't always the most clever choice:
In locations where things are further away, you'll be better off renting a motorbike. We wouldn't have thought of bringing the Brompton to Bali or some islands in the Philippines for instance. Some cities make cycling unbearable, because of the traffic, lack of cycling lanes, hot weather and pollution.
If you are changing from location often and don't have a base, it's probably not worth it for you. Folding bicycles are more for slow travelers or people who can afford to leave it somewhere between shorter trips.
Travelling with a folding bike, as compact as it is, still forces you to check a bag, which can be cumbersome when you are used to travel carry-on only. Others might want to prioritize other things, such as music instruments, clothes, sport or photography gear.
A Brompton and other high end folding bikes don't exactly come cheap. While it can be a lifelong investment and save you money on your trips, you still have to align cash first to get one. It may be another item to worry about getting stolen, even though it can remain indoors.
As mentioned, the Brompton is not exactly easy to bring if you're the type of digital nomad who changes destinations often. So if you prefer to travel light, then this guide on how to pack ultralight may be more useful for you.
Conclusion: Why the Brompton is the Best Folding Bicycle for Nomads?
While travelling with a folding bicycle may seem a bit extra, it also comes with a lot of advantages to save time, money and your health. It is one of the few objects we bring to a destination that makes me feel like we were living in a new place and not just visiting with a backpack and a laptop. Since digital nomads mostly travel with limited gear, there are not many things left that are a signature for us as much as a Brompton.
For us, the Brompton is the best folding bicycle for nomads, whether you're a digital nomad or long-term traveller. Touring on a Brompton is such a great way to integrate cycling in your life even when you live out of a suitcase. Have you ever tried touring with a Brompton? Tell us your Brompton Travel Stories below!
LIKE THIS POST? PIN IT FOR LATER!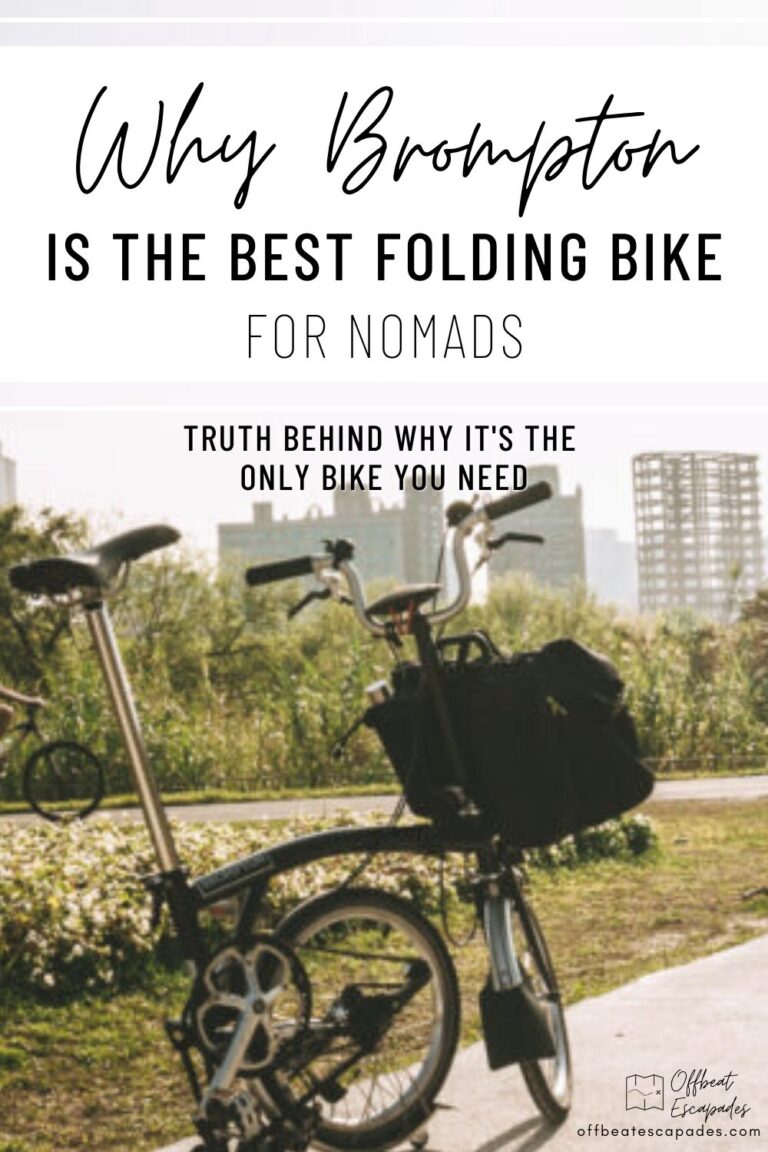 Or start searching for your next destination below