Packing ultralight is important especially when you're a digital nomad, travel often, or like to go hiking. As digital nomads and avid travellers / hikers, we believe in keeping things minimalist. But being minimalist does not mean you can't have everything you need for your travels or hikes. By having these essential items on how to pack ultralight, you can save cost in airport baggage fees, be able to easily move around, get on a motorbike instead of expensive taxis, feel less hassled in public transportation among many more advantages. Below find our list of essential items on how to pack ultralight.
A Compact and Clever Backpack
We're big fans of having an all around backpack for travels, which can also be used for day trips or hikes. When choosing a backpack, there are a few considerations you need to make: the capacity, the structure and the features. We believe the Osprey Farpoint 40 Travel and Trekking Rucksack has all these elements.
For us a good capacity is 40-50 Liters, it's big enough to hold you for your travels, but also small enough to pass through carry on. On the other hand, structure is important to support your back. This is the backpack that you'll be mostly carrying around through all your travels so it should have a good structure that prevents body and back pain. Finally, features are so essential, it should have different pockets, a jug holder, laptop compartment and body straps at the very least.
Packing Cubes to Save Space
Packing cubes are the ultimate holy grail on how to pack ultra light. It saves so much space for your clothes because it keeps everything organized and above all, compact in your backpack. You can roll your clothes and easily fit in 20 outfits in a single packing cube.
We particularly use the Eagle Creek Pack-It Cube Set. These packing cubes have been especially useful for me as a woman and how I can efficiently pack my different outfit ideas. I use these three cubes to compartmentalise clothing such as my pants, swimwear to general clothes and dresses. Truly a must have item on how to pack ultralight! 
Toiletry bag with Hook for that Added Convenience
We can't stress enough the importance of a good toiletry bag. Ideally one that stays upright and that has a hook for easy hanging during your travels. This has been particularly useful for us during hostel stays. It would be great if the toiletry bag already has bottles that come with it, but if not you can easily buy travel sized bottles from any travel store or in Amazon for cheap. We particularly like the BAGSMART Hanging Toiletry Bag with Hook. It's water resistant, has a good upright structure, various compartments and a hook for hanging. For more features on how to pack ultralight with this toiletry bag, discover it below.
Multi USB Charger that Delivers
A multi usb port is one of the most essential items you'll need for your travels. It saves you from having to bring multiple chargers because it already comes all in one. What's even better is this multi port by Anker – the PowerPort Cube. Not only does it come with 3 usb ports but also 3 outlets. And the size of it? This cube fits in the palm of your hand. Amazing right? It's truly the ultimate must have on how to pack ultralight!
Quick Dry Towel that is Compact and Light
A towel is one of those things that you'll need in various kinds of situations. If you're budget traveler like us and don't often stay in hotels, it's always good to have your own towel for other accommodation types. However, towels are usually very bulky which is why we recommend microfiber and quick dry towels. They are compact and easy to pack into your bag. And also because they dry quickly, you never have to worry about having a wet towel while you're on the go. We particularly like this Microfiber towels from OlimpiaFit, they come in a set of 3 with different sizes so it's useful for your travels.
Multipurpose Drybag that Doubles as a Daypack
For us waterproof dry bag serves the triple purpose of safely securing your electronics against moisture, cold, water among other things, adds compartmentalisation to your overall luggage, and finally, can also serve as a day pack. The Earth Pak Waterproof Dry Bag is a great choice with it's body strap and it even comes with a waterproof phone case as a freebie. We totally recommend it as one of the essential items you need on how to pack ultralight.
Our Final Thoughts on How to Pack Ultralight
So there you have it! These are the 6 essential items you need on how to pack ultralight. If you're a digital nomad, frequent traveler or avid hiker, these items are the ultimate must haves to practicing a minimalist lifestyle of packing light while being on the go around the world. If there are any other essential items that you think should have been part of this list on how to pack ultralight, let us know in the comments below!
LIKE THIS POST? PIN IT FOR LATER!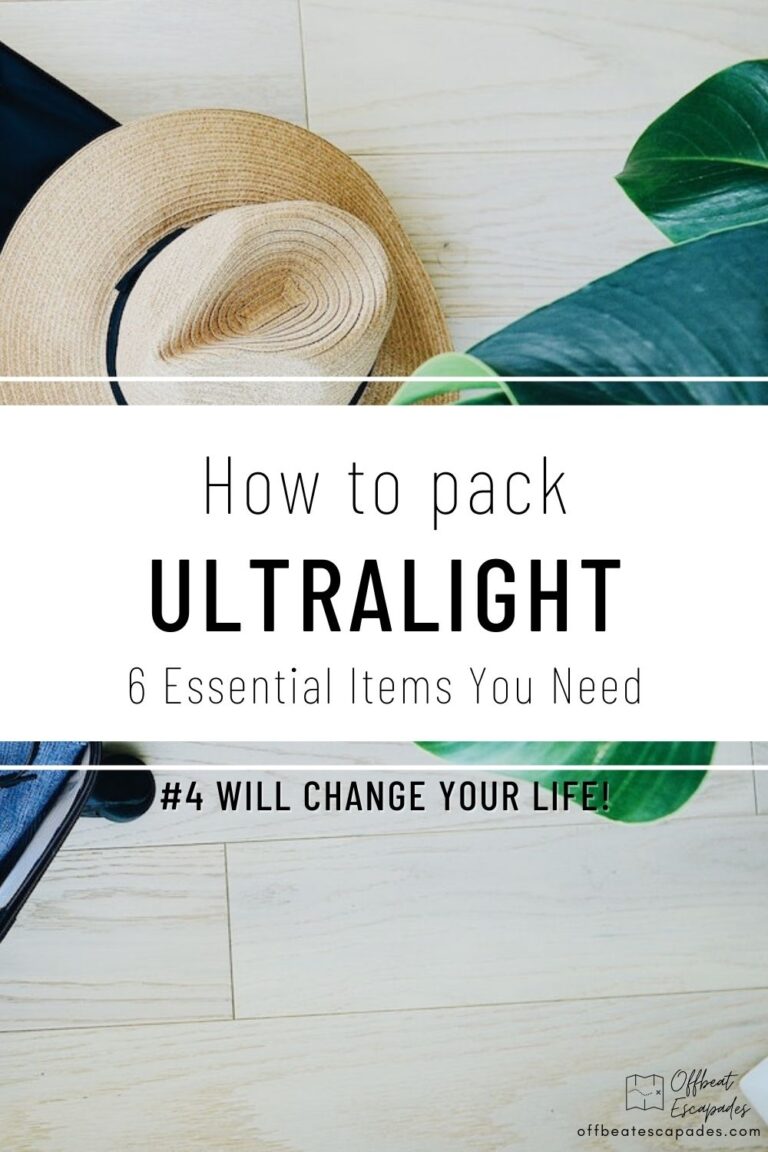 Or start searching for your next destination below