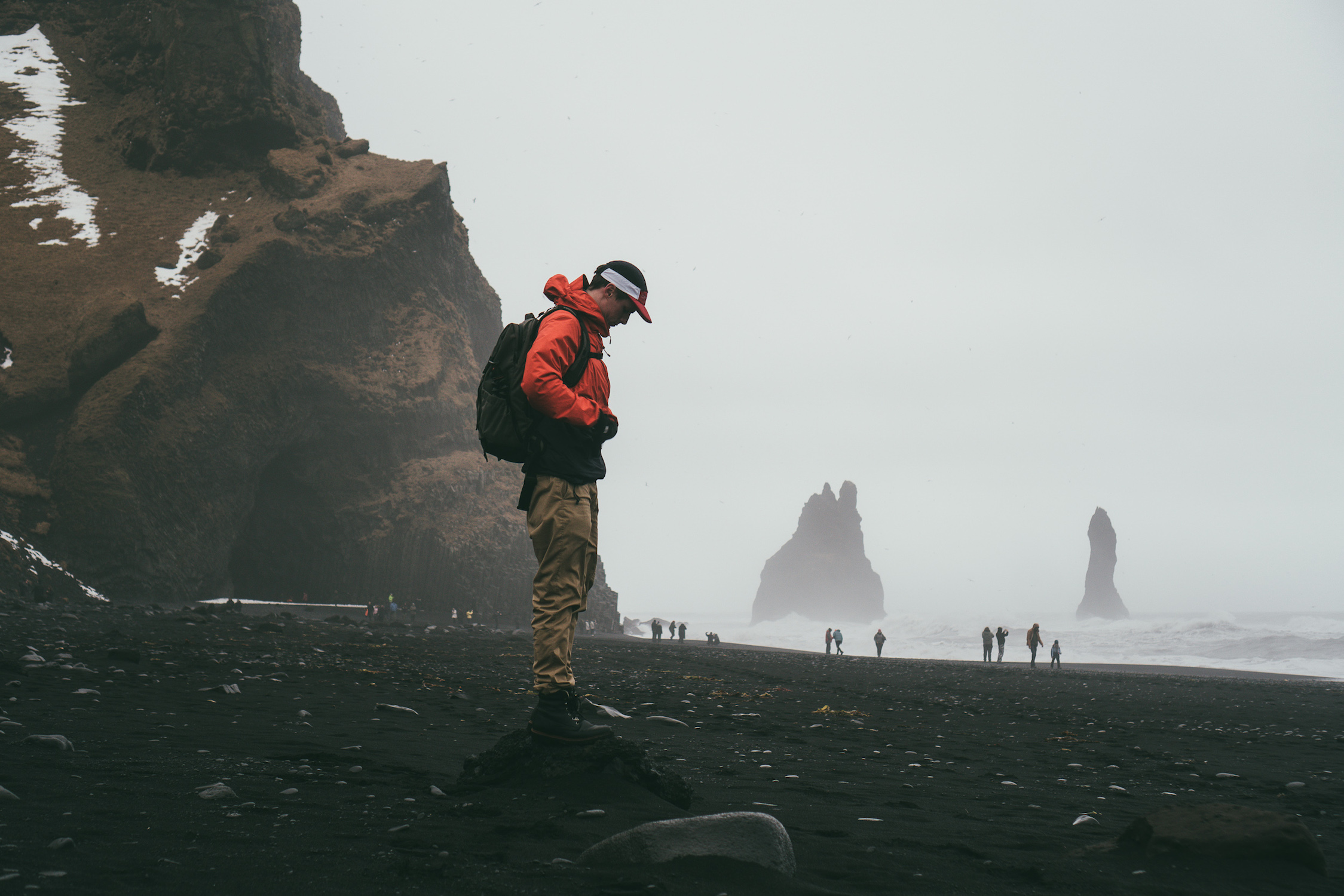 Iceland is a world on its own. It often feels like you are so far away from earth and civilization, because of how isolated each place feels and how unworldly the backdrops are. From grand mountains, stunning waterfalls, the most intricate rock formations, black sand, unreal glaciers to mere nothingness, it's a country where you drive for a bit and the scene is always changing. It's definitely one of our favorite countries in Europe because of how unique and beautiful it is, which is why, we want to show you how to visit Iceland on a budget.
This travel guide is for those who would like to see Iceland affordably and in a do it yourself way. We will tell you how to visit Iceland on a budget of 250 euros, the itinerary we followed, and how we managed to catch the Northern Lights two out of the four nights we were there.
Poland (any city) or Milan to Keflavik through Wizz Air
We find that Poland is the best and most affordable point to take a flight to Keflavik. Not just Warsaw but any Polish city that serves flights to Keflavik would be a good choice. A one-way flight from Poland can start from 20€. I know that sounds insane, but we mean it because that's around how much we got the flight for!
With Wizz Air, we also have the annual membership where it lowers your flight fare by 10€ to a minimum amount of 9.99€. We think that this membership is so worth it to have. It's around 30€ per year and you can easily pay it off by going on three flights.
Another great point to fly from that we saw was quite affordable and is a recently added route in 2020 by Wizz Air is Milan. The prices are about the same as with Polish cities. So depending on where you are currently and where you want to take the trip from, we recommend these two routes. Since we live in the Alps, the next time we go to Iceland, we will definitely be flying from Milan instead.
Our tip: When booking your tickets, you have to be flexible, but there is one important thing to have in mind – your arrival time. You most definitely don't want to arrive in the middle of night and have to check in a hotel (which is pricey!) for only a few hours.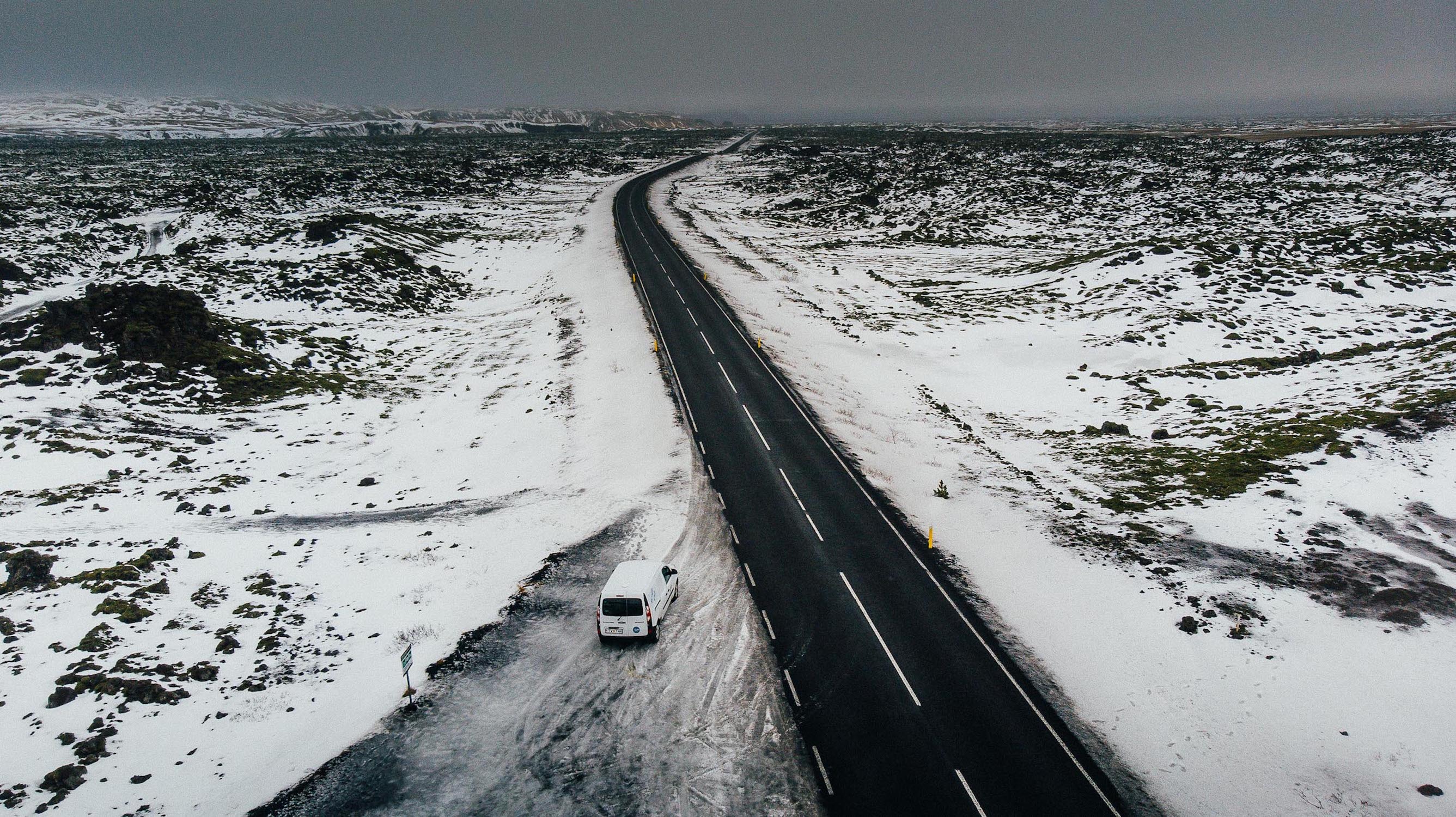 Where to stay and how to get around Iceland
There are a lot of accommodations to choose from in Iceland such as hotels, bed n' breakfasts, and even Airbnbs, but these are all crazy expensive. The most basic ones can start from 60€ per night. Even then, it's really rare to see that rate especially if you want to go around the country. Then you'll also have to rent a car if you choose to stay in any of these accommodations.
So what we did – and what we highly recommend doing if you're the adventurous and offbeat type – is to combine transport and accommodation by renting a campervan. We promise you it's pretty comfortable (these campervans have heaters!) and it's absolute freedom at your fingertips. It's the cheapest way to get around and stay in Iceland. You also don't rely on anyone for scheduling tours, check in times, etc. 
After reading many positive reviews, we came across Kuku Campers and rented their simple camper with a heater for 4 days at a price of 160€ (about 200$), which makes it 80€/person.
It cost us 20€ per night/person to have your own transportation and place to stay in Iceland. Not bad huh? Thanks to a seasonal promo, sleeping bags, pillows and blankets were included. Did we mention there was also a heater in the van? Which is an absolute must to survive the cold winter nights.
The campervan itself was a Renault Kangoo Maxi, which offers just enough space to sleep in. The 190x130cm bed transforms into a couch and a folding table allows you to cook inside. Kitchen items are stored at the back of the van and you can put your belongings under the seat.
Gas was a big part of our expenses. At a rate of 1.5€/liter and 740 km trip along the Southern coast of Iceland (the Ring Road) it did cost us around 60€ (30€/person) for the whole trip.
Our tip: Bring a top loading duffle bag for your camper van trip as it is more convenient to slide from under the bench and find items.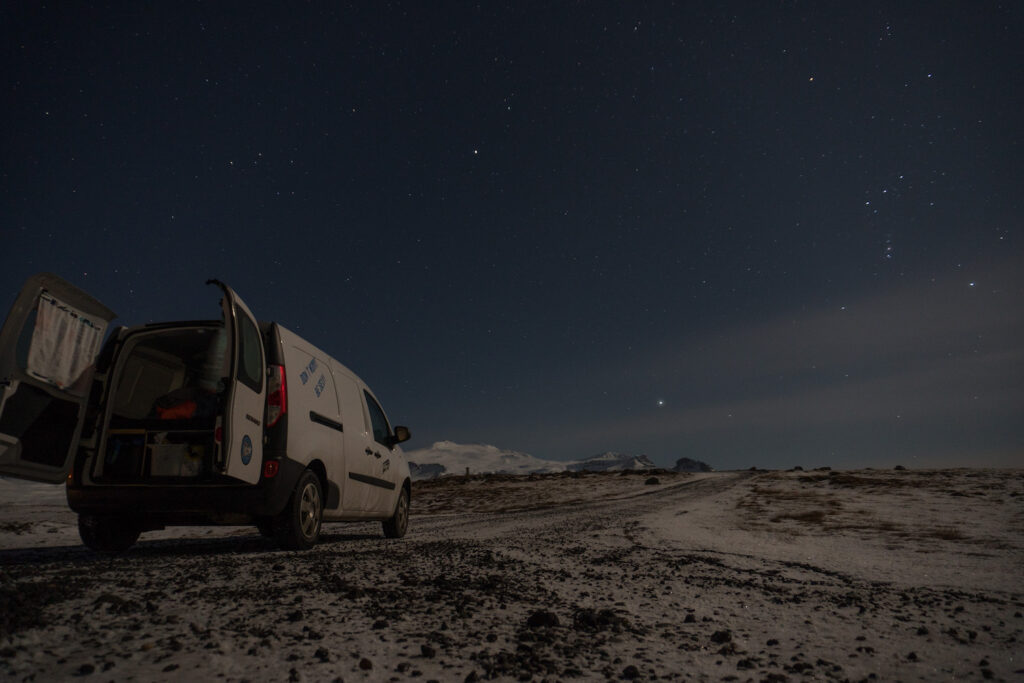 Where to spend the night with your campervan in Iceland
Now that you have your campervan, where should you stay? It's important to take note that unlike in other countries, wild camping is NOT allowed in Iceland. Please respect this as much as possible. Things do get a bit more complicated in the winter as more than half of the campsites are likely to be closed, so if you're left in a dire situation, do respect the environment you stay in and leave no trace behind.
Thankfully, campsites in Iceland are relatively affordable compared to the cost accomodations on the island. A campsite will be about 10-15 euros. The ones we went to had warm showers, a dining area and sometimes, even a kitchen.
When to go to Iceland for the Northern Lights
With increased chances to see the mesmerizing auroras, we find that winter is the best time to go to Iceland. It is also the cheapest time of the year to travel to Iceland and the low season when you consider factors like flights and campervan rentals.
Even though this time of the year has harshest weather conditions and less light, you are in for a once in a lifetime experience. October and March are great times to visit when considering the price, the temperatures & amount of daylight.
You'll have to come prepared with winter proof gear though, which is detailed in our winter road-trip packing list.
What to do in Iceland: A 5 Day Self-Drive Itinerary
There are so many things that you can do in Iceland. We were only there for 5 days and 4 nights so naturally, we had to choose a route to go to. In this self-drive itinerary, we didn't do the entire Iceland Ring Road Itinerary.  But our itinerary does give you a taste of a bit of everything. We covered Reykjavik, the Snæfellsnes Peninsula, the Golden Circle, the South Coast and even as far as the Glacier Lagoons near the East Fjords.
Below is a map of the route we followed, which we will discuss by day.
Day 1: Reykjavik to Snæfellsnes Peninsula
Our first day, we got our van early, drove out of Reykjavik right away (which is a location we will go to on our last day) and headed towards the Snæfellsnes Peninsula.
Our first stop was in this beautiful dramatic cliffs formed from black lava-rock columns. It's about 1 hour and 30 minutes drive away from Reykjavik. It's especially striking in the winter as you get to see hints of the black cliffs covered in snow.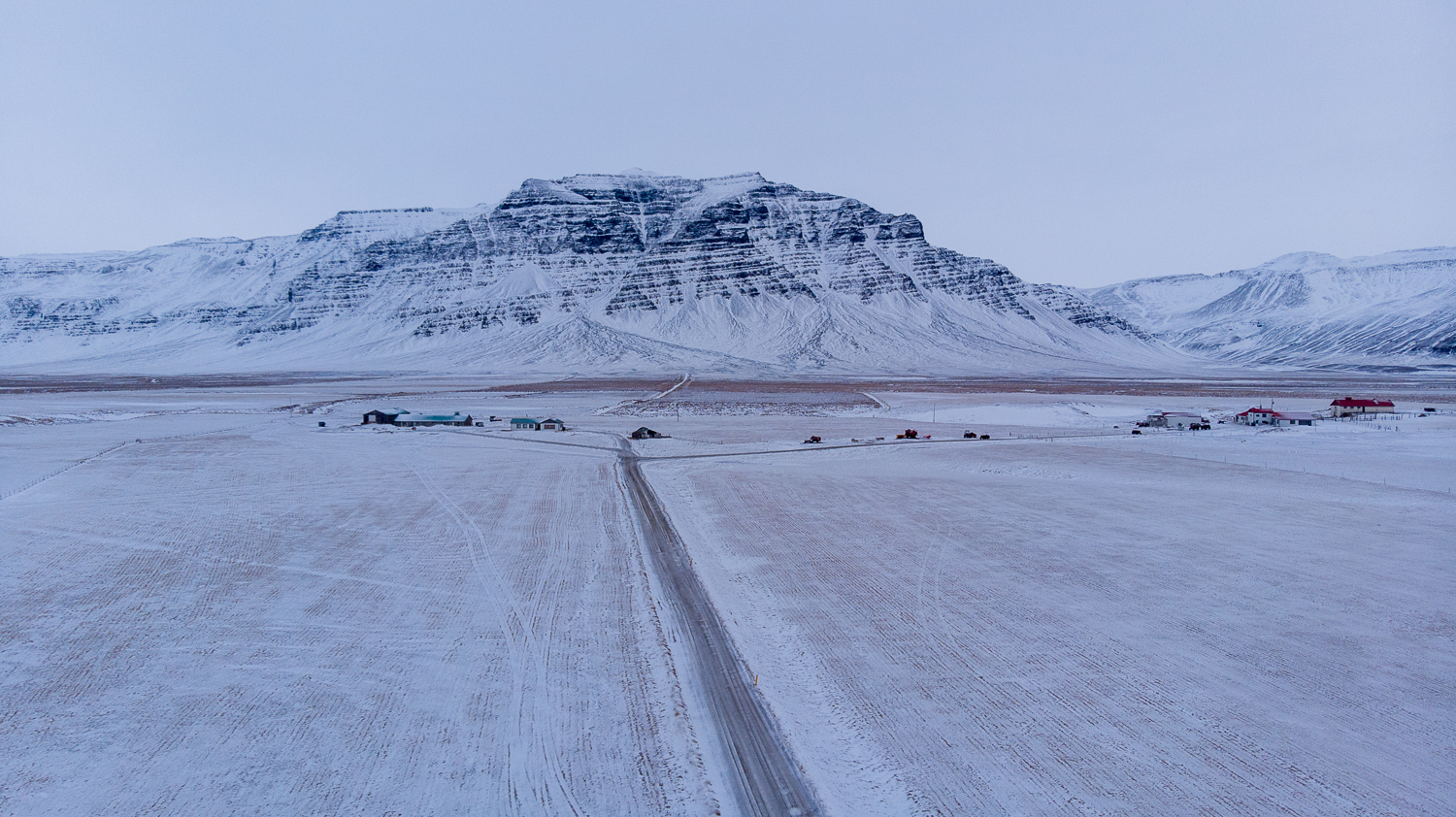 Lava Rock Formations / Berserkjahraun Lava Fields
About 30 minutes away from Gerðuberg Cliffs is a stunning field of lava rocks. It's not such a well known place but it is absolutely amazing. It feels like what other planets could like especially during the winter time. Layers upon layers of lava rocks over a backdrop of snowcapped mountains, it was unlike anything we'd ever seen.
Kolgrafarfjördur Viewpoint
Less than 10 minutes away from the lava fields is another beautiful viewpoint called Kolgrafarfjördur. It's a super place to take a break and cook lunch. The way the mountains reflect amidst the water is quite the sight to see.
Kirkjufellsfoss Mountain and Waterfall
From the viewpoint, we headed on over to the iconic Kirkjufellsfoss Mountain and Waterfall, which is also only about 10 minutes away. This is truly one of the most unique mountains you'll ever see, also because it's so up close to you. Here, you can do a little hike around, discover the area and take some beautiful shots of the mountain and the waterfalls.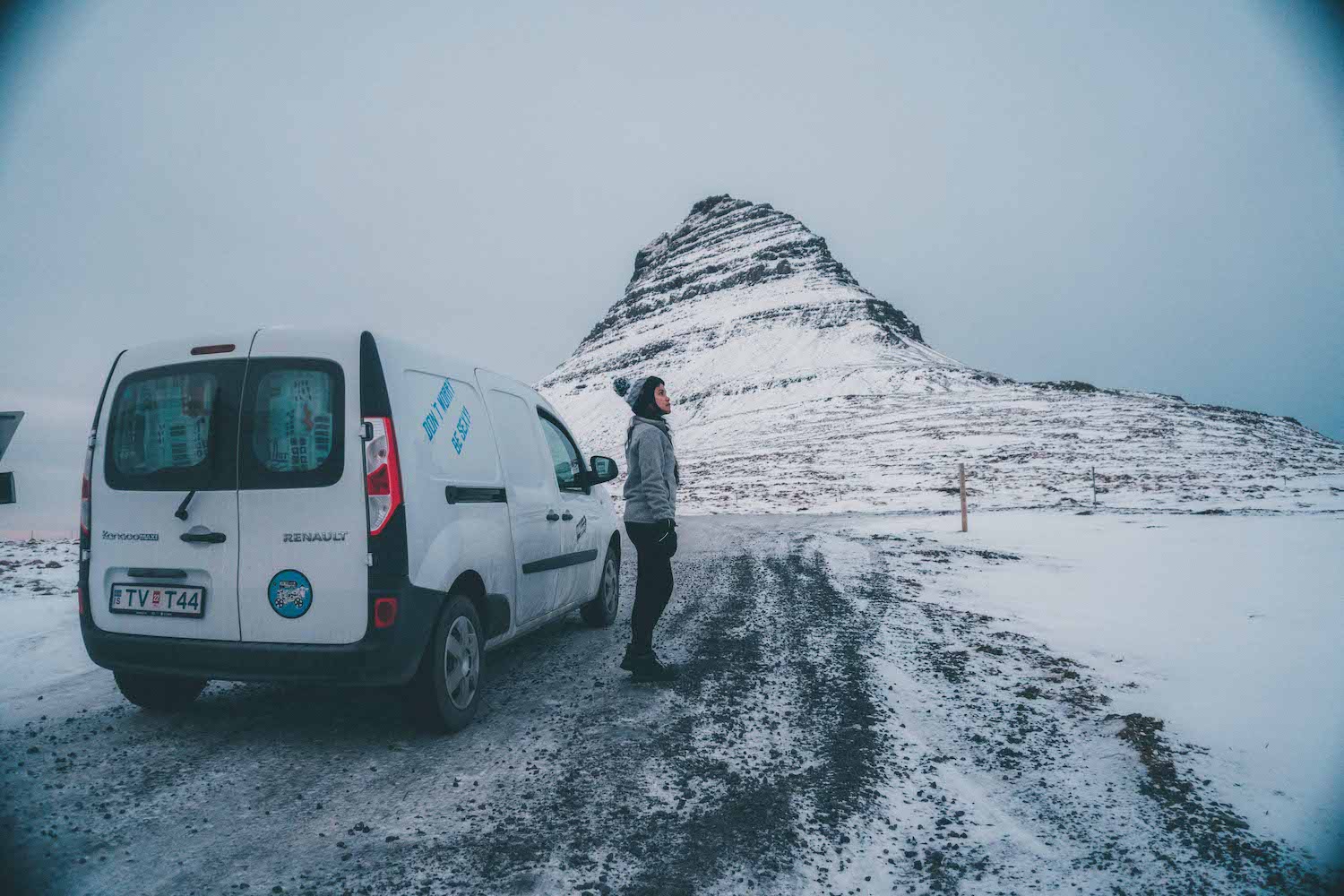 After our hike, we ended our day in the Snæfellsjökull National Park, but only in the area of Gatklettur. It's a coastline cliff with some beautiful views and sort of feels like you're in Ireland but with snow. As we were already going to see the black beach in Vik, we chose to skip the Djúpalónssandur Black beach in the national park, but you can also include this to your itinerary if you want as it's not so far off.
Northern Lights at Snæfellsnes Peninsula
Our first night, we went to sleep early and put an alarm for 1am, hoping to catch the Northern Lights. The forecast was low, but one thing to note about the appearance of the Northen Lights – if the sky is clear, even if the lights aren't strong, they will likely appear at some point. We detail more about the factors involved in the search for the lights in another blog article. 
Since the skies were clear on this side of the island during our first day, we wanted to try our luck in seeing it. With a little bit of patience, there it was amidst the coast of Snæfellsjökull.
For our second day, we had breakfast in our van and drove straight to the Golden Circle. 
From the Snæfellsnes Peninsula, it was about a 1 hour 30 minutes drive to Hvalfjörður. Here, we had a mid morning snack and a little hike around. This is another beautiful area with the mountains as a backdrop reflecting upon the lake.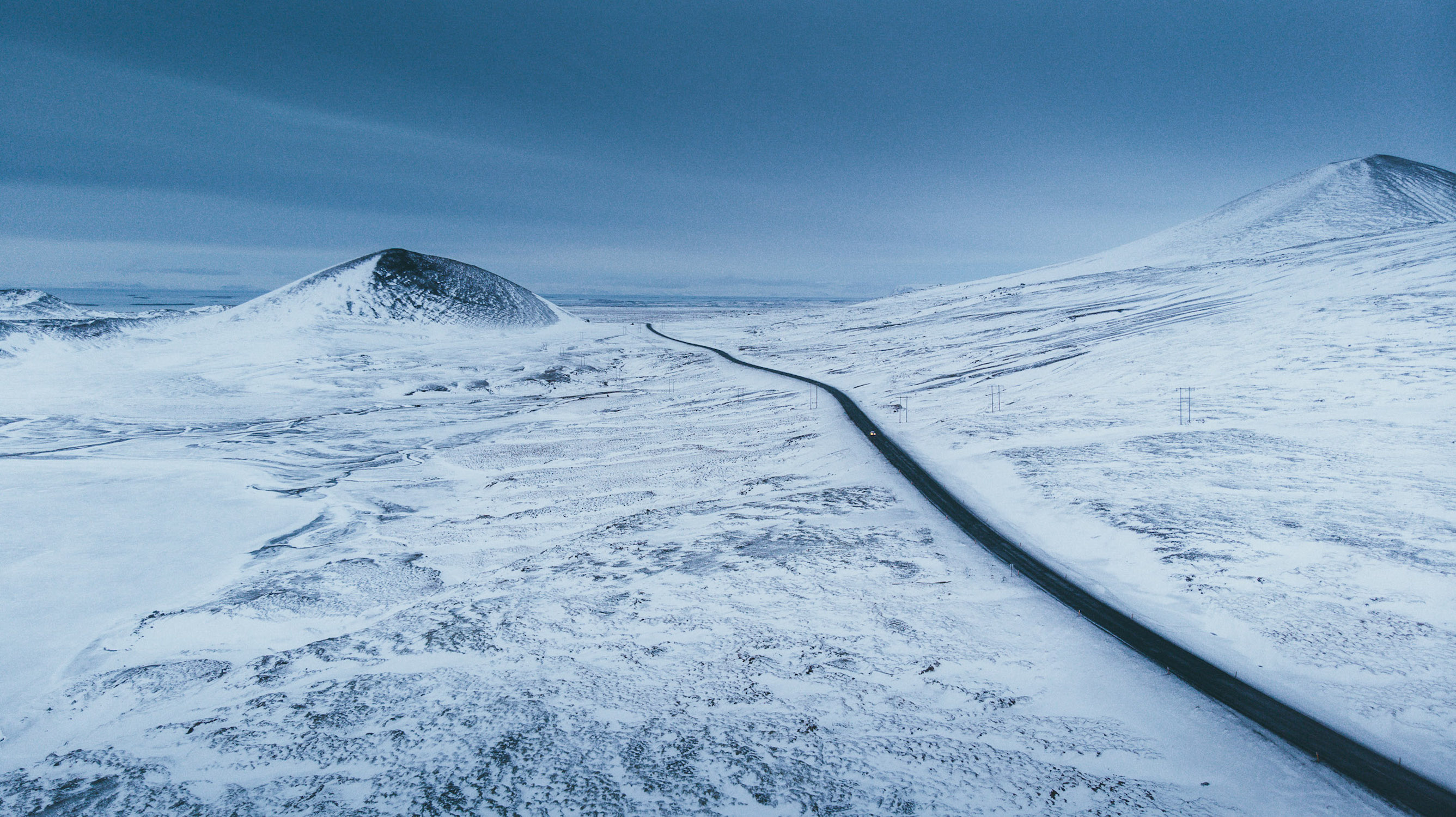 Thingvellir National Park
After Hvalfjörður, we drove to Thingvellir National Park which is about 40 minutes away. Due to an unexpected snow storm, we were not really able to discover the place as it was closed down. So instead, we just sat there for an hour with the whole world in white all around us. It was the craziest and most surreal driving experience we had as it was pure white everywhere. Thankfully, we were not alone and got to feel safe with many other cars and vanlifers.
Strokkur and Gullfoss Falls
Once the storm had died down and since the plan for Thingvellir National Park fell through, we decided to head straight to Strokkur and Gullfoss Falls. These two spots are very iconic in Iceland. Strokkur is a popular and active geyser known to erupt every few minutes. It dramatically shoots out hot water into the air up to 40 meters high. Afterwhich, nearby is Gullfoss Falls which is famous for its multi-step cascade along a bend of the Hvitá River. This is another otherworldly spot to see in Iceland.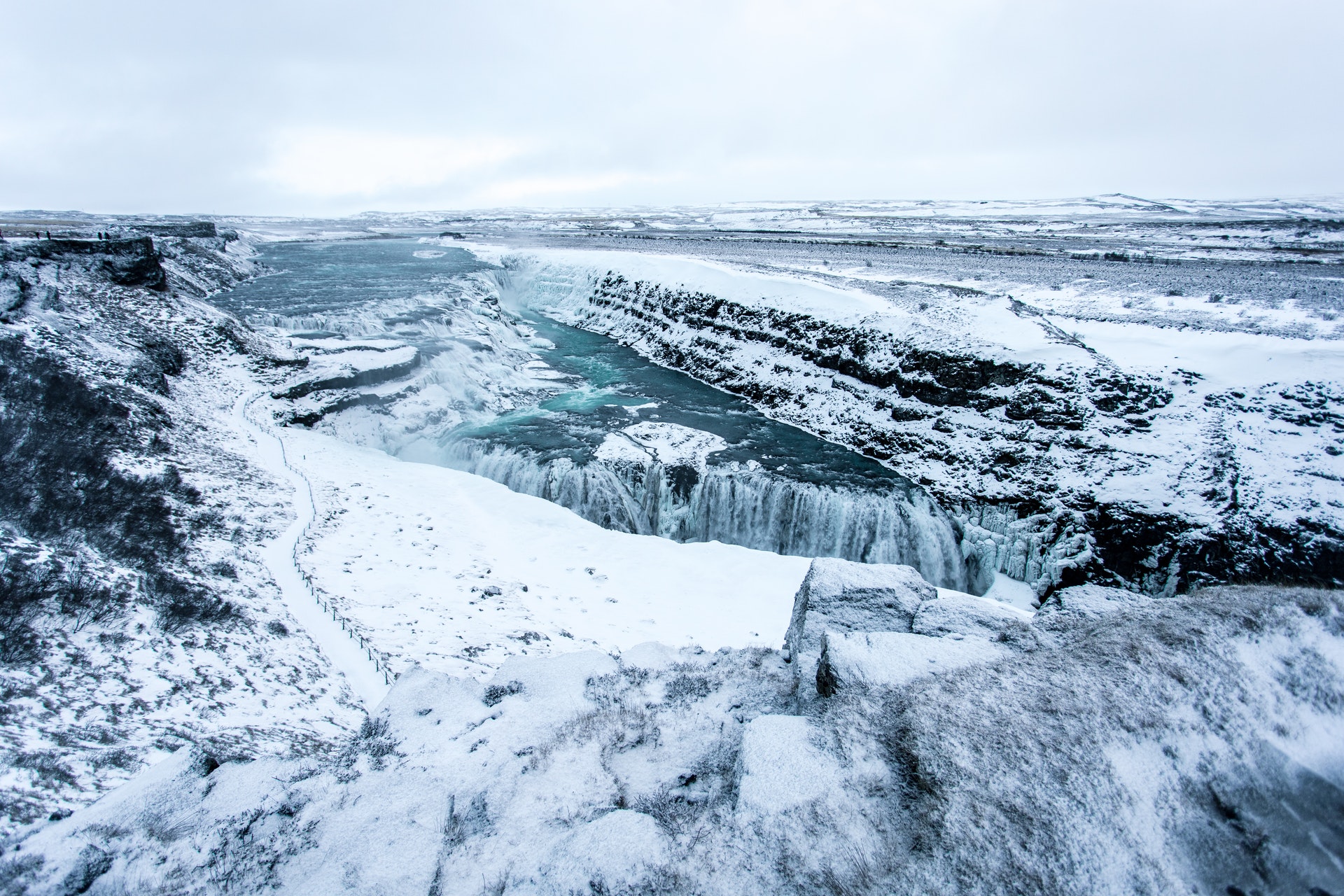 Our last stop for the day was this more offbeat geothermal pool called Secret Lagoon. If you don't want to pay crazy prices for a lagoon that also has less people, this is the spot to go to. We're glad we didn't go to the Blue Lagoon and found this place instead.
Since we were headed to Vik the next day, we ended our day in a nearer campsite in the charming town of Hella. At this point, the weather wasn't too good with the snowstorm earlier that day and the sky full of clouds. So there was no chance to see the Northern Lights.
Day 3: Vik - Jokulsarlon - Fjallsárlón - Skaftafell
This was our longest driving day as we went from Vik to Jokularson / Fjallsárlón and back to Skaftafell. Between Vik and Skaftafell is mostly nothing so have some good music on and just watch the world of Iceland change from grand backdrops to pure nothingness but even that nothingness is still one of the most amazing things you'll ever see.
Our first stop for the day is Reynisfjara Beach which is an hour away from Hella. This is quite a famous black beach with some intricate rock formations. It almost feels like stepping to another planet as you walk through the black sand.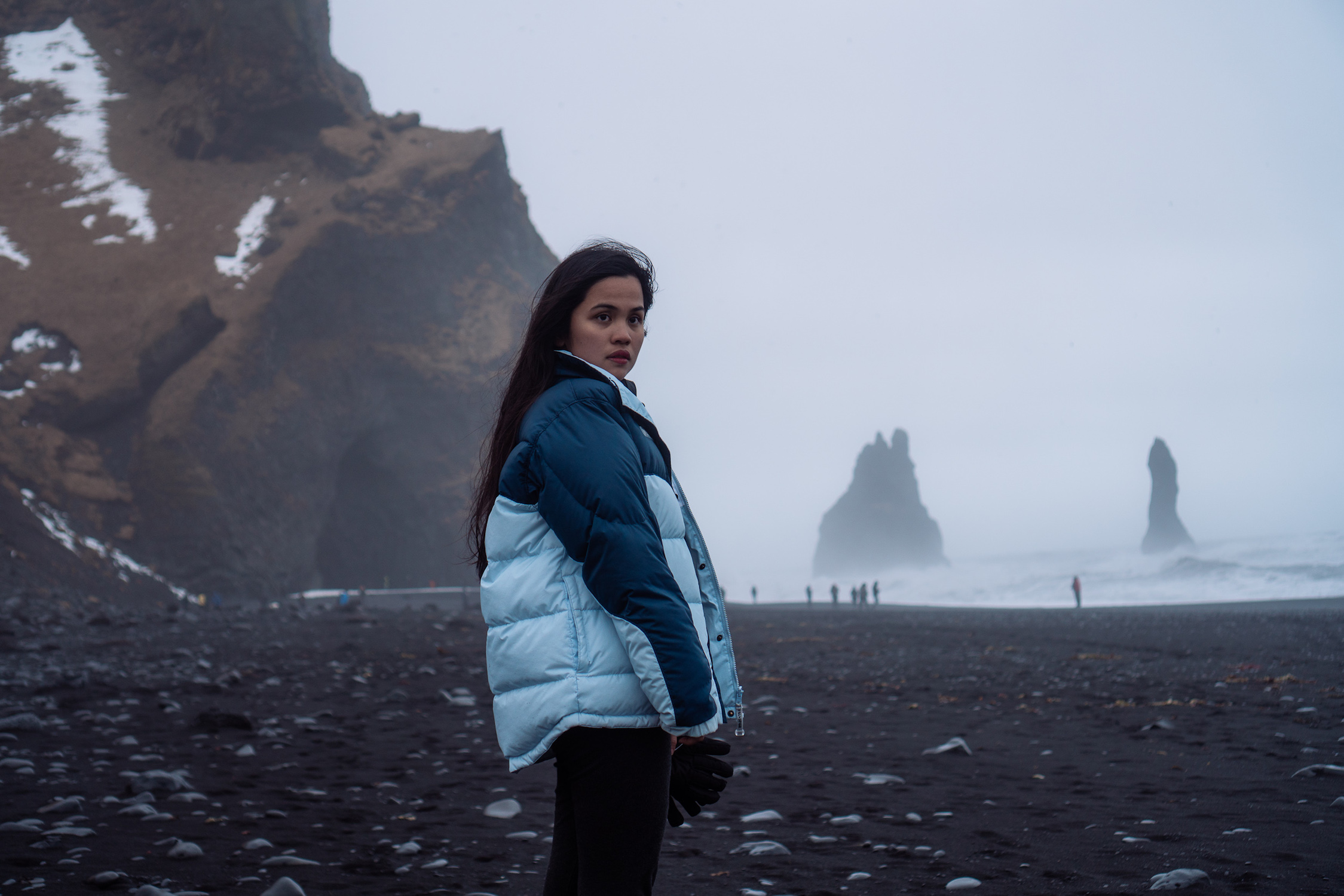 Fjallsárlón / Jokulsarlon
We really wanted to see the ice glaciers so this was our longest drive in the whole trip. From Vik to these two glaciers, it's about a little bit more than a 2 hour drive. We started our day early as usual so we got to the glaciers around 2PM, making only a quick stop for lunch. These glaciers are one of the most amazing things you'll ever see in your life with Jokularson being the largest one in Europe. They are so intricate and unique. We suggest spending lots of time in this place and just appreciating it. We stayed here till sunset.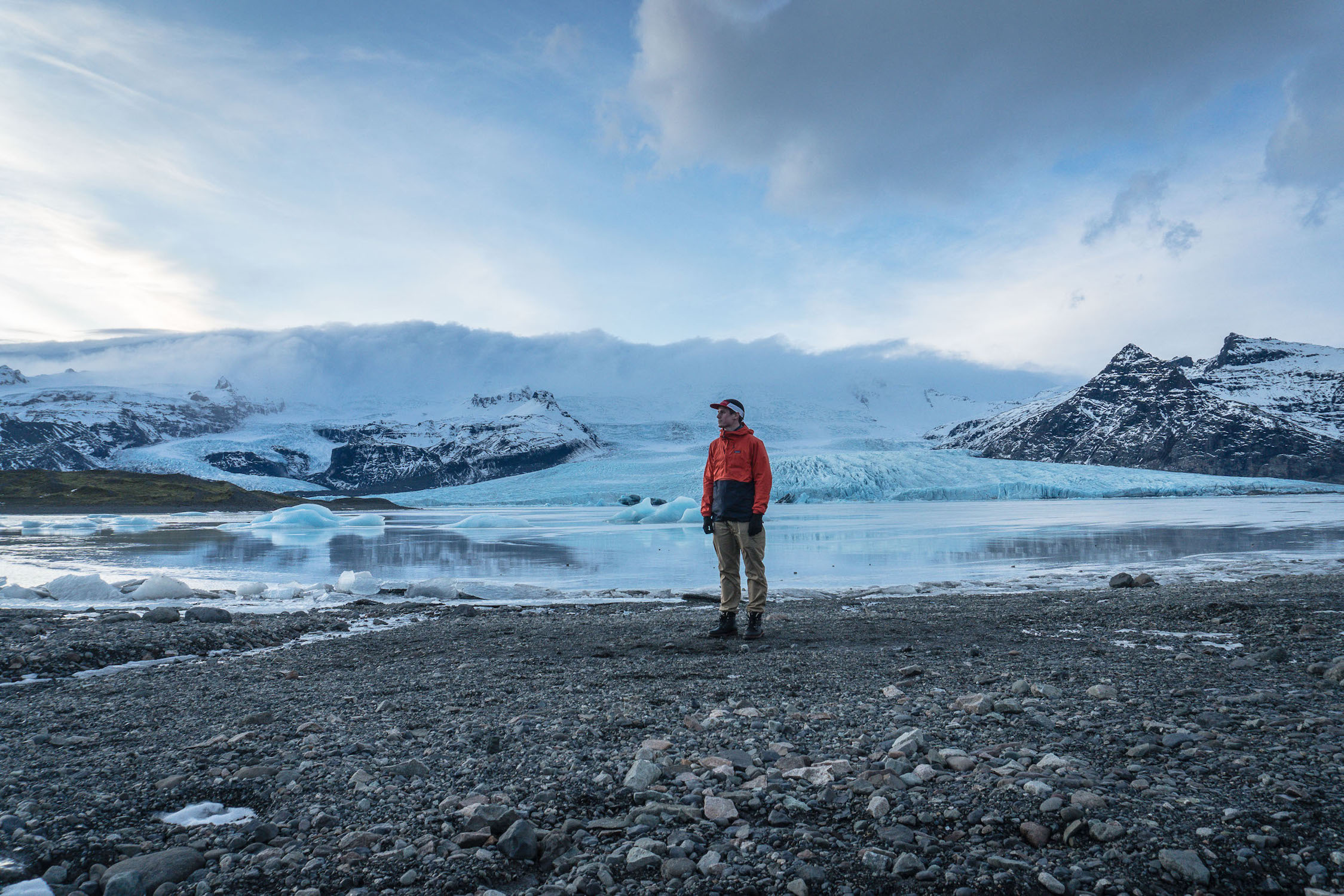 Among the two glaciers, we liked Fjallsárlón more. It was more peaceful and hidden. There were only about 10 people in this spot as opposed to Jokulsarlon, which is why we enjoyed it more. The sunset colors reflecting on the glacier was stunning. It was one of the most magical experiences we had in Iceland. We ended our day in a campsite in Skaftafell, which is also where we start our exploration on Day 4.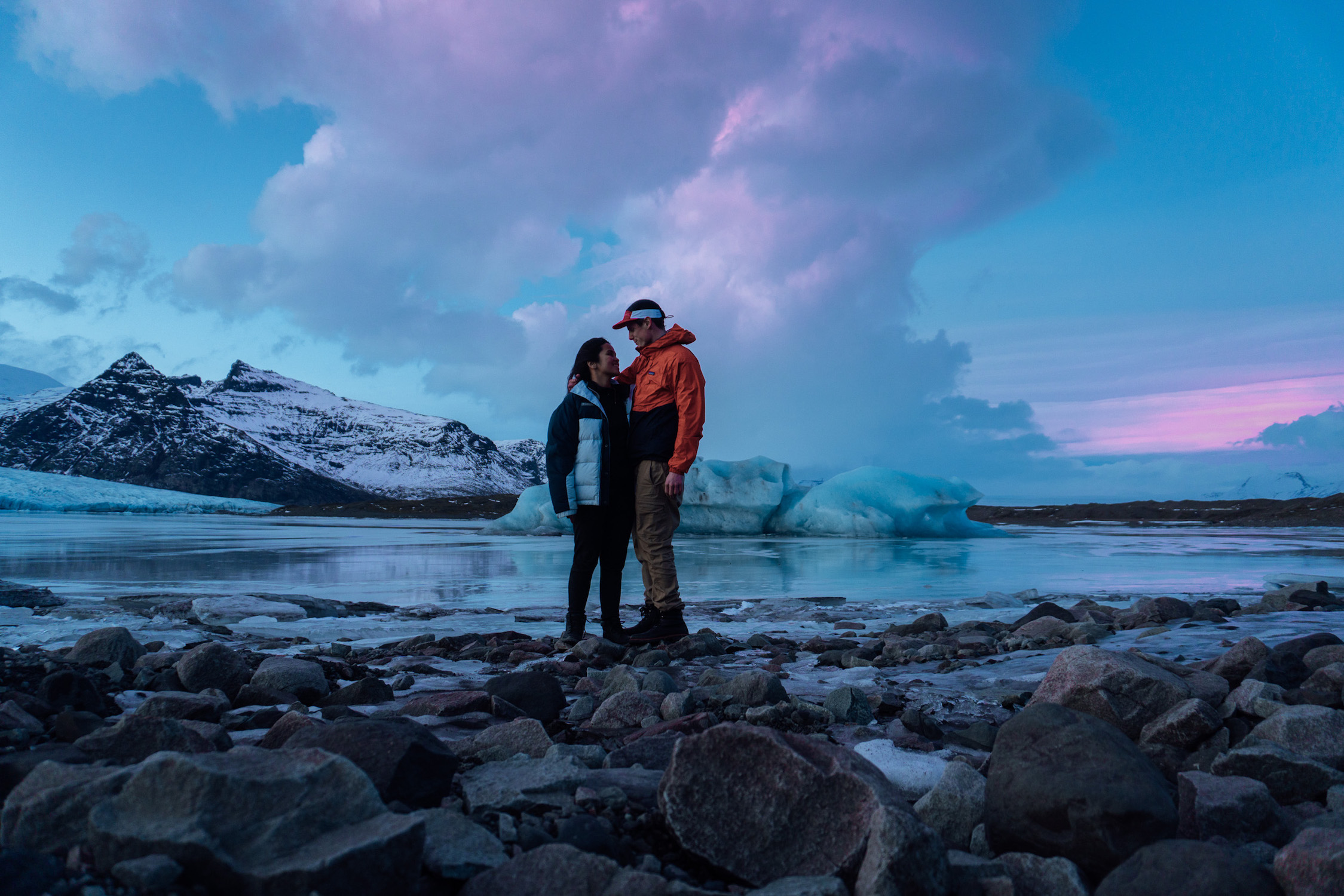 Day 4: Skaftafell - Skogafoss Seljalandsfoss - Gluggafoss
So this was our chillest day where the focus was seeing Iceland's plethora of waterfalls. Since the Northern Lights forecast was supposed to be good during our last night, we wanted to have a relaxed itinerary, so that we could have the energy to search for them once it got dark.
We started our day in Skaftafell National Park, having breakfast and doing a little hike along it's trails. You could literally spend days in this beautiful park if you wanted to.
It is known for its glacier walks, if that's something you're interested in doing. It's also a great place to be up close to the famous Icelandic horses, the purest breed of horses in the world.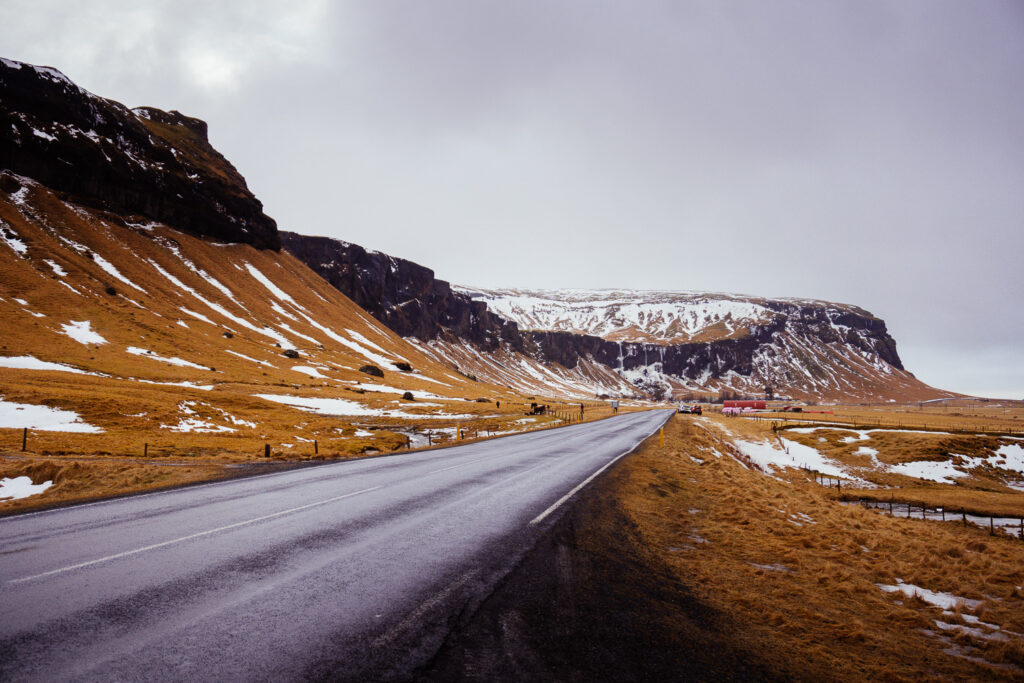 Skogafoss - Seljalandsfoss
After a morning in Skaftafell, we drove for around 2 hours back to the sights we had passed through on our way to Vik — particularly all the waterfalls. Skogafoss and Seljalandsfoss are literally a 10 minute drive from one another. We cooked and had our late lunch amidst the beautiful backdrop of Skogafoss. It's free and there's a nice hike up to the waterfall. Seljalandsfoss is also another beautiful waterfall. It's much taller, but we actually preferred Skogafoss more.
About 30 minutes away from Seljalandsfoss and 10 minutes from our campsite that night is our favorite waterfall in Iceland called Gluggafoss. It's not touristy at all and not very well known which is why we adored it so much. We were the only ones in the spot except for a few Icelandic photographers taking nature shots. Here we spent the sunset, taking a hike around, relaxing with the view of the waterfalls and enjoying our traditional apero.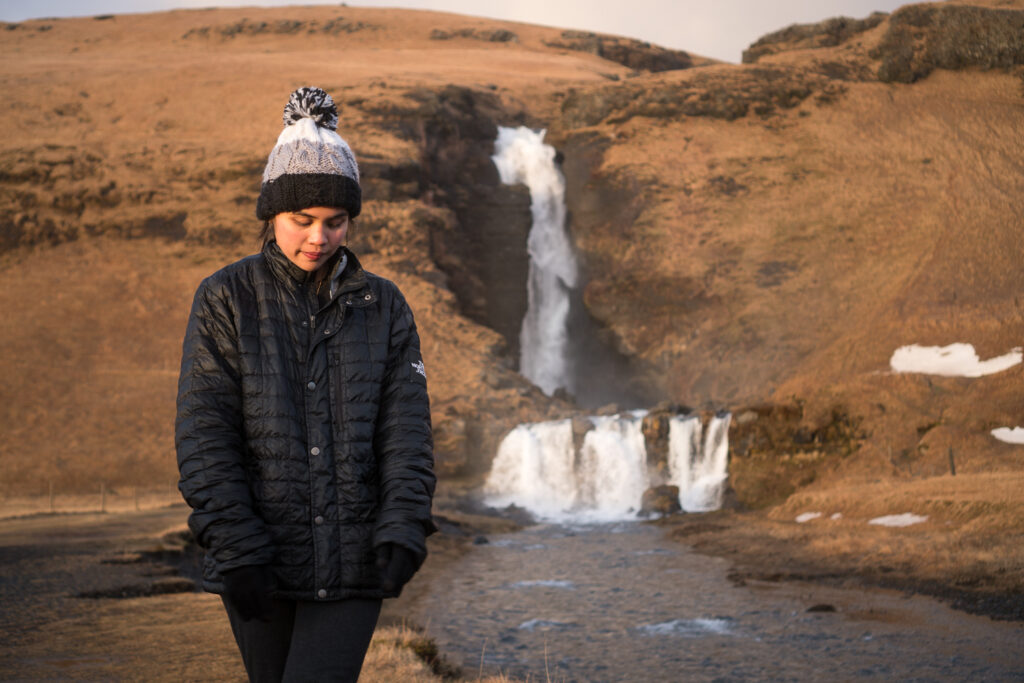 Inner Highlands (Keldur) - Northern Lights
After registering at our campsite in a charming b&b called Smáratún, we had dinner and rested for a bit. Once it was completely dark, we started our chase for the Northern Lights. We drove inwards towards the highlands, which is one of the best places to see the Northern Lights due to the lack of civilisation, in a completely unknown place called Keldur. Here we waited, prayed for the best and to our absolute delight, at approximately 8:30pm, the lights started to appear.
The show during this night was way more impressive than on our first day. It was actually the most perfect way to end our last night in Iceland. The lights gave us an impressive 1 hour show, dancing with slivers of red, white and purple falling into the sky. It was the most beautiful thing we had ever seen in our lives. In another blog article, we detail the factors that made us hopeful that we would see a great show that night. Many people have the assumption that just because you go to Iceland, you'll be able to see the Northern Lights right away but it actually requires more research, luck and patience than that.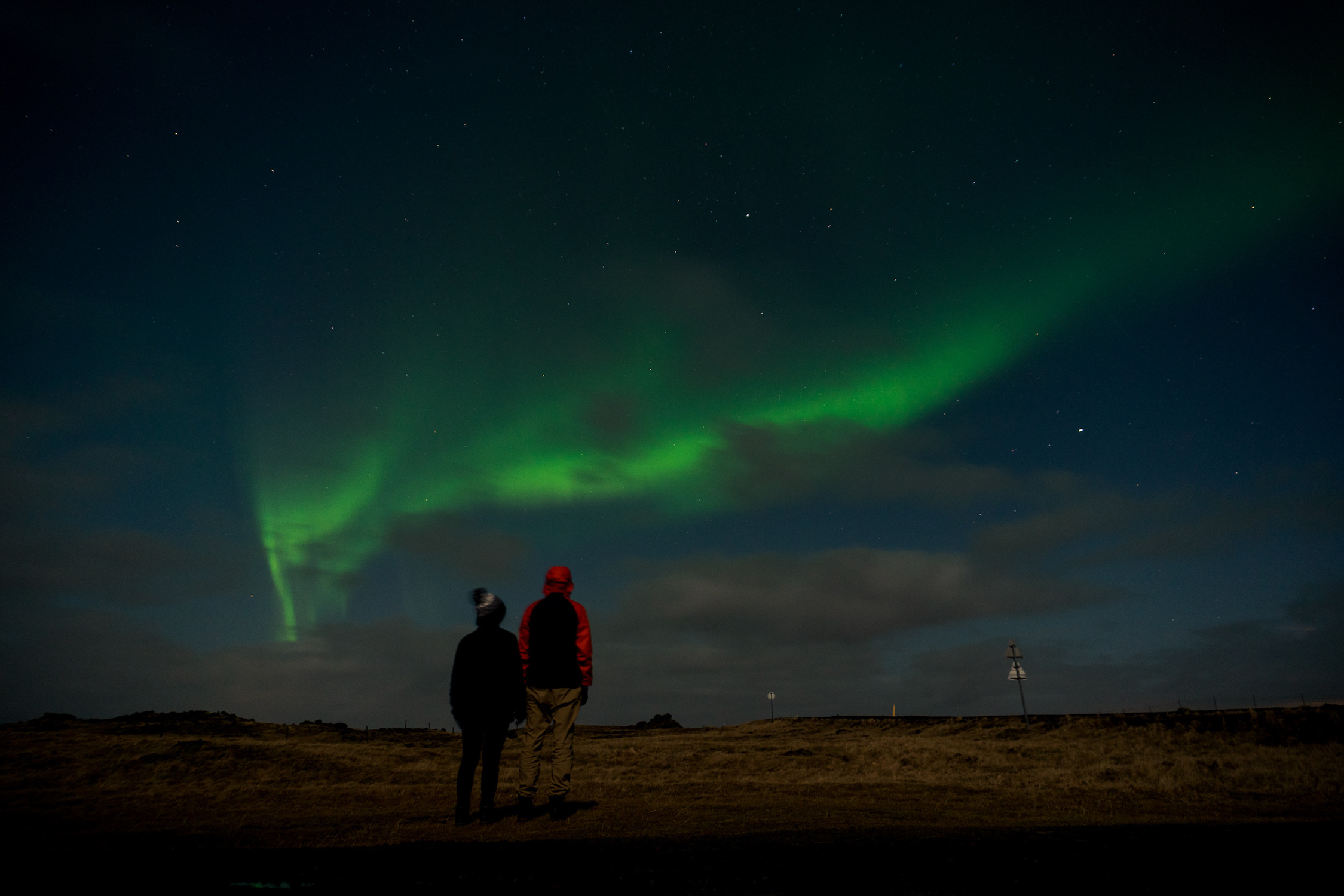 Day 5: Local Hot Tub/Sauna Center - Reykjavik
Our flight was fortunately still at the end of the last day so our agenda was just to relax and finally get a chance to look at Iceland's capital, which we skipped on our first day.
After dropping off our campervan at around noon, we walked around Reykjavik and then visited one of the many Local Swimming/Hot Tub/Sauna Centers. These places are absolutely awesome! It's affordable and a great way to feel refreshed. We wanted to be able to feel fresh before we boarded the plane since we had already spent the rest of the day roaming around the city. It was the best way to end our trip.
How much did it cost to go to Iceland
Here's a quick breakdown of the total costs for this Northern Lights travel guide. It is calculated for one person, considering that you are flying from an airport where Wizz Air (Polish Cities or Milan) operates to and from Keflavik.
Roundtrip Flight: 50€
Luggage (Shared): 15€
Campervan Rental (Shared): 80€
Gas (Shared): 30€
Groceries (Shared): 25€
Campsites: 30 €
Swimming Pool / Hot Tubs / Sauna Admission Fees : 20 €
Total Cost Per Person with Campervan Rental and Roundtrip Flights (5 Days, 4 Nights) = 250 EUR
It seems like a lot for so little but we promise, it's possible! Iceland is one of our best adventures to date and unlike anywhere else we've been to before. By pursuing this trip, we want to show others that it's possible to visit Iceland and chase your dreams of seeing the Northern Lights without a crazy budget or tour. This to us is the ultimate budget travel guide you won't see anywhere else!
So if you're up for a little DIY travel and van adventure, then this is the best how to visit Iceland on a budget itinerary for you. You get to see a bit of everything while also seeing the more hidden spots of the country and slow driving through its areas. Remember the best things in life are in its simplicity, and it's especially true in Iceland, under a thick snow coat, the enchanting auroras, and the independence of van life. If you have any questions, don't hesitate to let us know in the comments below!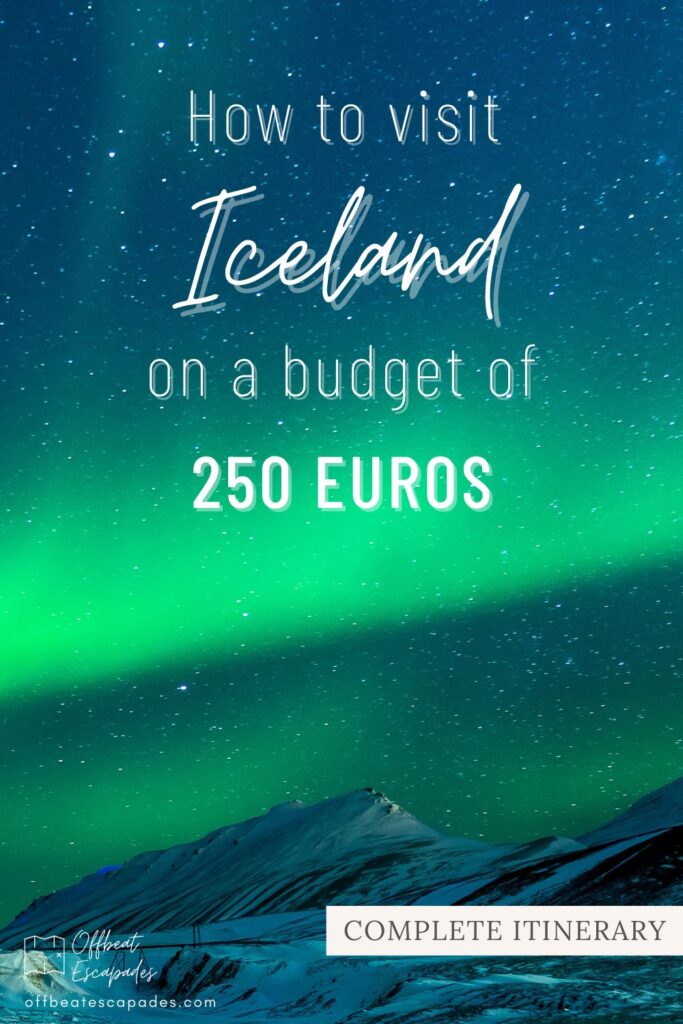 Or start searching for your next destination below