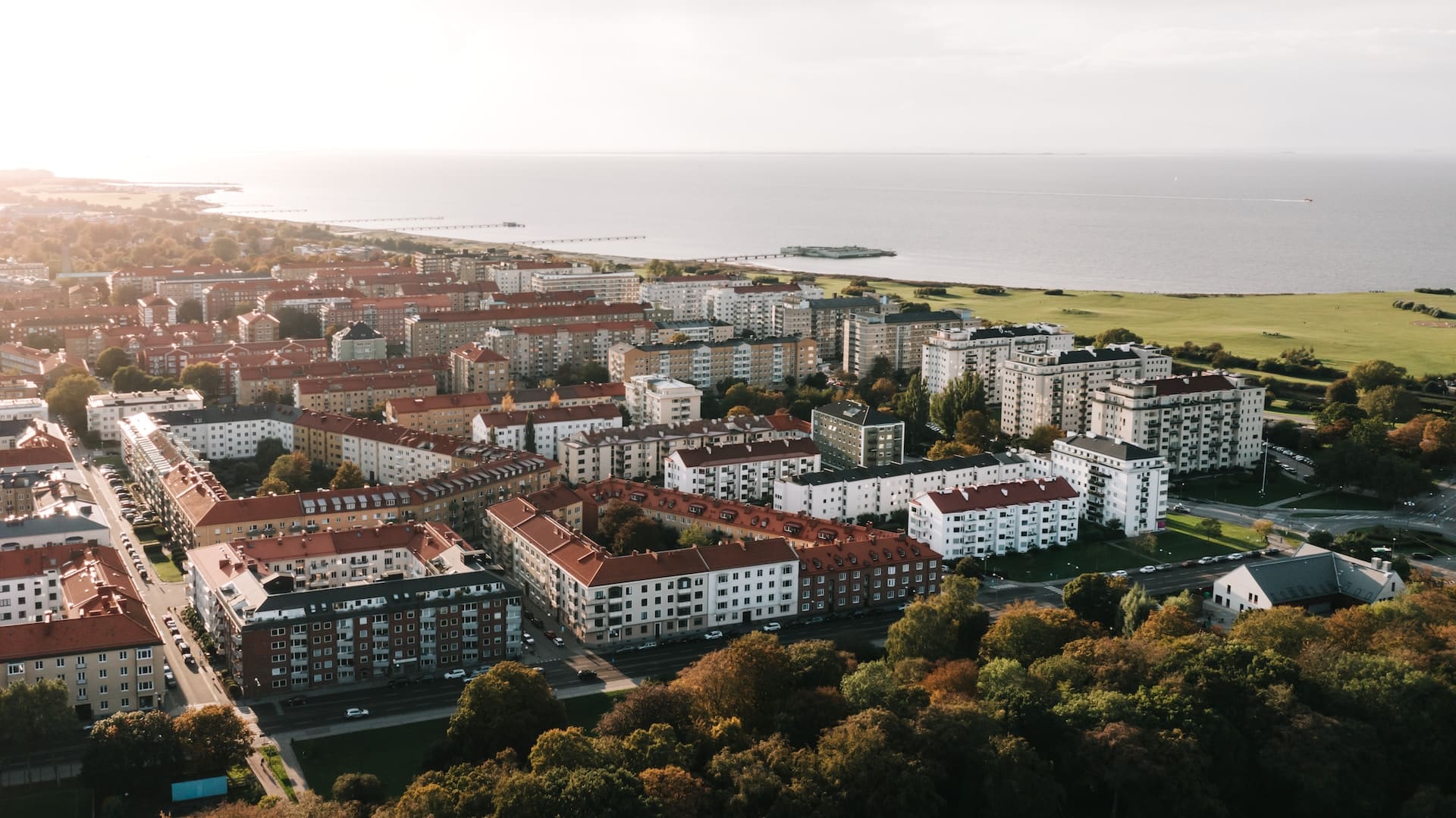 Situated just a stone's throw away from each other, Copenhagen and Malmö are two vibrant cities that share a unique connection. With the Öresund Bridge spanning the waters of the Øresund Strait, the journey from Denmark's capital, Copenhagen to Malmö, Sweden's third-largest city, is a seamless experience. 
Travelers have multiple transportation options to choose from, each offering its own advantages and charm. In this ultimate guide, we will lay it all out for you and explore the best and most convenient ways to travel between these Scandinavian gems, providing you with all the essential information to make your journey from Copenhagen to Malmö an absolute breeze.
So let's dive in and discover the best ways on how to get from Copenhagen to Malmö on a day trip!
NO TIME TO READ? PIN IT FOR LATER!
Reminders Before Traveling to Malmö from Copenhagen
There are a few important tips you must take note of before traveling from Copenhagen to Malmö:
– Do NOT forget your passport or ID card. Though it may seem like you don't need to bring this given how near the two cities are, you're still crossing the border to another country. In fact, I made the horrible mistake to forget my passport at our hotel and so we ended up wasting our time going back.
The border police don't always check the IDs but because of some immigration issues in the past, they're pretty strict and one out of our two train rides, we were checked.
I'm not a European citizen so I needed BOTH passport and ID Card (residency card). Antoine, who is European, only needed his ID Card.
– Second thing to note is that if you're taking the train, it can get quite full during peak hours so arrive early if you want to get a seat or be prepared to stand for 35 minutes.
Thankfully, it's not that long of a ride so it's not really a big deal. If you want to avoid this, travel before or after peak hours (8am to 10am and 5pm to 7pm).
– If you're going to Malmö on a day trip (more on that later), it's important to plan your day and make the most of your time in the city. Prioritize the attractions you want to visit, check the opening hours of museums and landmarks, and consider any specific events or festivals taking place during your visit. 
-Finally, if you want the better view of the Øresund Strait, take the left side of whatever transportation you're taking (left from the perspective of the train, boat, or bus moving). In general, both sides will have a view but the left side will have the wider part of the Strait that opens up to the rest of Denmark and Sweden.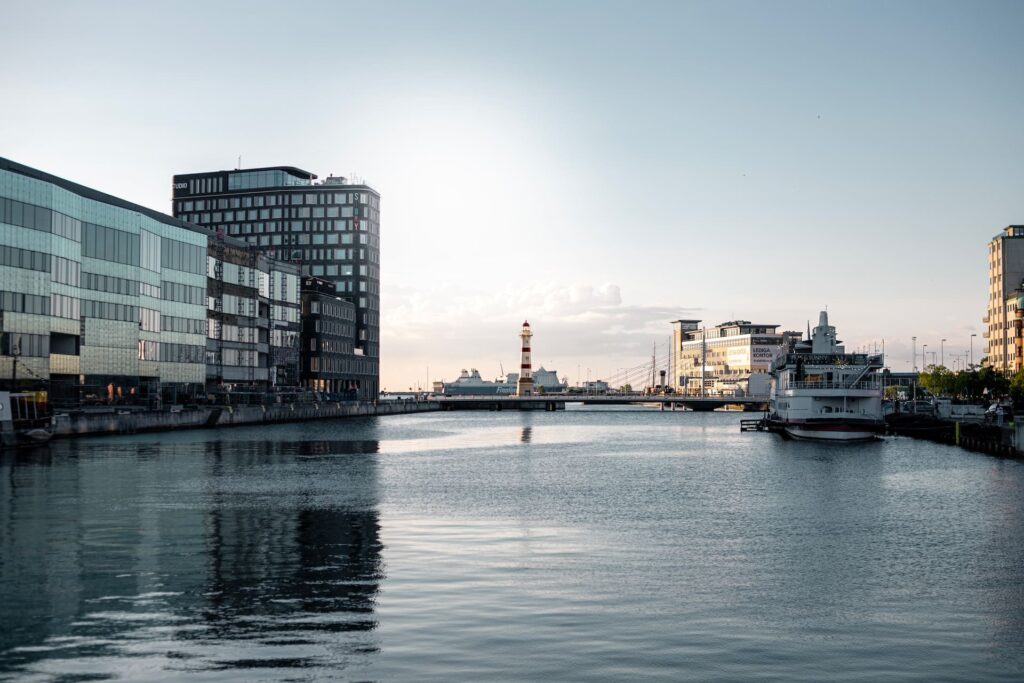 Copenhagen to Malmö by Train
The train is undoubtedly the most popular and most convenient mode of transportation for traveling from Copenhagen t0 Malmö.
Operated by Skånetrafiken, the Öresundståg train service connects the two cities, offering a quick and comfortable journey of literally less than an hoour.
Departing from Copenhagen Central Station and arriving at Malmö Central Station, the train ride takes approximately 35 minutes, making it the fastest option available.
The Öresundståg trains run frequently throughout the day, with departures as often as every 20 minutes during peak hours.
The tickets are reasonably priced, and various fare options are available, including one-way, round-trip, and regional travel cards. Additionally, the train offers a scenic view of the Øresund coastline, allowing travelers to enjoy the picturesque surroundings during their journey.
Copenhagen to Malmö by Bus
For travelers on a budget, taking a public bus from Copenhagen to Malmö is a cost-effective option. Both cities have efficient bus networks that connect various destinations, including the Copenhagen to Malmö route.
The bus journey between the two cities typically takes around 60-75 minutes, depending on traffic conditions. Bus services are operated by companies such as FlixBus and Nettbuss, offering multiple departures throughout the day.
It's worth noting that bus schedules may vary, especially during weekends and holidays, so it's advisable to check the timetables in advance.
One of the advantages of traveling by bus is the affordability, with tickets often priced lower compared to other transportation options. It's recommended to purchase your tickets online or at designated ticket outlets to secure your seat, especially during peak travel periods.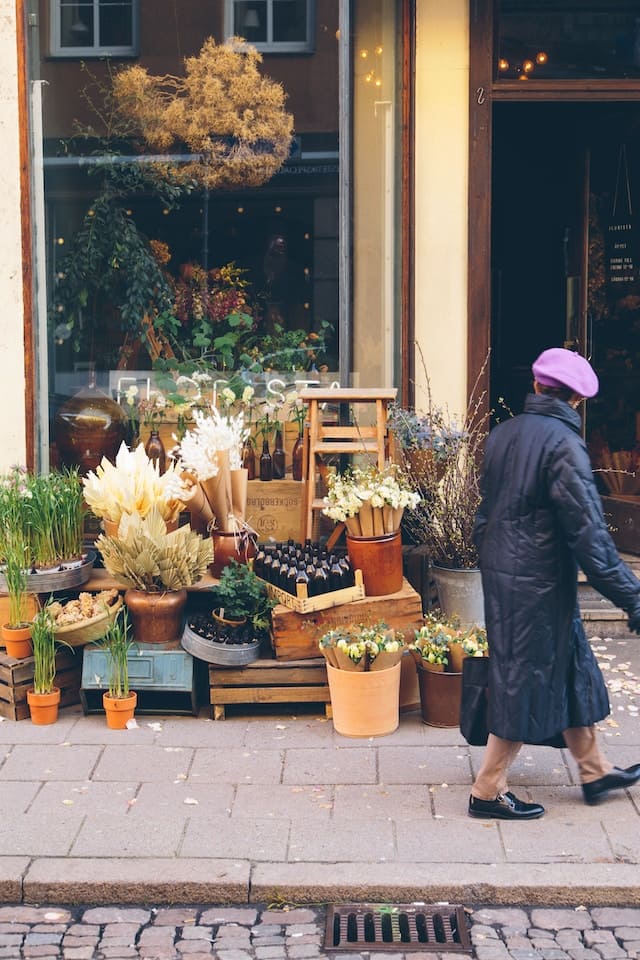 Copenhagen to Malmö by Ferry
For those seeking a more leisurely and scenic journey, taking a ferry from Copenhagen to Malmö is a delightful option. Several ferry companies operate between the two cities, providing a unique experience on the Baltic Sea.
Ferries depart from various ports in Copenhagen, including Nyhavn and Langelinie, and arrive at Malmö's Western Harbor.
The ferry ride offers a different perspective of the Øresund region, allowing travelers to enjoy the picturesque coastline and the stunning views of both cities. The duration of the ferry ride can vary depending on the company and route chosen, typically taking around 40-60 minutes.
Travelers have the option to choose from different types of ferries, ranging from large passenger ferries to smaller, more intimate vessels or even to day trip tours. Many ferries are equipped with amenities such as onboard cafes, restaurants, and outdoor decks, providing a comfortable and enjoyable experience during the crossing.
It's important to note that ferry schedules may vary depending on the season, so it's advisable to check the timetables in advance. Additionally, ticket prices can vary between ferry operators, and it's recommended to book your tickets online or at the ferry terminals to secure your spot.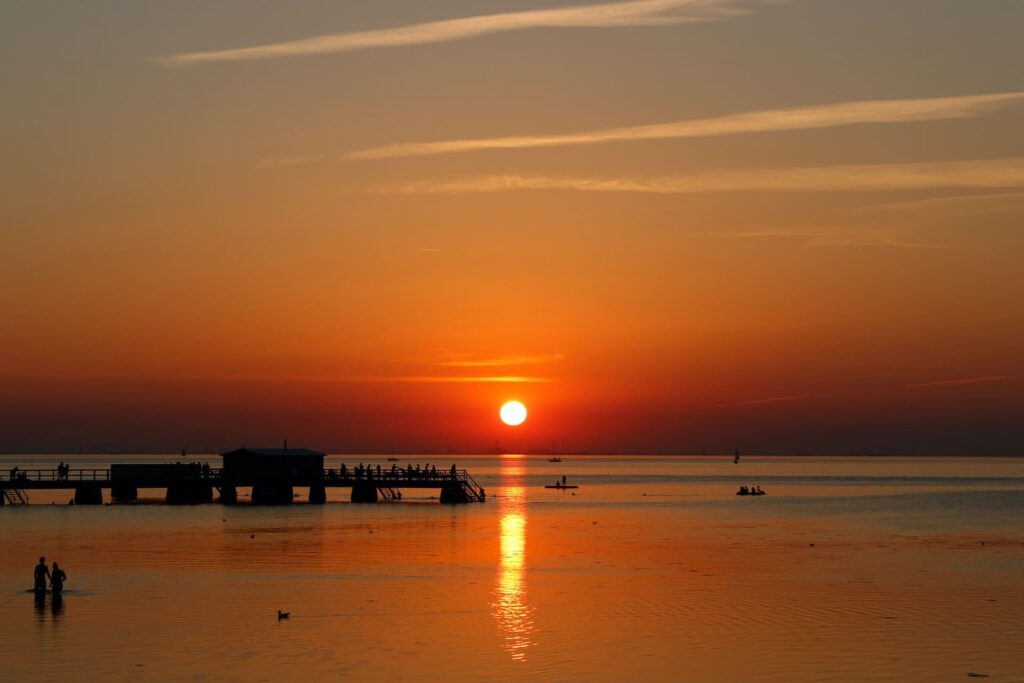 Copenhagen to Malmö by Bike
Feeling adventurous? Then this option to travel from Copenhagen to Malmö is for you!
For the eco-conscious and adventure-seeking traveler, cycling from Copenhagen to Malmö presents an exciting and sustainable option. Both cities are renowned for their bike-friendly infrastructure, making this mode of transportation not only feasible but also enjoyable.
There are bike rental services available in both Copenhagen and Malmö, providing an array of rental options, including standard bicycles, electric bikes, and even tandem bikes. The journey along the Øresund coast offers breathtaking scenery, and cyclists can take advantage of the dedicated bike lanes and paths that run alongside the road.
To cross the Øresund Bridge by bicycle, it is necessary to use the designated pedestrian and bicycle path. It's important to plan the trip in advance, taking into account factors such as weather conditions, physical fitness levels, and the availability of bike parking facilities.
Copenhagen to Malmö by Car
For travelers seeking more flexibility and independence, renting a car provides an excellent alternative for the Copenhagen to Malmö commute.
The Öresund Bridge, connecting Denmark and Sweden, makes driving between the two cities a straightforward and convenient option.
Several car rental companies operate in both Copenhagen and Malmö, allowing travelers to choose from a wide range of vehicles to suit their needs. The journey across the Öresund Bridge takes around 45 minutes, depending on traffic conditions, and offers breathtaking views of the strait.
However, it is absolutely ESSENTIAL to consider additional factors such as toll charges, parking availability, and potential traffic congestion, particularly during peak hours.
It's worth noting that certain car rental agencies impose restrictions on taking rental cars across international borders, so be sure to check with the rental company before making your booking.
Is it Worth Visiting Copenhagen to Malmö on a Day Trip?
Our quick answer to that would be – YES, it is absolutely possible to do a day trip from Copenhagen to Malmö.
As you've seen above, these two cities are incredibly close to each other, which makes the journey quick and convenient. But if you need a bit more convincing, here's why a day trip from Copenhagen to Malmö is worth doing:
– Short Travel Time: The journey from Copenhagen to Malmö takes approximately 35 minutes by train, making it incredibly easy to reach Malmö in a short amount of time. Trains run frequently throughout the day, allowing you to choose a convenient departure and return time that suits your schedule.
– Efficient Transportation Options: The train service between Copenhagen and Malmö, operated by Skånetrafiken, offers a seamless and reliable travel experience. Trains depart from Copenhagen Central Station and arrive at Malmö Central Station, both centrally located, allowing you to explore Malmö's attractions without wasting time on lengthy commutes.
– Compact and Walkable City: Malmö is a compact city, making it ideal for a day trip. Many of the city's popular attractions, such as Malmöhus Castle, Lilla Torg, and the Moderna Museet Malmö, are located within close proximity to each other. You can easily navigate the city on foot, allowing you to make the most of your limited time and see the highlights.
– Diverse Attractions: Despite its size, Malmö offers a wealth of attractions that can be explored in a day. From historical landmarks and museums to modern architecture and vibrant markets, there's a lot to do. You can visit the Malmöhus Castle and its museums, wander around the charming Old Town, enjoy the beautiful parks and gardens, and even indulge in shopping or dining experiences.
– Cross-Border Experience: One of the unique aspects of a day trip to Malmö is the opportunity to experience the cross-border connection between Denmark and Sweden. I mean, who can say that they traveled two countries in one day? Plus, crossing the Øresund Bridge by train is a memorable experience!
Bonus Tips to Travel From Copenhagen to Malmö
As a bonus tip, you can also think about mixing and matching transportation options! The next time we do this trip again, we'll probably combine two different methods.
For example, you could take a train from Copenhagen to Malmö and return by ferry, allowing you to experience both modes of transport and enjoy different perspectives of the Øresund region.
Another popular combination is to cycle from Copenhagen to Malmö and then take a train or ferry back to Copenhagen, creating a memorable multi-modal adventure. In both countries, bikes are allowed on the train. You just need to get an extra ticket for your bike!
Conclusion: How to Get from Copenhagen to Malmö
So there you have it! We hope this helps you figure out the best way on how to get from Copenhagen to Malmö and vice versa as we went through the same problem. Among all the best ways to travel from Copenhagen to Malmö, we think that the train is the most convenient and fastest, but we would also consider mixing two different methods and biking one way for a more adventurous experience!
Anyway, whatever you choose, they're all great options. Whether you prefer the convenience of a train, the freedom of the road with a rental car, the eco-friendly adventure of cycling, the scenic maritime experience of a ferry, or the budget-friendly option of a public bus, there is a mode of transport to suit your needs.
Each transportation option offers its own unique advantages, from speed and comfort to affordability and scenic beauty. What's most important is to consider your preferences, budget, and travel requirements to choose the best option that aligns with what you want.
What about you? Have you ever traveled from Copenhagen to Malmö? What was the experience like and which of the above travel methods did you use? If you have any other questions for us which we didn't get to answer in this guide, don't hesitate to comment below! 
LIKE THIS POST? PIN IT FOR LATER!
Or start searching for your next destination below