A roadtrip in the winter doesn't improvise itself. Hence, it's important to have the essential campervan packing list for a winter road trip, which we discuss in this guide.
The packing list below covers the campervan essentials and fits in one 60L duffel bag. Depending on the van you'll use, you might want to bring more or less than the list below. This packing list covers everything we brought for a winter road trip to Iceland, where we had to fly with our gear, and rent a very simple rental camper. 
NO TIME TO READ? PIN IT FOR LATER!
What to Wear in a Campervan for Winter
Layering is key! Typically, we bring base layers (synthetic/thermal shirts), mid layers (fleece or puff down jacket) and a shell (waterproof jacket). Below is a detailed list of the items we recommend.
Our tip: Since this will be your first and inner layer, you always want to get something that feels comfortable sort of like the way a pajama would feel. The worst thing is to get something that isn't soft and ends up feeling itchy to the skin. 
○ Fleece and down jacket - Mid Layers
Our tip: Do not skimp on the middle layer. It's important to have a quality one that can last you for years. We especially emphasize getting a technical fleece jacket for that added winter protection.
○ Rain Jacket (Breathable) - Shell Layer
Our tip: This is your final upper layer, and you'll want it to be waterproof to protect you from snow or rain, but also breathable so that you can still move around.
For us, nothing beats Uniqlo's technical pants. It's the most comfortable thing and super warm. You'll want to choose pants that are fleece-lined for that extra warmth.
○ Thermal Socks and Hiking Shoes/Boots (Waterproof)
Make sure your thermal socks are thick and warm.
For hiking shoes or boots, you'll want a good quality one that is waterproof for any snow excursions. For this, we love the quality and feel of the

Berghaus Hillwaker GTX boots

.
As a final note, we emphasize having synthetic layers or merino wool as they don't retain moisture and odors so much. This means that you can use them multiple times over the course of a trip. Removing or adding layers is great to regulate your temperature. If you don't have the different layers, a ski jacket can also be useful.
Essential Car Accessories for a Campervan
A lot of time will be spent in the car on a roadtrip. You want to make these stretches of road the most comfortable you can. As such, we recommend the following essential car accessories for a campervan.
You'll need a USB / DC  inverter to charge your electronics on the go. We have the Power Inverter DC 12V to 230V AC Converter Car Charger from Bestek Global. It works so well to charge all your gadgets (even a laptop if you're digital nomads like us). All you need to do is plug it in your van's cigarette outlet and voila, it does the job of converting the power for all your bigger gadgets. It's one of the most important essentials that we still use daily for quick charges with our actual campervan, Gaston.
We recommend downloading the mobile application of Waze or Google Maps. Between the two, we prefer Waze as it tends to be more accurate and contains all types of traffic information (including toll fees, police alerts, etc).
○ Ice Scraper and Insulated Coffee Jug
We recommend having an ice scraper handy. Usually the morning after, your van windows will be full of ice or mist. It would be useful to have something to scrape these particles off such as an ice scraper.
Alternatively, an insulated coffee jug is so important for those coffee breaks. We're the biggest fans of Klean Kanteen bottles. It's high quality, keeps your drinks well-insulated and the design is so sleek. Below is Klean Kanteen's Vacuum Insulated TKPro that we absolutely adore and have our own of.
Gear for Sleeping in a Campervan
Depending on your van and the outdoor temperature, you could need the following below. It gets way easier if your van has a stationary diesel heater, but you can definitely survive without if you have the proper gear for sleeping in a campervan.
○ Zero Degree, Lightweight Sleeping Bag
If your van does not have a heater, then a sleeping bag is an absolute MUST. So zero degree, lightweight sleeping bags don't come cheap but if you're living life on the road, then you need something that doesn't take too much space and can handle the winter weather. For this, we recommend Hyke & Byke Shavano Zero Degree Sleeping Bag. It's a bit pricey (as with most sleeping bags), but think of it as a long-term investment. It's the most lightweight bag you can find as it weighs under 1 Kg.
○ Inflatable pillows, plaid and heating blanket (if leisure battery is avail)
Any inflatable travel pillow and plaid will do as long as it's comfortable for you and lightweight.
If your van has an external leisure battery, a heating blanket is the perfect accessory to keep you warm for sleeping. This Cosi Home Electric Heating Blanket will ensure you sleep like a king.
○ Hand and foot warmers + hot water bottle
To ensure that the heat stays, we learned the trick of keeping a hot water bottle inside your sleeping bag. Hand and foot warmers are also great additions to have as your hands and feet are the two sensory parts of your body that get cold really fast.
Additional Camping Accessories for Van Life
Depending on how well-equipped your campervan is, here are some more additional camping accessories for van life that we recommend.
If you've been following us for a while in our social media platforms, then you have probably already seen our Helinox Camping Chairs. These chairs are our babies and we just love them so much. They're packable, compact and weigh about 500 grams. Crazy right!? We bring them to all our travels, whether in the mountain, beach or with our van, and they can even pass through hand-carry in any flight.
○ Collapsible Water Pouch (15L) and Headlamps
If you're planning to go winter hiking during your road trip, collapsible water pouches are the handiest things (a good size would be 15L) as well as headlamps given how early the sunsets usually happen during the season. You never know so it's better to be prepared!
We are huge fans of bringing and putting USB-Powered Fairy Lights everywhere. It just adds that cozy feel into your campervan's interiors and helps elevate it. Try to have one with warmer colors and not multicoloured.
A powerbank is one of those daily essentials, especially for emergencies. You probably already have a powerbank but if you dont, we recommend getting a good brand like Anker 20,000 Fast Charge. If there's anything you want to avoid it's to get a random Chinese power bank that will break in a matter of months or that doesn't work to its full capacity. Fast charge power banks are the better options out there and the one from Anker is a good choice.
Finally, if you don't have a fixed cooking set-up in your camper van. We recommend you get the gas set-up from Decathlon. For cooking, we have this Cookware + Kettle Set from Amazon. It is super compact, packs into each other, and comes in a clean design.
Van Life Food List Without A Fridge
As it's an essentials list, you don't want go for anything fancy. Simple breakfast, easy to prepare carbs meals, and the occasional beer to share at the campsite or van is all that's needed. It's important to make sure that the food is easy to conserve, prepare and carry in a bag. Here are some of the items in our van life food list, no fridge needed!
Instant coffee, Tea bags – French press/Italian Moka if extra space

Toast bread (to heat up on the pan)

Jam, Hazelnut paste, peanut butter

Pasta, rice, wheat semolina

Sauces in jars (pesto, tomato)

Canned meat loaf

Beans

Eggs

Oats

Dried fruits

Beer, wine
So there you have it, this is our ultimate campervan packing list for a winter road trip. These are exactly the items we brought for our trip to Iceland, which is a country with one of the harshest winter conditions. If we were able to survive on these campervan essentials in Iceland, then you can survive winter anywhere with it too! These are the absolute must-haves that you shouldn't forego so that you can have a more comfortable winter road trip. If there are any items missing from this campervan winter packing list that you think should have been part, let us know in the comments below!
LIKE THIS POST? PIN IT FOR LATER!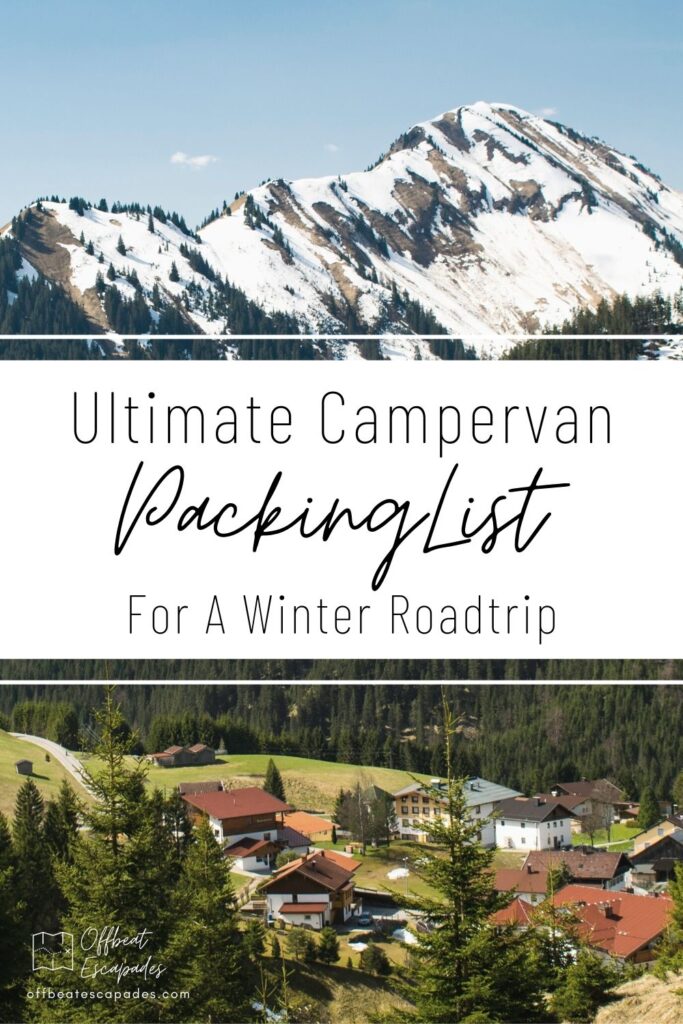 Or start searching for your next destination below