Bohol, to us, is the perfect starting point for anyone who wants to discover the beauty of the Philippines. Whether its relaxing at the many white sand beaches, swimming in crystal clear waters, snorkeling in the surrounding islands, trekking the vast waterfalls, cruising down the mystical Loboc river or of course, taking in the amazing wonder of the Chocolate Hills – there are many great activities to do in this island. In this guide, we will show you how to travel to Bohol from Manila (or Cebu) with a complete 4-day itinerary and budget of PHP 5,500 or less than 100 EUR.
Having visited this province before, we wanted to rediscover the island with fresh eyes by trying to do everything by ourselves. So this travel guide is also for those who want to see Bohol in a different light by avoiding tours and taking the off-the-beaten track on a budget.
How to travel to Bohol from Manila
All major airlines (such as Philippine Airlines, Cebu Pacific and Air Asia) serve flights from Manila to Bohol. Please note that all flights currently land at Panglao International Airport. Flight costs are quite affordable especially with Cebu Pacific or Air Asia. You can book a flight a few weeks before your trip and still get a decent rate of around PHP 3,000 (50 EUR) roundtrip. Or better yet, you can watch out for the promo fares and get a promo fare for around PHP 1,000 (18 EUR).
For us, we booked around a month in advance and we were able to get a rate through Cebu Pacific of PHP 1,600 roundtrip for each person – totaling to PHP 3,200 for two people.
How to travel to Bohol from Cebu
You can also take the fast jet ferry from Cebu to Bohol. Although, we did not take this route this time around, you can check for the ferry rates online at 12go. It's about PHP 300 (7 EUR).
There are various types of accommodation in Bohol for every type of traveller and for every budget type. These range from five star resorts, to homestays to bungalows and hostels.
For our stay, we found this gem of a place near Alona Beach called Bohol Sea Breeze Cottages and Resorts. It's not beachfront but a minute away from Alona Beach. We liked it because it was walking distance from everything but still out of the way to be peaceful at night. For 4 days and 3 nights, we booked via a promo in booking.com and it cost us around PHP3,000 so around PHP 1,000 a night for 2 people or PHP 500 per person. The room is air-conditioned and has a private bathroom. There is also drinking water and cooking facilities in the public area so you can go to the market and make your own meals.
How to get around Bohol by Tour
There are various tours offered in the Panglao area by hiring a habal-habal/tricycle or by joining a van. Prices range from PHP 300 per person for a van and depend on how many persons and how long for the habal-habal or tricycle.
How to get around Bohol by Yourself
In our opinion, the best way to explore Bohol is by renting a motorbike. It's cheaper overall and you can follow your own schedule. One can easily find a motorbike rental around the area of Panglao Beach for PHP 350 – 500. You can get it for lower if you haggle. For 3 days, we were able to get a rate of PHP 900 or PHP 300 per day.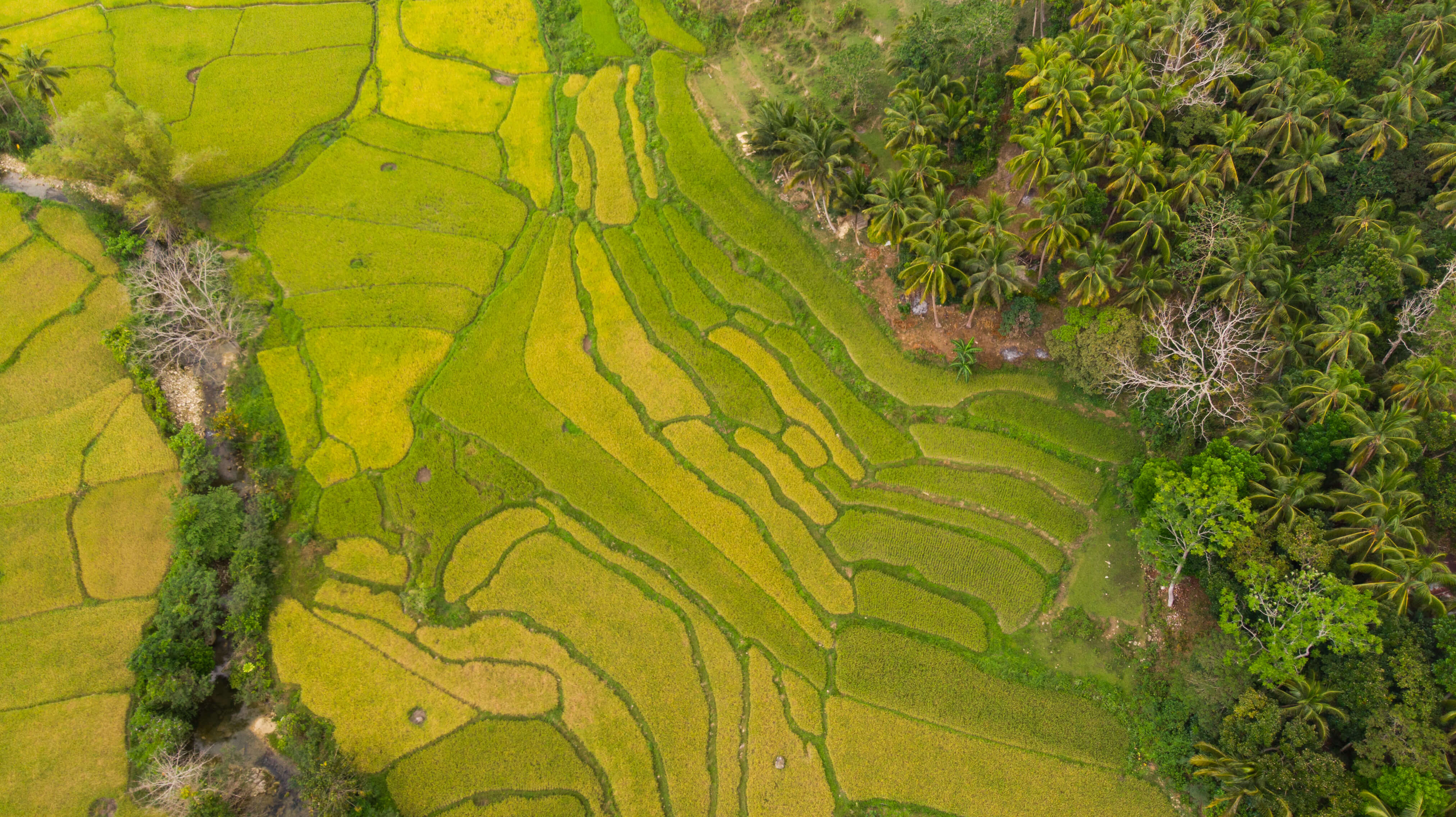 What we love about Bohol is that there are so many things to do on this island.  You could stay a couple of days and just take your time discovering different spots. Below are some activities you can be inspired to do.
A trip to Bohol isn't complete without a visit to Chocolate Hills, a group of unusually shaped hills covered with green grass that turn brown during the dry season.
Our tip: Wake up early and drive there before the crowd. We woke up at 4AM, drove an hour and a half away from Panglao to the Chocolate Hills and arrived a little after sunrise. Since it was still early, there was no entrance fee yet to enter and this was the awesome view that greeted us: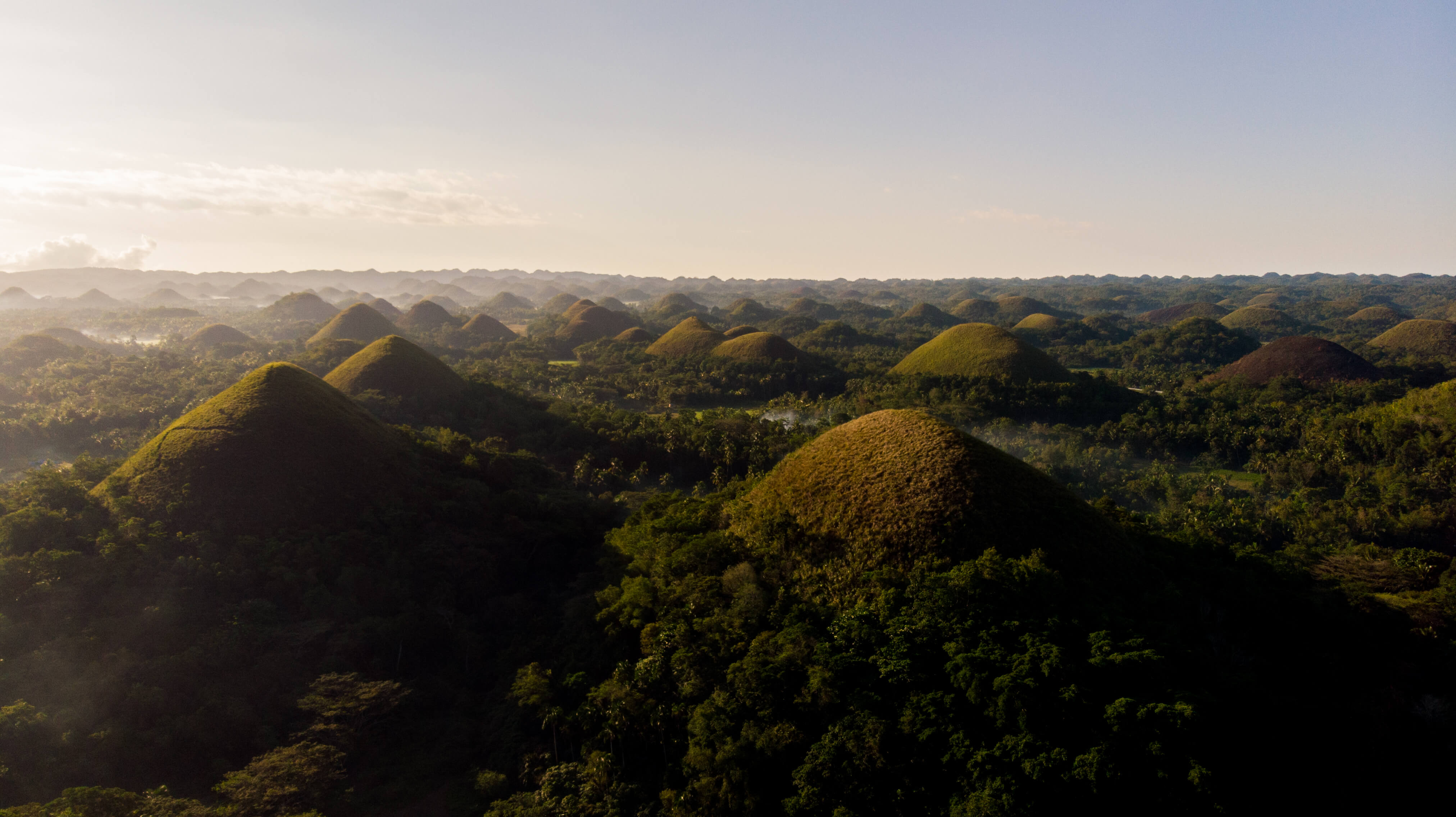 Loboc River is one of well-known areas of Bohol. The river runs from the town of Carmen up to the Chocolate Hills. You can do the river cruise which comes with a buffet and marvel at the feel of the jungle whilst enjoying the ride and food. To join, you can easily find these tours around the area of the river. For us, we decided to just drive to a random spot along the river near the Sipatan Twin Hanging Bridge, admire the view, enjoy some snacks and fly the drone.
Discover the many waterfalls
Before revisiting Bohol, we had no idea that it was home to various waterfalls. Our favorite one is Pahangog Falls, also known as the Dimao Twin Falls, located in the town of Dimao. It's a bit of a long ride from Panglao to get here but it was worth it. The waterfall is surrounded with big trees and the water was cool and refreshing.  Do note that the road here is not as easy to get to and it comes with an entrance fee of PHP20 (Less than 1 EUR). Nearby, there's a better-paved waterfall called Ingkumhan Falls, though as not as grand and impressive but free.
If you have more time, you can discover other waterfalls a bit further called Pangas Falls, Damagan Falls, Can-Umantad Falls, Camugao Falls and Mag-Aso Falls.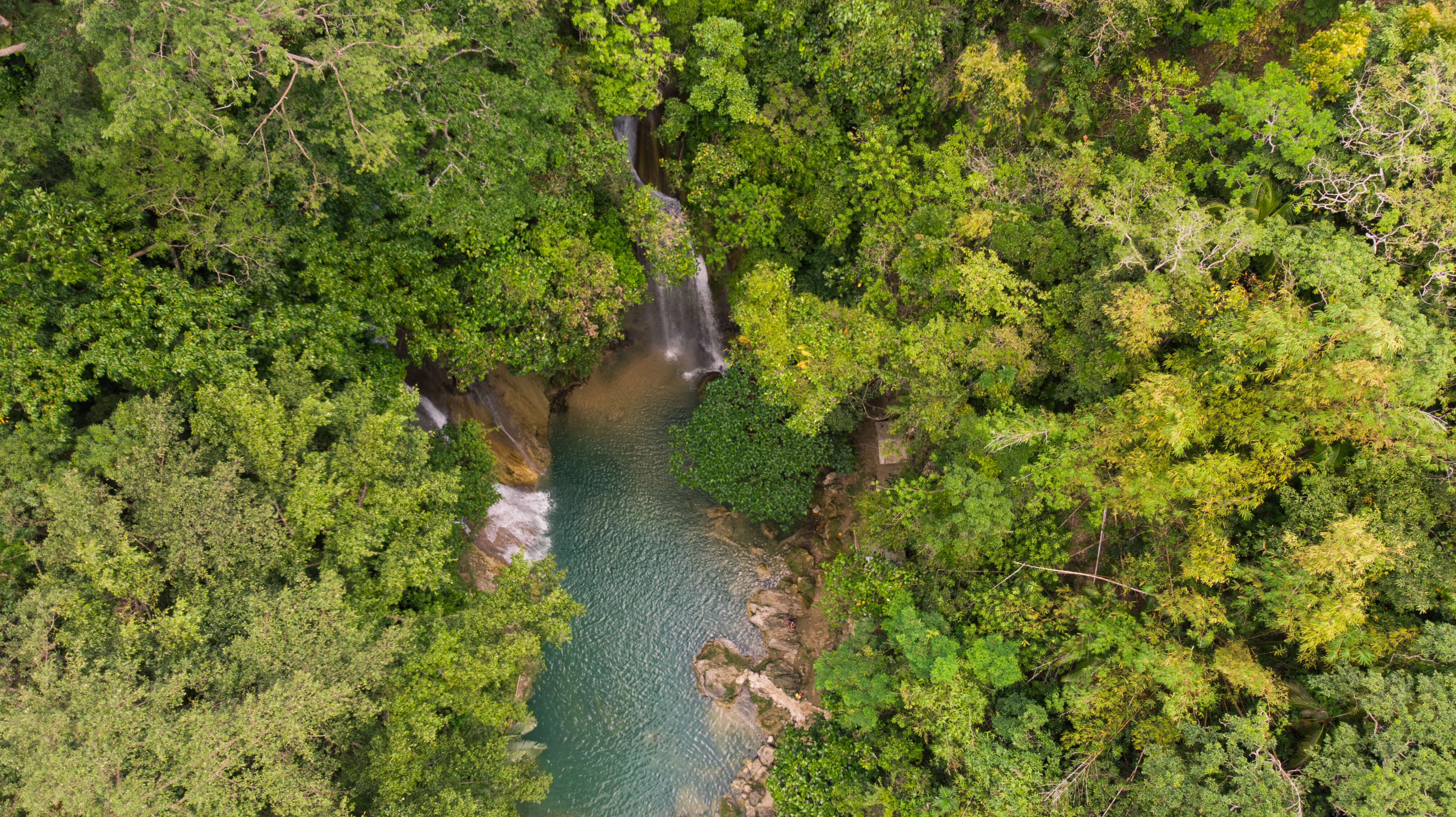 Tarsier Conversation Area
If you want to see the famous tarsiers that Bohol is known for, this is the place to go. There's an entrance fee of 80 pesos (1.20 EUR). Please note that the tarsier is an endangered specie so kindly treat the place with respect and avoid touching or using flash on the tarsier.
Driving by this forest was absolutely breathtaking! It's really just a path of trees on the way to the Chocolate Hills.
Our tip: Take your time driving through the road and stop for pictures if you wish.
Alona Beach / Danao Beach / Dumaluan Beach / White Beach / Doljo Beach
Panglao is home to many beaches with fine sands comparable to Boracay. Alona Beach is the busiest, given the many resorts and restaurants in the area. It's nice if you want a vibrant scene going on. Meals go for as low as PHP100 (1.5 EUR) and alcoholic drinks (beer, rhum and coke) go for as low as PHP 50 (1 EUR) during happy hour (which is almost every hour). For us, there are times that we prefer a peaceful place especially for sunset.
Our tip: Drive around and who knows what you might discover away from all the touristy areas? We did this and somehow, stumbled upon a secret spot past a mangrove near Doljo Beach with this sunset view: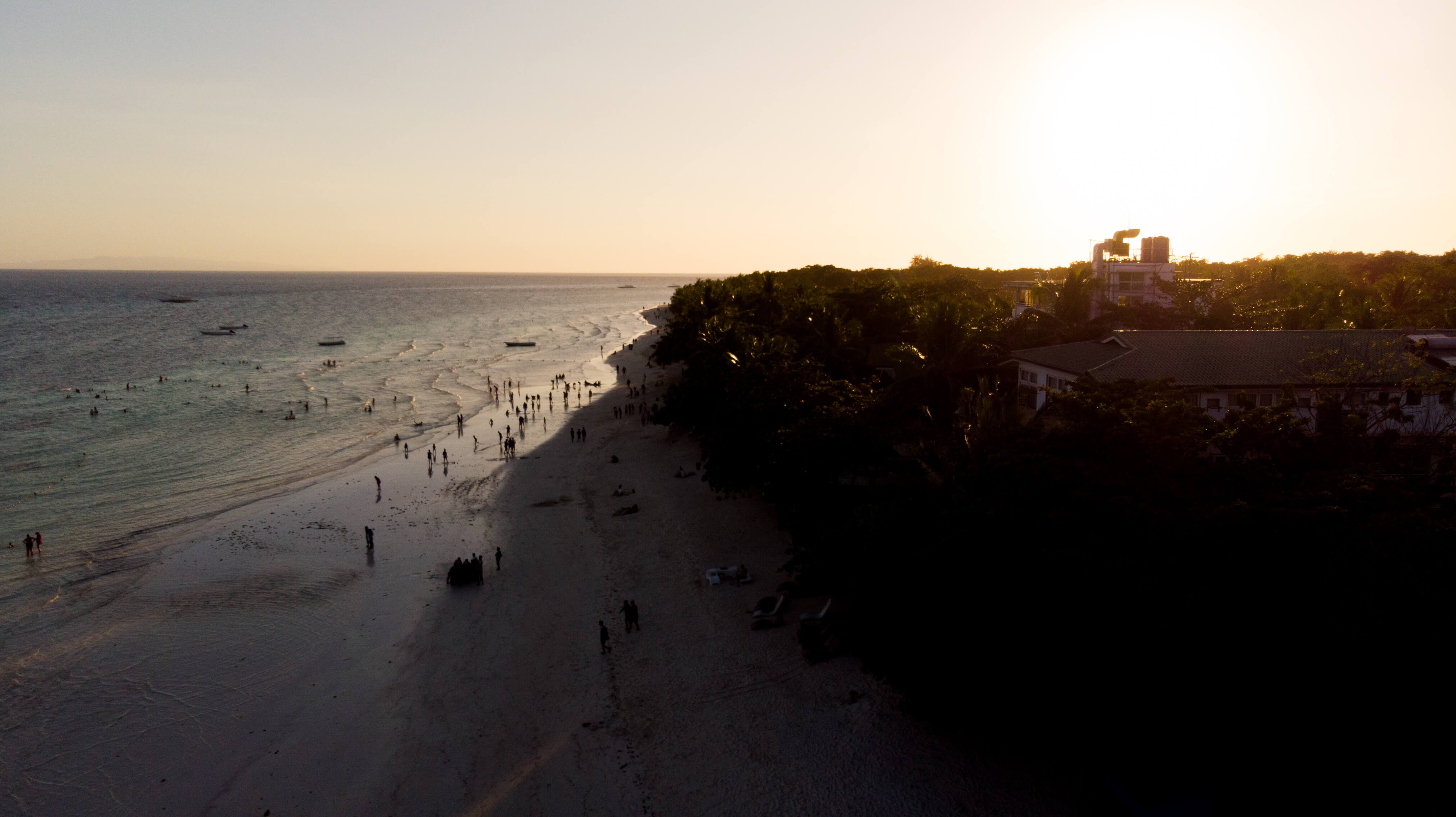 Island Hopping and Snorkeling
This was the only tour we did in Bohol as it was cheaper to take part of a joiners tour then rent a boat for ourselves since we were just two. The cost of the tour since it was not peak season was around 500 pesos, with some haggling and which included snorkeling gear already. The tour takes you to Balicasag and Virgin Island, we chose to skip the dolphin watching as we had already seen dolphins before. In Balicasag Island, we snorkeled and if you're lucky, you might see some turtles. In Virgin Island, we just swam around as there's really not much to do here.
Overall, this island tour is by no means so impressive. We've been to better islands and better tours before. It's nice if you just want to explore the surrounding areas, snorkel and lounge around. In our opinion, you can totally skip it if you don't want to spend more.
Itinerary and Budget for a Bohol Trip
Day 1
1PM – Arrive in Panglao International Airport
2PM – Check in Bohol Sea Breeze Cottages and Resorts
2 to 4PM – Rest and rent motorbikes
4PM – Beach Hopping and Sunset – Dumaluan and White Beach
6PM – Dinner and drinks at Alona Beach
Day 2
4:30 AM – Start drive to Chocolate Hills from Panglao
6AM – Arrive at the Chocolate Hills
7AM – Breakfast at Chocolate Hills
8AM – Drive around Bilar/Bilar man-made forest
10AM – Loboc River and Bridge
11AM – Tarsier Conservation Area
12NN – Lunch
1PM – Pahangog and Ingkumhan Falls
3:30PM – Drive back to Panglao
5PM – Sunset at Alona Beach
7PM – Dinner and drinks at the cottages
Day 3
8AM – Breakfast
9AM – Start of Island Hopping
2PM – End of Island Hopping
2:30PM – Late lunch at Alona Beach
4PM – Drive to the other side of Panglao (Doljo)
5PM – Found a secret sunset spot following a mangrove and beach near Doljo
8PM – Back to Alona for last dinner and drinks
Day 4
8AM – Back to Manila
Roundtrip Flight (from Manila) – PHP 1,600 (per person)
Accomodation – PHP 3,000 (divided by 2 people = PHP 1,500)
Motorbike Rental – PHP 900 (divided by 2 people = PHP 450)
Food and Drinks – PHP 1,000 – PHP 1,500 (per person) *
Entrance Fees – PHP 260 (per person for Balicasag, Pahangog Twin Falls, Tarsier Conservation Area)
Island Hopping Tour – PHP 500 (per person)
Tricycle to and from airport – PHP 150 each way/300 roundtrip (divided by 2 people = PHP 150)
Our budget hacks: Cook at your accommodation if it allows such as in ours, or buy a whole roasted chicken from the streetside vendors (+ rice) to eat at your accommodation. Cost for food and drinks will really depend on your eating habits.
Total cost per person with accommodation and roundtrip flights for 4 days, 3 nights= PHP 5,500 / 97 EUR
Honestly, we surprisingly enjoyed Bohol. We expected it to be super touristy, which it can be, but if you skip all the tours and go for a more DIY approach – it's a great island to discover. It's kind of like Bali as an island but way less touristy. For Filipinos and foreigners, we think Bohol is a great start to see what beauty the Philippines holds. It's a mix of both beach and jungle. Depending on how you do it, it can be adventurous. But for those who want a more fancy experience, it also has all the facilities and establishments if one prefers more of a lazy vacation. It's definitely an island for different kinds of travellers.
Or start searching for your next destination below