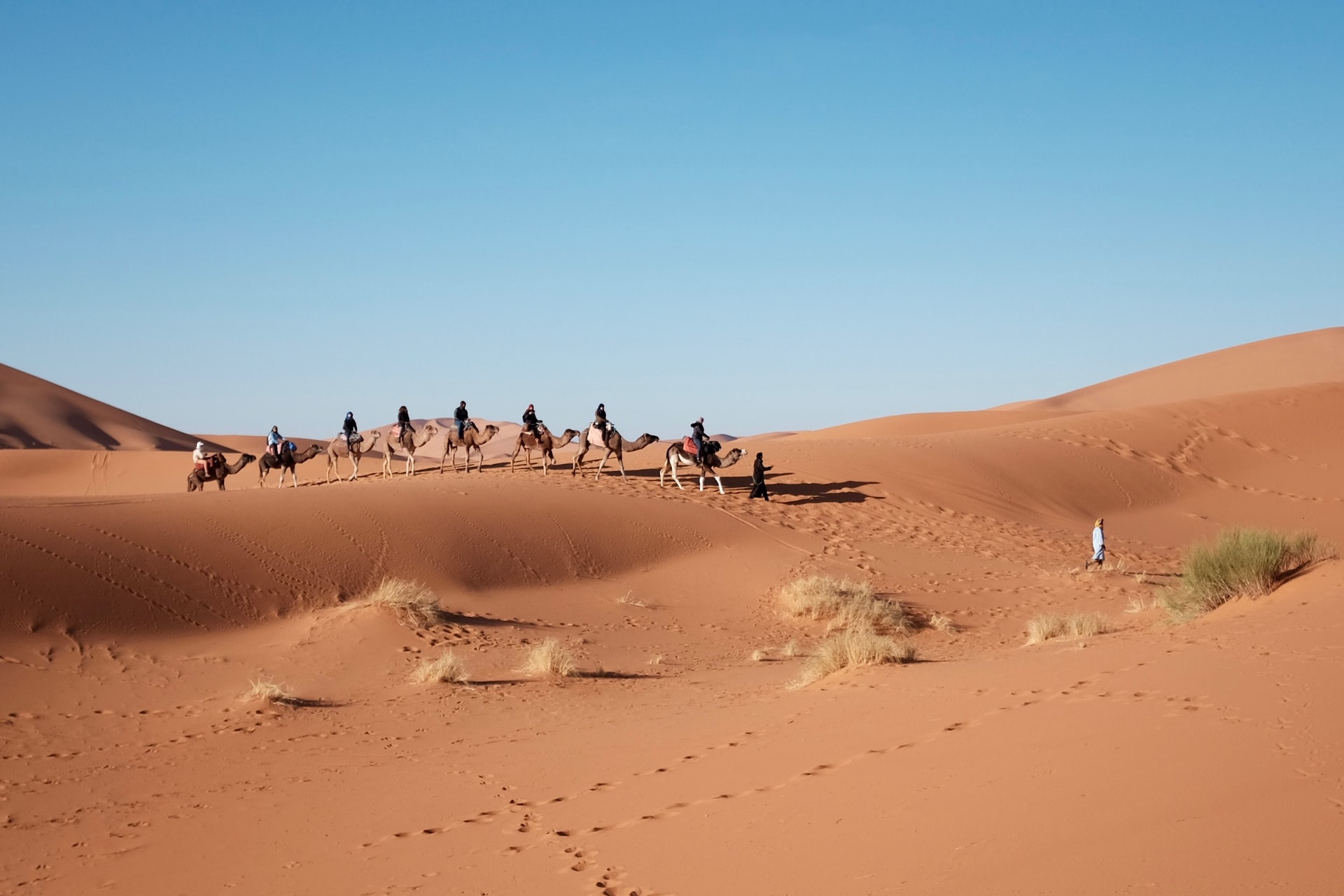 The major draw for most people visiting Dubai is its towering skyscrapers and tons of leisure choices, but this fabulous Arabian city is not all about that. Roughly 30 to 40 minutes' drive out of the city limit, Dubai's blissfully unblemished desert land is well worth a visit for one of the Dubai Desert Safaris.
Rightly so, it caters to a variety of preferences and experiences. If you're confused about making the right choice of a desert trip, this guide by Neha Singh on different types of desert journeys will help you select the best Dubai desert safaris.
NO TIME TO READ? PIN IT FOR LATER!
What are Dubai Desert Safaris
Dubai desert safaris are guided excursions into the vast swathe of desert sands that is isolated and located away from the city centre. It's a complete contrast to what Dubai's glitzy part appears to be.
Devoid of any noise and crowd, this distinct off-road trip effortlessly disconnects you from the chaos of the city life for a few hours. So all you'll get to experience here is the unequaled allure of the dune scenery accompanied by sheer silence and absolute tranquility.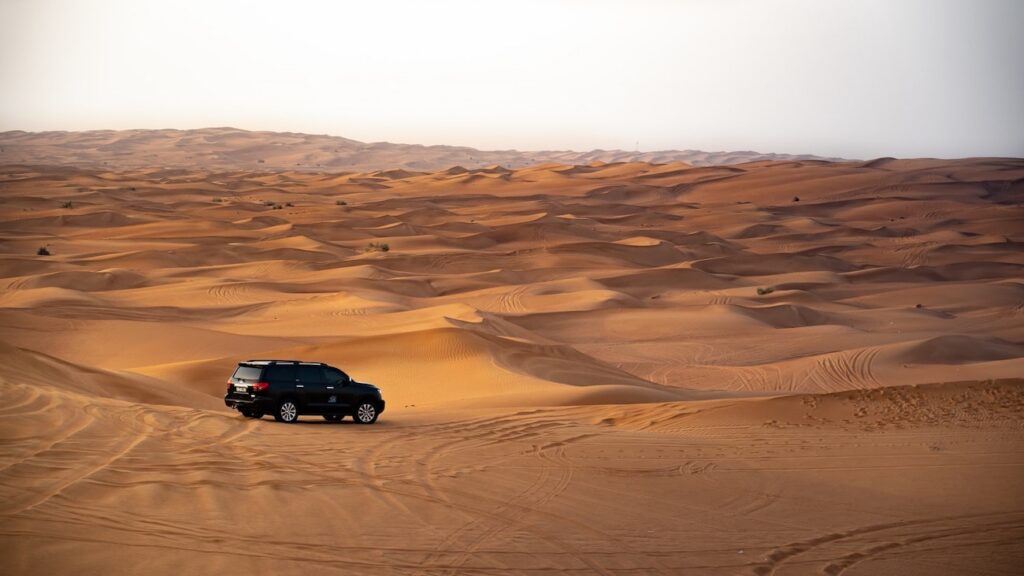 What to Expect in Dubai Desert Safaris
A typical desert safari in Dubai is an immaculate sum up of nature, adventure and most amazing cultural and traditional experiences. In fact, you can look forward to enjoy the following on your desert safari. That said, there will be variations in inclusions, dependent on your chosen Dubai desert safaris.
Dune Bash
A dune bash includes the use of a powerful 4X4 vehicle which is maneuvered by an expert driver. Sure enough, this will navigate you through the seas of low and high sand dunes in the most pulse-racing way. For adventurists, it goes without saying that this is one of the highpoints of the Dubai desert safaris.



Sunset or Sunrise Views
Witnessing sunrise or sunset views or both is one of the specialties of most Dubai desert safaris.  Whether you're passionate about photography or not, you can't help but capturing a few images of this phenomenal sight of sun coming out or descending amidst the raw desert beauty.

Experience the traditional Arabian Hospitality
Following dune bash and brief stops along the way, you'll be taken to the Bedouin style campsite. It's where you'll spend the rest of the time before your Dubai desert safari culminates. Your experience here starts with a warm welcome with Arabic coffee and fresh dates. And this would charge you up for the next set of adventures.

Camel Ride
Take in the changing colors of the breathtaking desert dunes as you hop on to the camel back and enjoy a cool wobbly ride. Fun and thrill apart, it gives you an insight into the humble lifestyle of the ancient Emiratis as this friendly creature was the only means of transport and food in the pre-oil phase.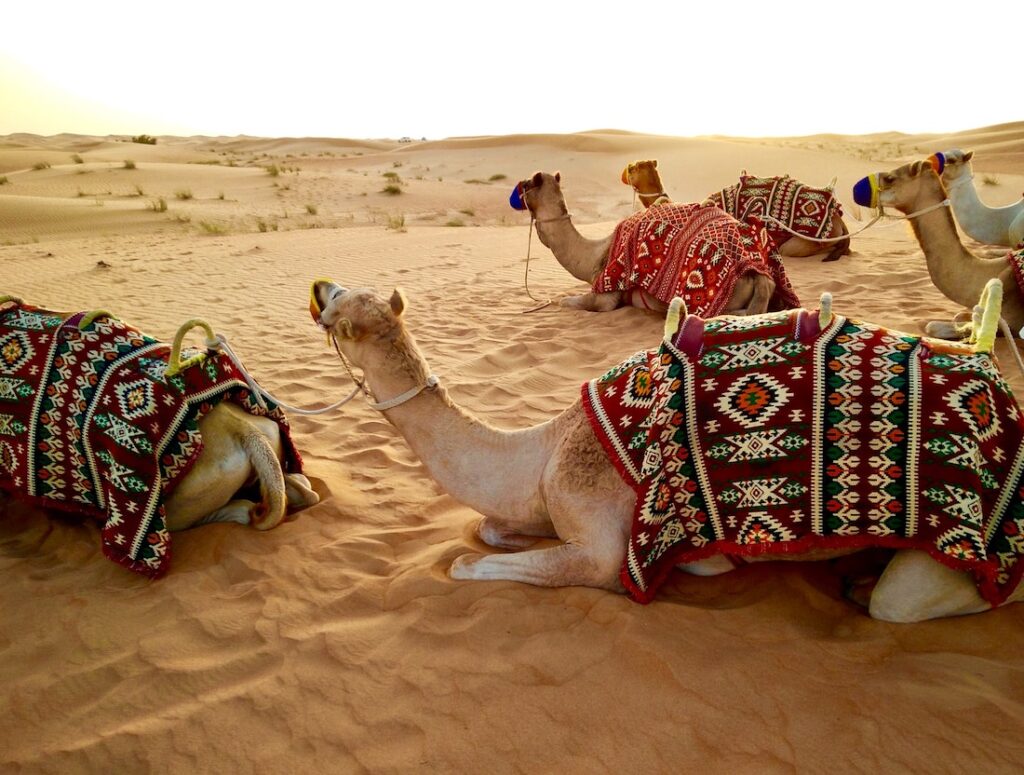 Quad Biking
There is quite nothing as exhilarating as riding a quad bike across the infinite expanse of the Arabian Desert. The best thing is that you don't need to have any prior experience or specific license to try this.  Just a brief orientation from experts will get you ready for this adventure-of-a-lifetime, the Dubai desert safaris.



Cultural Activities
A desert safari is not all about adrenaline-pumping experiences; many activities included in it let you dig a little deeper into the intriguing traditions and cultural heritage. Have your hands tattooed with striking henna designs, try Shisha smoking, enjoy falconry, and be sure to capture some pictures wearing customary attire as a keepsake of the Dubai desert safaris.

BBQ Dinner 
This forms one of the main highlights of the evening or overnight Dubai desert safaris. The taste and quality of cuisines largely depends on the service provider you choose. For instance, Rayna Tours has one of the most lavish BBQ fares, enriched by live cooking stations and dedicated counters for fresh fruits, scrumptious ever traditional desserts etc.

Traditional shows
From the sensuous belly dance show to the fabulously dervish Tanura and cool fire shows, there is a spectrum of amazing traditional entertainment, which makes your evening or overnight Dubai desert safari unforgettable.

Camping
All Dubai desert safaris are more or less the same, but this is one thing that makes an overnight desert safari unique. All camping facilities are arranged in the midst of the desert means all left for you is to sit back and enjoy the nighttime glory of Dubai's desert.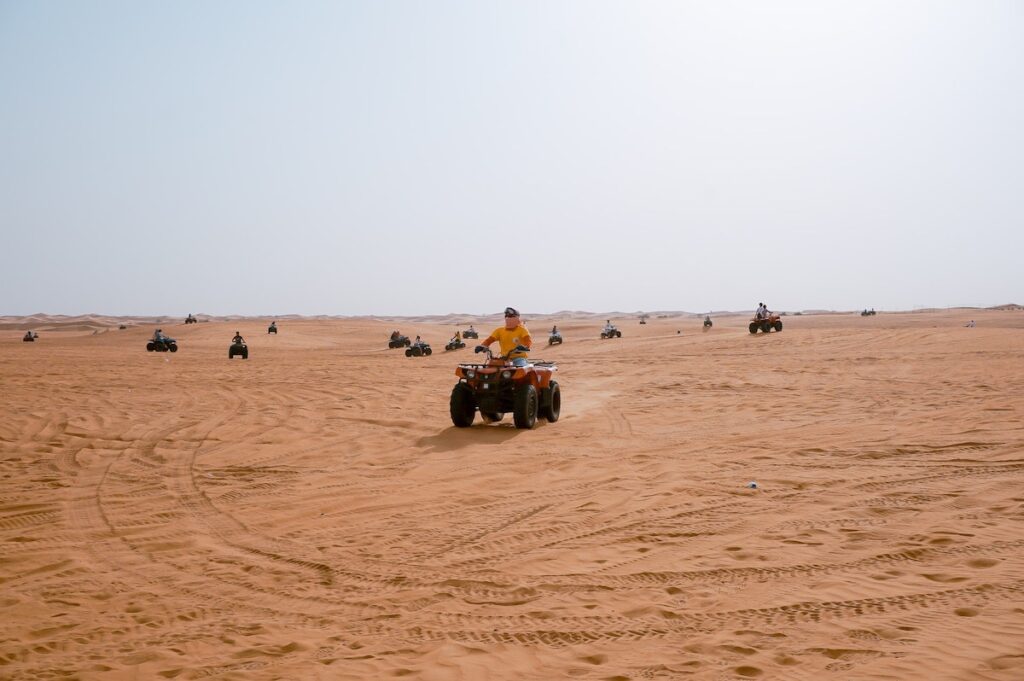 Types of Dubai Desert Safaris
There are many different types of Dubai Desert Safaris, let's look into each of them below.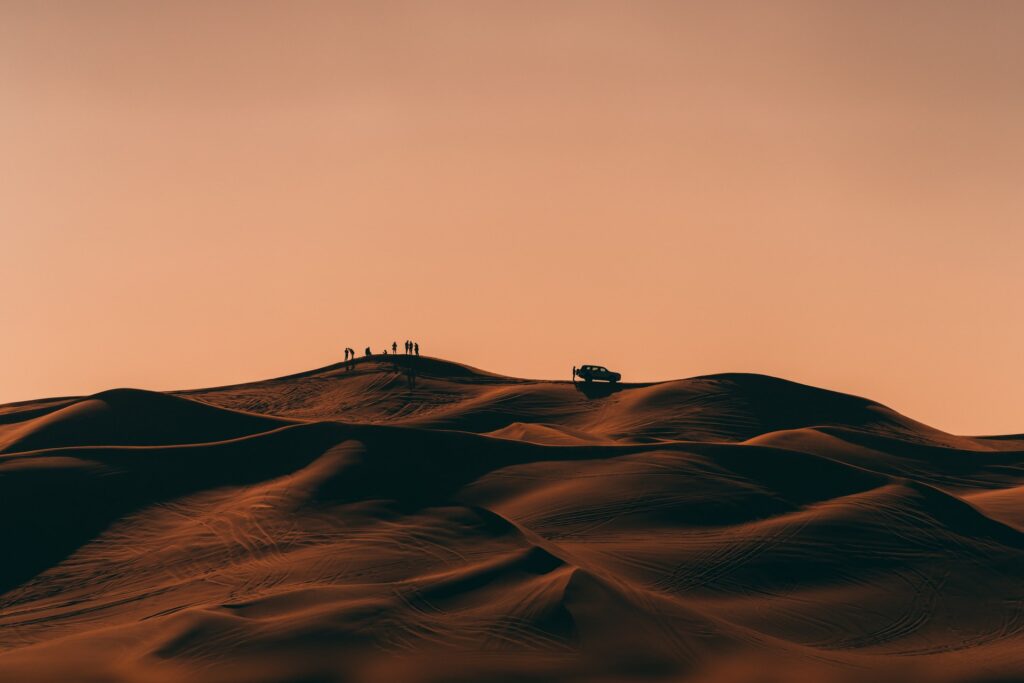 Evening Desert Safari
Kicking off in the late afternoon and extending well into the dusk, this is ideal for anyone looking for an epic desert safari experience in Dubai. This offers all inclusions of a morning desert safari, along with the perks of BBQ dining plus cultural experiences and traditional entertainment such as belly dance, Tanura show and more.


Dinner in Desert
Most people skip the desert safari during their Dubai trip, considering it as an adventure trip. But, in real, this is for every taste and ability. So if you want to forego all high-octane desert activities or experiences, simply opt for Dinner in Desert package. Yes, this Dubai desert safari is all about best dining options and super relaxed moments amidst the unparalleled desert sands.


Overnight Desert Safari
No matter you're up for some distinct desert adventure or planning a romantic trip, this desert safari should be top on your Dubai bucketlist. It's a perfect blend of all desert safaris as you get to participate in dune bash and cultural activities, together with the chance to dine and camp under the desert stars. That's not all, witness the first rays of sun illuminating the desert land and complement this safari with a scrumptious traditional breakfast.
Top Desert Safari in Dubai
If you're looking for the top desert safari in Dubai in advance, there are many options to find online. Below, you can find a list of Dubai desert safaris and bestsellers at an affordable price.
Tips for Choosing the Top Desert Safari in Dubai
Now that you've this guide, the first step is to zero in on inclusions or experiences you would like to have in your Dubai desert safari.
Pre-book it to avoid any last-minute confusions. But make sure that you get this part done through an experienced desert safari provider.
Always choose a direct desert safari service provider; the benefit is that there are no middlemen involved in this case, so you can expect maximum savings with utmost quality in every aspect of your Dubai desert safari.
You can choose Dubai desert safaris with or without transfers. But our suggestion is to book it with roundtrip transfers, so that you can make the most of your desert safari without worrying about late night drive or losing the way to your Dubai accommodation.
When it comes to transfers, you can opt for shared or private transfers. Shared transfer is cost-effective, while private transfer is exclusively arranged for you and your group. But it's not just transfers; every aspect of your desert trip can be customized as per your group's unique preferences.
Wear comfortable modest clothes for your desert trip. Complete your look with right accessories like sunglasses, hats and more for that picture worthy moment.
Don't forget to apply sunscreen lotion or cream.
Final Thoughts on the Best Dubai Desert Safaris
So go forth and take your pick from the above list of desert safaris! Right from the moment you land in the desert, you'll realize that there is nothing exaggerating about this trip as every cliché revolved around it turns out to be an unforgettable reality.
Have you ever been to a Dubai Desert Safari? What are some of the best Dubai Desert Safaris you have experienced? We'd love to hear your questions or travel stories in the comments below!  
THIS ARTICLE IS CONTRIBUTED BY:
Neha is a travel blogger who enjoys traveling, meeting new people, and learning about the local culture and food. She is always looking forward to visiting new places and likes to play tennis in her spare time.
LIKED THIS POST? PIN IT FOR LATER!
Or start searching for your next destination below