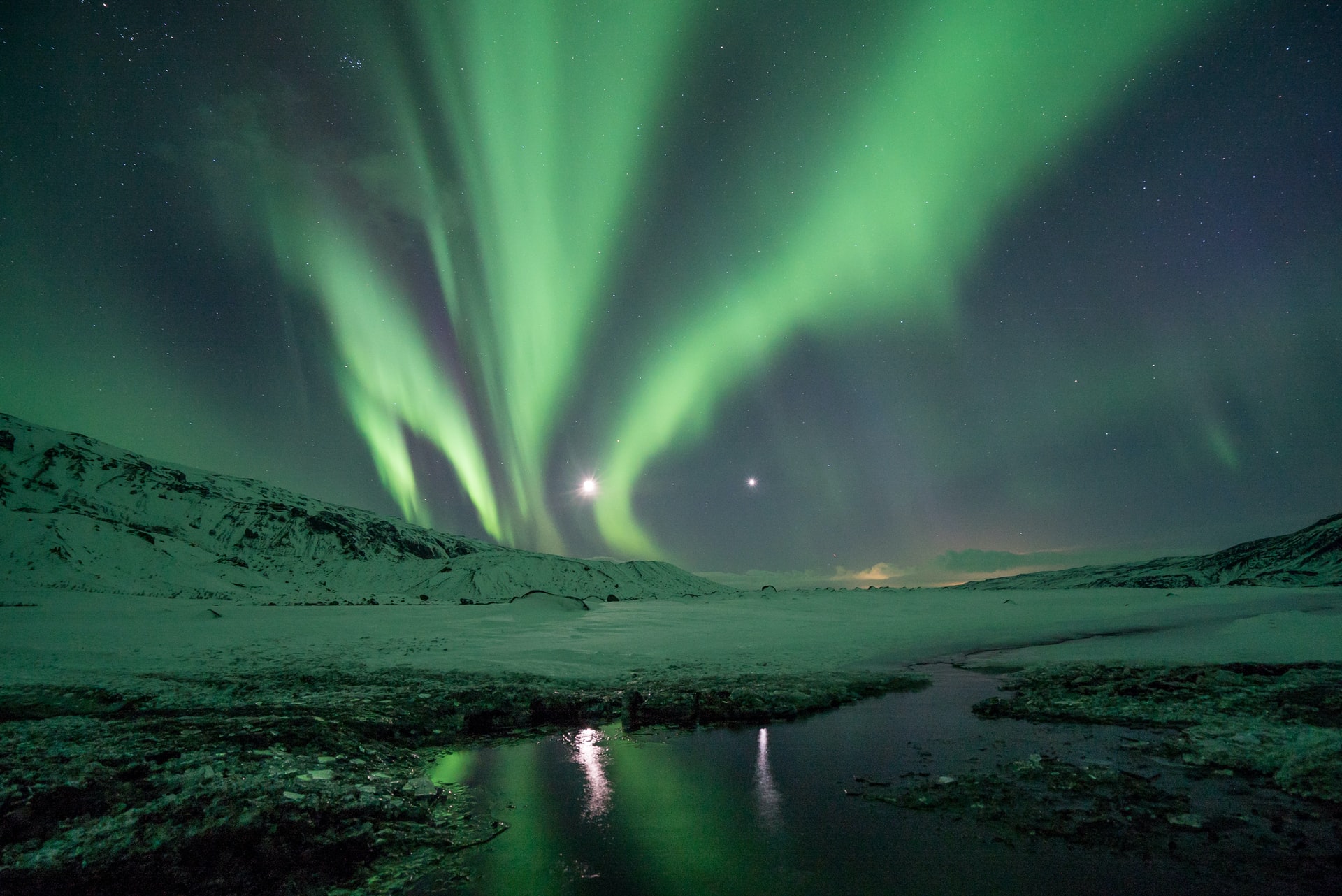 This guide will show you that it's possible see Northern Lights on a shoestring budget of €250 or under $300. Chasing the Northern Lights is one of the most expensive activities to pursue in the world, but we chose to see it as a challenge, not a discouragement. After considering many options, we came to realize that Iceland was the cheapest place in Europe to see the Northern lights, which has been a long time dream.
In fact, we managed to plan an Iceland trip for under $300 or €250 per person – all included. This budget involves going as a couple, using low cost airlines and renting a campervan. Discover how to see Northern Lights on a shoestring budget below!
NO TIME TO READ? PIN IT FOR LATER!
When to See Northern Lights on a Shoestring Budget
Given the higher chance to see the Northern Lights in the winter, this season is also the cheapest time of the year to travel to Iceland. We say this considering factors like flights and campervan rentals, which is at its low season during the winter.
To be particularly specific, October and March are great times to see Northern Lights on a shoestring budget due to the rental rate, the overall temperatures, and the amount of daylight hours during these months.
As it was our first winter road-trip, it seemed a bit daunting at first but we did our best to prepare ourselves. You can find everything you need to pack for a campervan winter road trip in our article below.
How to Find Cheap Flights to See Northern Lights
Fly from Poland (Any City) or Italy (Milan) to Keflavik
In order to score the cheapest flights and see Northern Lights on a shoestring budget, you must be flying from somewhere in Europe.
Not many airlines fly to Keflavik Airport at a very affordable price as much as Wizz Air. 
Wizz Air is a Hungarian airline established all over Europe. Depending on the initial connection, which depends on where you live, you can fly Wizz from Poland, Hungary, Germany, Austria, Italy, or even the UK.
When booking your tickets, it's important to be flexible, but you must consider one very important factor: the time you arrive in Iceland. 
You want to arrive in Keflavik Airport at a reasonable time in order to take the bus or avail a shuttle pick up from your campervan rental company. Arriving in the middle of the night isn't a great idea, considering hotels and taxi prices.
Why Rent a Campervan to See Northern Lights on a Budget
With roughly one third of our budget spent, we had to be careful planning the next steps.
It's safe to say that hitting two birds with one stone by making transport and accommodation into one expense is the best way to see Northern Lights on  a shoestring budget. You don't rely on anyone (i.e. go on a touristy tour bus with low chance to see the Northern Lights) and a campervan allows you to travel at your own pace. You will have full control of your itinerary to see the fascinating auroras. 
With many positive reviews, we decided to rent from Kuku Campers. For their simple AB Camper with a heater, the price was €160 (about 200$) for 5 days. It cost us 20€ per night/person to have our own transportation and place to stay in Iceland. 
Kuku Campers also has seasonal promos during the winter, so you can have sleeping bags, pillows and blankets included in your rental. Also because the campervan was equipped with the heater, you'll be toasty warm while you sleep.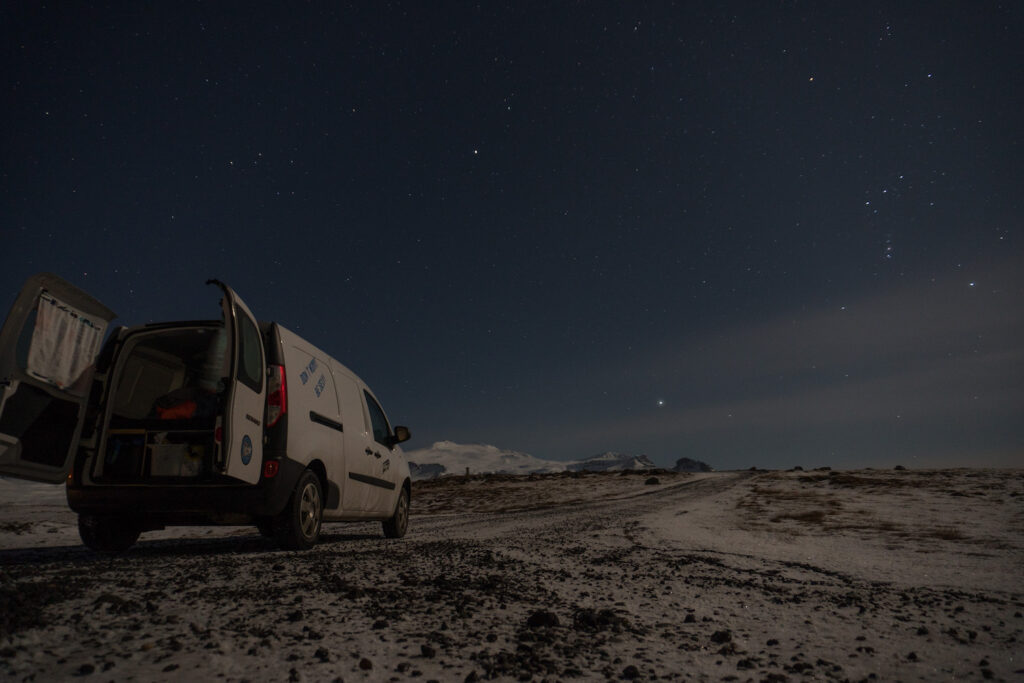 How to Plan for Groceries and Gear to See Northern Lights
Given our remaining budget, trying Icelandic cuisine was a no-go.
Luckily, we had plenty of luggage allowance to bring gear, food and drinks for 5 days. Since the campervan came with a stove and cooking equipment, it was a no brainer. As camping lovers, we got so excited by this challenging idea. If you don't love the idea of winter camping and cooking your own food, then you probably can't do the trip in this price range.
With a budget of 50€ which is a lot for a 5-day grocery list, we tried to find a good compromise of quality, dry products in France and Poland that could be turned into delicious food. The dishes we cooked ranged from couscous with dried tomatoes, canned seafood, breakfast burritos, chili without meat, mushroom soup, rice meals, noodles, toast, and of course, the all-important apero (saucisson, chips, nuts). The budget also included us bringing over 2 bottles of wine and a couple of beers. You can buy all this at reasonable prices in Poland or France.
Our tip: Alcohol is quite expensive in Iceland since it is exclusively sold in state-owned stores called Vínbúðin, so we recommend buying it in advance. We'd also suggest getting food that is compact and safe to pack, easy to prepare and that will warm you up! Our favorite camping and trail recipes might inspire you.
Lastly, even if this isn't part of the budget, if you live in the Alps like us, then you'll have to bring your warm and technical clothes, which we detail in our winter road trip packing list.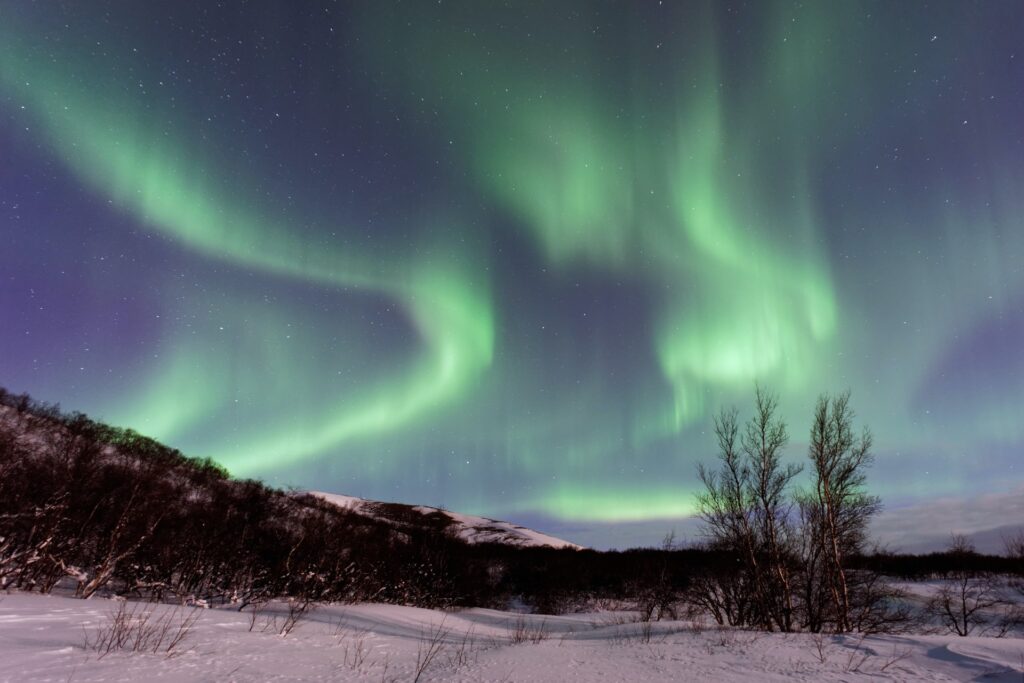 How Campsites Work in Iceland
Unlike in other countries, wild camping isn't allowed in Iceland. Things get a bit more complicated in the winter, even with a map of campsites.
Thankfully, campsites in Iceland are relatively affordable compared to the cost of living on the island. A campsite will be about 10 to 15 euros. The ones we went to had warm showers and a dining area.
We also found ourselves in situations where the campsites were closed and we had to stay at a parking lot and leave early in the morning. Again, it is not our choice to do this.
Campsites are few and far between during the winter so there were instances where we went to a site, only to find it close, and the next site was over 3 hours away. This is especially difficult when there's a sudden snowstorm or it's already dark outside (as it does pretty early during the winter).
We always respect the area and ask you to do the same if you are left in a similar situation where it is safer for you to stay put than to drive. To compensate for the lack of facilities for the night, we would go to the local swimming pool instead to shower but especially, to relax in the hot tubs and saunas. The entrance fee is usually about 10 euros for these areas.
As for the activities that is, all the other spots we visited – they were completely free! These included glaciers, waterfalls, geysers and above all, the magical northern lights. Everything is detailed in our complete Iceland on a budget travel guide.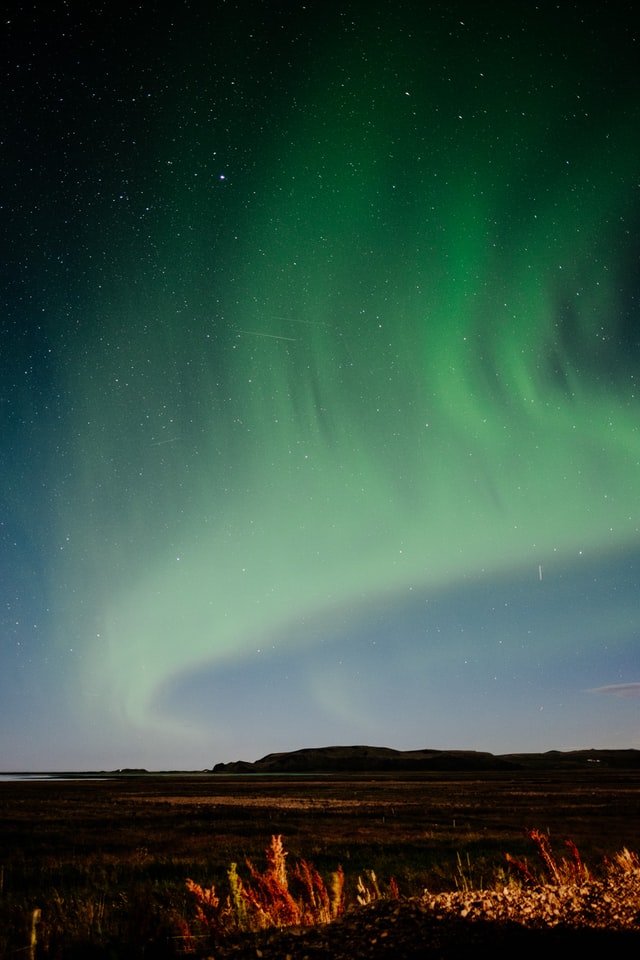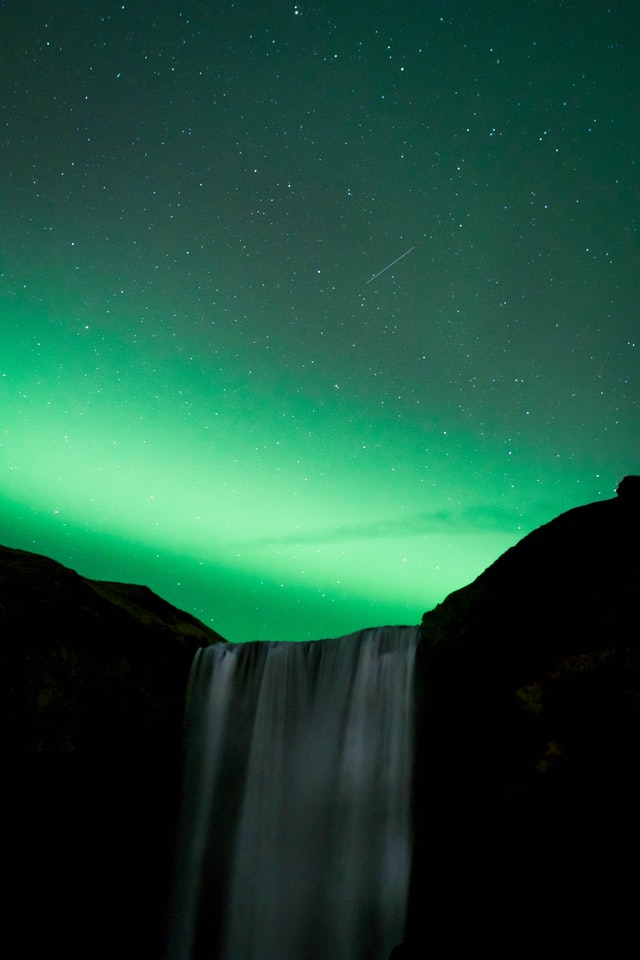 How Much it Cost to See Northern Lights in Iceland
Cost Breakdown to See Northern Lights on a Shoestring Budget
So how much did we spend to see Northern Lights on a shoestring budget? Under $300 or about €250. Below you can find a breakdown of the costs per person.
Kuku Campers Rental: 80€
Wizz Air Flight: 50€
Wizz Air Luggage: 15€
Fuel: 30€
Groceries outside of Iceland: 25€
Campsites in Iceland: 30€
Other Fees (Hot Tub/Sauna) : 20€
Total Cost Per Person to See Northern Lights on a Shoestring Budget = 300 USD / 250 EUR
Conclusion: It's Possible to See Northern Lights on a Budget
It is a bit frugal but we still think that this adventure is one of our best to date. The best things in life are free, and it's especially true in Iceland, under the dancing and colourful auroras.
We have to insist that planning is key for a trip like this, as unforeseen expenses can quickly rise. With this budget road trip, you will be able to see Northern Lights on a shoestring budget and assure you that it will be the most magical experience of your life.
How about you? Have you seen the auroras? Did you see Northern Lights on a shoestring budget as well? If you have, we'd love to hear your other tips and tricks in the comments below!
LIKE THIS POST? PIN IT FOR LATER!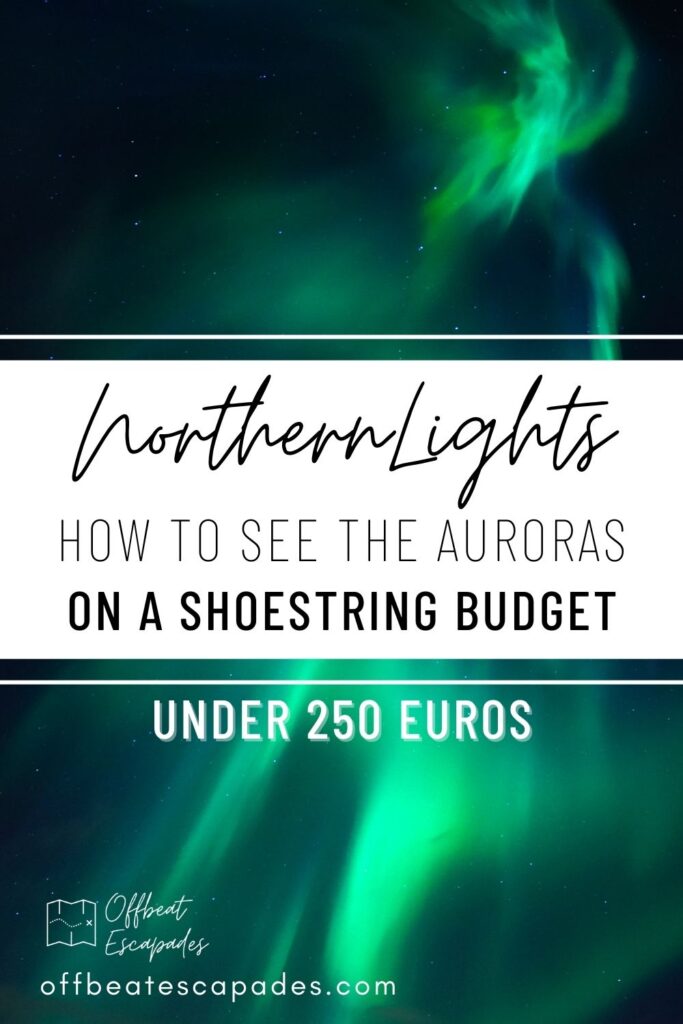 Or start searching for your next destination below