Budapest is one of our favorite European capitals because of how dynamic and affordable it is. It's a creative city full of fun activities, the best nightlife, and the most beautiful architecture that makes it easy to do Budapest on a budget. 
It's romantic yet has a spunky energy. Here, you can have the time of your life – eating out and getting a drink – without having to break the bank. In this travel guide, we discuss everything you need to know on how to visit Budapest on a budget.
This is a 4-day travel guide on how to visit Budapest on a budget for those who would like to see it in a do it yourself way. We will tell you how to get to Budapest, where to stay in Budapest on a budget, things to do in Budapest on a budget, and how much to spend in Budapest. 
NO TIME TO READ? PIN IT FOR LATER!
What's the best airline to fly to Budapest
How to travel from Brussels to Budapest on a budget
As we were in Brussels to see family for the holidays, we flew from Brussels to Budapest through Ryanair. Budapest is a major hub for all low cost airlines so it's almost always crazy cheap to fly from other major cities like Brussels, Paris, Berlin, Barcelona among others to Budapest.
Our flight cost us 10 EUR each so in total, 20 EUR roundtrip. As a note, the cheaper airport in Brussels to fly from is Brussels South Airport / Brussels Charleroi Airport (CRL). From here, there are TONS of low cost routes from Brussels to all around Europe.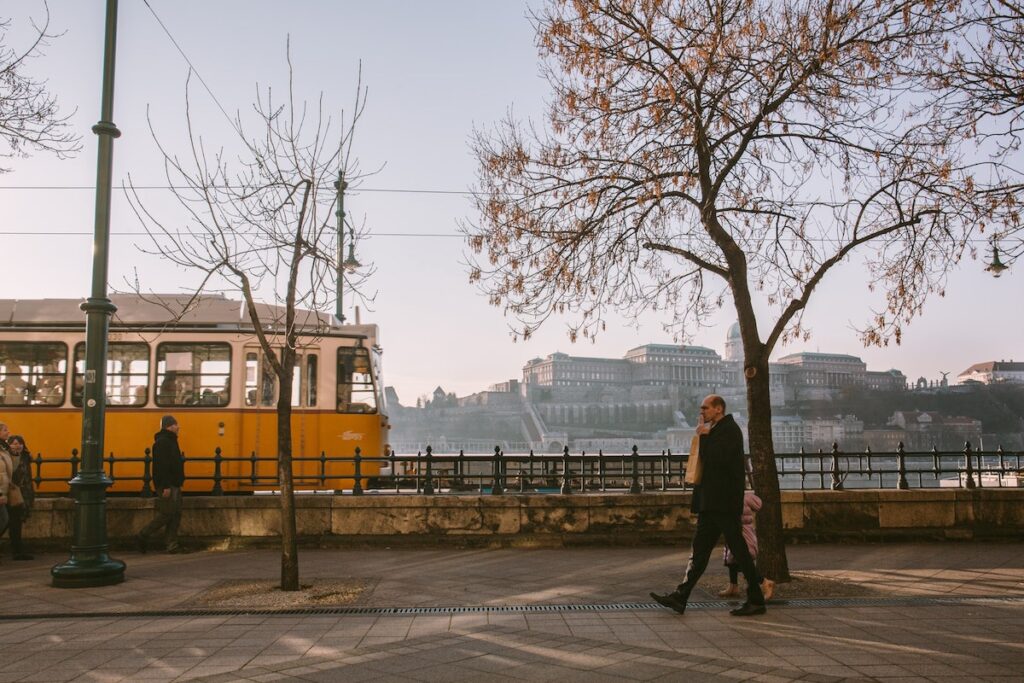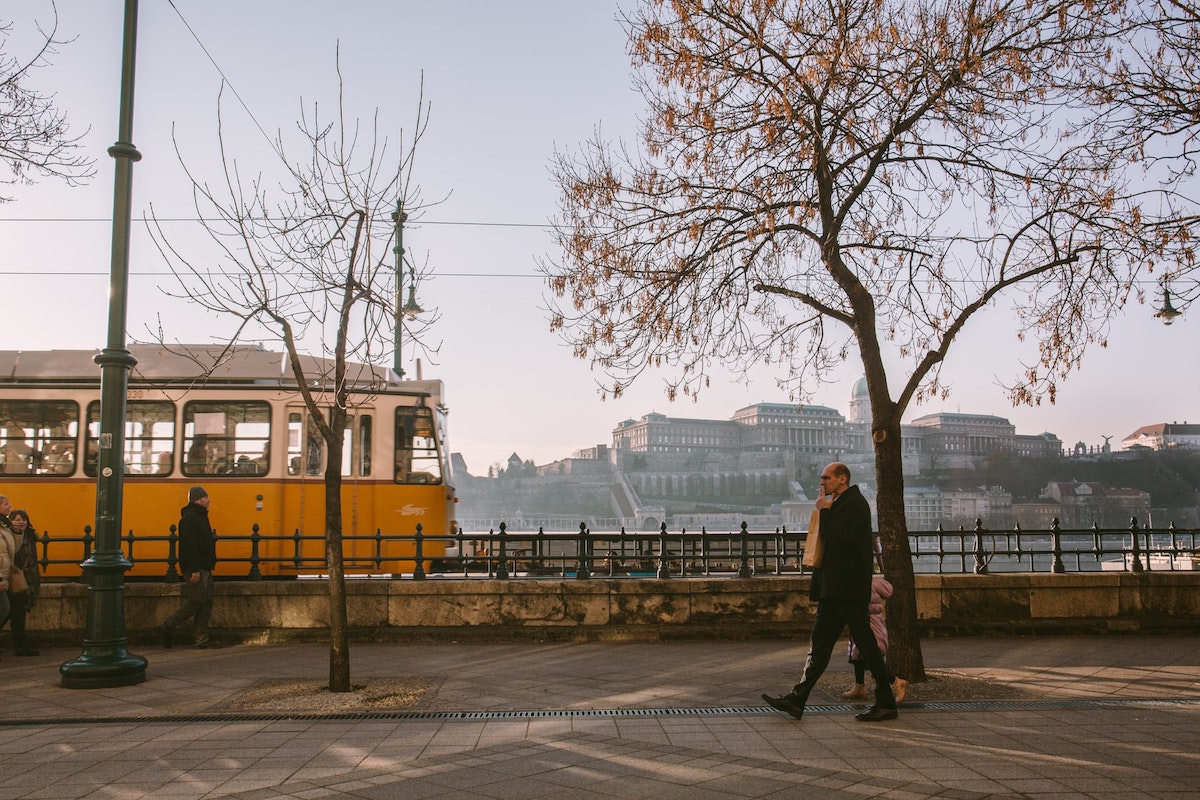 Where to stay in Budapest on a budget
Budapest has a lot of options for accommodations but we will only recommend two that we think are the best options in order to be able to visit Budapest on a budget of 100 euros.
Why rent an Airbnb in Budapest
Staying in an airbnb is the BEST option for those visiting Budapest on a budget, especially for couples. It's extremely affordable to rent a little studio, loft, or a big room in a shared apartment in the city center. This is what we did, we found an Airbnb for around 12 euros a night in the Old Jewish Quarter.
Why stay in a hostel in Budapest
Hostels are also a great place to stay at in Budapest, especially if you're a solo traveller. What's even more interesting is that many hostels are considered party hostels with cool interiors and a fun atmosphere to meet other people.
You can search for some of the best budget hostels in Budapest below.
How to get around Budapest on a budget
Getting around Budapest by foot
The best way to get around Budapest on a budget is to go by foot. As our Airbnb was already in the city center, all the best things to do in Budapest were within walking distance from one another.
Budapest, kind of like Paris, is a great and walkable town, with beautiful architecture all around that makes you enjoy the experience of walking the streets.
Our tip: This is why we emphasize finding an accommodation in the city center (which is affordable anyway), because you could save on transportation costs and easily walk from one place to another.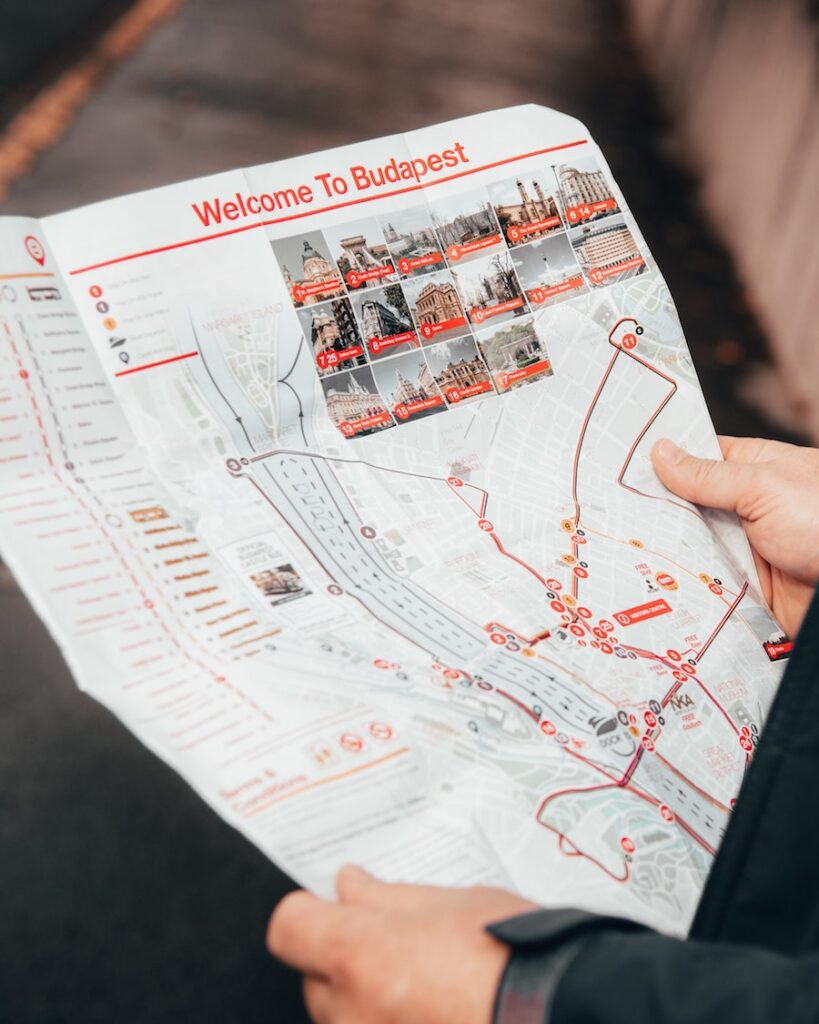 Getting around Budapest by public transport
We personally did not use public transport in Budapest (except from the airport to the city center). But we did do some research on it before travelling to the city. 
There are four types of public transport in Budapest: Metro, Tram (the most extensive and convenient of all options), Bus, and Boat (across the river).
For the type of tickets, these range from single tickets (i.e. no transfers, unless you are on the metro) to daily travel cards, which come cheaper for a longer number of days. This is great if you want get around Budapest on a budget.
You can find everything you need to know about the prices and different ticket types here: https://bkk.hu/en/tickets-and-passes/.
Getting around Budapest by electric scooter, bike or private transfer
Budapest is full of bikes and electric scooters, most dominantly from BuBi and Lime. If you get tired of walking, you can easily hop on to one of these services to transport you to where you need to go. We used it twice and a 5 to 10 minute ride cost us only a few euros. 
There are also various taxi and private transfer options available. Below we've compiled a few recommendations.
Things to do in Budapest on a budget
There are loads of fun things to do in Budapest on a budget. For ourselves, we think it's one of the most dynamic capitals in Europe, with a really cool energy and affordable all around prices.
Stroll the Danube Promenade
The Danube Promenade goes from the Elizabeth Bridge to the Chain Bridge. It's perfect for a nice little sunset or night walk. The promenade itself is also very historical. There's a section with shoes that pays tribute to the history of Jews under former Hungarian leaders.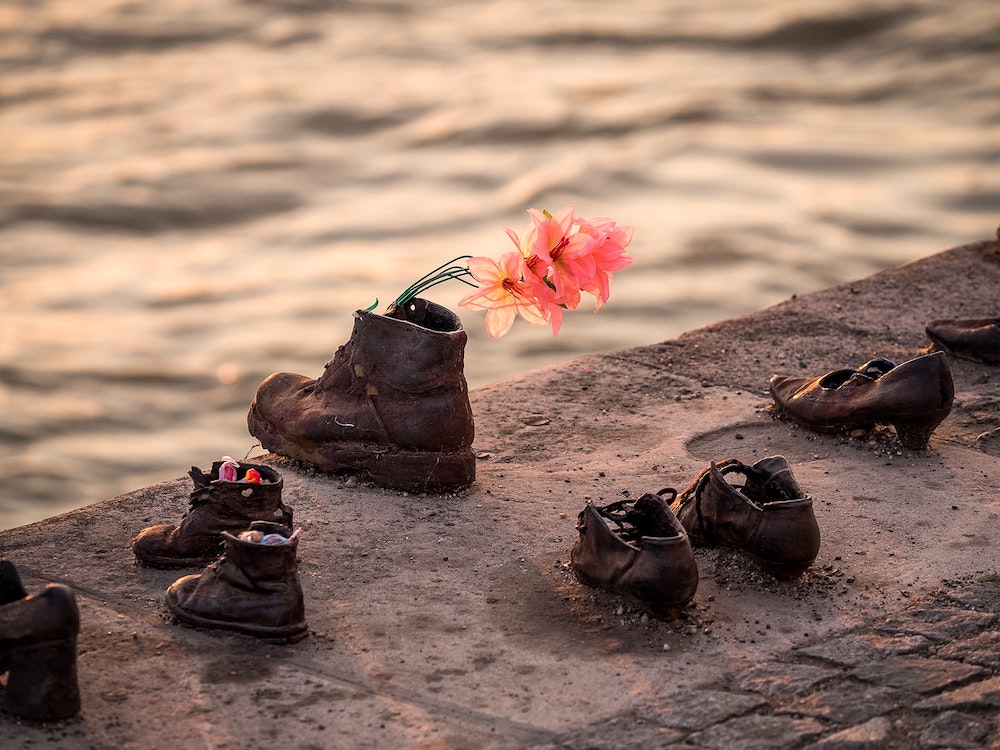 Finally, going through the Danube is a great vantage point for seeing all of Budapest's sights from afar – that is both the Buda and Pest side. The sight alone, especially during sunset, makes this one of the best things to do in Budapest on a budget.
Marvel at the beauty of the Parliament Building
Just by the Danube river is the Parliament Building, home to hundreds of offices of the government. For us, it is one of the most impressive landmarks in all of Budapest, with its architecture showcasing Gothic style.
Whether you're right up close to the building or seeing it from across the Danube river on the Pest side, it looks every bit of amazing and a restatement to why it's one of the best things to do in Budapest on a budget. 
There are also plenty of tour options available highlighting the Parliament. We've compiled the most popular ones below.
Take in the Iconic Heroes Square
Heroes Square is an iconic and symbolic square in Budapest, most well known for the Millenary Momument, a 36 meter high pillar with the Archangel Gabriel, holding a cross and Hungarian Crown.
More than its historical symbolism, Heroes Square is also a great place to go if you want to see panoramic and aerial views of the Buda side. Seeing this view is completely free, making it one of the coolest things to do in Budapest on a budget!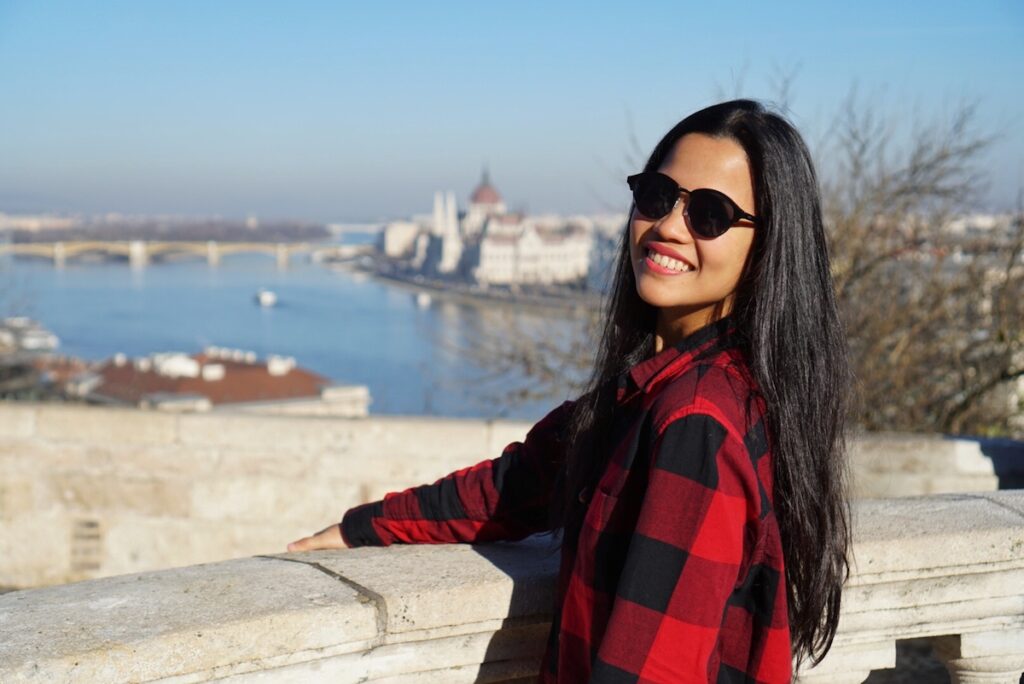 Appreciate the beauty of St. Stephen's Basilica
St. Stephen's Basilica is a Catholic Church located in the heart of Budapest. It is the third largest church in Hungary and one of the most beautiful ones we've seen.
It is also one of the tallest buildings in the city at 96 meters high. When we went during the winter, the streets directly across the Basilica host the Christmas Market. 
In the low season, there are many cafes around that host stunning views of the Church as you sip on some coffee and eat delicious Hungarian pastries.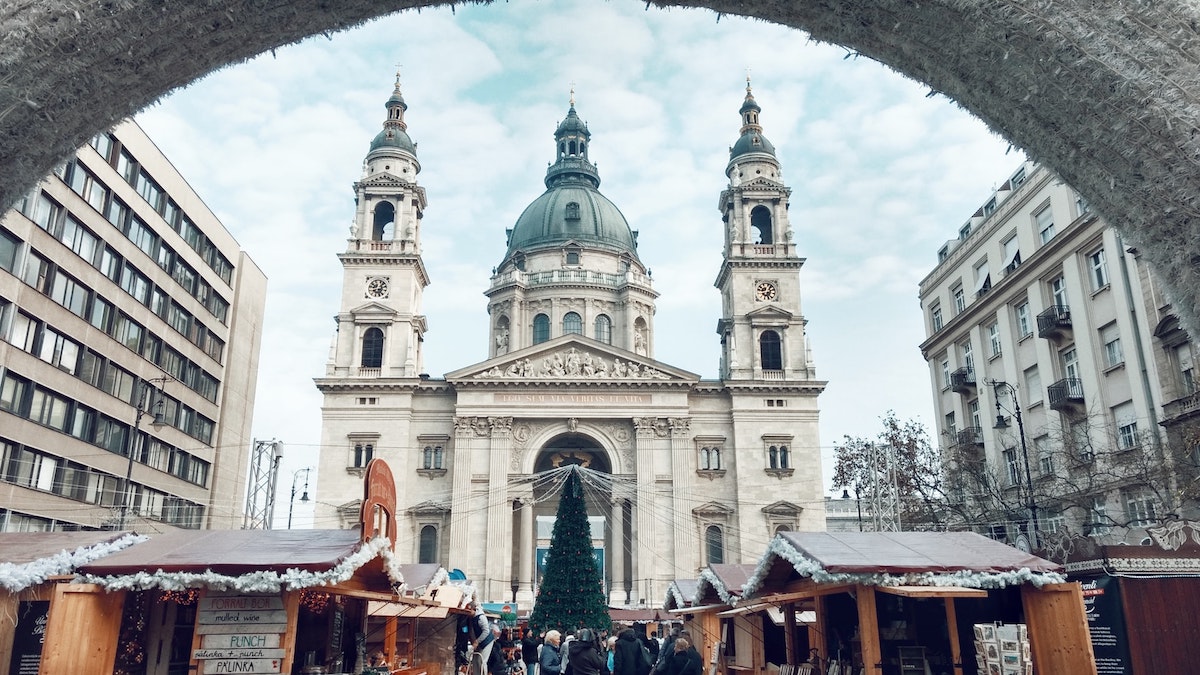 Admire the most beautiful views of Budapest at Fisherman's Bastion
Fisherman's Bastion is probably our favorite spot in all of Budapest. Depicting an almost fairytale vibe and set in the hills of Buda Castle Hill, it offers the most spectacular views of the Danube River and the city beyond.
We recommend visiting during the sunset hours to get the golden and blue hour photos of the beautiful architectural sights of Budapest and the horizon.
Visiting Fisherman's Bastion is free and the views that it offers truly live up to why it's one of the most beautiful things to do in Budapest on a budget.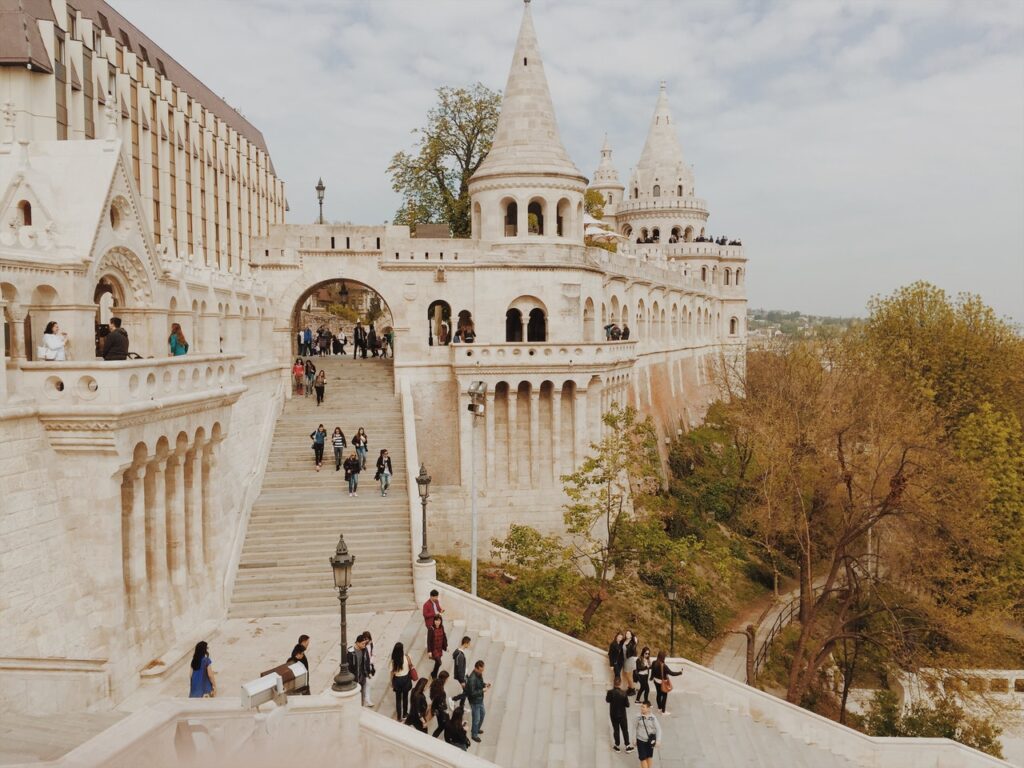 Soak in the Thermal Baths in Budapest
Budapest is set on a patch of thermal springs and thermal water that comes straight from the ground. As a result, it is home to various relaxing thermal baths.
These baths feel so luxurious, retain the original architecture dating back to thousands of years and even provide fun activities like sparties and massages.
Though it feels like you are a King going a sauna or soaking in the warm waters while snow falls outside, the thermal baths are actually quite affordable vis a vis the experience it provides.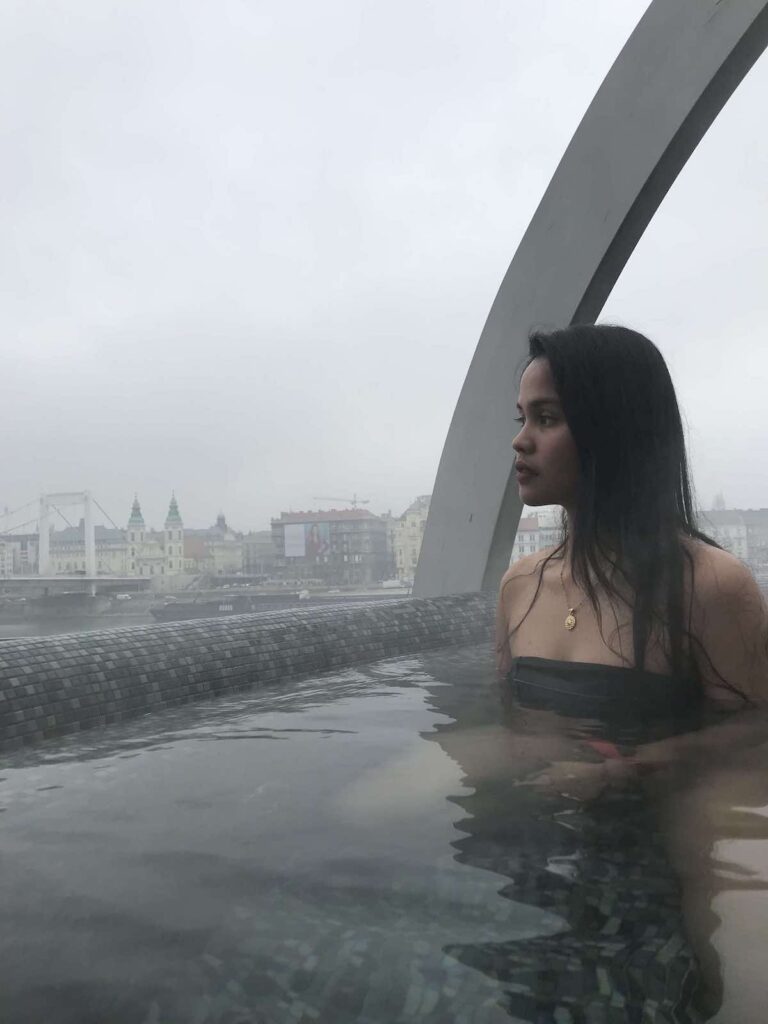 Go shopping at Central Market Hall
The Central Market Hall is a beautiful building in the Pest side of the city, containing two floors of food stalls and souvenir shops. 
It is catered to both locals and travelers, featuring items like Hungarian crafts and Hungarian local produce from pastries, cheese, meats to alcohol.
There are also food vendors serving up ready to eat Hungarian meals, a fun place for any type of foodie looking for things to do in Budapest on a budget.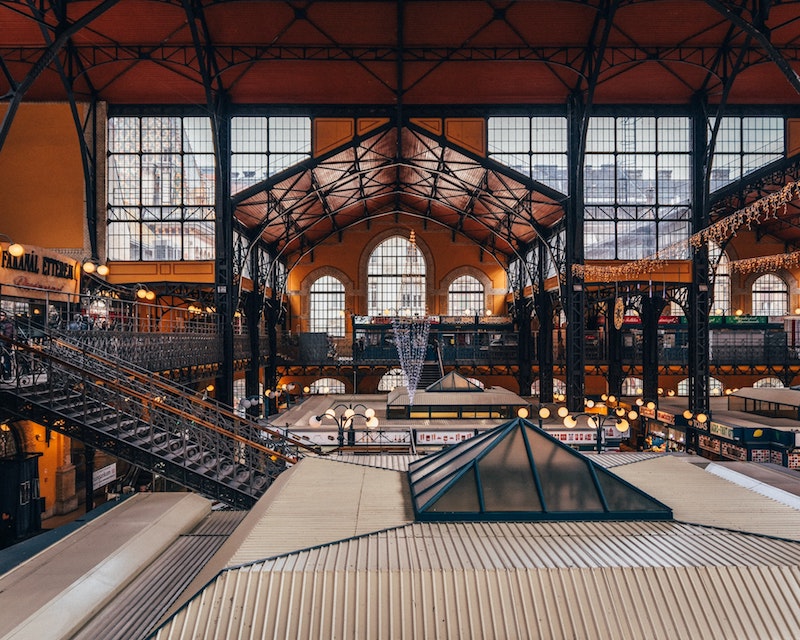 Visit the historic Buda Castle
Buda Castle is a historical palace complex, once inhabited by Hungarian Kings in Budapest. It is situated in the Buda side, forming a large part of the Castle Hill District.
The castle's architecture mixes Gothic, Renaissance, Baroque and Art Nouveau style following decades of the Christian siege, Turk expulsion, and the siege of the Germans and Russians during WWII.
Today, the castles surrounding areas can be freely visited while there is a small entrance fee of to enter the castle itself. You can also opt to go on a walking tour which runs through the highlights of the city.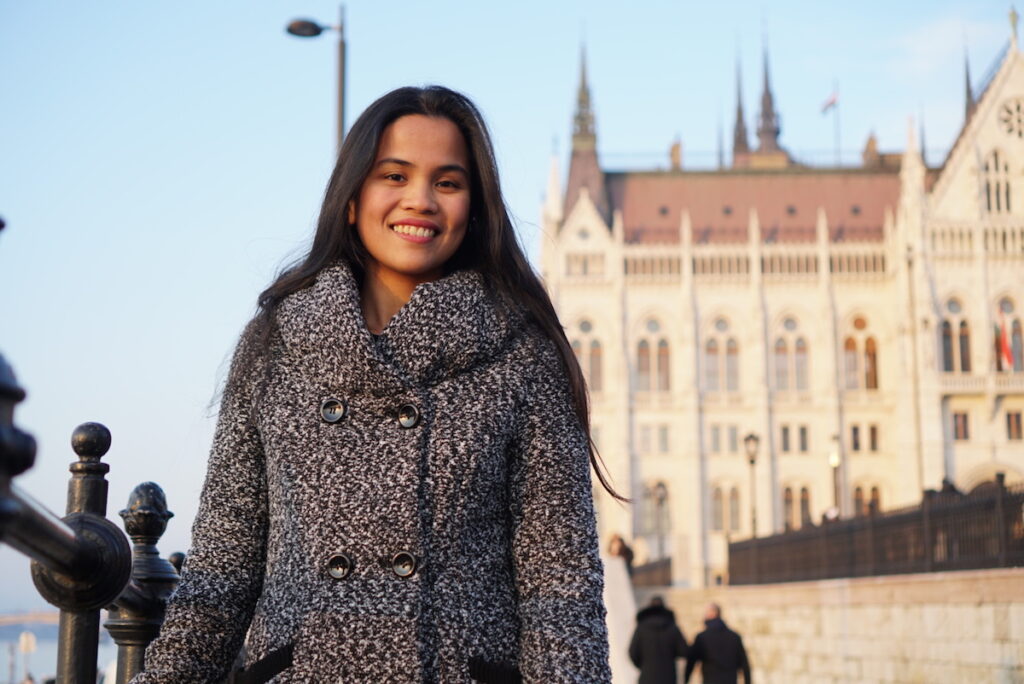 Take in the architecture of the Matthias Church
Matthias Church is a beautiful right by the Fisherman's Bastion. The exterior and interior architecture of the Church is breathtaking, featuring Neo-Gothic design.
Like with Buda Castle, Matthias Church has survived a long history of settlement and reconstruction but remains well maintained.
Inside, the ornate furnishings, stain glass windows and intricate ceiling arches are a sight to behold.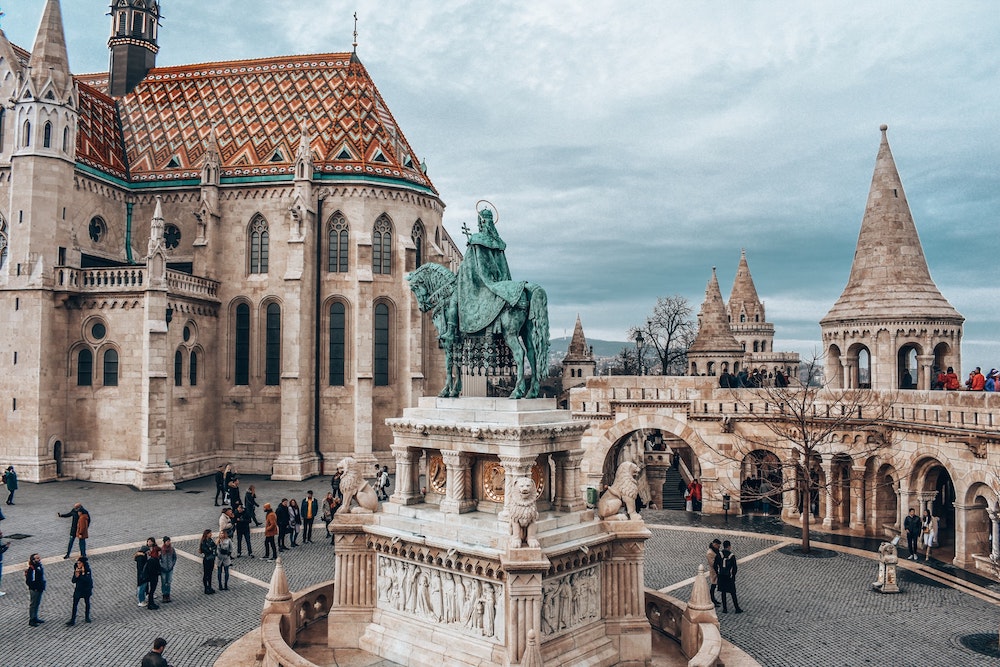 This is our absolute favorite part of Budapest. The ruin bars are a sight and experience in itself.
If you've ever been to Budapest before then you know these are quite the rage in the city.
These bars can be found in the Old Jewish Quarter. They are called ruins after the buildings were abandoned in WWII and then transformed into underground bars in the early 2000's.
From outside, you wouldn't know its a crazy party scene as it looks so unobvious. But walking in, the eclectic vibe, that the ruins are known for, can be seen everywhere.
From the hipster designs that adorn the room, neon lights, and mismatched furniture – it's the center of cool and funky. There are many places to choose from – from the famous Szimpla Kert to Mazel Tov, Instant and Fogashaz – take your pick and party at one of these exciting ruin bars.
There are generally no entrance fees to the Ruin Bars if you come before 11pm. The cost of alcohol is also very cheap, making this is one of our favorite things to do in Budapest on a budget.
How much to spend in Budapest
Budget for 4 Days in Budapest
Roundtrip Flight (from Brussels) – 20 EUR (per person)
Airbnb Accommodation (4 Days, 3 Nights) – 45 EUR (for 2 people)
Roundtrip Airport to City Center Bus – 5 EUR (per person)
Food and Drinks – 40 EUR (per person)
Thermal Bath – 10 EUR (per person)
Lime Scooter – 3 EUR
*Our budget hacks: Buy Hungarian pastries for your breakfast. Every morning, we bought some bread from a bakery next door and had our breakfast by the balcony. It's a much more intimate and affordable experience to do so!
Total cost per person with accomodation and roundtrip flights for 4 Days, 3 Nights = 100.5 EUR
Conclusion: Is Budapest Expensive for Tourists?
Budapest is a city we would go back to again and again. It is quite affordable and doing Budapest on a budget is definitely possible. 
If you're wondering is Budapest expensive for tourists? We'd definitely say not at all! In Budapest, you get to experience the best of a European Capital but at the prices of Eastern Europe. Not to the mention, the sights and historical influences that you get to witness are absolutely beautiful.
What about you? Have you ever been to Budapest and what did you think of it? Were you able to do Budapest on a budget as well? We'd love to hear your questions and travel stories in the comments below!
LIKE THIS POST? PIN IT FOR LATER!
Or start searching for your next destination below