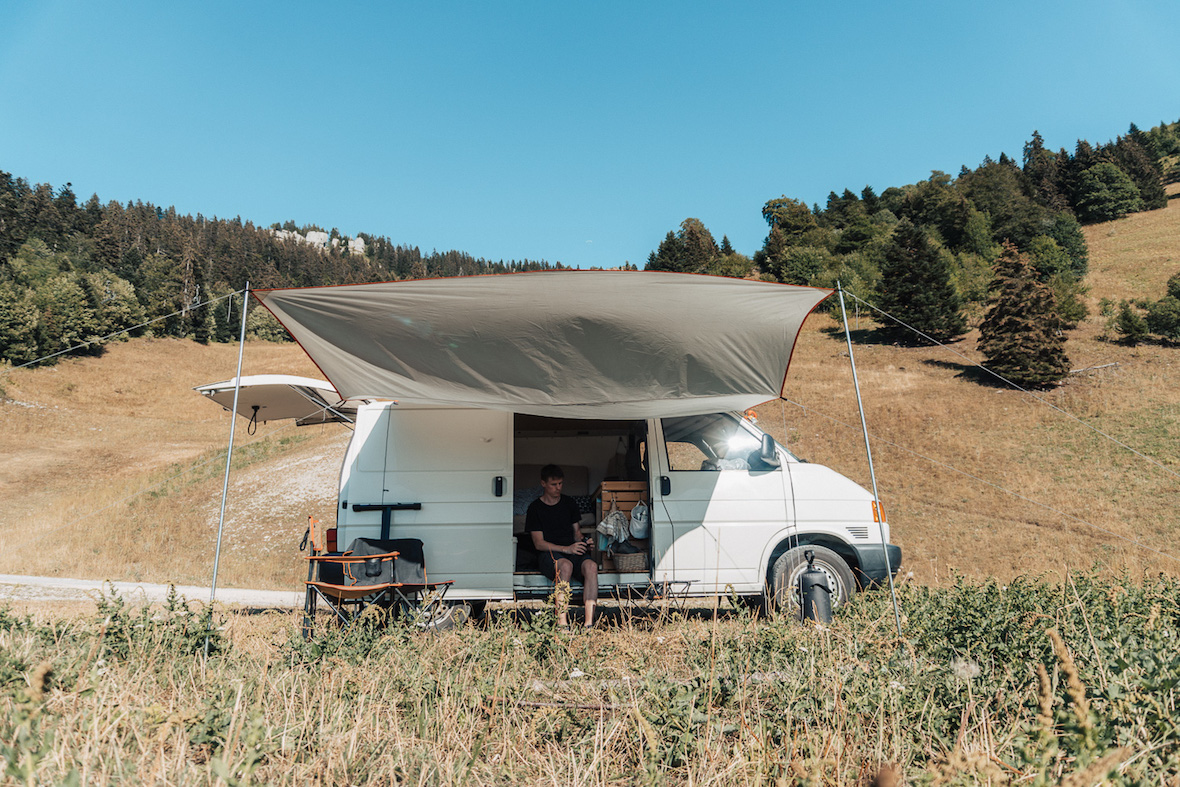 Let's start by saying that van life is something occasional for us. We go on long weekends and use the van for holidays or random trips when the weather is favorable. For that reason, we didn't invest a lot of money in a permanent build as we don't live in the van all year round and wanted to stay on a budget. But being seasonal vanlifers doesn't mean we can't have comfort during our adventures!
We realized that adding a few vanlife accessories can make a big difference. All these items are fully removable and give us more flexibility, depending on the type and the duration of the trip. They are perfect for seasonal vanlifers like us and truly make for better adventures! The best part? Some of these vanlife essentials can be really cheap!
Here are 8 vanlife accessories you need for better adventures with your campervan.
NO TIME TO READ? PIN THESE PHOTOS FOR LATER!
Vanlife Accessories No. 1: A Hammock
For the Ultimate Relaxation
This is not a mandatory item, but since it is very cheap to buy and easy to store in the van, we decided to bring one anyway.
When your camping spot has trees (which also provides shade for the van), having a hammock feels so great! We once found a mountain lake with pine trees on the beach and it was simply the perfect accessory. As a recommendation, the Kootek Lightweight Hammock is a good choice. Otherwise, any hammock from Decathlon would also be a good pick. This also makes for a great gift idea for outdoor enthusiasts.
Our tip: Bring extra rope as trees can sometimes be far from each other.
Vanlife Accessories No. 2: A Pop-Up Cabin
Since our van doesn't have a bathroom, we use a pop up tent to change our clothes, shower and sometimes use the toilet.
The Gigatent Portable Pop Up is easy to set up and can be stored behind the driver seat when not in use. We've seen vans with a permanent shower curtain system, but this one has the advantage of being fully removable and you can leave the tailgate closed. This is the one of the vanlife accessories we use during the day in nature or when we stay at a campsite, so we are sure we won't be bothered.
Our tip: You can use it to store your toilet at night and let your clothes dry
Vanlife Accessories No. 3: A Solar Pressurized Shower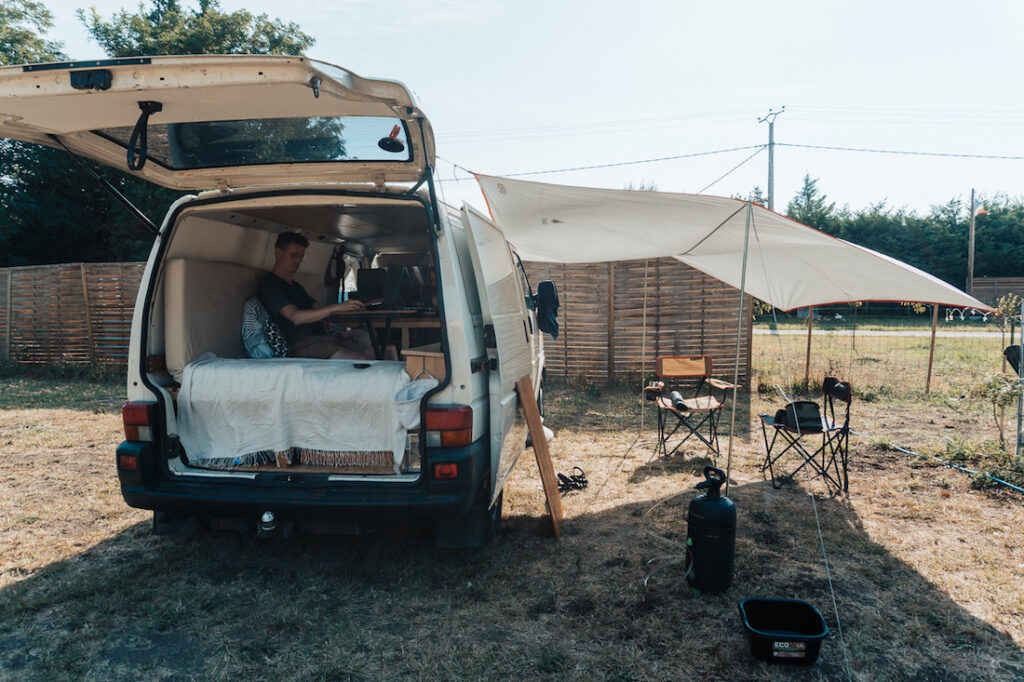 For Having a Shower just like at Home
A shower isn't something mandatory during a weekend trip, as long as you keep yourself clean. For us, getting to shower in the morning is the difference between camping and living in a tiny space in nature.
We went with a solar pressured shower like the Dr. Prepare Portable Camping Shower. It doesn't require power or need to be hung above you. You simply have to pump a few times before starting it. It heats up under the sun but you can also boil some water if needed. 
Our tip: It's also perfect to wash the dishes and control how much water you are using, as it is activated with a handle.
Vanlife Accessories No. 4: A Tarp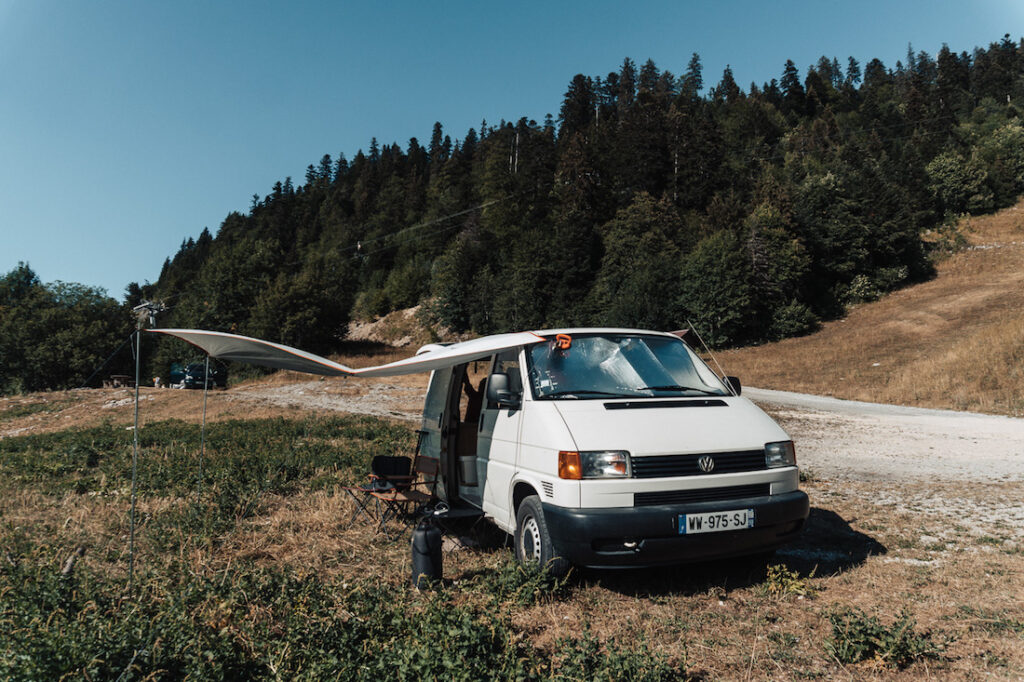 For a Cheap and Compact Sun-Proof Awning
We wanted our van, to remain stealth, as we have to park it in public places and don't use so much in the winter. While it works great, a permanent awning is one of the things that show the world that your vehicle is a campervan.
Instead, we decided to use a Fresh Tarp from Decathlon, which we attach with three suction cups. It is quite easy to set up and has a "Fresh" fabric, which keeps us cool under the sun. It's like an extension of our living room. It's one of those vanlife essentials perfect for the summer!
As an alternative, the Free Soldier Waterproof Awning Tarp is also a good choice.
Our tip: If you have extra poles, it's possible to create shade for your van by setting up the tarp above it!
Vanlife Accessories No. 5: A Portable Toilet
Does it need an explanation?
While we did our first few weeks of van trips without a portable toilet, we quickly realized we couldn't go off grid without one. It's also a wonderful thing when you are staying at a spot between other vehicles and need to do your business.
A portable toilet like the Thetford Porta Potti is the most compact we found, the most affordable, and doesn't smell at all when not in use. It's also convenient to dispose of the waste with its double tank. This toilet is one of those vanlife essentials you need to have for offbeat adventures and for not relying on anybody.
Vanlife Accessories No. 6: A Power Station
For Power Anywhere and Anytime
Another one of those vanlife essentials that really serves a purpose when off the grid is a portable power station (or leisure battery). When the van is stopped, it will power your fridge, your electronic devices, lights, electric fan and more! You can charge it before your trip, while driving on the cigarette lighter port or with a solar panel.
Portable lithium batteries such as Goal Zero Yeti 400 or the Jackery Explorer 500 are more compact than AGM or GEL batteries, don't require maintenance and can be fully discharged. The fact that you take it with you anywhere makes it even more versatile.
Vanlife Accessories No. 7: USB Powered Fairy Lights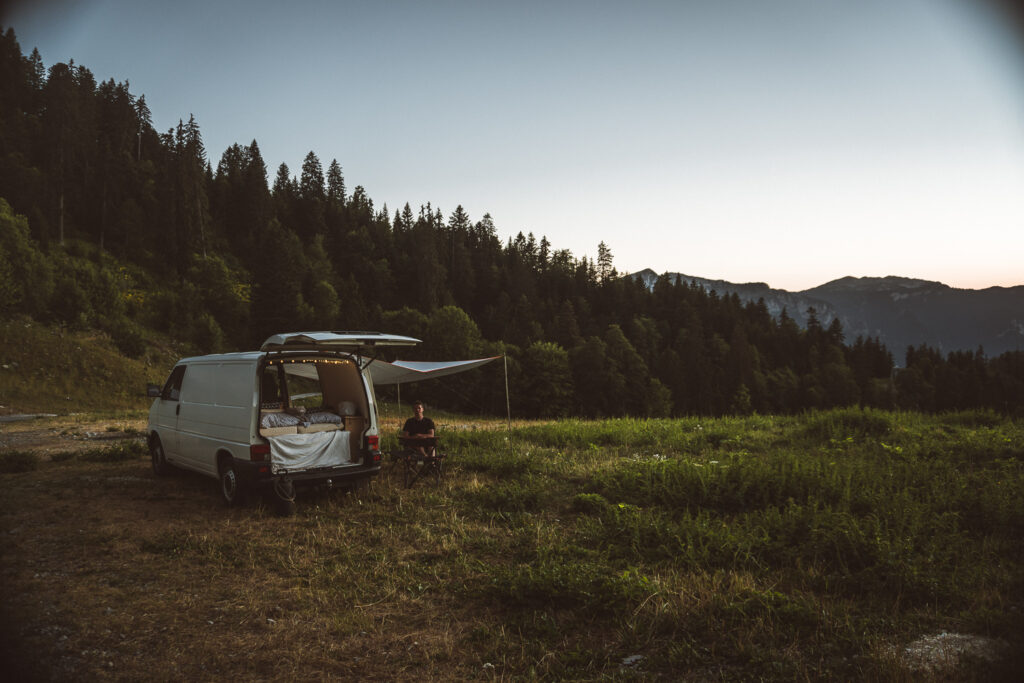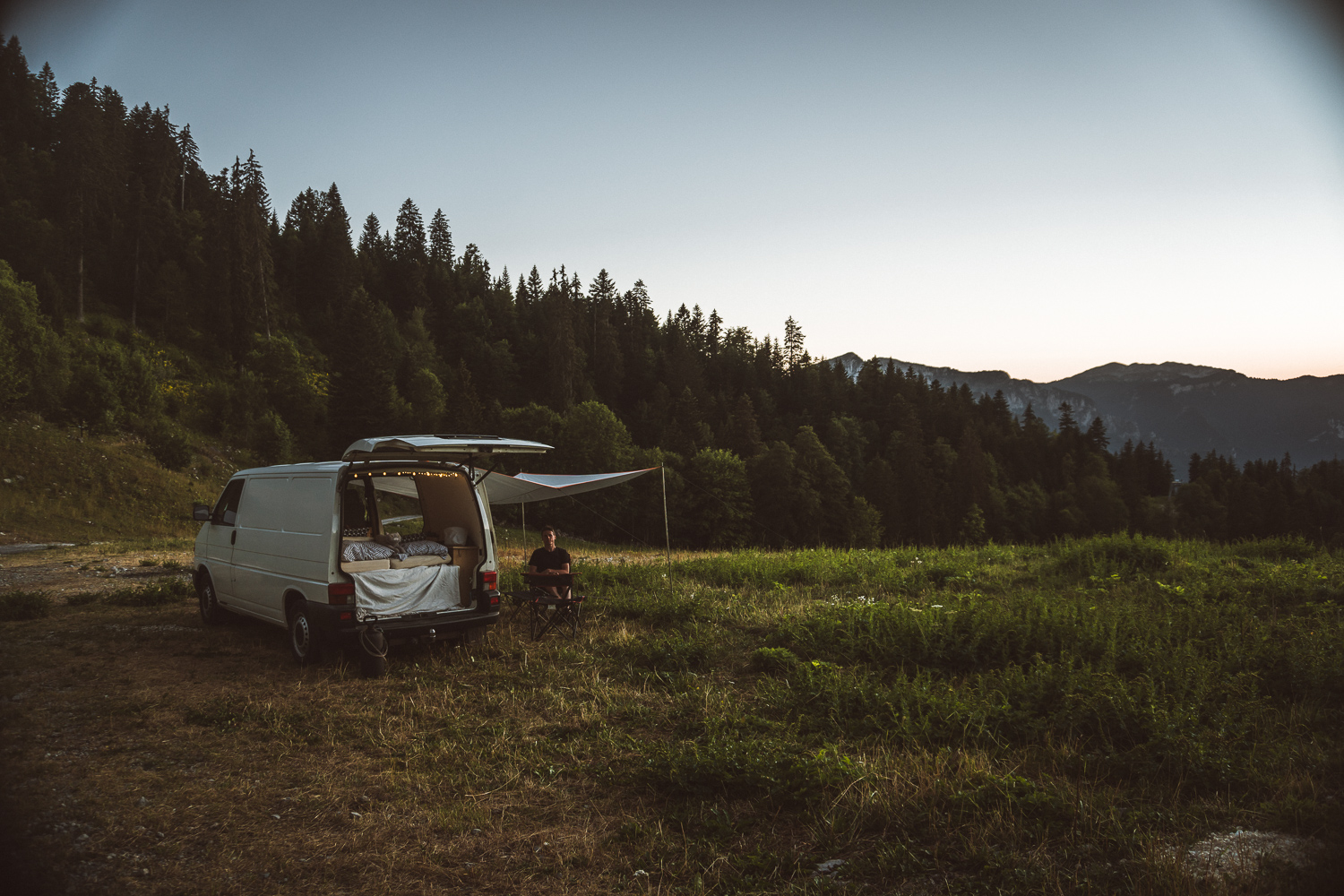 For a Cozy and Intimate Interior
What would your vanlife essentials be without fairy lights? We usually power these lights using our portable station and they make for a cozy atmosphere inside your home on wheels. It's a great way to have an ambiance light without having to invest in a properly wired lighting system.  
They are so cheap that we have another set that we install outside under the awning, to light up the long summer evenings. As a recommendation, we suggest you get warm-toned fairy lights as it feels more intimate.
Vanlife Accessories No. 8: A Moka Pot or French Press
For Cold Mornings When You Need a Kicker
Quite popular in the list of vanlife essentials, a Bialetti Moka Pot will give you a quality, espresso style brewed coffee. Trust us, it's so enjoyable to watch the coffee flow on top of your stove. Also, it doesn't need soap to be washed (a bit of water is enough) and can heat its own water (no need for a kettle). This thing is rock solid, especially the original one from Bialetti. There's nothing more enjoyable than a good cup of coffee from the comfort of your van to watch the sunrise.
Alternatively, a Bodum French Press coffee maker can be a good choice, especially if you like drinking tea as well. It's a bit easier to make than the Moka Pot but isn't as durable and it will require a kettle to boil the water beforehand.
We hope this list inspired you to become a seasonal vanlifer or to make small but valuable additions to your current vanlife essentials setup. As you can see, good camping gear can make up for a rather simple van build, especially for compact vehicles. The fact that all these vanlife accessories are removable makes your van more discrete and less tempting for thieves. 
For us, the purpose of van life is to replicate home habits and pleasures while exploring the world around us. In other words, to feel at home anywhere thanks to this tiny familiar bedroom, no matter where it's parked.
Are you a full time vanlifer or an occasional traveler? Are you considering getting a campervan to try out this type of holiday during the pandemic? If yes, what vanlife accessories do you already have or that we may have missed out in this article? Let us know in the comments below!
LIKE THIS POST? PIN IT FOR LATER!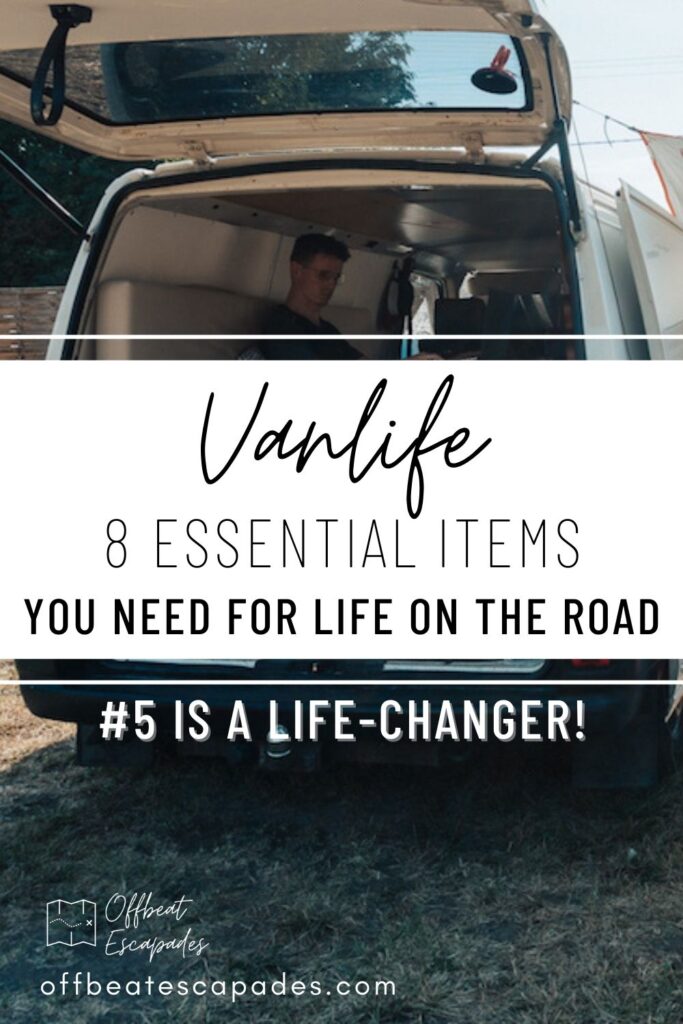 Disclosure:
Please note that some of the links above may be affiliate links, where we receive a small commission at no extra cost to you. As an Amazon Affliate, we earn from qualifying purchases that help keep this site going.
Or start searching for your next destination below