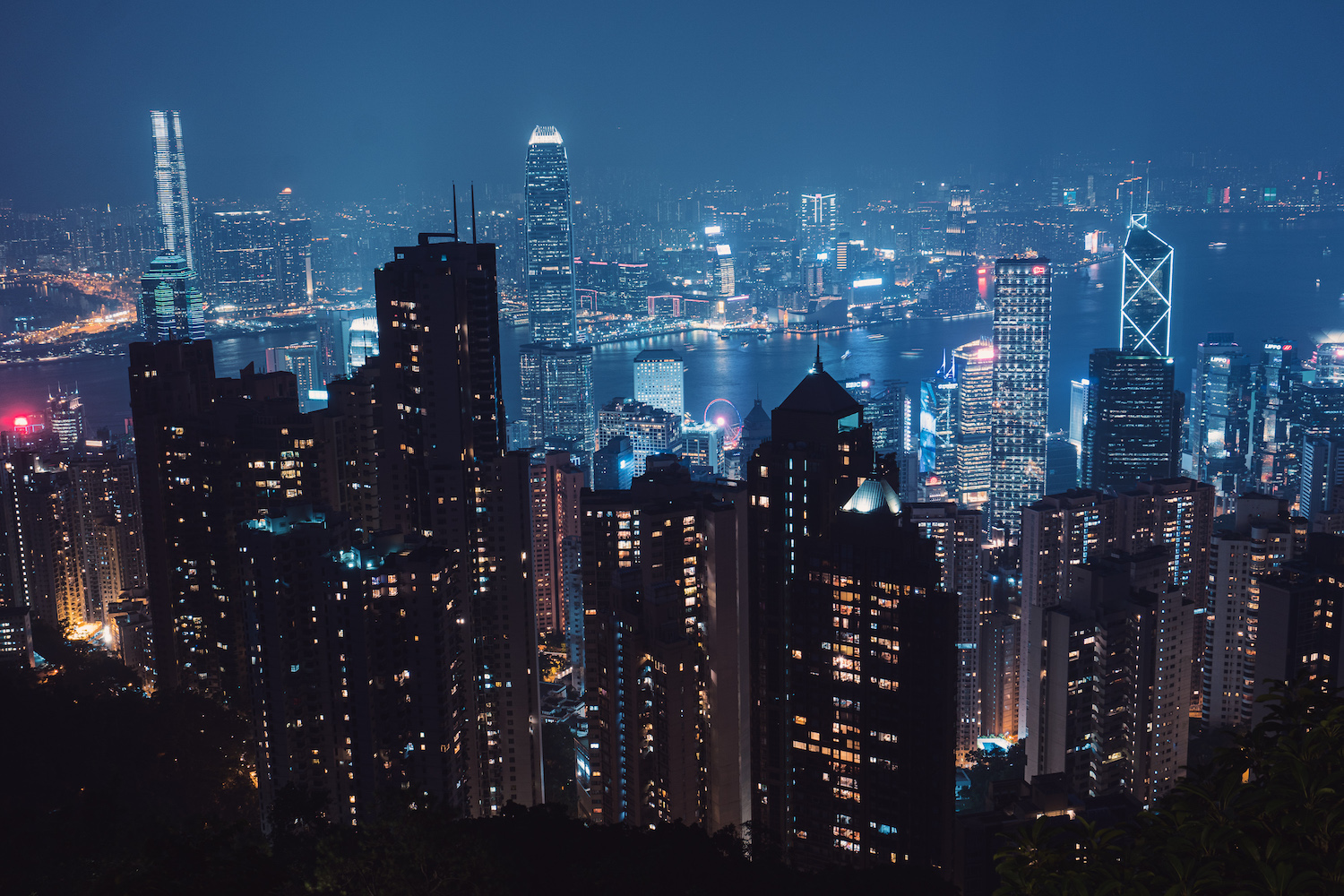 When you think about Hong Kong, you immediately think an unbeatable skyline, showcasing a cyberpunk and futuristic feel unlike any other city in the world. With a plethora of tall buildings, all clustered up together, and mountain backdrops that add to it's awe-inspiring view, it's no wonder why people from around the world come together to witness the city's out-of-this-world views. But what we've learned from years of travels is that, oftentimes, the best views require a little off-the-beaten detour for those who wish to venture the road less travelled.
If you're searching for the best free view at Victoria Peak, then look no further than Lugard Road. It offers the most scenic viewpoints of Hong Kong, at the same vantage point as the Peak, but the big difference is it's FREE. Furthermore, if you're an avid hiker, it's even connected to an easy hiking trail.
NO TIME TO READ? PIN IT FOR LATER!
Lugard Road: The Best Free View at Victoria Peak
Lugard Road is located at Victoria Peak, in a path off the touristic area of the Peak Tower and the Peak Galleria. This road is not for cars, but mainly for people to hike or do physical activity in. It's also a more off-the-beaten trail for the best free view at Victoria Peak of Hong Kong's stunning skyline.
It skirts the side of the mountain overlooking the city of Hong Kong for 2.4 kilometres and links Victoria Peak (including the Peak Tower and the Peak Galleria) to the east with the Hatton and Harlech Road junction to the west. The road was built in the early 1900's and is named after the former governor of Hong Kong – Sir Frederick Lugard.
The best free view at Victoria Peak can be found specifically at the Lugard Road Lookout, which is a 13 minute walk (1 km) from the start of the road, next to the Peak Tower Station.
Below you can find a google map itinerary of the trail to reach Lugard Road.
How to Get to Lugard Road
Getting to Lugard Road by the Peak Tram
This is the fastest and most convenient way to get to Lugard Road. The Peak Tram runs from 7am to 12 midnight, and it takes about seven minutes to get to the top. It's the quickest way to get to Lugard Road through the Peak Galleria area and offers amazing views on the ride up. Once there, just exit the mall and head towards Lugard Road for the best free view at Victoria Peak.
Nearest MTR to The Peak Tram Lower Terminus: Central
Roundtrip Cost: 52 HKD for Adults / 23 HKD for Children
Further price information here.
Our tip: As the Peak Tram is the most popular way to the Peak, expect to wait a long time before you can get on board. As a recommendation, we advice you to buy your tickets in advance here via Klook. They also offer special prices for pre-bought tickets with viewing fees as opposed to buying it on the spot.
Getting to Lugard Road by Bus
This is the cheapest but slower way to get up to Lugard Road. You can take Bus No. 15 up to the Peak from the Exchange Square Central Bus Terminus. It will take about an hour and the roads up the mountain can be dizzying. Once there, it's pretty easy to find Lugard Road with your google maps and there are signs everywhere pointing to its direction. You can also find the google maps itinerary we have illustrated above to ensure you don't get lost. As a note, the start of Lugard Road should be right beside the Peak Tower Station.
Nearest MTR to Exchange Square Central Bus Terminus: Central
Cost Per Way: 9.8 HKD for Adults / 4.9 HKD for Children
Our tip: Buy an Octopus Card in advance and use it to pay for your fare in the bus. Otherwise, you'll have to prepare the exact amount as change is NOT given in public transportation.
When to Go to Lugard Road
Sunset or Sunrise at Lugard Road
If you can make it for sunrise at Lugard Road, then we would say that sunrise is the best time to go. At sunrise, there are barely any people around the areas of Victoria Peak and Lugard Road. This is especially a great experience if you're an avid photographer as the sun rises on the side of the lookout. Meaning, you'll be able to get the silhouettes and rays peeking through the skyscrapers and mountains of Hong Kong in your shots, while reflecting over the harbor. Truly, a moment worthy of being the best free view at Victoria Peak.
Otherwise, we suggest going at sunset, which also gives you the opportunity to take some unbelievable night photography shots of the Hong Kong skyline. Do note that the area of Victoria Peak tends to get very crowded during this time. It may a take a longer time catching the bus or the Peak Tram as everyone wants to go during this time. We strongly recommend to pre-book everything before and to go a few hours before sunset so that you don't miss this stunning and best free view at Victoria Peak.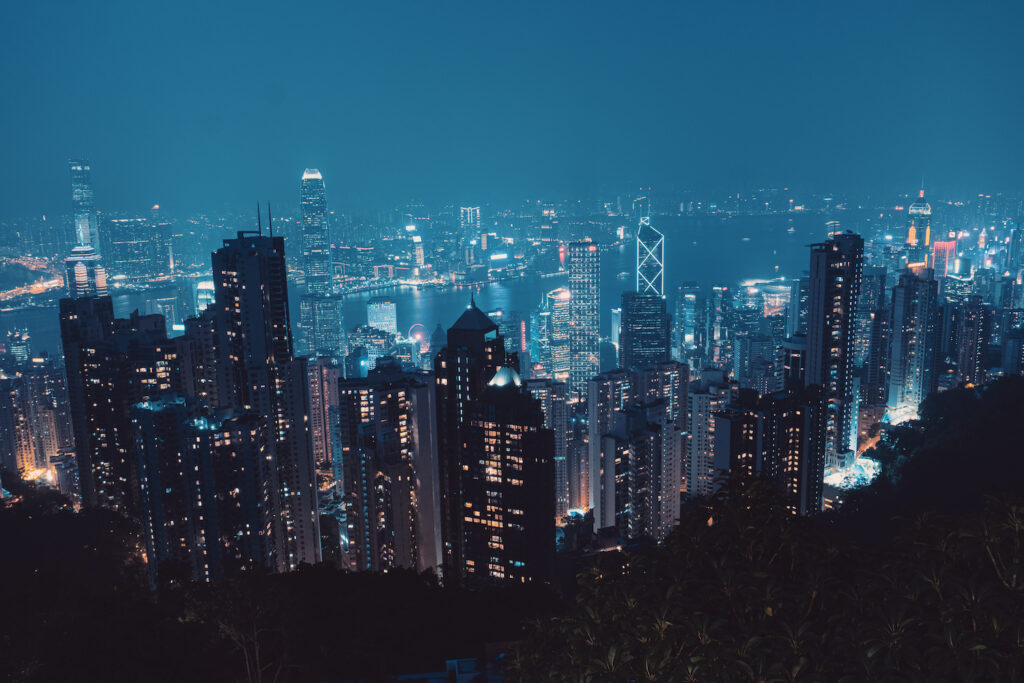 Where to Stay near Victoria Peak
If you want to be along the route to Victoria Peak already for planned photography sessions, then we recommend staying near the area for a night, preferably in Central or Lan Kwai Fong. Below are some of our hotel suggestions in this area.
The Bishop Lei International House offers great value for couples travelling. The hotel itself is near the area leading up to Victoria Peak. Furthermore, it offers spectacular views of the city's skyline at a great price. It is also around 10 minutes' walk from Soho and Lan Kwai Fong, the best spot in Hong Kong for nightlife.
Nightly Rate: Starts from 60 EUR
Two MacDonnell Road is a beautiful hotel, within 500 meters from Lan Kwai Fong and walking distance form the Peak Tram. The hotel itself even offers free shuttles.  It's not as cheap as the first option, but it's a great choice if you're looking for something a little more luxurious.
Nightly Rate: Starts from 110 EUR
DISCOVER HONG KONG WITH THIS VIDEO
Why Choose Lugard Road over the Peak Tower
The number one reason to choose Lugard Road: it's the best FREE view at Victoria Peak. Getting in the Peak Tower is expensive and costs around 52 HKD per adult. Why not take the road less travelled by discovering Lugard Road Lookout, which is free and allows you to discover Hong Kong's forest foliage, while witnessing unbeatable cityscape views.
Lugard Road is less crowded
The Peak Tower is super touristic so if you want to have a more offbeat experience, then Lugard Road is the best option to choose. It's mostly known by locals, photographers and people who cross it for their daily physical activities. You will find less people in this spot, which will provide you with a more enjoyable experience to witnessing this best free view at Victoria Peak.
Lugard road has more diverse views
Because Lugard Road goes through part of the forest, you'll have the chance to see some really diverse views and capture more unique photographs as the city peeks through some of the road's forest foliage. Furthermore, it's a more diverse and unique view as compared to the Peak Tower, because you're so much closer to all the skyscrapers and have a bulls eye view of the harbor in the lookout. It's why we think it's the best view of the Hong Kong skyline.
Conclusion: Lugard Road is the Best Free View at Victoria Peak
So there you have it! We hope this helps you take the more offbeat journey to the best free view at Victoria Peak. Lugard Road is a great place to spend a couple of hours in, from discovering the forest to seeing diverse Hong Kong views and taking some amazing skyline photographs. It's an alternative to the Peak Tower that we highly recommend.
If you know of any other places that you would say is the best free view at the Victoria Peak, don't hesitate to let us know in the comments below!
LIKE THIS POST? PIN IT FOR LATER!
Or start searching for your next destination below