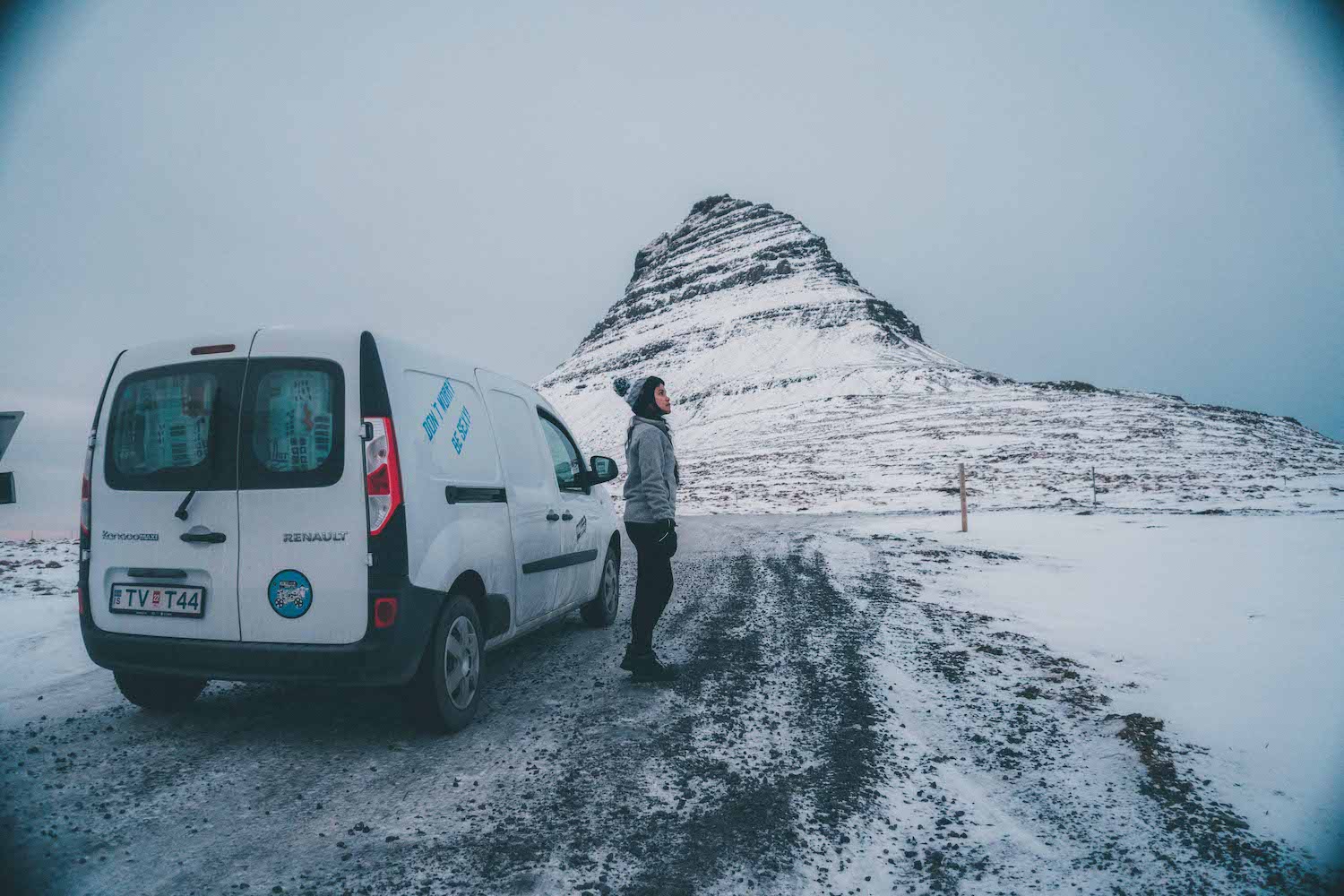 Iceland is definitely one of our favorite countries in Europe because of how unique and beautiful it is. This guide is for those who would like to answer the question how much money for a trip to Iceland? For us, we did Iceland on a budget of 250 euros! We'll show you all the tips you need to know on how we did this, the itinerary we followed, and yes, how we managed to catch the Northern Lights too.
The Cheapest Way to Get to Iceland
Fly to Keflavik from Poland or Milan using Wizz Air
Poland is the most affordable point to take a flight to Keflavik. Not just Warsaw but any Polish city that serves flights to Keflavik would be a good choice. A one-way flight from Poland can start from 20€. It sounds insane, but we mean it because that's around how much we got the flight for! It's definitely the cheapest way to get to Iceland.
With Wizz Air, we also have the annual membership where it lowers your flight fare by 10€ to a minimum amount of 9.99€. The cost of the membership is 30€ per which can easily be paid off by going on three flights.
Another great point to fly from is a recently added route in 2020 by Wizz Air is Milan. The prices are about the same as with Polish cities. So depending on where you are currently and where you want to take the trip from, we recommend these two routes. 
Our tip: When booking your tickets, be flexible, but one crucial thing to be careful with – your arrival time. Don't arrive in the middle of night where you have to check in a hotel (which is pricey!) for only a few hours.
When is the Cheapest Time to Go to Iceland
Winter is the cheapest time to go to Iceland. Flights to Iceland are cheaper and it's the low season when you consider factors like flights and campervan rentals.
Although this time of the year has the harshest weather conditions and less light, the Northern Lights are more frequent. Particularly, October and March are great times to visit when considering the price, the temperatures & amount of daylight.
Our tip: Because winter is kind of crazy in Iceland, you'll have to come prepared. We wrote an article on the essential camper van packing list for a winter road trip.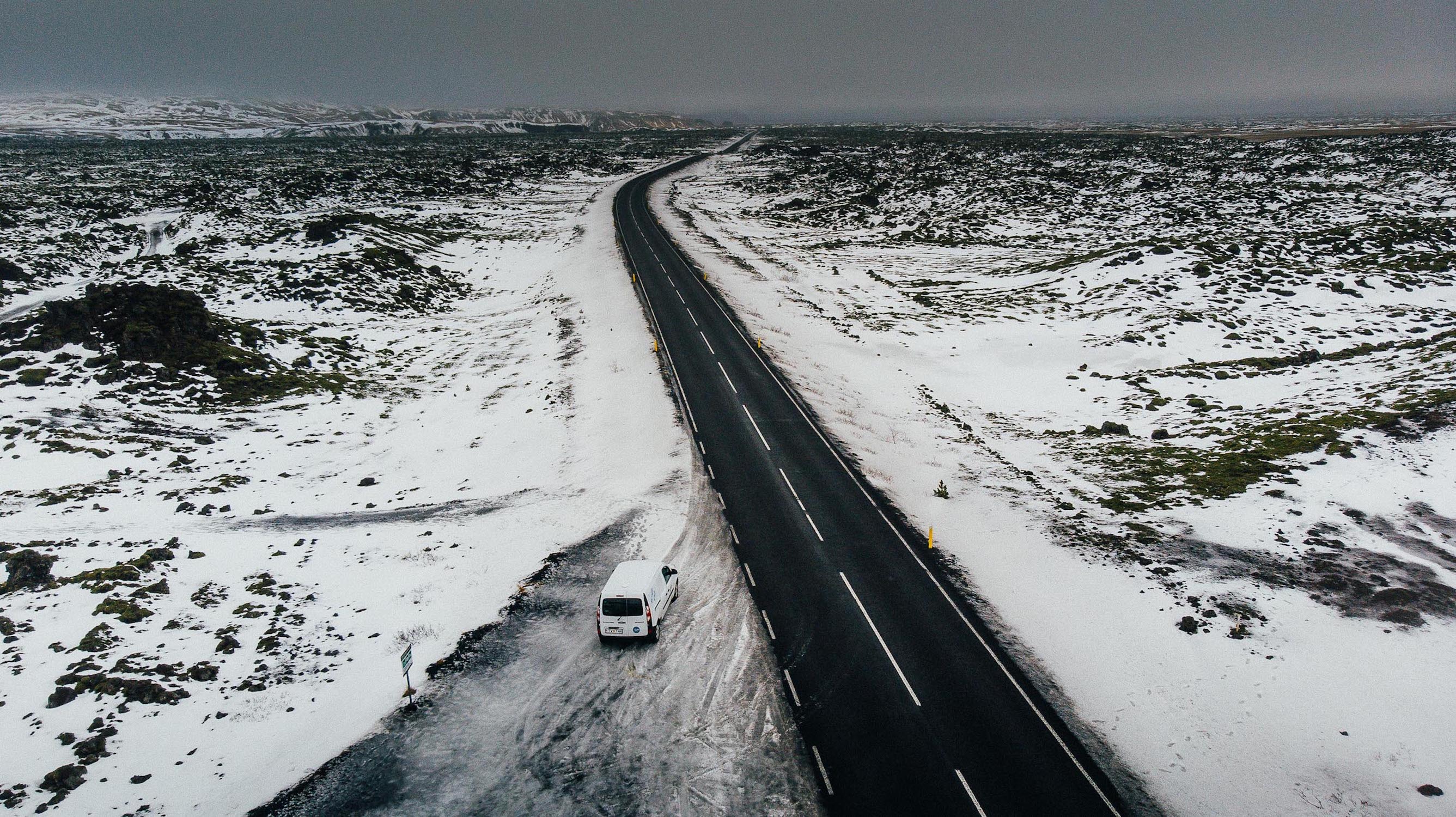 How to Get Around Iceland Affordably
There are a lot of accommodations to choose from in Iceland such as hotels, bed n' breakfasts, and even Airbnbs, but these are all super expensive and if you want to go on a budget break then this isn't for you. The most basic accommodations can start from 60€ per night. Even then, it's really rare to see this rate. Then you'll also have to rent a car if you choose to stay in these expensive accommodations.
So what we highly recommend doing if you're the adventurous and offbeat type like us – is to combine transport and accommodation by renting a campervan. We promise you it's pretty comfortable as these campervans have heaters!  It also means freedom at your fingertips. It's the cheapest way to get around and stay in Iceland. You also don't rely on anyone for scheduling tours, check in times, etc. 
After reading many positive reviews, we came across Kuku Campers and rented their simple AB campervan with heater for 4 days at a price of 160€ (about 200$), which makes it 80€/person.
It cost us 20€ per night/person to have your own transportation and place to stay in Iceland. Not bad huh? Thanks to a seasonal promo, sleeping bags, pillows and blankets were included. Did we mention there was also a heater in the van? Which is an absolute must to survive the cold winter nights.
The campervan itself was a Renault Kangoo Maxi, which offers just enough space to sleep in. The 190x130cm bed transforms into a couch and a folding table allows you to cook inside. Kitchen items are stored at the back of the van and you can put your belongings under the seat.
Gas was a big part of our expenses. At a rate of 1.5€/liter and 740 km trip along the Southern coast of Iceland (the Ring Road) it did cost us around 60€ (30€/person) for the whole trip.
Our tip: Bring a top loading duffle bag for your campervan trip as it is more convenient to slide from under the bench and find items.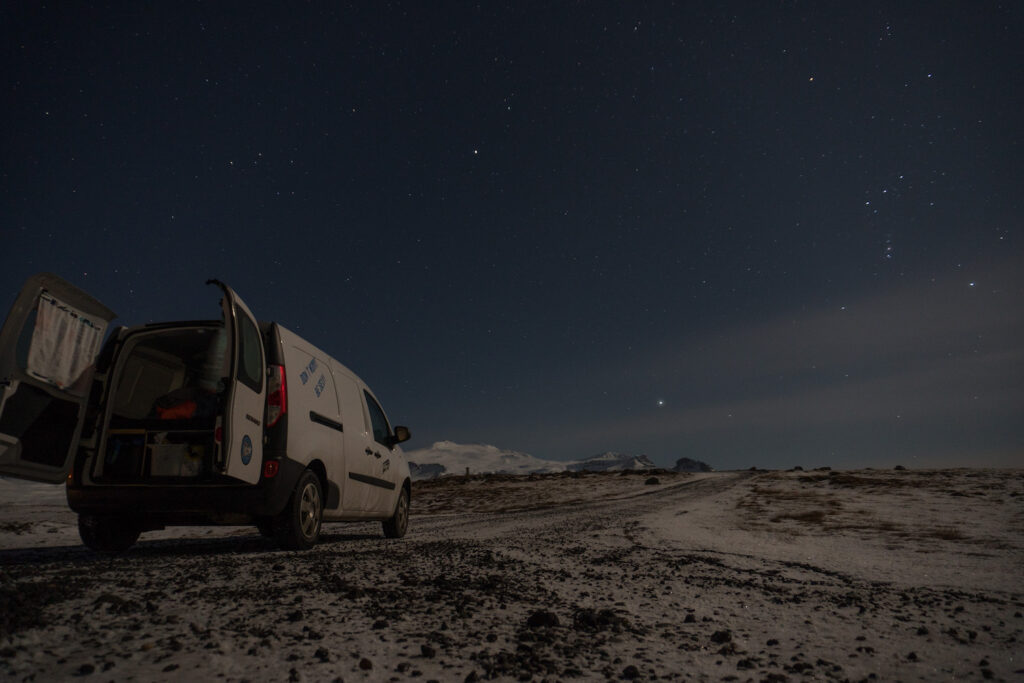 Where To Stay the Night with Your Campervan in Iceland
Now that you have your campervan, where should you stay? It's important to take note that unlike in other countries, wild camping is NOT allowed in Iceland. Please respect this as much as possible. Things do get a bit more complicated in the winter as more than half of the campsites are likely to be closed, so if you're left in a dire situation, do respect the environment you stay in and leave no trace behind.
Thankfully, campsites in Iceland are relatively affordable compared to the cost accomodations on the island. A campsite will be about 10-15 euros. The ones we went to had warm showers, a dining area and sometimes, even a kitchen.
What to Do in Iceland on a Budget
Now that you have your place and transportation covered then everything else is pretty much free. All the sights are more or less free (except of course if you're going to the Blue Lagoon or other super touristy spots, or joining the tours). But if you're like us, who would rather have a more authentic and adventurous kind of a trip, then most of the activities to do and sights to see in Iceland are simply just what they are. Free to experience, free to hike, free to see and free to appreciate. With a country like Iceland, there's so much to see and it's totally up to you what kind of adventure you want to have. 
If you were to ask us how much money for a trip to Iceland if we were to consider activities? Then our answer would still be the same, you can do many things in Iceland without having to spend! Because that's what we did! We were there for 5 days and 4 nights and our road trip itinerary allowed us to see a bit of everything. We covered Reykjavik, the Snæfellsnes Peninsula, the Golden Circle, the South Coast and even as far as the Glacier Lagoons near the East Fjords. No entrance fees for any of these sights.
Below is a map of the route we followed which you can find the full guide of in the link below.
How Much Money for a Trip to Iceland
So in the end how much money for a trip to Iceland then? Our answer is 250 euros! Below you can find a quick breakdown of the total costs we spent which answers the big question how much money for a trip to Iceland? It is calculated per person, considering that you are flying from an airport where Wizz Air (Polish Cities or Milan) operates to and from Keflavik.
Roundtrip Flight: 50€
Luggage (Shared): 15€
Campervan Rental (Shared): 80€
Gas (Shared): 30€
Groceries (Shared): 25€
Campsites: 30 €
Swimming Pool / Hot Tubs / Sauna Admission Fees : 20 €
How Much Money for a Trip to Iceland:
Total Cost Per Person with Campervan Rental and Roundtrip Flights (5 Days, 4 Nights) = 250 EUR
So there we have it, if you're wondering how much money for a trip to Iceland and you're unsure if it's possible to go to Iceland on a budget, then we're here to tell you that it is possible! It's a great country for a road trip adventure where you can totally enjoy what the country has to offer mostly for free. Once you have all the big things like the flights, the season to go, the transportation and the accommodation figured out, then everything else is pretty much up to what you want to make of the adventure. At the end of the day, the best thing in life are in its simplicity. If you have any questions about this budget breakdown and how much money for a trip to Iceland do you need, don't hesitate to let us know in the comments below!
Or start searching for your next destination below