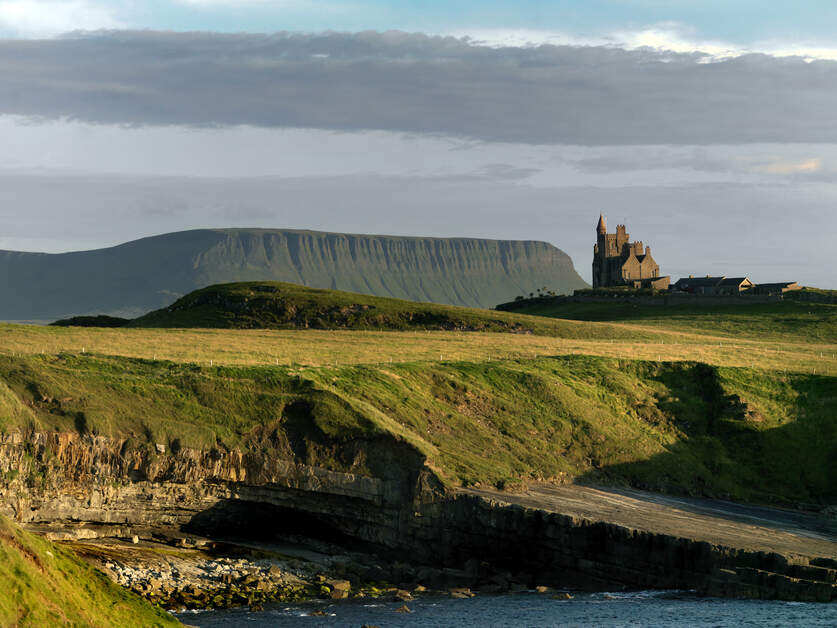 The Wild Atlantic Way is the scenic coastal route along the west coast of Ireland. It is truly stunning and quite long, as it goes from Kinsale a coastal town in the South) to Malin Head (the most northerly point of the island of Ireland). This guide goes through the Wild Atlantic Way Highlights and provides you with our favorite offbeat stops.
If your road trip goals are more about getting lost than collecting the "must-see" spots, or experiencing stunning places without the crowds, you are in for a treat. These stops along the Wild Atlantic Way in Ireland can definitely inspire you for your next road-trip. They will require you to rent a car as no tour buses venture that far.
NO TIME TO READ? PIN IT FOR LATER!
Wild Atlantic Way Highlights #1: Coumeenoole Beach, Co. Kerry
Coumeenoole Beach is one of the most pristine beaches along the Slea Head Drive on the Dingle Peninsula. It is totally isolated from the world, as we could even think it is a cove.
While it looks perfect to go for a swim, the water can be quite cold. It is also known to be one of the best surf spots in Co. Kerry and Wild Atlantic Way Highlights.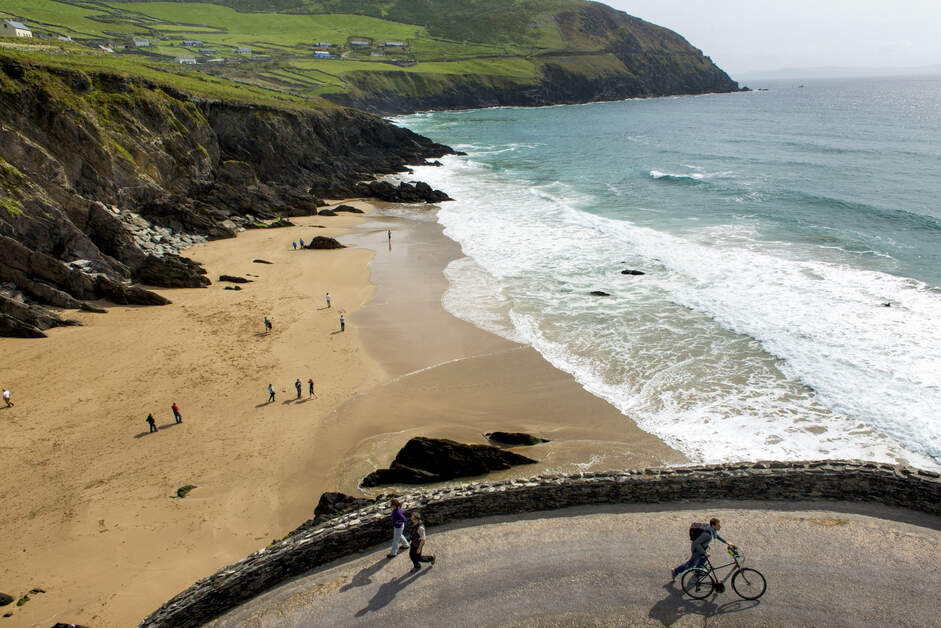 Wild Atlantic Way Highlights #2: Loop Head Peninsula, Co. Clare
Loop Head is a peninsula with stunning cliffs, charming towns and sea stacks along the Altantic. The Kilkee Cliffs you'll find here are spectacular and are a wonderful alternative to the crowded Cliffs of Moher you'll find further north.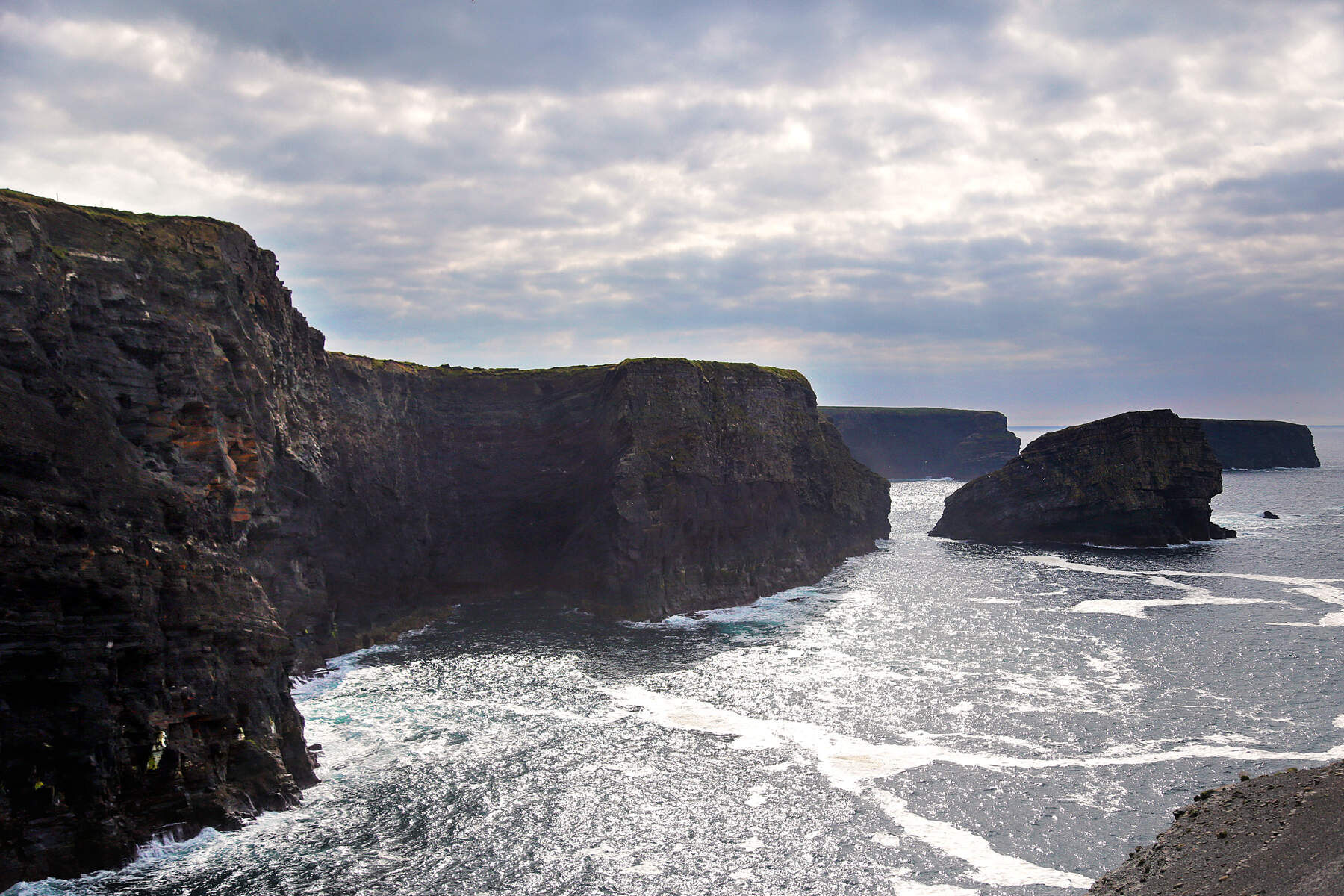 If you are in the area, make sure to go for a cliffs walk and enjoy the nearby Kilkee Beach.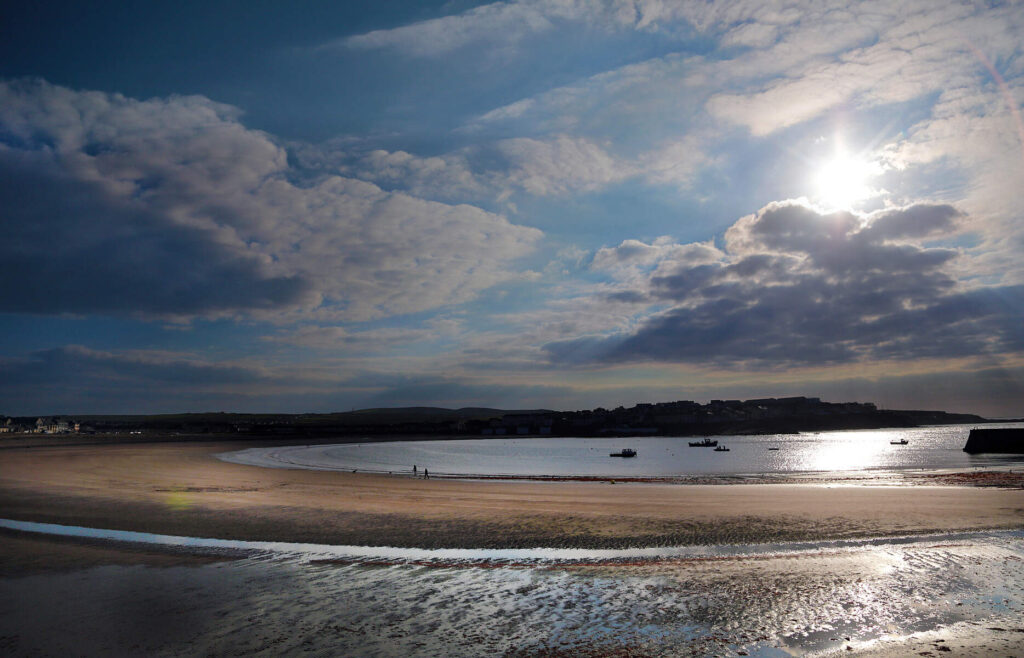 Wild Atlantic Way Highlights #3: Derryclare Lough, Co. Galway
Let's go further north and stop in the "wild beauty" of Connemara, as Irish writer Oscar Wilde used to call it.
Derryclare Lough is a lake nested between mountains, not far from Connemara National Park. On the lake, you'll get to see Pine Island. It is truly one of the most magical spots in the region and a must for those who want to take it all in the quiet wilderness of Connemara. This, for us, is the one of the best offbeat nature stops within the Wild Atlantic Way Highlights.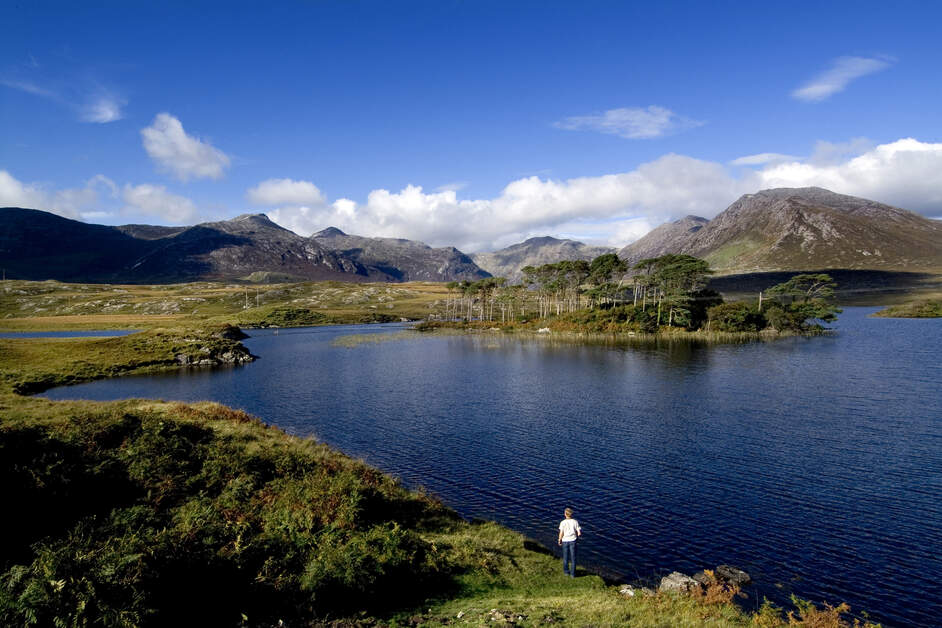 Wild Atlantic Way Highlights #4: Diamond Hill, Co. Galway
Climb Diamond Hill, and you will know the true sense of the word reward. Because that's what you'll see once you reach the summit.
At 445m high, you can climb it at your own pace, which makes it ideal even if you are not an avid hiker. Make sure to get familiar with the Upper Diamond Hill trail beforehand.
All trails can be found for free on the Sport Ireland website.
Wild Atlantic Way Highlights #5: Achill Island and Keem Bay, Co. Mayo
The biggest island within the island of Ireland offers a rugged coastline as well as tropical island beaches (but with an Irish water temperature). One of the gems of the island is Keem Bay and its beach. It is best to go off season as it isn't a best kept secret anymore.
In order to reach Achill Island, we'd strongly suggest biking using the Great Western Greenway from Westport. It is a cycling and pedestrian route that is amongst the most scenic in Ireland, and the best of the Wild Atlantic Way Highlights.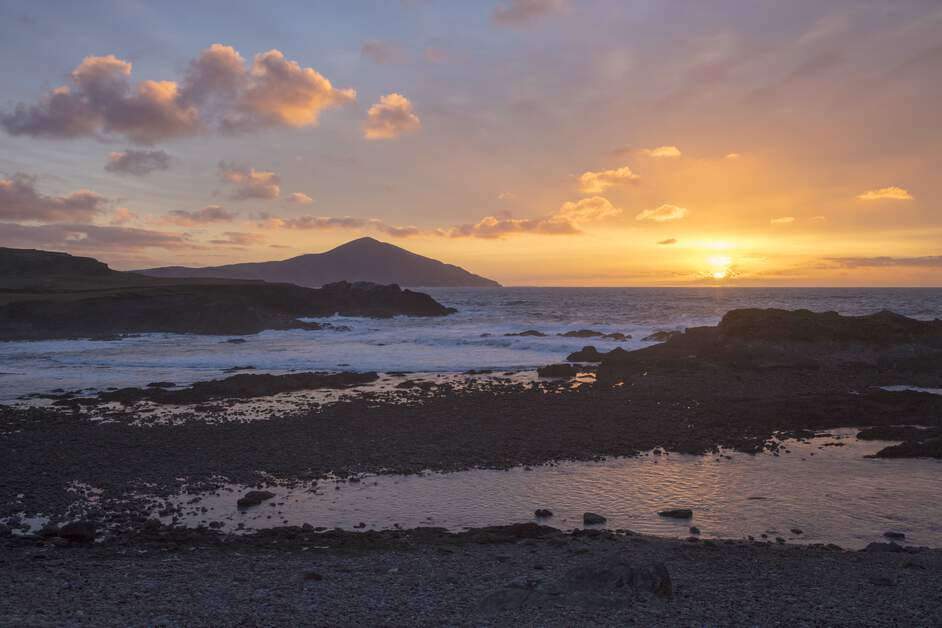 Wild Atlantic Way Highlights #6: Mullaghmore Head, Co. Sligo
Two counties up and we reach Co. Sligo and the Mullaghmore Head. This tiny Peninsula is one of Co. Sligo's best panoramas, with the iconic Ben Bulben in the distance, as well as Classiebawn Castle. It is truly off the beaten track as not many people live here. Since you made it that far, we'd recommend going to Back Strand Beach nearby, which also offers stunning views.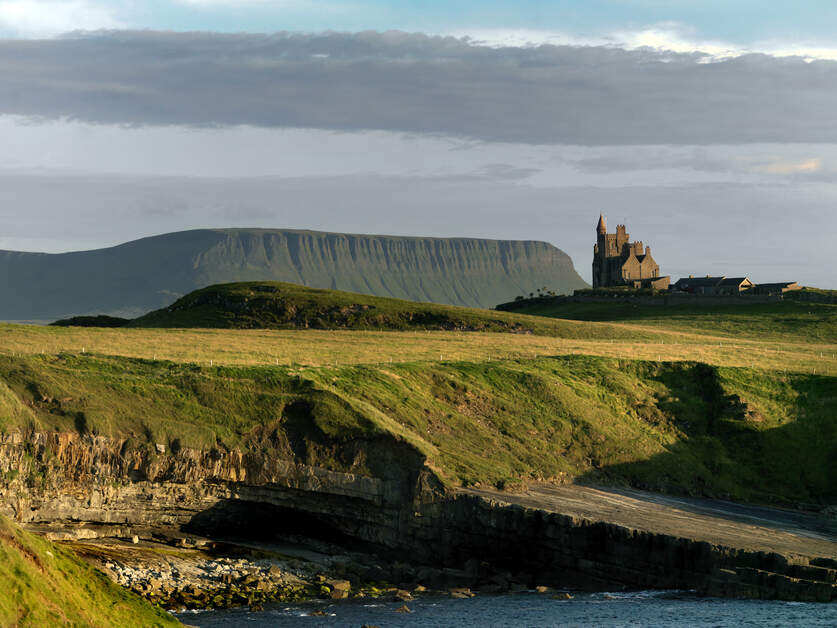 Wild Atlantic Way Highlights #7: Glenveagh National Park, Co. Donegal
Last but not least, Co. Donegal is known for being the ultimate off the beaten track destination on the island.
The North Western county has rugged cliffs and an unmatched beauty.
A prime example of this is Glenveagh National Park with 11,000 hectares of land and many gems such as Glenveagh Castle, Derryveagh Mountains, the gigantic Lough Veagh and Mount Errigal. It is a hiker's paradise away from it all and favorite of all the Wild Atlantic Way Highlights.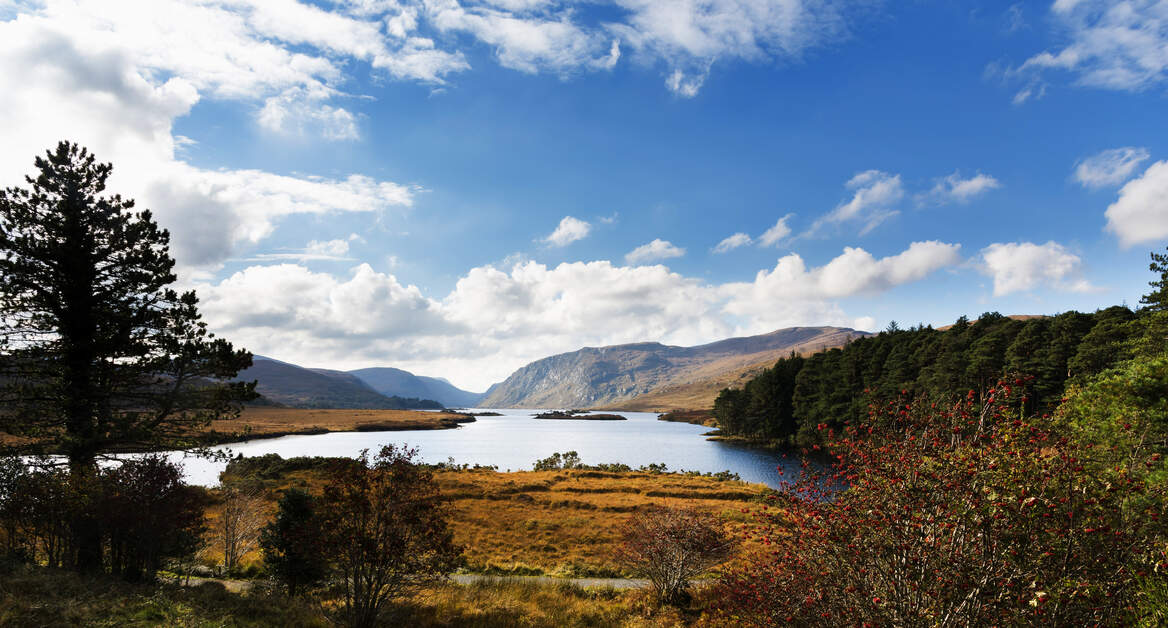 Final Thoughts: Our Favorite Offbeat Wild Atlantic Way Stops
So there you have it! Here are some of our favorite Wild Atlantic Way Highlights for the ultimate road-trip without the crazy crowds. These offbeat Wild Atlantic Way stops are a must-see addition to your Ireland Roadtrip.
We found them to be truly impressive but still a hidden gem as it is not included on the itinerary of tour buses. All of these places are nature spots and are therefore completely free, even parking.
Hopefully, this has convinced you to add the Wild Atlantic Way in Ireland to your bucket list! What about you? Have you visited the Emerald Isle? Are you familiar with these Wild Atlantic Way Highlights for a more offbeat experience? Please let us know your questions and travel stories in the comments below!
LIKE THIS POST? PIN IT FOR LATER!
Or start searching for your next destination below