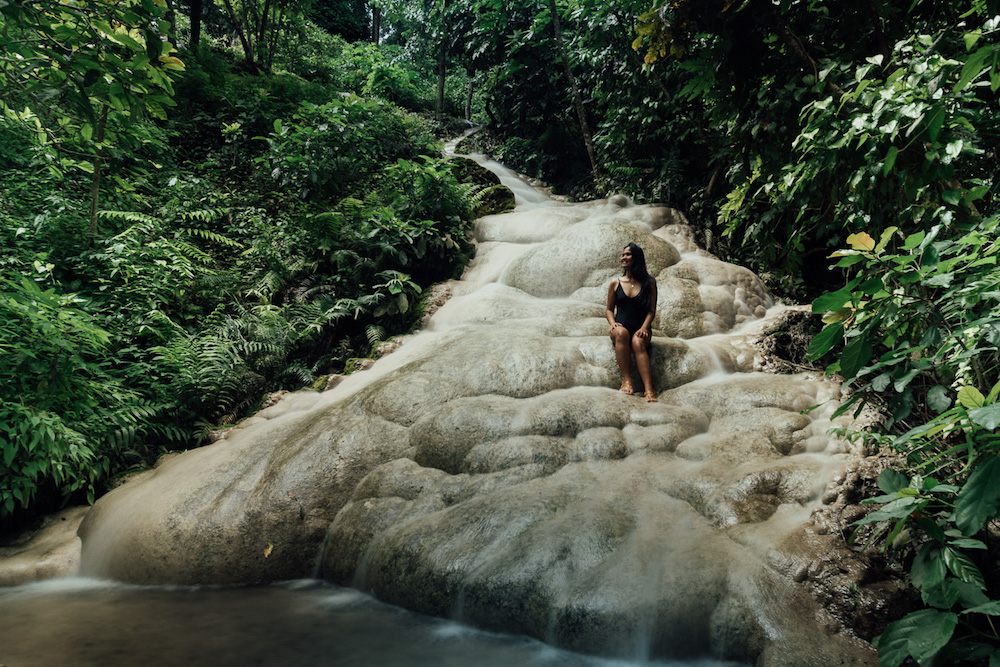 Are you currently in Chiang Mai and thinking: is Pai worth visiting? Or are you planning a trip to Thailand and wondering if you should include Pai to your list of places to go? If you're stuck with this dilemma, then worry not as this guide has got you covered.
We list down everything you need to know about going to Pai and give our opinion to the question: is Pai worth visiting? Hopefully, the pros and cons we list in this guide will help you make a more informed decision on whether you should visit Pai or not.
NO TIME TO READ? PIN IT FOR LATER!
Pai: A Backpacker's Mountain Paradise
Before we answer the question – is Pai worth visiting? Let's first tackle where in the world is Pai in Thailand anyway?
Pai is a small and vibrant village up in the mountains of Thailand, in the Mae Hong Son Province. The nearest jump-off point is to go to Pai from Chiang Mai.
Chiang Mai is about 146 kilometres away (i.e. 762 crazy twists and turns). Pai is also a stone's throw away from the legendary Mae Hong Son Karen Village, just off the border of Myanmar. 
This little mountain town is often deemed to be a backpacker's paradise. It's tucked deep in the valley where you are literally in the middle of nowhere with endless mountains in the horizon and nature as your best friend.
But like many dreamy locations such as Bali, you may be wondering is Pai worth visiting? Below we go through the advantages and disadvantages of going to Pai.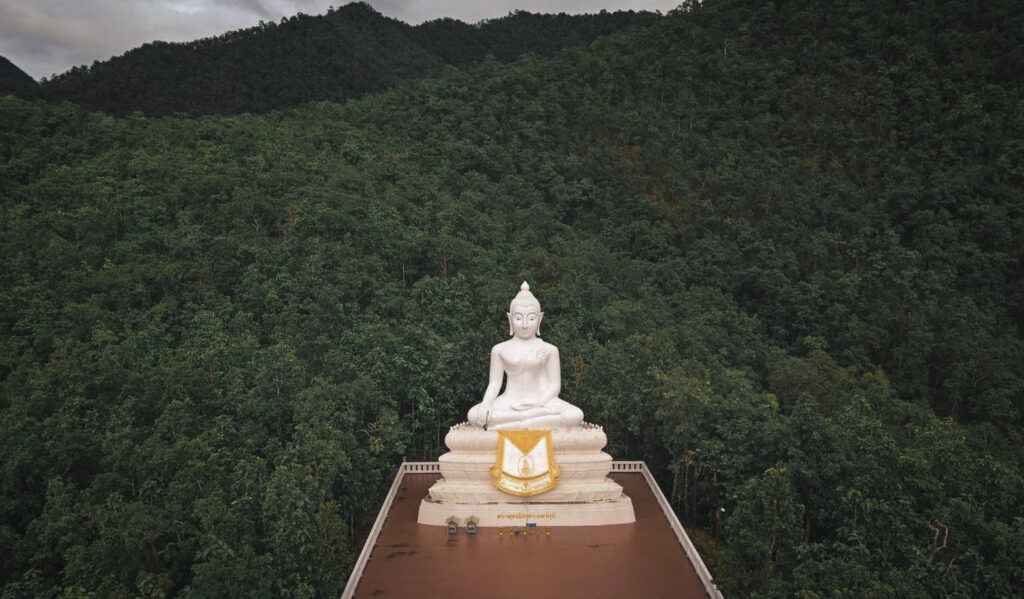 Is Pai Worth Visiting: Reasons Why to Visit Pai
The unbeatable panoramic views
Being up in the mountain, Pai has many beautiful viewpoints you can discover. These include the Pai Canyon, Yun Lai Viewpoint and Phra That Mae Yen.
You'll get to witness some of the most beautiful sunrises and sunsets in these areas, perfect for photographers. Once you're at the top, you'll see the Pai valley stretched above you and the beautiful silhouettes of the mountains beyond.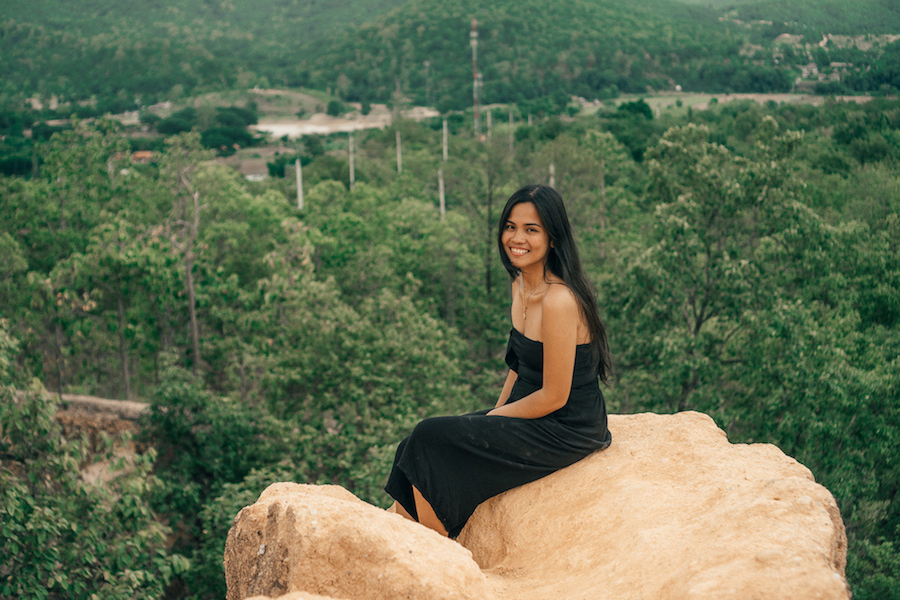 Great place for hikers with lots of trails to follow
Given that it's in the middle of the jungle, there are many hiking trails, caves and waterfalls to find, which is one of the reasons why we loved visiting Pai. It's the perfect town for people who are into outdoor activities, because there are so many trails that you can follow.
Some of these spots include the Namtok Mo Paeng Waterfall, Tham Lod Cave and Pam Bok Waterfall.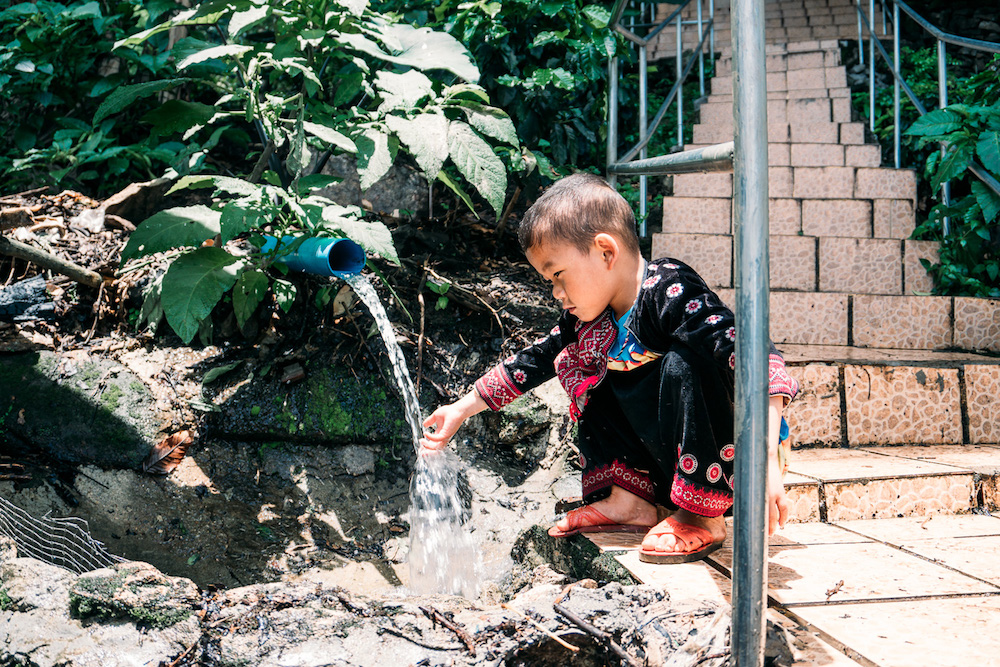 Fun nightlife scene that includes a bustling food market and parties
Every day, there's a night market in the main street of Pai featuring all kinds of stalls from street food, tacos, accessories, Thai food, clothes, and so many more. We really enjoyed walking through this market because it was not crowded as compared to the markets in Bangkok or Chiang Mai, and felt very chill.
If nightlife is important to you, there is also a huge party scene in Pai due to its many bars and hostels. These parties feature some of the coolest fire aerobatics and lights shows that we've ever seen and they are also quite chill but that may possibly be because of the time of the year that we went to Pai.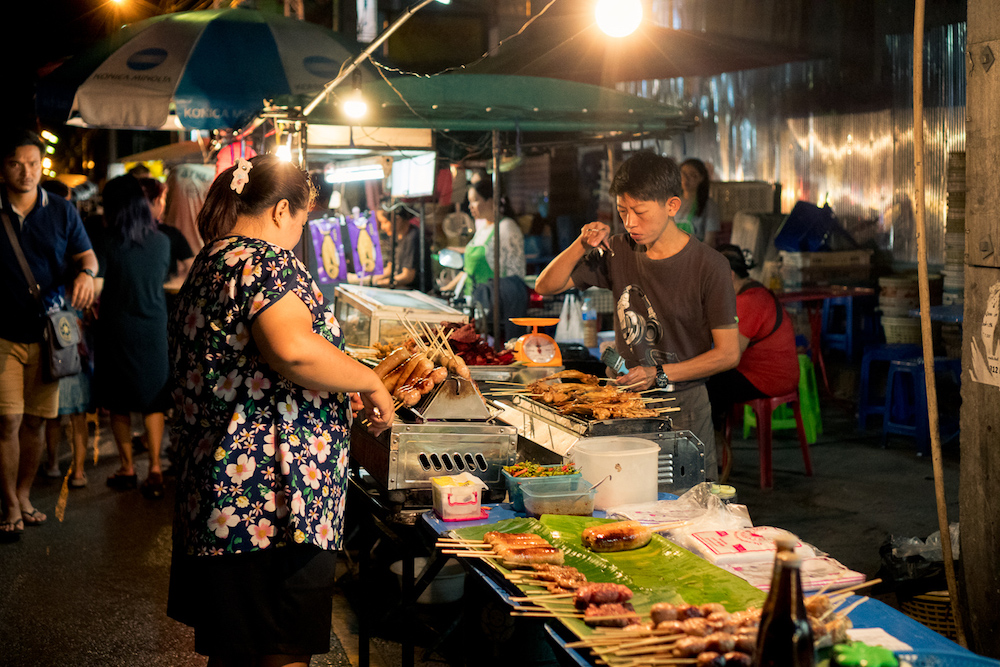 Laidback vibe and lush greenery everywhere
Pai, overall, is a very laidback town. Here, it feels like time slows down. Finding a quiet and isolated spot full of lush greenery just for yourself is really easy. 
We didn't feel that Pai was congested or crowded. But maybe that's because we chose to stay in a cottage in the outskirts of town and rent a motorbike, rather than stay in the city center.
Doing so really allowed us to appreciate the nature and laidback energy that this town exudes, which is what we enjoyed about visiting Pai.
Accomodations, food, and rentals are super affordable
Pai is really cheap – even cheaper than Chiang Mai. In this town, we found really affordable food from different cuisines that elsewhere would have costed us a fortune. Even motorcycle rentals in Pai were cheaper than other destinations we've been to in Thailand.
To illustrate, a cottage in Chilling Hill Guesthouse for two people costed us 5 euros per night, so that's literally 2.5 euros per person for a hut by yourself, in the middle of nature with the most epic views of the mountains. This is the accommodation we stayed at during at our time in Pai and one we definitely recommend you checking out. In some ways, we can understand why people come to Pai and never leave because of how affordable, laidback and beautiful it is to be living in this mountain jungle.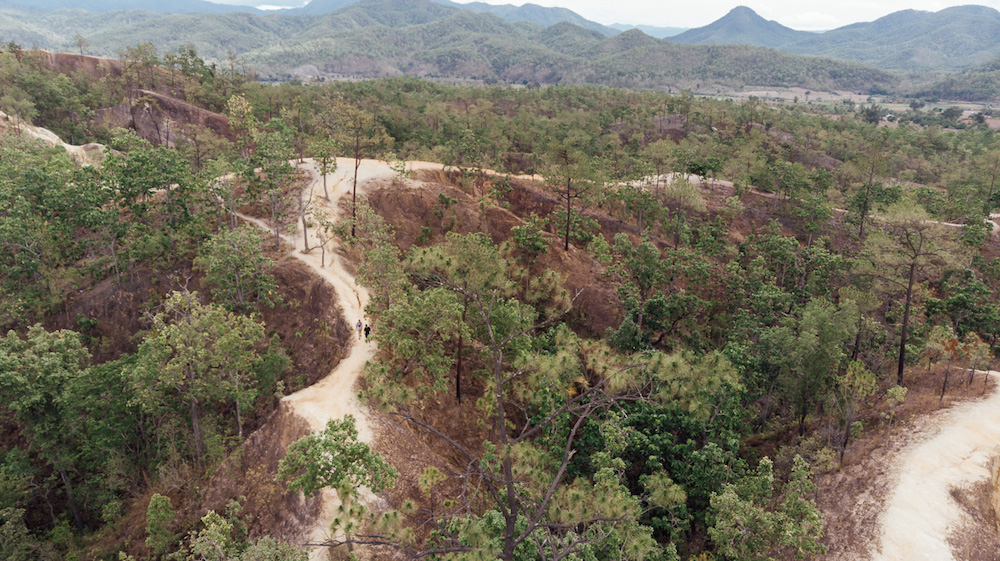 Is Pai Worth Visiting: Reasons Why NOT to Visit Pai
The lost of the town's culture with all the backpackers
Pai has become quite a destination for backpackers all around the globe. There is now a big westernized community in Pai, similar to what you would normally see in Bali or Chiang Mai. Because of this, it almost feels like the town is made to accommodate such kind of western tourism. There are also many new establishments like cafes, westernized restaurants, and bars that have been slowly opening through the years as more and more backpackers find themselves staying in Pai.
As a result, you might feel like you don't get to interact with locals anymore or see the real culture of the town before it became a backpacker hub.
A hot spot for hippie communities
Similar to Bali, Pai has become known to the community of backpackers who are into yoga, vegan food, soul searching and solo travelling. Not to generalise the community who have chosen to live there, but you will get a sense of these elements when you visit Pai. 
There are signs everywhere pertaining to yoga classes or vegan food, which might leave you feeling like — what happened to Pai to have become a place that caters to this "hippie" vibe? If you're not into that, then you might not appreciate visiting Pai.
You may see some illegal activities going on
When visiting Pai, you may see some illegal activities going on especially in the aspect of nightlife. You may wonder if there are drug induced things happening. Hence, if you're not into that kind of nightlife scene, then you might be put off by some of the behaviour that happens within these parties. The crowds are younger and more uninhibited.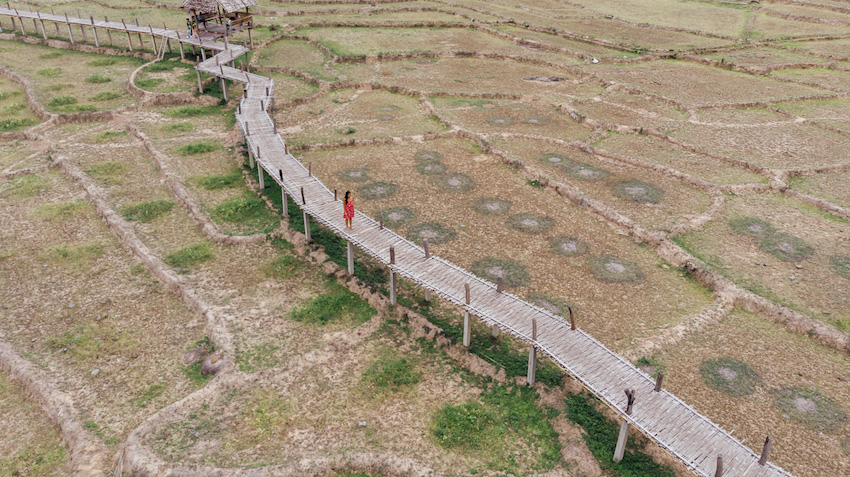 Stay in the outskirts of Pai for a more authentic experience
As we previously mentioned, we recommend you stay in the outskirts of the town if you want to have a more authentic and offbeat experience to your stay in Pai. This will allow you to be more isolated in nature and really appreciate the beautiful sceneries that the town has to offer. This will also give you a chance to meet more locals who are running smaller scale guest houses outside of the center.
Here's a short list we've compiled of the best accommodations in Pai, further outside of town, for no more than 10 euros:
Conclusion: Is Pai Worth Visiting?
So there you have it! These are the two sides to the question — is Pai worth visiting? For us, our answer would be yes, it was still worth visiting Pai. Maybe it's because we chose to stay in the outskirts of town so we had a better experience just being surrounded by the mountains and nature. Or that we didn't let ourselves be bothered too much by the evolving backpacker or hippie culture in Pai and just made the most out of it in our own way.
We honestly think that there is so much beauty to be seen in Pai despite the reputation it has grown to become. It's really more up to you how you choose to experience this town and not let the other aspects ruin your experience. 
What about you? Have you been to Pai? Is Pai worth visiting for you? Let us know of your experiences or questions in the comments below!
LIKE THIS POST? PIN IT FOR LATER!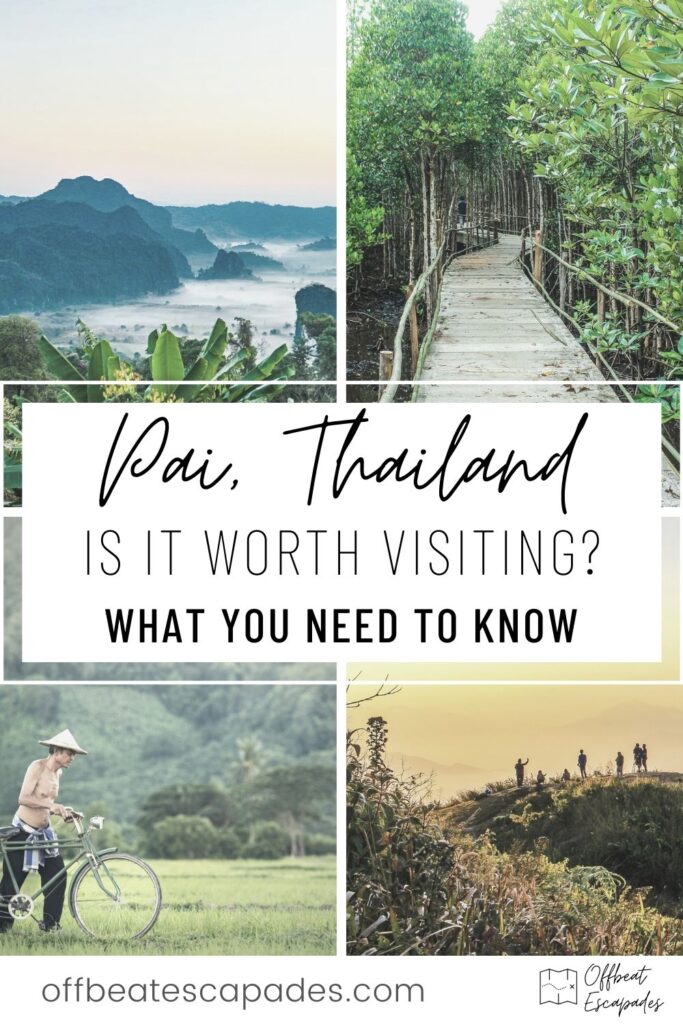 Or start searching for your next destination below