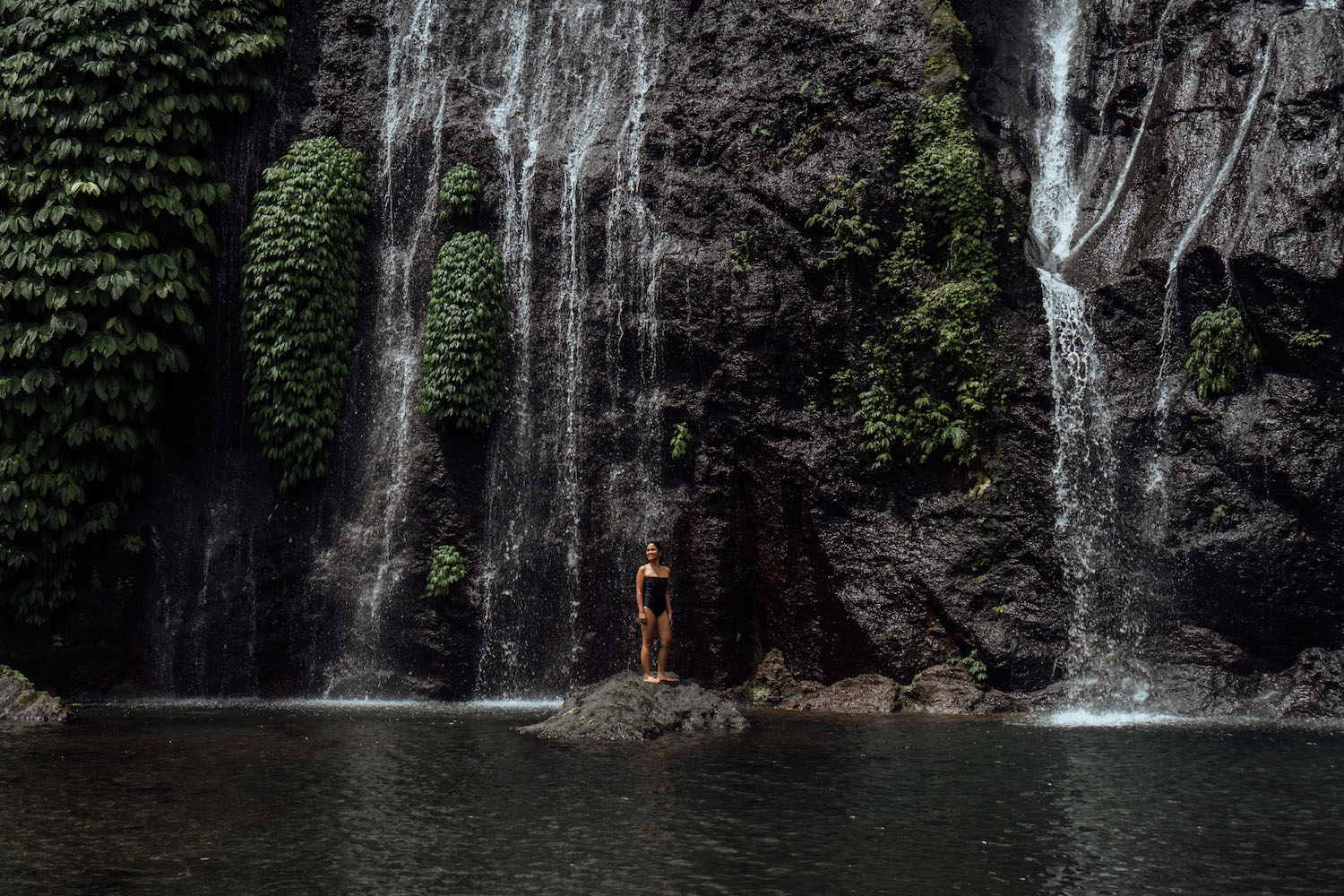 Bali. Renowned worldwide as a top international destination for its laidback beaches, cool surfspots, cute little restaurants, out of this world sunsets, amazing junglescapes, various waterfalls and a buzzling nightlife. There's a whole of a lot of activities and a whole lot of fun to be done at Bali. We show you in this guide how to visit Bali on a budget.
This is a 6-day travel guide to Bali for those who would like to see it in a do it yourself way. We will tell you how to avoid the taxi scams, entrance fees, tourist traps and how to make the most of the place in your own way.
How to go from Manila to Bali
As we were living in the Philippines at the time of our trip to Bali, we flew from the capital of the country, Manila. All major airlines (such as Philippine Airlines, Cebu Pacific and Air Asia) serve flights from Manila to Bali. Flight costs can be quite affordable especially with Cebu Pacific or Air Asia as long as you book in advance. To compare the price differences between these carriers, we recommend utilising Jetradar or Skyscanner.
If you book a few weeks ahead, you can still get decent rates of around PHP 5,000 (90 EUR) roundtrip from Manila with Air Asia. It's definitely possible to get a cheaper flight for this route if you book further in advance. For us, we were able to get a rate of PHP 3,000 (50 EUR) roundtrip, booked around 10 weeks before. This can even be lower with a piso fare.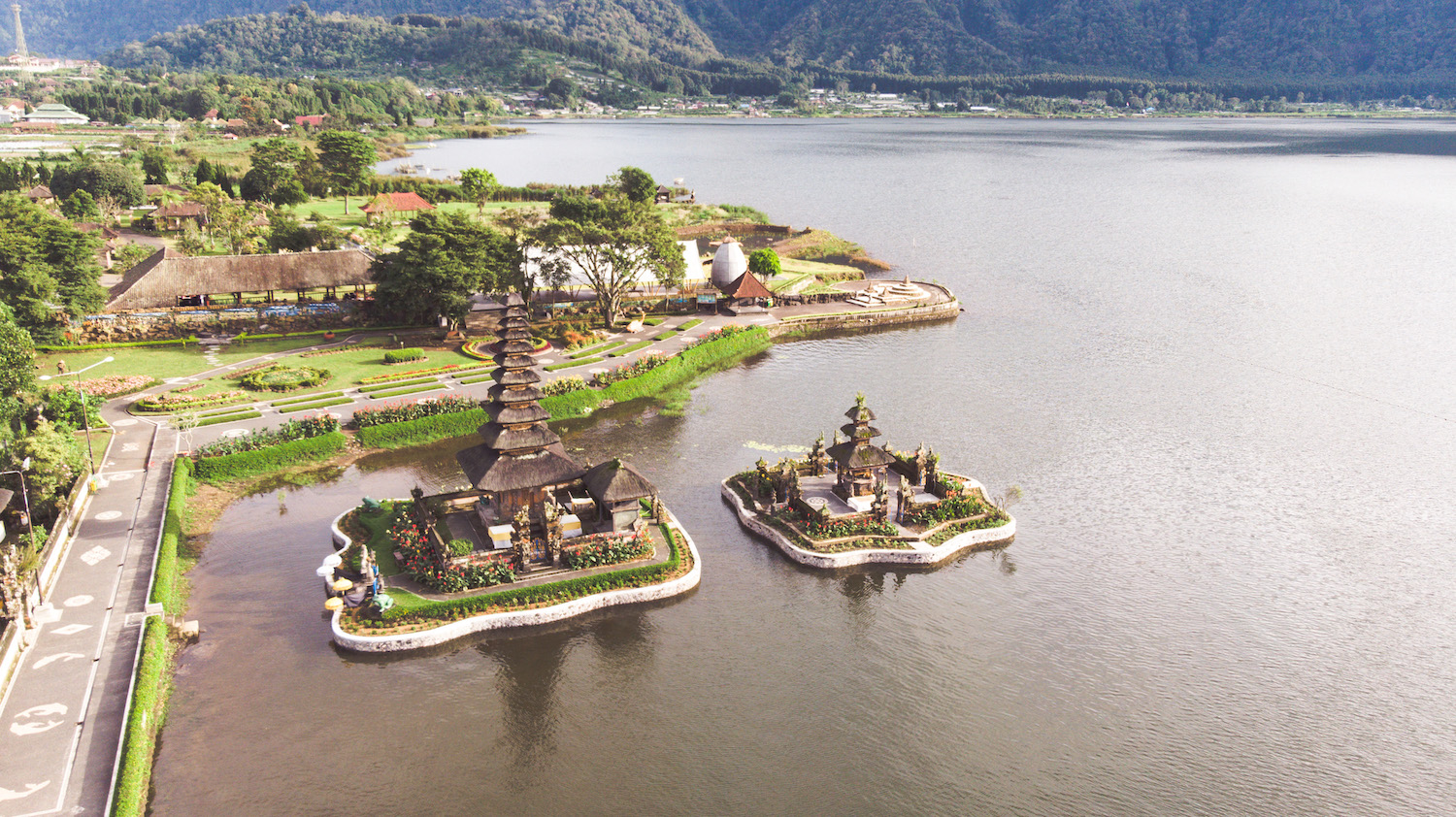 Bali is known for its amazing villas and there's a plethora of accommodations you can stay at. From hotels, villas, backpacker's hostels and airbnbs, you take your pick.The more important question for where to stay in Bali is which particular area to stay at? Ubud, Seminyak, Kuta or Canggu?
Ubud is perfect for yogi, vegans or those who are just looking for some quiet time. It's a laidback little neighborhood that is great for those in need of some R&R and meditation. You will be at the heart of the jungle, a little personal oasis for seeking for some peace and quiet.
Why stay in Seminyak or Kuta
Seminyak and Kuta are your party places. These two neighbourhoods are some of the more popular areas to stay at in Bali as it is closer to the airport and close to the beach. With an array of restaurants to choose from, different types of accommodation (from villas to 5-star hotels to hostels), commercial centers and a buzzling night scene, it's no wonder why a lot of people choose to stay here. Beware as it can get quite crowded though.
Canggu is where we stayed. Slowly becoming popular to many young people, especially to digital nomads, it's a little bit of a hipster neighborhood with various well-designed cafes, co-working spaces, restaurants and bars. It's also close to the beach but less touristy than Kuta or Seminyak. For us, it was a really nice place to unwind and relax – also very quiet at night. For accommodation options, as Canggu is not yet as developed as the other neighborhoods in Bali, part of the beauty of it is that you can stay at really affordable homestays or private villas. We rented a room in a villa from an airbnb posting. It was quite amazing as it had a really great rooftop, swimming pool, kitchen and the room was big for two. It cost around 1,200 PHP per night (22 EUR).
Our tip: For accommodation – we advise to check out options at Airbnb in this area!
Taxi Scam in Bali / Taxi Mafia in Bali
Bali has what we would call a "Taxi Mafia." In some areas of the island, which include the popular Ubud area and the airport, pick up by ride sharing services such as Grab or Go-Jek is forbidden or heavily discouraged by the local community.
In order to avail a fair price with a ride sharing app from the airport, you'll have to discreetly meet with the driver at the parking for him to avoid any troubles. Taxi drivers are quite insistent, so make sure you don't get distracted on the way to the meeting spot.
In Ubud, Go-Jek drivers try to double the displayed fare directly through the app chat. At one point, we had to use this app and the one that picked us up let us know that they were at risk for even picking up people in the area. However, you'll have no issues going to Ubud or reaching the airport, just beware of price changes.
Our tip: Hence, we recommend the below option to getting around Bali, to avoid any problems, save money and have flexibility.
Getting around Bali by scooter
This is the best way to get around Bali without a doubt. If you want to have more freedom and avoid being scammed – rent a motorbike. The cost starts from around IDR 50,000 – 60,000 (3.5 EUR) per day and can even get lower depending on the number of days you rent it.
Our tips:
Take attention driving through Bali given the chaotic traffic during rush hours and the roads can sometimes be bad or even non-existent in certain areas.
In Bali, you drive on the left side of the road. It might take some time getting used to it, especially if you don't ride a scooter/motorbike often.
If you plan on going on a long drive, especially in the morning, make sure to gas up whenever you can (or ideally, the day before). Most gas stations have opening times and it can be hard to find gas early morning in the less populated areas such as the north of the island.
Pack a jacket if you plan to drive at night, even in Bali nights can be cold.
Note that there are parking fees in certain areas but they are not too much from 1,000 IDR to 5,000 IDR (0.30 EUR).
Getting around Bali by hiring a private driver
If you're a big group, this could be a good option for splitting the costs. Just make sure to haggle your price well. We would still suggest to rent two scooters for a group of 4 as some roads might not be easily accessible for cars.
Our tip: For a private driver, we recommend using this service. We used it to go to the airport and prices start from only 10 euros with this driver! How affordable is that? With that said, please note that it's better to book in advance as opposed to having to haggle with drivers on the spot to which you'll end up paying more.
Getting around Bali by joining a tour
If you'd rather not do things by yourself, you can join a tour. Bali is very touristy so you will not have a hard time finding a tour to join. We do not recommend this option though as there are so many hidden and beautiful areas you can visit in Bali by driving to it yourself. You will have more freedom, save more money and skip the crowds.
Our tip: If you decide to go this route, we recommend checking out these Top 10 Bali tours from Tripadvisor. 
Getting around Bali by using Grab / Uber or a local taxi
As mentioned above, this way of transportation is not guaranteed to work, especially in some parts of the island. For the rest, it is ideal for budget travelers who are not confident driving a motorbike.
A final recommendation would be to use Blue Bird taxi, which is trustable and runs by the meter.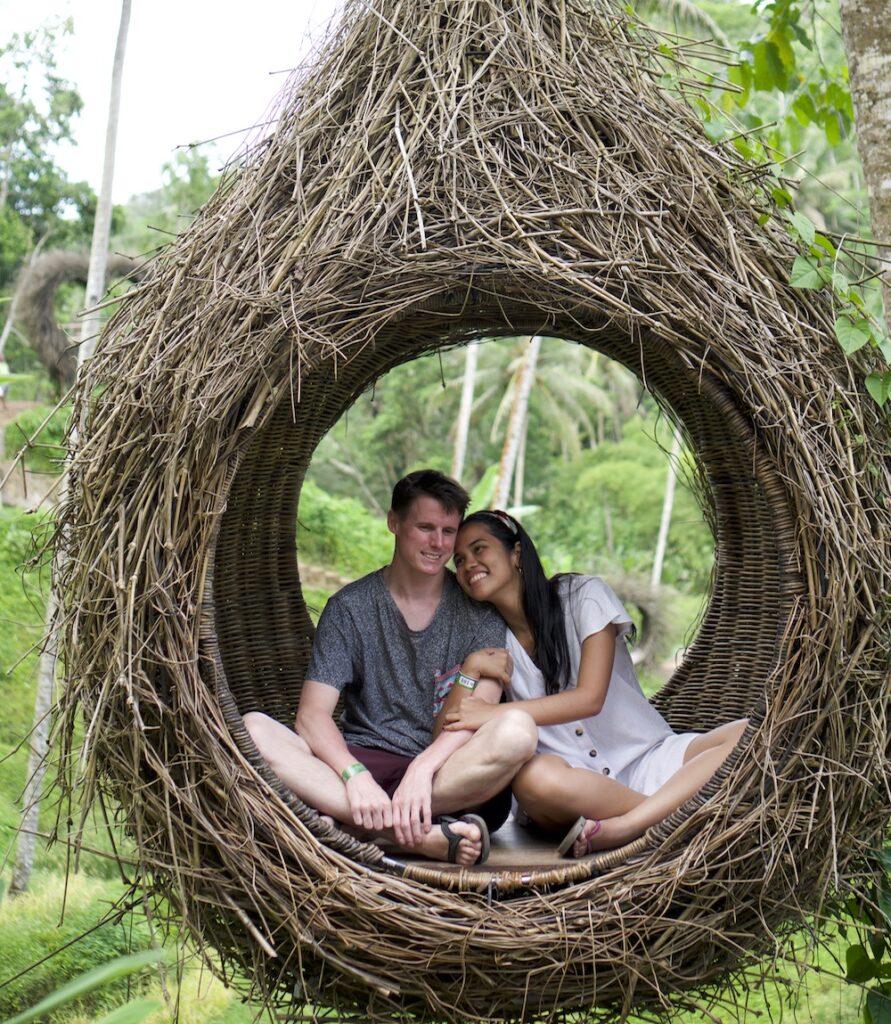 What to do in Bali for cheap
You will never get bored in Bali as there are tons of things you can do to spend days, weeks or even months there. Below are some of our recommendations to make the most out of your experience.
Go to a least one waterfall
Bali is home to various waterfalls – all an easy drive away. 
Our tip: Go to the lesser known waterfalls further into the island. There will be way less people and the waterfalls even look grander.
Our favorite waterfalls in Bali is Banyumala Twin Waterfalls which has an entrance fee of IDR 20,000 (1 EUR). It's hard to get to without a motorbike and the roads are tough even with a motorbike. Always wear your helmet!
When you arrive at the place, it's a short hike down but the sight of the twin waterfalls will take your breath away and when we went, there was barely anyone around – it was a great experience.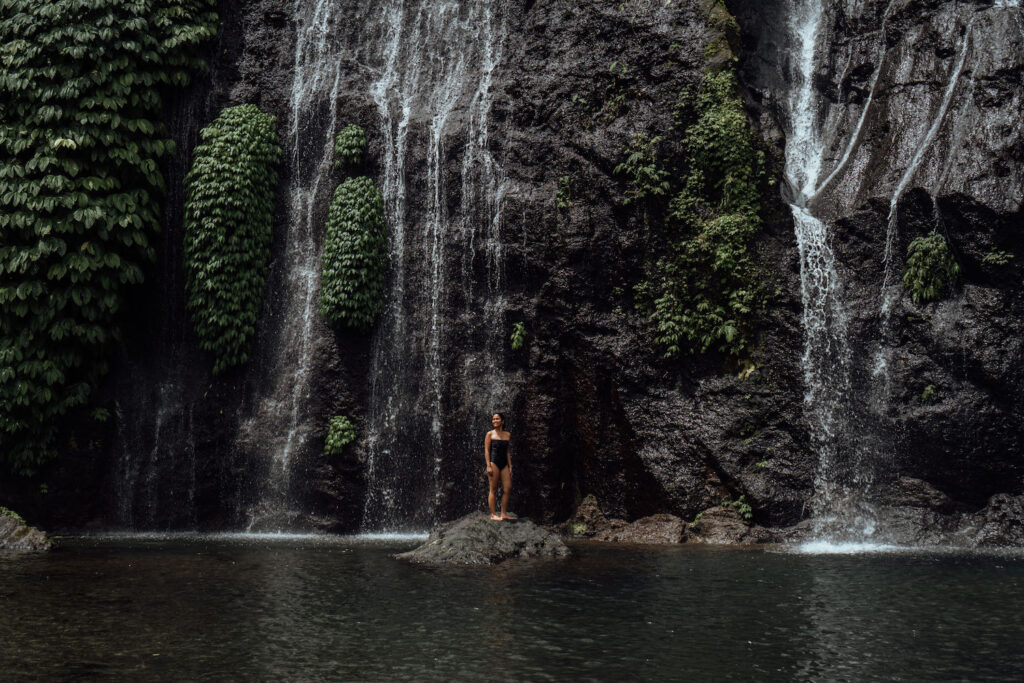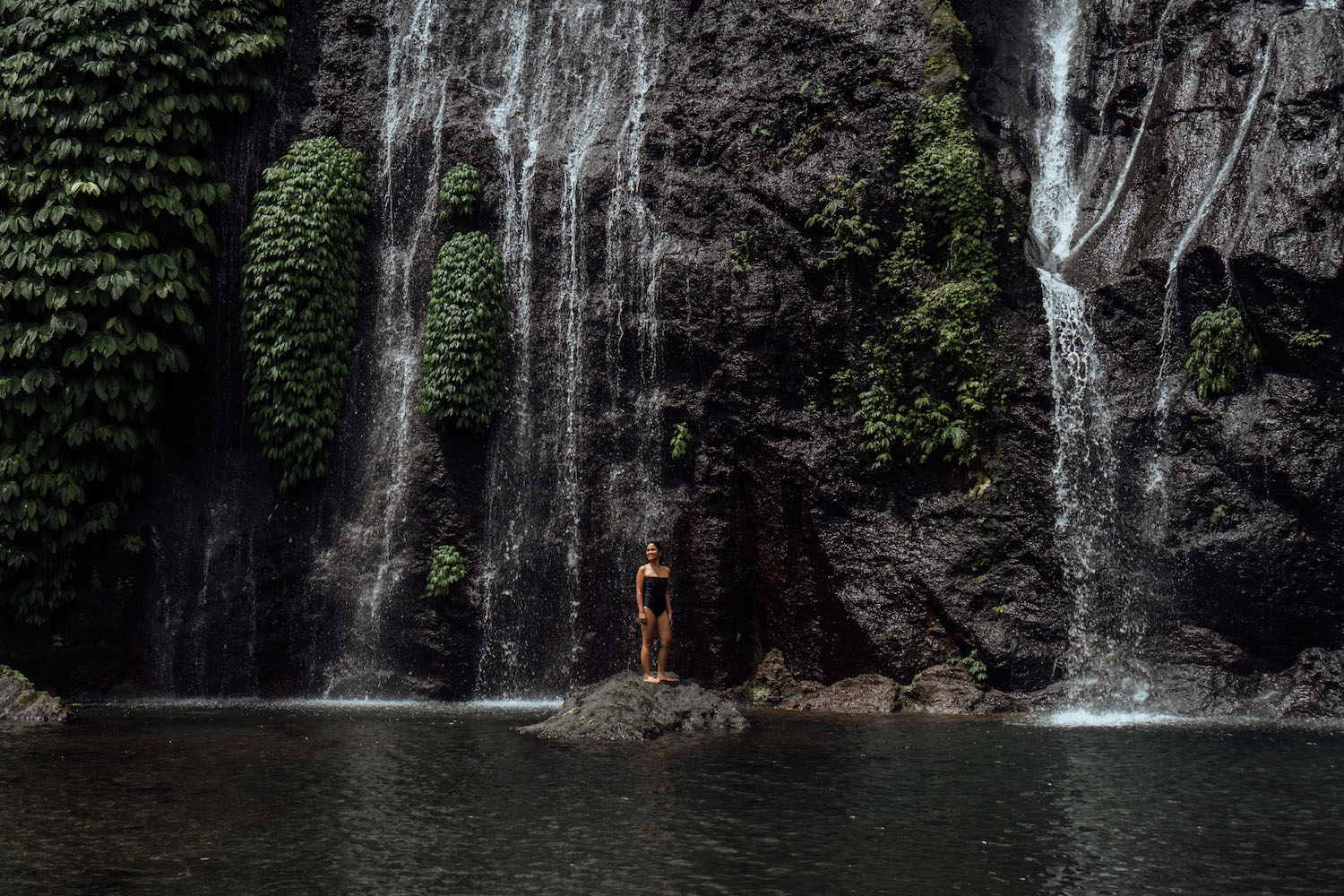 Bali is full of hip restaurants, most that are really good-tasting too from western cuisine meals, asia-style dishes, fruit bowls, indonesian food, vegan options – there's a choice for everyone. Eating out is affordable from meals starting from as low as IDR 20,000 (1 EUR).
This was our favorite part about Ubud. We found a random vegan buffet (there's a whole bunch of them in the area) to have dinner in which cost around IDR 50,000 (3 EUR). It was absolutely delicious. Bali knows how to do it well for anyone in the mood or who follows this diet.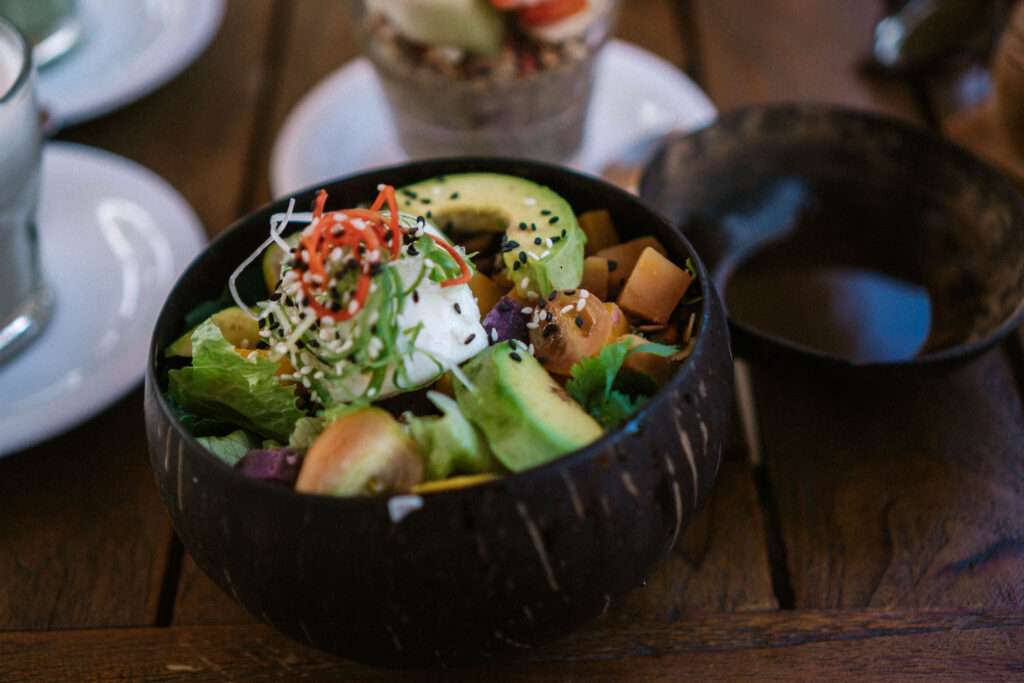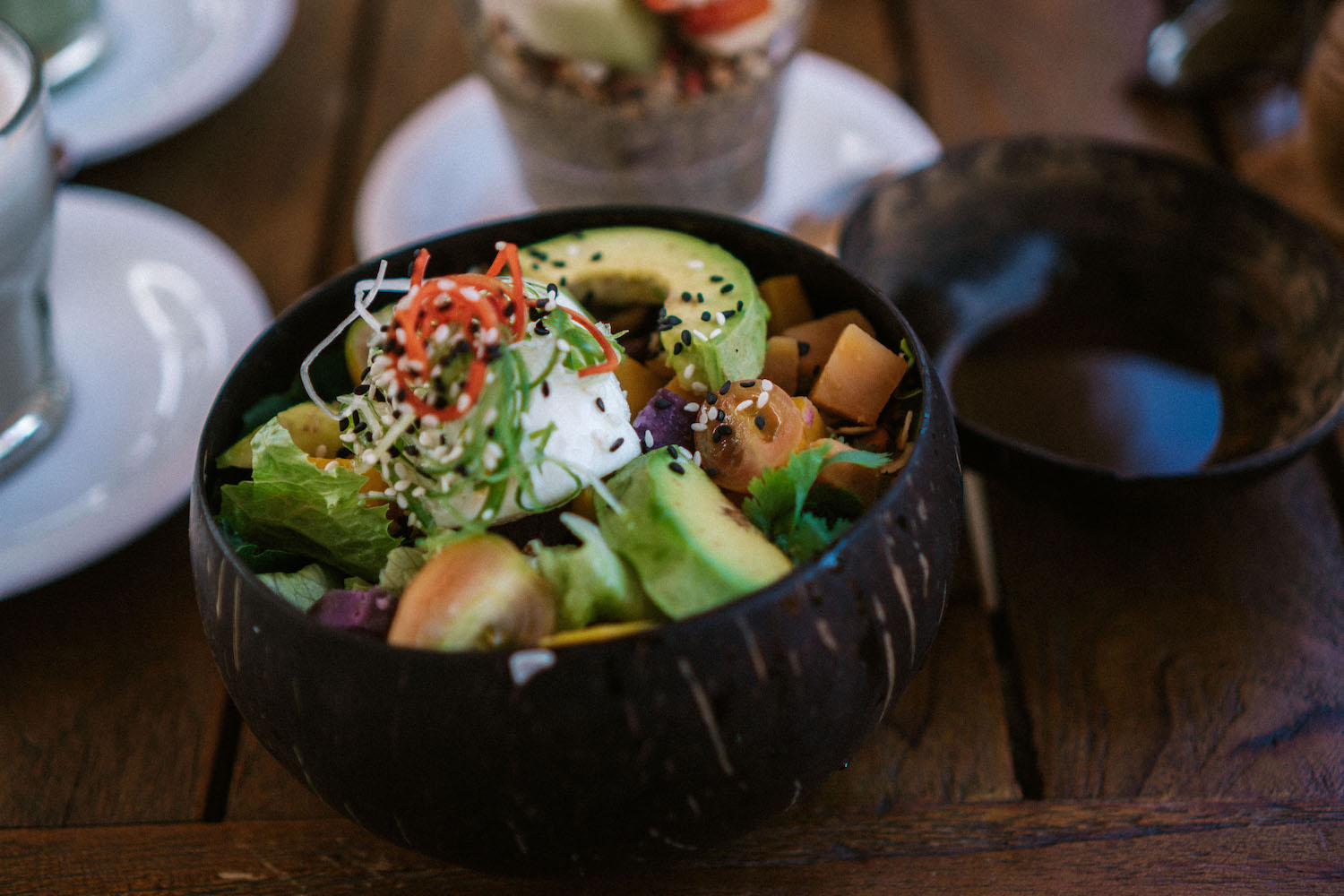 Bali is a paradise for surfers! You can head up to the beaches in Kuta or Canggu and give it a try, whether you're a beginner or pro – there's a wave out there for you. Prices vary depending on how many hours of board rental you want and if you need a surf instructor. For board rental alone, it costs around 4 EUR. With a surfing instructor, it is significantly more expensive starting from 27 EUR.
There are various beaches around Bali. Your choices range from Kuta Beach, Canggu Beach, Kayu Putih Beach, Batu Belig Beach, Echo Beach, Seminyak Beach, Legian Beach, Double Six Beach, Padang Padang Beach, Bingin Beach – the list is endless. Our personal favorites are the laidback Batu Bolong and Berawa Beach which had an array of beach front restaurants and cafes with bean bags. These two beaches are the absolute perfect, sunset spot.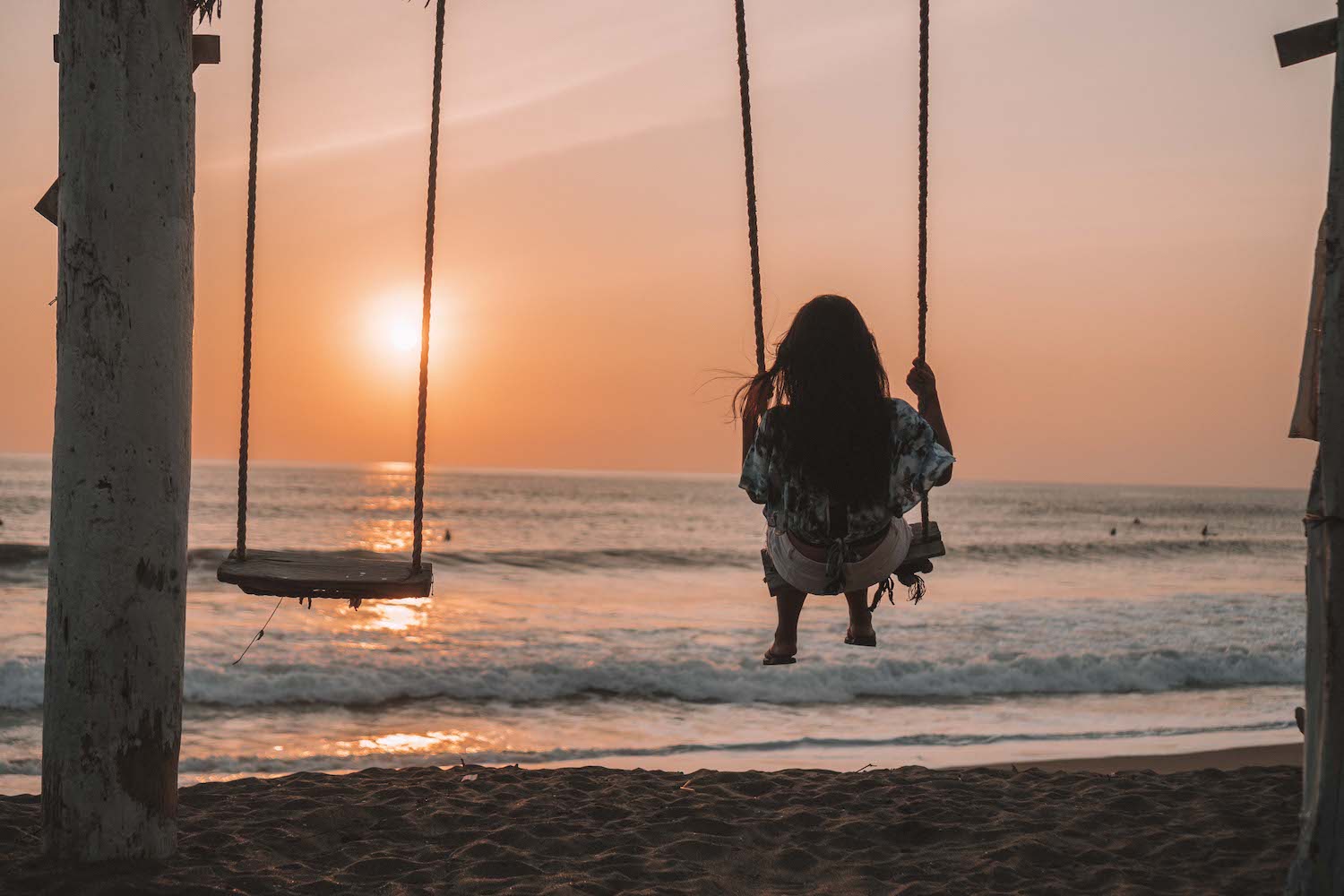 Visit one of the Gates at sunrise
Bali is home to various gates. But the two most popular ones are Bali Handara Gate or the Gates of Heaven at Lempuyang temple. We only had a chance to visit the Handara Gate which is actually situated in a golf course at the North of Bali. It was around a 2 hour drive from Canggu.
Our tip: Actually go for sunrise! Apparently, the Handara Gate charges entrance fees but if you come before everyone else does – then you won't need to pay anything as no one is there yet.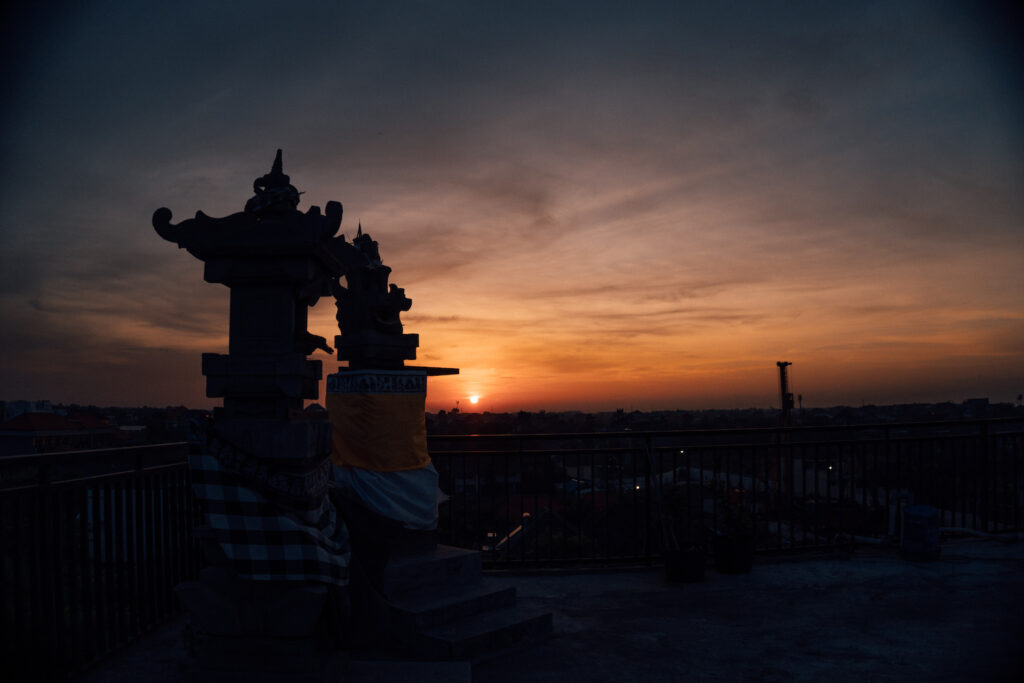 Party at one of the beach bars and clubs
Of course, a trip to Bali is not complete without a little night out to one of its many beach bars and clubs. There's a whole lot of them to choose from but from where we've went, we recommend the following for more laidback and live music drinking: Old Man's, Echo Beach Club, XBar Canggu and Deus Ex Machina (free tattoos on a certain day of the week!). And for more hardcore party goers, there's Finn's Beach Club and Potato Head Beach Club.
Drive up to Northern Bali
This is our absolute favorite part of Bali! Honestly, what we didn't enjoy so much about Bali was that we felt that it was very touristy. It was missing that local culture that we like to observe in any place. And here in Northern Bali, we finally saw it! Get away from the crowd and drive up to this area, the view is absolutely amazing, for one, you get a sense of Indonesian culture here for two and finally it's way, way less crowded – kind of peaceful in a beautiful way.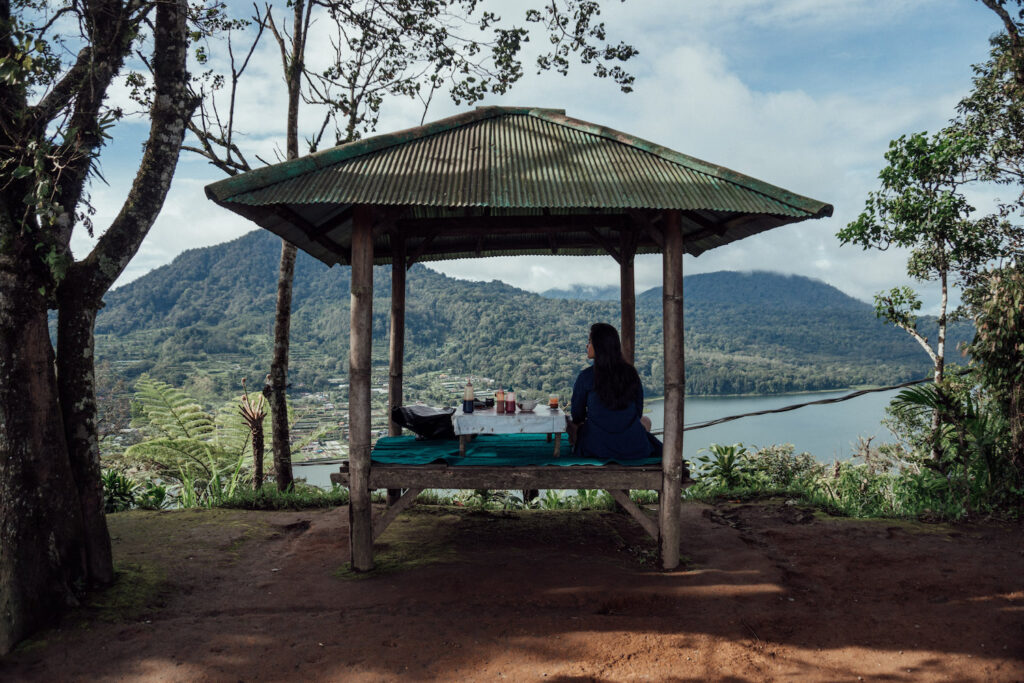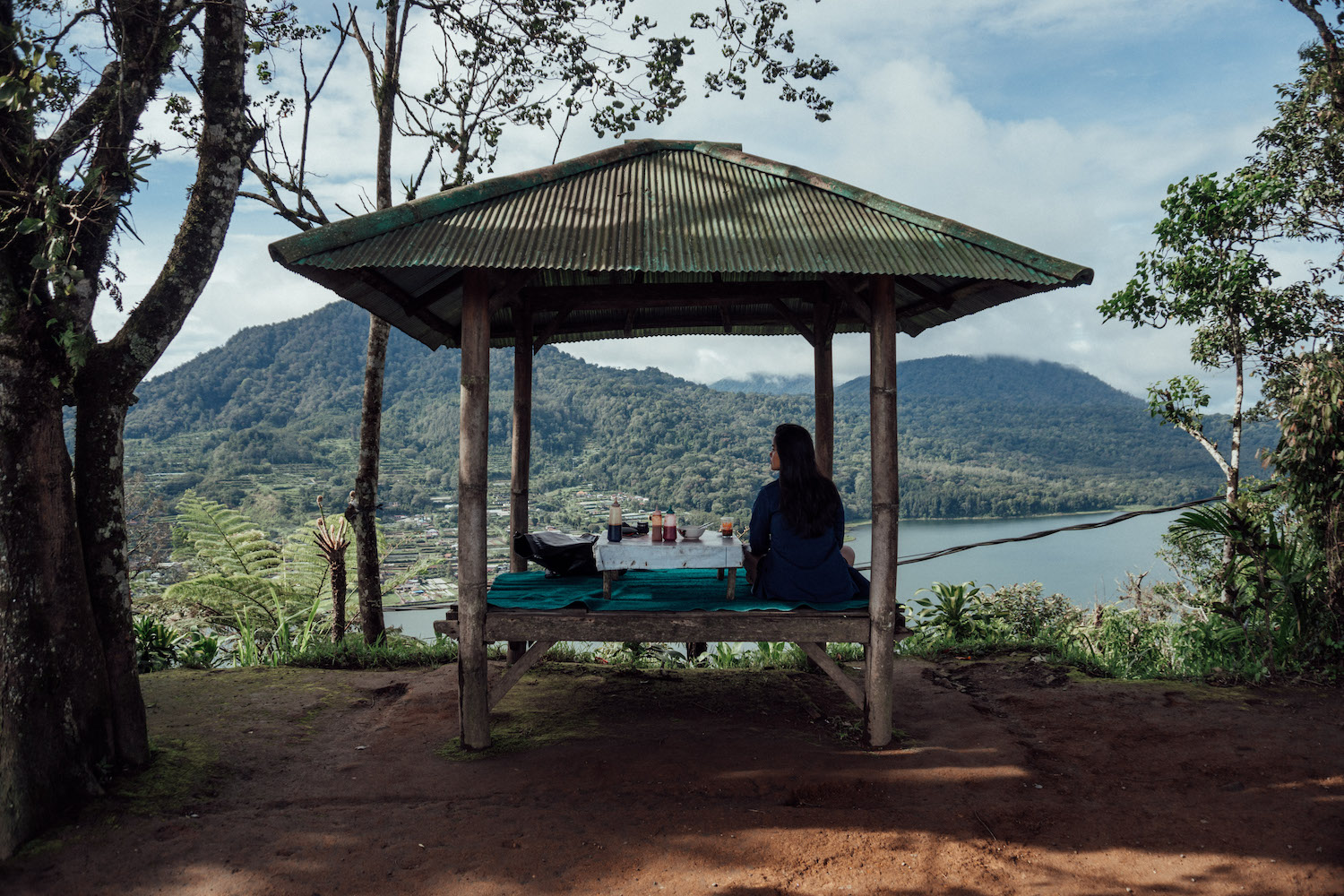 The view of Nusa Penida is quite beautiful and the water is truly blue. If you've never seen anything like this, then it's pretty amazing and we would recommend it to you.
However, personally, we found the whole Nusa Penida experience underwhelming. The roads were rough to drive through and once we got to each location around the island, the reality that media doesn't portray is that it is really, really crowded. You often have to line up to get a picture in the spots that are seen online. I think we could have made the experience more our own instead of hiring a car who takes you to all the "spots" for the next time. The cost of the car hire (good for 4 people, but we were only two) was around 650,000 IDR (45 EUR).
Our tip: Rent a motorbike in the island (if you're a confident driver) and do be careful as the roads are very rocky.
Bali is full of temples. You can walk around Ubud and marvel at the classic beauty of many of them. Our favorite ones worth checking out are Saraswati Temple (free entry) in Ubud and Ulun Danu Beratan Temple by the Beratan Lake (3 EUR) in Northern Bali.
You can also drive to one of the beach-front temples like Tanah Lot (3.5 EUR) which you can actually just take photos of from the outside. This is if you choose not to enter or pay further entrance fees.
Discover the rice terraces
Bali is actually full of rice terraces. You have villas on one side then rice terraces right besides. You can be eating in an open restaurant with a view of the rice terraces around you. We found this restaurant with a backdrop of rice terraces in Canggu called Warung Bu Mi, serving an affordable 5-viand vegan meal.
For the more popular rice terrace spot to go, there is the Tegalalang Rice Terrace in Ubud. The entrance fee is 15,000 IDR (0.80 EUR). If you go during sunrise, similar to the case of the Handara Gate, there will be no one there and it's free. It's quite beautiful but also very touristy. Beware of the sellers who might try to rip you off with random merchandise in this area.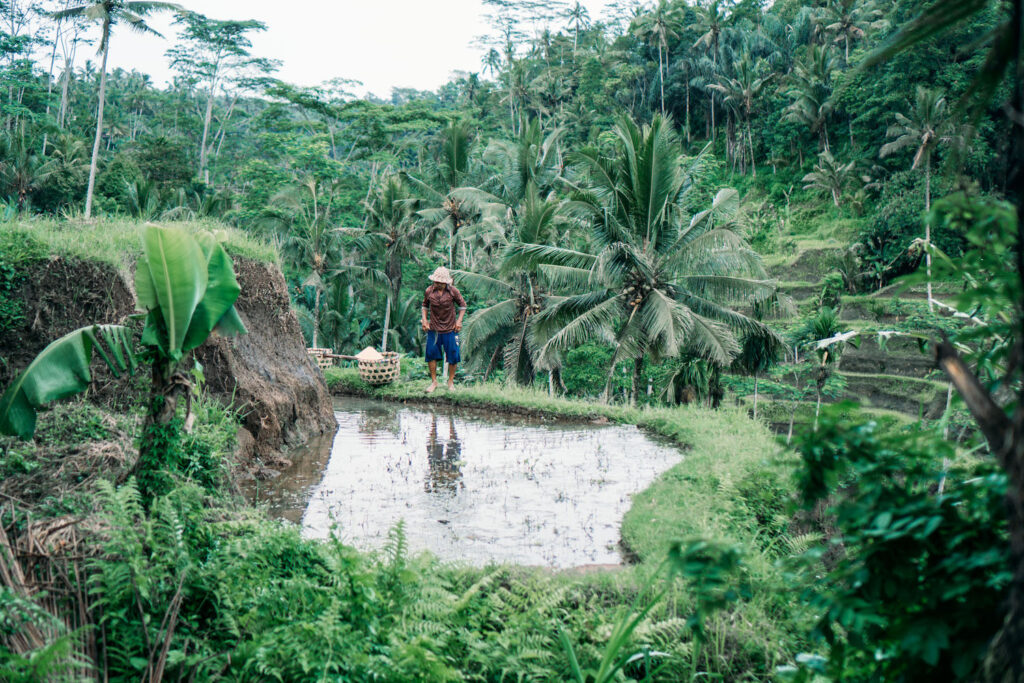 There are so many amazing villas in Bali so make sure you choose a good one! For sunset or after a day out, we often went back to our villa and enjoyed a little swim or beer in the rooftop with a view of the ocean.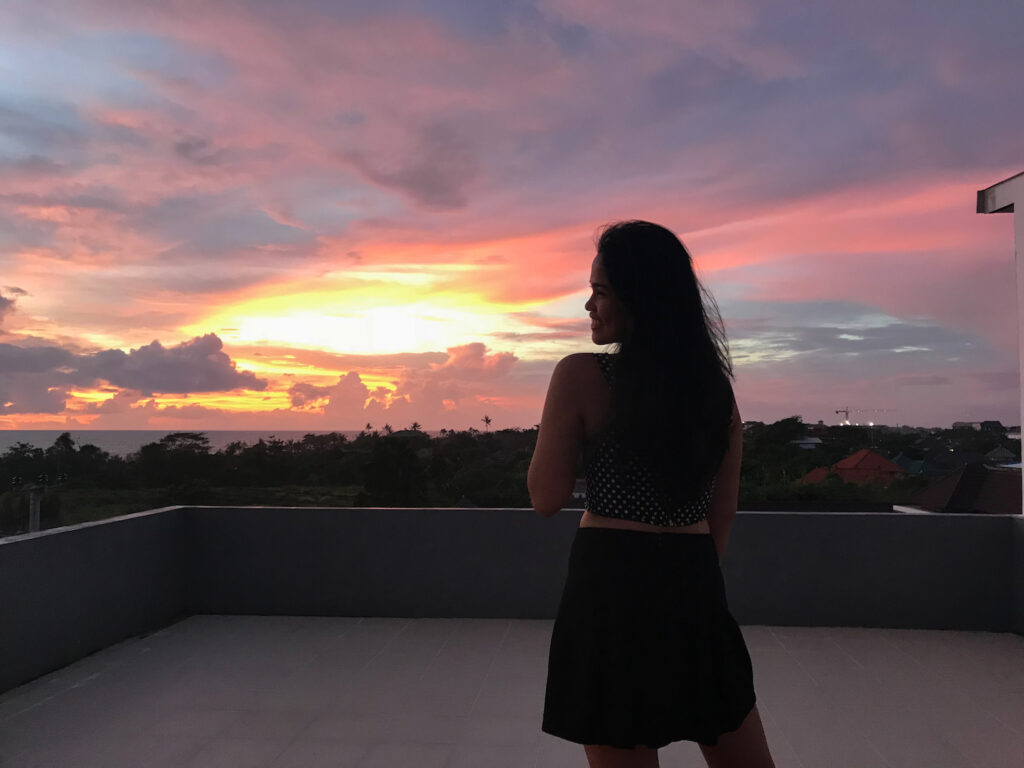 Surely you have seen pictures of the bali swing and more than the instagrammable feel of the spot – the swing is actually really fun and thrilling. It's also beautiful high up in the air, surrounded by nature. For this, we went to a less known area called Alas Harum Bali which also offered a coffee tasting.
Our tip: The coffee is for free except for the Luwak coffee. Beware as they will try to make you buy from their souvenir shop – don't get pressured – just say no and buy at your own choice if you liked the taste.
The area was surrounded by some really great nests with a backdrop of the jungle and three different swings at different heights and prices. It's a bit of a cost but we really wanted to try it. The price for doing the swing ranges from 150,000 to 300,000 IDR (9 EUR).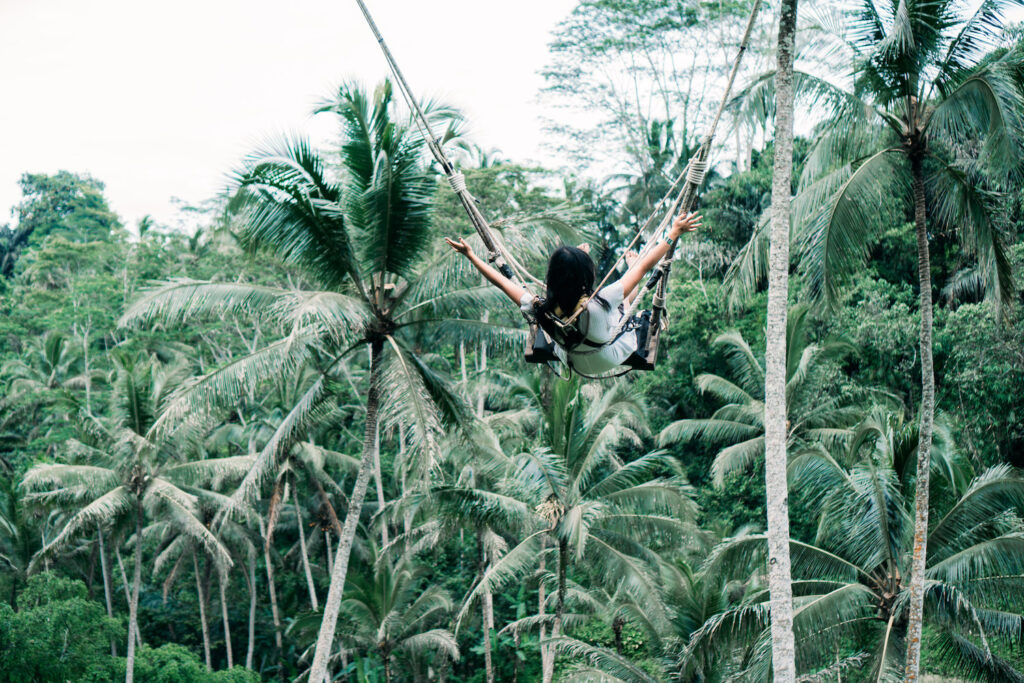 Visit the Sacred Monkey Forest Sanctuary
When you're walking in Ubud, you will actually see a lot of these monkeys roaming around the walls and streets. They're from the Sacred Monkey Forest, home to the Balinese long-tailed monkey. It's a truly fun experience as there are tons of monkeys everywhere, swinging around, eating food, walking pass, hidden behind the bushes – we enjoyed this place. The entrance fee for the sanctuary is 80,000 IDR (5 EUR). 
Our tip: Do not stare at the monkey's eyes as they will feel threatened and attack you. We made this mistake and this seriously happened!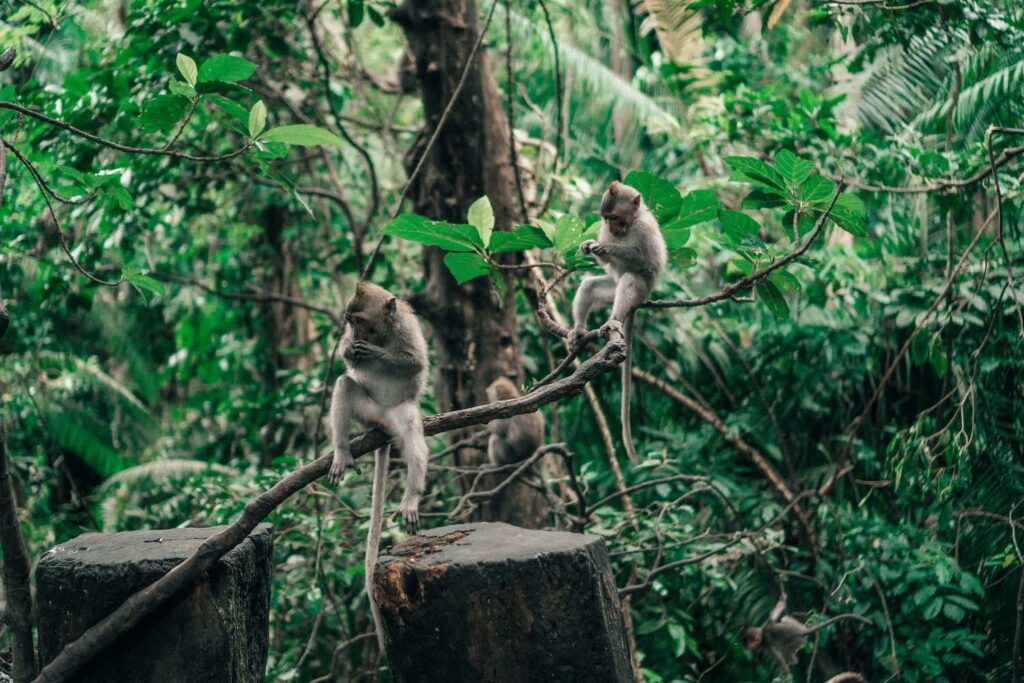 Itinerary and Cost to go to Bali
Day 1 – Arrival
10PM – Arrive in Bali
11PM – Check in Airbnb and sleep
Day 2 – Canggu, Kuta, Seminyak Day
8AM – Breakfast at Canggu
9AM – Rent a motorbike
10AM – Tanah Lot Temple
12PM – Lunch at Kuta, walk around
1PM – Visit nearby beaches (Kayu Putih, Legian, Seminyak, Kuta, Batu Belig, Echo Beach)
4 PM – Surf at Kuta
5PM – Sunset
7PM – Dinner
9PM – Drinks/Night out
Day 3 – Ubud Day
7AM – Breakfast at Villa
8AM – Route to Ubud
9AM – Walk around Ubud (Markets & Temples)
11NN – Lunch at nearby area
1PM – Visit Alas Harum Bali
2PM – Visit Tegallalang Rice Terrace
4PM – Visit Monkey Forest
6PM – Dinner at Vegan Buffet
8PM – Back to Villa
Day 4 – Northern Bali Day
4AM – Start drive to Bali Handara Gate
6AM – Arrive at Bali Handara Gate
7AM – Breakfast at nearby area
8AM – Visit the Ulun Danu Beratan Temple (no one will be there at this time)
10AM – Drive to waterfalls in the area (Banyumala Twin, Git Git and/or Aling Aling Waterfalls)
1PM – Lunch at nearby restaurant
2PM – Stop for a view from the Wanagari Hills
3PM – Drive back to Canggu
5PM – Sunset at Villa Rooftop
7PM – Dinner
Day 5 – Nusa Penida Day
7AM – Breakfast
Drive to Sanur Beach Harbour Port
8:30AM – Ferry to Nusa Penida Island
9:30AM – Pick up by driver
10AM – Start tour around Nusa Penida Island
3PM – Dropoff back to the port for the Ferry
4PM – Back to Bali
5PM – Sunset at Villa Rooftop
7PM – Dinner
9PM – Drinks/Night Out
Day 6 – Canggu / Departure Day
9AM – Breakfast and Pack-up
10AM – Swim in Villa
12PM – Check out and return motorbike
12:30PM – Lunch
2PM – Relax at Cafe
4PM – Last drink and sunset dinner by the beach
6PM – Route to Airport
Budget for a week in Bali
Roundtrip Flight (from Manila) – PHP 3,000 / 50 EUR (per person)
Accommodation (6 Days, 5 Nights) – 100 EUR (for 2 people)
Motorbike Rental (4 Days) – 13 EUR (for 2 people)
Food and Drinks – 40 EUR (per person)*
Surfing – 4 EUR (per person for 1 hour – without surfing instructor)
Monkey Forest – 5 EUR (per person)
Banyumala Twin Waterfalls – 1.5 EUR (per person)
Tegalalang Rice Terrace – 1 EUR (per person)
Ulun Danu Beratan Temple – 3 EUR (per person)
Bali Swing – 8 EUR 
Nusa Penida Car Hire – 40 EUR (for 4 people)
Parking Total – 2 EUR (for 2 people)
*Our budget hacks: Cook and eat at your accommodation for breakfast (if it's a villa, it should have a common kitchen). Buy beer in nearby supermarkets and pre-game at your villa before going for a night-out. Costs from eating or drinking out, though cheap, can still add up.
Total cost per person with accomodation and roundtrip flights for 6 Days, 5 Nights = 190 EUR
Bali is definitely a fun island to go to. It has really beautiful sunsets and nature views. We enjoyed eating out, getting a drink or dancing the night away in one of its many bars and clubs. It is a bit touristy and crowded here, and that was already during non-peak season so we can just imagine how it would be like during peak season. There was a time where we found it a bit odd that Marielle was the only Asian person around in a restaurant or a supermarket. We were missing that element of local culture in Bali, aside from the architecture, it felt like through the years – it's been made for tourists and not anymore a place where locals live.
Overall though, we recommend Bali and see the allure of why people go here. It's enjoyable to just drive around with a motorbike, meet young, interesting people and enjoy the atmosphere that Bali exudes. If you're looking for some fun, definitely go here but if you're looking for something more authentic, less-crowded and cultural, then we would recommend somewhere. Nonetheless, if you decide to go, we hope this 6-Day travel guide helps in your plans and that we were able to help you with how to visit Bali on a budget.
Or start searching for your next destination below