Along with a few select cuisines, Vietnamese is one of the most unique, colorful and refreshing in the world. When it comes to street food only, it is simply unbeatable, period. In this list, we will talk about 7 of the best hidden and unique restaurants in Saigon.
We spent a total of 4 months back and forth in the economic capital of Vietnam, enough to come up with some serious recommendations. Restaurants in Vietnam usually have one signature dish and they tend to make it very well. Establishments named after the dish they make and the owner or the street number. It's as simple as that.
We won't say these restaurants are the number one because there's no such thing. They are just our favorites after having eaten out every single day during our time in Ho Chi Minh City.
Pho Anh, D3 - A generous and hearty pho
Let's start with the classics! The pho is the national dish of Vietnam. It is a noodle soup with beef, chicken or a mix of meatballs, brisket and beef! The Southern pho has the particularity to come with a lot of leaves such as fresh mint, culantro, perilla and thai basil. It also comes with bean sprouts and limes, and a set of Hoi sin and Sirracha sauces.
Having visited many pho restaurants, it's hard to find a good balance between price, opening times and of course, taste. Pho Anh ticks all the boxes and has this big canteen feeling with the metal tables and all the condiments we really like. The portions are perfect for big eaters and the service is fast.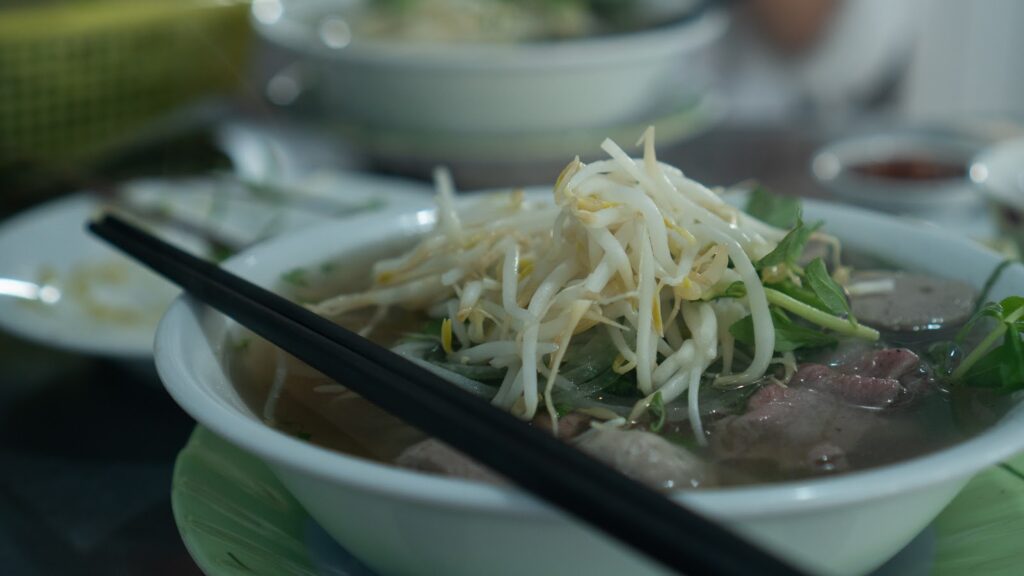 Mi Quang 85 - A hearty, limited supply Mi Quang in a hidden oasis
One of the simplest joints of the list, yet one of the best and appreciated by locals!
Mi Quang is a cold noodle soup with seafood, brisket and leaves. It comes with sesame crackers that give texture to the meal. This street restaurant  is right outside the bustle and hustle of District 3.
We'd suggest going for breakfast or lunch, as it closes afterwards.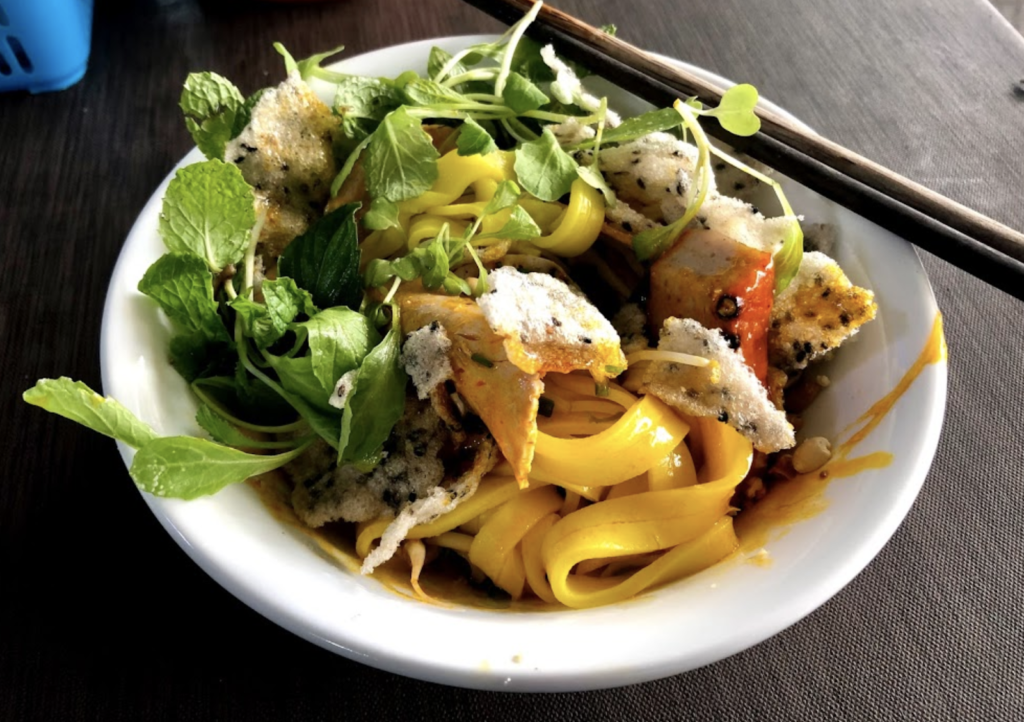 Bun Bo Ganh - Fresh spring rolls and tasty Bun Bo Hue, in pleasant open settings
A delicious broth and big servings that makes justice to this signature central Vietnam dish. This restaurant serves various noodle soups but we would of course recommend the Bun Bo Hue. The settings are lovely, on an outdoor terrace with bamboo and a lot of green. Get a fresh spring roll for starters if you have appetite!
Oc Hoi Ngo - A popular fresh seafood feast, somewhere in the narrow streets of D9
Vietnamese seafood is quite a special experience and one that surprised us a lot. In this unique restaurant, you'll have to order by selecting empty shelves on the counter. You will then get served plates of snails, oysters, crab legs and more, cooked in very surprising, yet delicious ways. The fried crab legs and the scallops with peanuts are two of our favorites.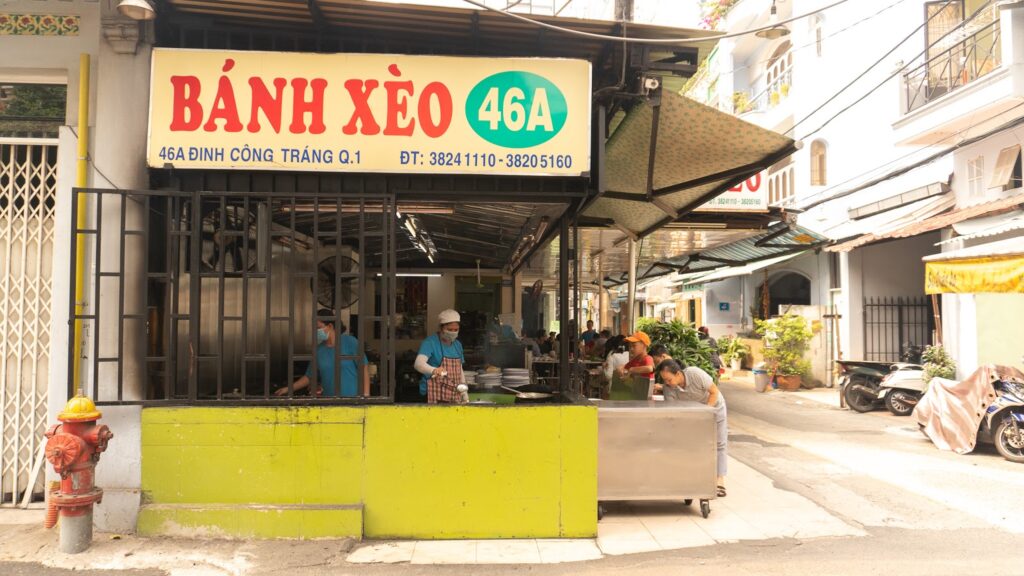 Made famous by no less than chef Anthony Bourdain, this place is so much fun to eat at. We first found it by mistake on our very first trip to Vietnam. Their signature Banh Xeo is a giant pancake you have to roll in lettuce, then dip in fish sauce. You can see the cooks preparing it on this cute little square which makes it such a unique restaurant experience. The restaurant also has an indoor and outdoor area.
Banh Xeo 46 opens at specific times on lunch and dinner service, so make sure you don't arrive too late!
Mien Ga Ky Dong The Mien Ga is a chicken noodle soup that is slightly similar to the pho ga (chicken pho), but with different spices. This covered space at the end of a "hem" (alley) has some of the tastiest for a fair price. There's also a sugar cane juice stall inside, which pairs nicely with your main dish.
So there we have it. If you're searching for the best hidden and unique restaurants in Saigon, then this google maps itinerary has got you covered.
Saigon is absolutely one of our favorite cities for a food trip because it has such a rich culinary scene at very affordable prices. Not to mention, Vietnamese food is one of the most hearty and soulful Asian cuisines, where you could literally find amazing restaurants in the middle of nowhere. That's one of the reasons why we love the country so much. It's such an experience in every aspect. If you know of any other hidden and unique restaurants in Saigon that you think should be part of this list, let us know in the comments below.
Or start searching for your next destination below