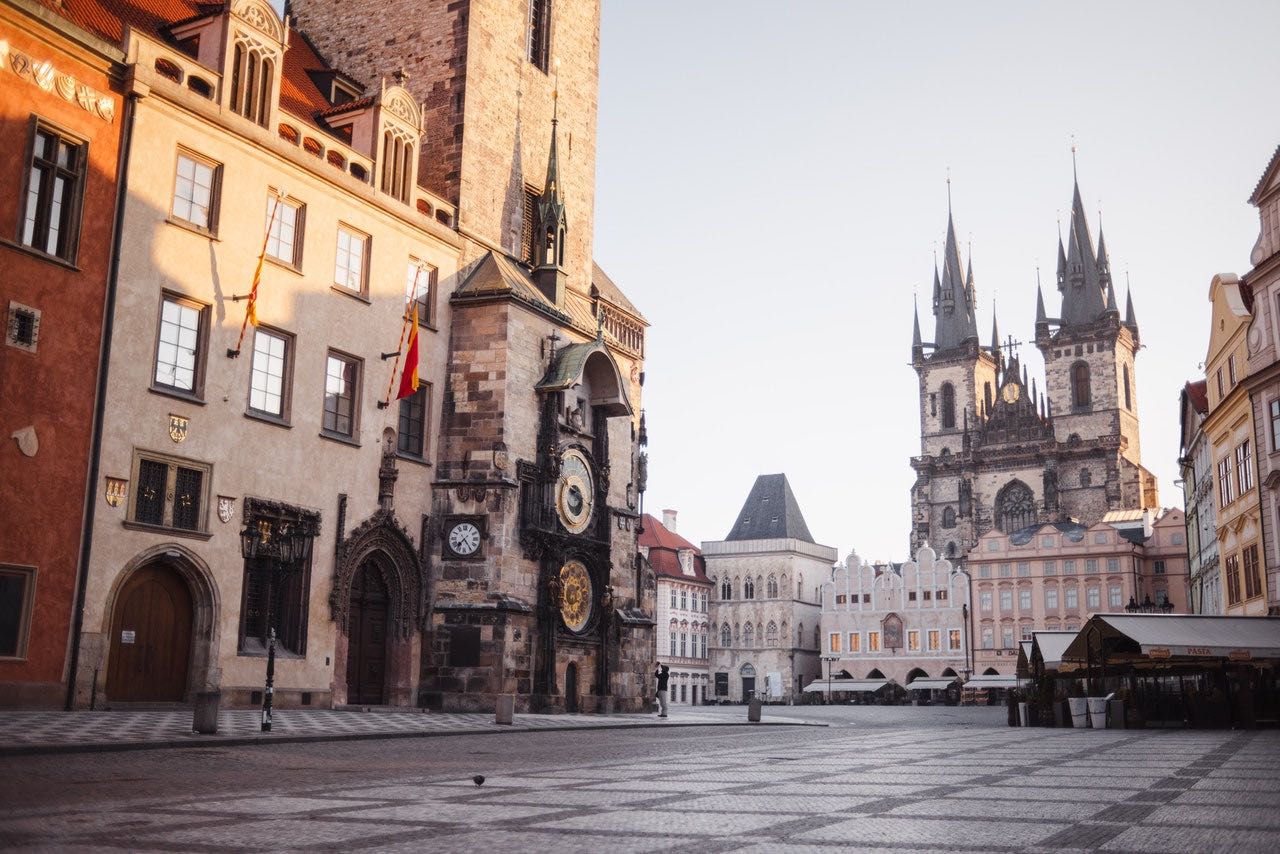 Old Town Prague is one of the most beautiful areas in all of the city. With its Gothic architecture, colorful buildings, cobblestone streets, intricate spires, and of course, beautiful Baroque Halls and Churches – there's no doubt it's one of the must-see places in Prague.
Also called by locals as the Staromestske Namesti, Old Town Prague is the center of the city and chances are, if you're visiting Prague, you have already set your eyes of discovering all the wonders and sights of this area in the city.
If that's the case, this guide is exactly what you're looking for. We discuss all the important facts and things to know when visiting Old Town Prague – from its history, how to get to there, where to stay, and finally, all the best things to do in Old Town Prague. 
At the end of the article, we also provide you with a free map of Old Town Prague and all the sights that we have mentioned in this guide so that you can simply download and import it into your google maps for future reference in case you want to go on a self-guided walking tour! 
NO TIME TO READ? PIN IT FOR LATER!
History of Old Town Prague
Old Town Prague has always played an important role in world history as early as the 10th century. It was once the center of world trade for different products like spices, gold, wheat and so much more.
A few centuries later, in the 1300's, it became the imperial seat of the Catholic Church when King Wenceslaus (in reference to Wenceslaus Square) was elected the Pope, or back then, what was called the Holy Roman Emperor.
More recently, in the second world war, Prague did not really suffer much air strike damage except for when the Allied Forces mistook the Prague for Dresden and accidentally dropped bombs in the 1940's. 
The Czech Resistance held strong against the Nazi Army and most of the damage in the city actually happened in Old Town Prague when there was a standoff with the German military.
Today, in the 21st century, Prague is known to be one of the most powerful and beautiful capitals in Europe. People from all over the world travel far and wide to visit its many wonders such as Old Town Prague, the Prague Castle, New Town, and all of Prague's trendy neighbourhoods.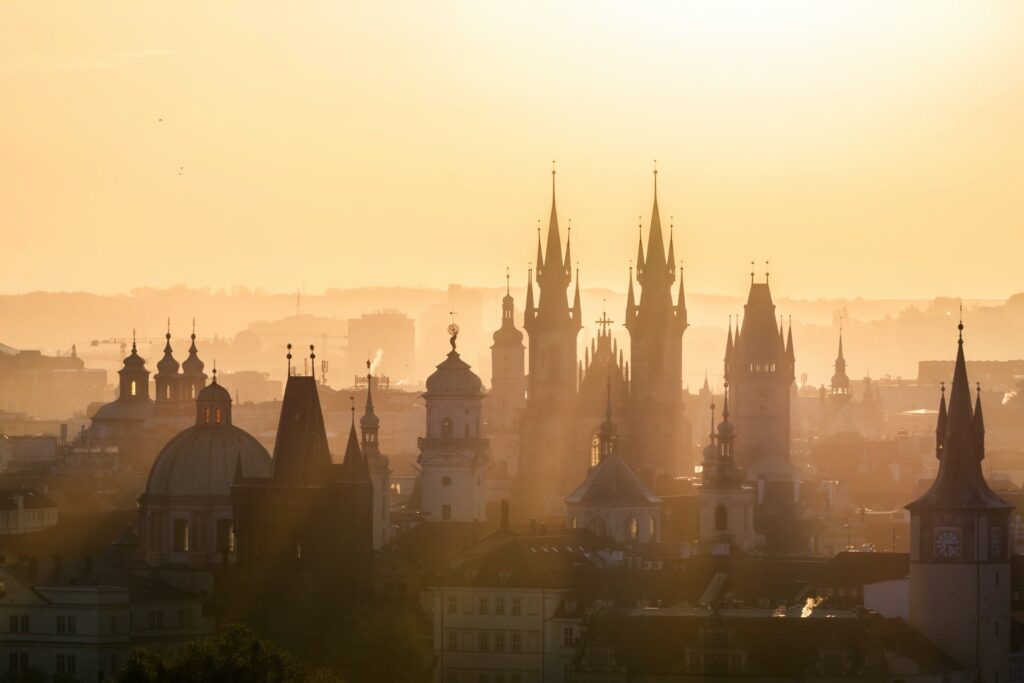 How to Get to Old Town Prague
Travel to Old Town Prague via Metro
Wherever you are in the city, it's easy to travel to Old Town Prague via the metro or subway. There are two metro stations you should be looking at to get you to Old Town Prague.
The first metro station to look at is called Mustek, which serves Metro Lines A and B. From this metro station, it is a 5-6 minute walk to Old Town Prague.
The second metro station you can arrive at is called Staroměstská, which serves Metro Line A. From this metro station, it is a 3 minute walk to Old Town Prague. 
Travel to Old Town Prague via Tram
At first, the tram system in Prague may feel quite overwhelming when you first look at it. It's probably one of the only cities in the world which has such a developed AND historical tram system. 
As overwhelming as it may be, we're here to tell that if you want to get the closest to Old Town Prague there are two tram stations you should be looking at.
The first tram station that gets you the nearest to Old Town Prague is Náměstí Republiky which serves tram lines 6, 8, 15, 26, 91, 94, and 96. 
From this tram station, it is a 7 minute walk to Old Town.
The second tram station that gets you the nearest to Old Town Prague is similar to the metro stop we mentioned earlier, that is, Staroměstská. It serves tram lines 17, 18, and 93. 
From this tram station, it is simply a 5 minute walk to Old Town Prague.
Travel Old Town Prague via Bus
Although there are various bus lines that go to Old Town Prague, the nearest one to the square is Bus 194, which literally drops you off to the Old Town itself, near the Old Town City Hall and Astronomical Clock.
Where to Stay in Prague Old Town
Below we have compiled a few hotels near Old Town Prague. They are all within walking distance to the square and have various room options for couples, families, and big groups. We have also given the budget expected for each hotel.
– Hostel Franz Kafka: The most budget friendly option at 100 meters away from the Square at Prague Old Town. This hostel offers double rooms with shared bathroom with rates starting at 54 euros/night.
– Gorgeous Prague Rooms: Another budget friendly option situated 200 meters away from Old Town Prague's Square. This historical building offers rooms with rates starting at 66 euros/night.
– Hotel U Tří Bubnů: Set at the heart of Old Town Square itself, this beautiful hotel building, which is classified a UNESCO World Heritage Site, offers rooms (including breakfast) with rates starting at 95 euros/night.
– Hotel Dar: Also at the heart of the Old Town Square itself, this historical hotel offers a rooftop garden with sweeping views of Old Town Prague. Rooms with breakfast have rates starting at 98 euros/night.
– Old Town Boutique Apartments: A thoughtfully-designed studio a few meters away from Old Town Prague, this apartment offers views of the Square, a terrace, and private kitchen with rates starting at 100 euros/night.
– Apartments by BHG: Another thoughtfully designed studio at the heart of Old Town Prague. This is our favorite pick because the hotel offers various apartment rooms with views of the square, a buffet breakfast, and a kitchenette with rates starting at 125 euros/night.
– Apartments Old Town Square 27: Our final top pick at Prague Old Town, this two bedroom and four bedroom apartment is perfect for bigger groups of up to 7 people. It offers the most incredible view of the Astronomical tower, a balcony, and a private kitchen with affordable rates starting at 135 euros/night.
Best Things to Do in Prague Old Town
Enter Old Town Prague from Powder Tower
Located in the eastern corner of Old Town Prague is the historical Powder Tower. It's one of the most important gates in Prague and a good way to know whether you're in the Old Town or New Town.
Originally constructed in 1475, this dark Gothic structure, that resembles the same architecture in the Charles Bridge Towers, is one of the 13 original gates that surrounds Old Town Prague. It was initially used as a storage place for gunpowder in the 1600's, hence, why it is called Powder Tower.
The tower also provides sweeping views of Old Town Prague and the rest of the city. But only if you don't mind climbing its 186 steps.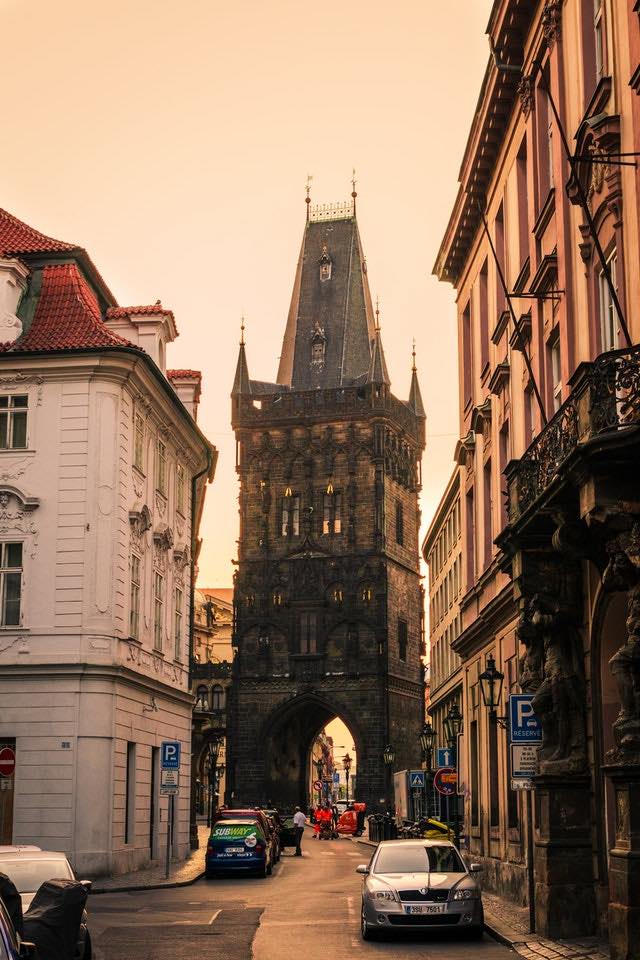 Go Shopping at Havel Market
Located on the other side of Old Town Prague is a local's gem called Havel Market. Here you can find gifts and unique souvenirs to take back home to your family from baked goods, wood craft, toys, spices, leather bags, and other local, artisan goods.
What's even better is that Havel Market is an open air market so it's a pleasure to roam around whatever the season is. In winter, they even sell hot wine in one of the stalls. 
All in all, this market is the place to go if you're looking for true, local, and authentic Czech gifts to bring home to your loved ones.
Enjoy the Views from Old Town Hall
One of the best views in the city, climbing up to the top of the Old Town Hall is a definite must-do when visiting Prague Old Town Square.
From up above, you'll be able to see all the orange-colored roofs of Prague Old Town and its Square as well as the churches and spires around. You can even get a sight of Charles Bridge, the river, and the famed Prague Castle.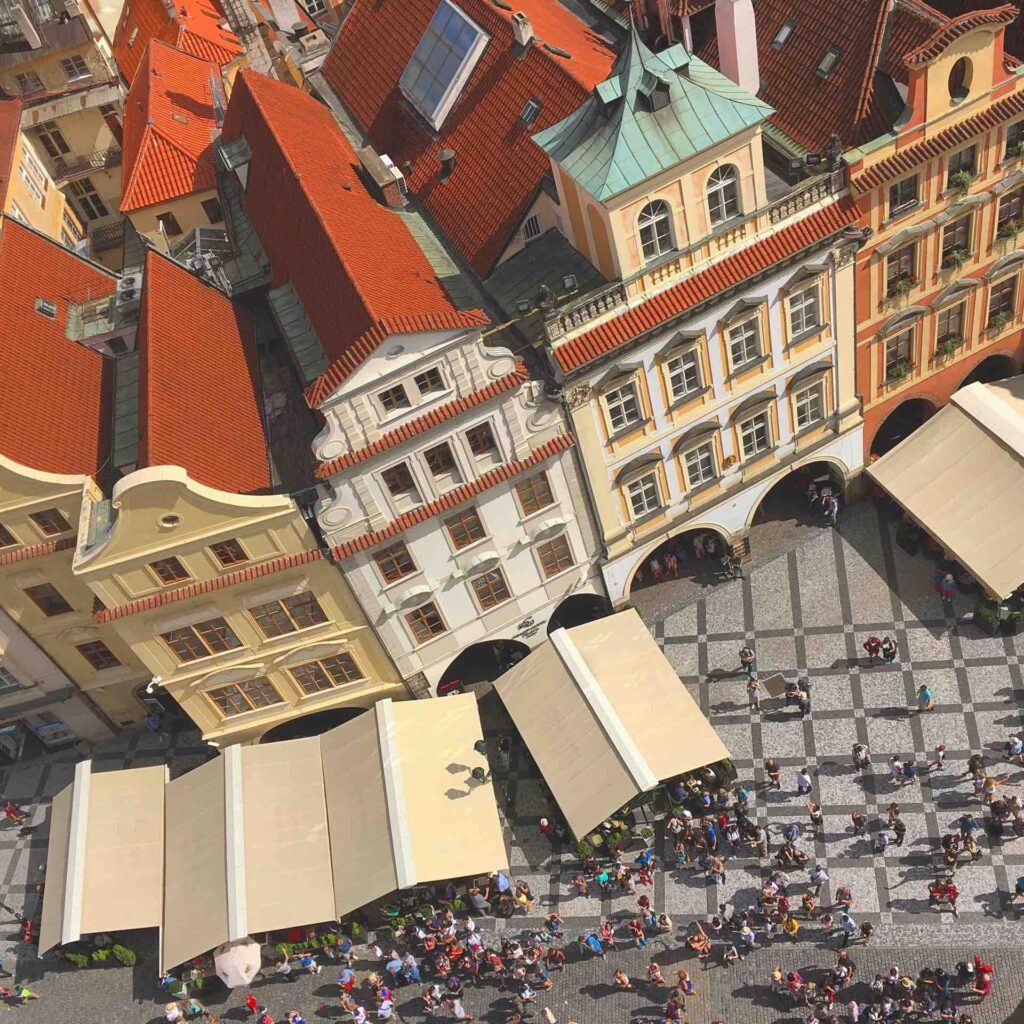 Listen to the Astronomical Clock Every Hour
On the Southern end of the Old Town Hall is the famous astronomical clock, which rings every hour. As early as 30 minutes before, you will probably see tourists gather around the clock to hear the bells chime, listen to the trumpets sound, and watch the 12 apostles do their mechanical walk through the windows.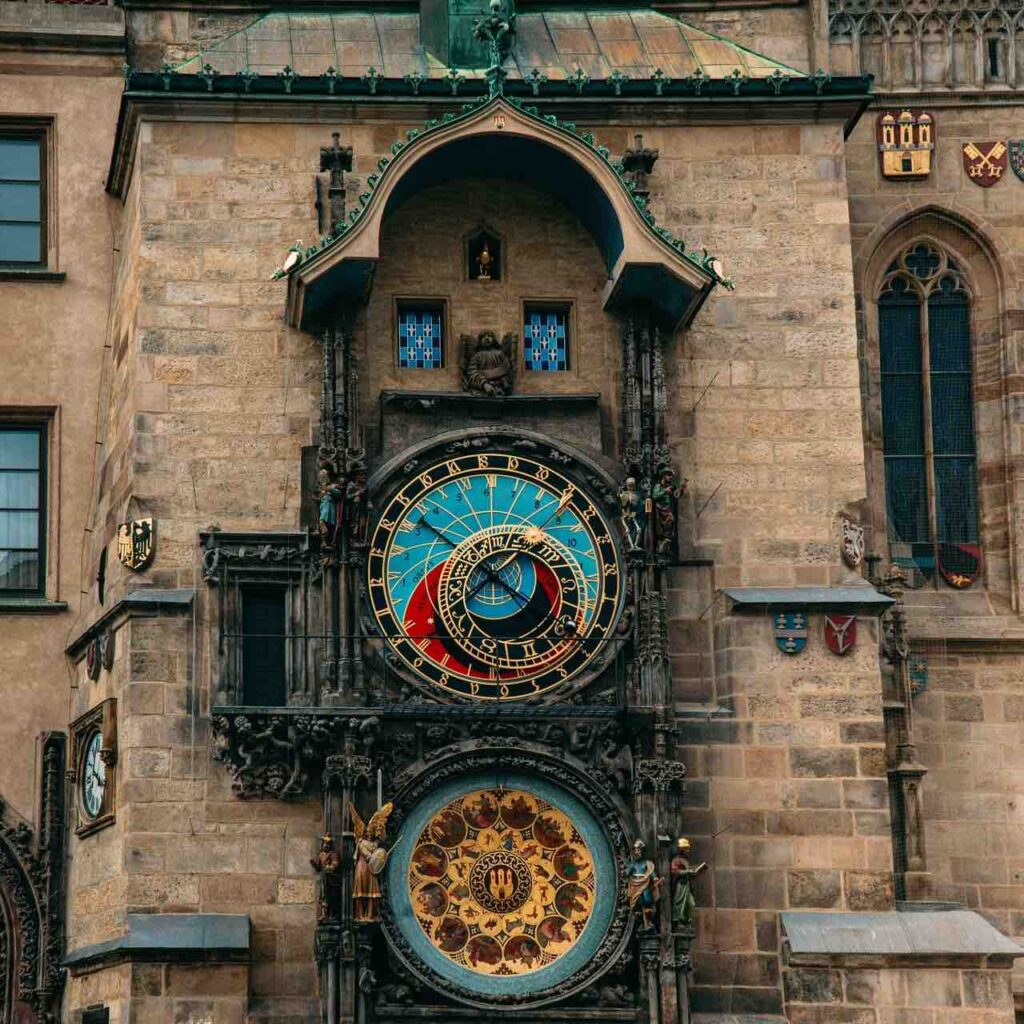 Appreciate the Beauty of St. Nicholas Church
Although not as popular as the neighbouring Church of Our Lady Before Tyn, the Baroque St. Nicholas Church is still worth a visit. 
Situated on the northwest side of the square, it's a beautiful example of how the Prague Old Town Square blends together different architectural styles, comprising of Baroque and Gothic.
The Church is open to public and free to enter. It even hosts classical music concerts on some days of the week if you'd like to enjoy local musicians and the local culture.
Outside of the Church, you can find horse carriages that can tour you around Prague Old Town Square.
Marvel at the Church of Our Lady Before Tyn
The Church of Our Lady Before Tyn is perhaps the most notable structure in all of Prague Old Town. With its intricate spires and Baroque architecture, it's a top attraction of the city that actually took centuries (14th to 17th century) to construct, design, and complete.
You can enter the Church for free or with a voluntary payment of 25 CZK. 
Learn the History of the Jan Hus Monument
Right at the center of Old Town Prague is the monument dedicated to one of Czech's most significant historical figures, Jan Hus. 
Jan Hus is known for his battle towards reforming the Church and paving the way to Protestant beliefs. This eventually led him to being burned at the stake for heresy against the Catholic Church.
Following his death, his followers called the Hussites rebelled against the Roman Catholic Church, and after, defeated five papal crusades.
The current monument was eventually built in the early 1900's as a memorial to the martyrdom of Jan Hus. It's also a known symbolism of resistance even in the years that followed, especially during World War II.
Visit Old Town Square's Christmas Market
If you get the chance to visit Old Town Prague on the month of December, then your trip wouldn't be complete without visiting the famed Old Town Square Christmas Market. 
This Christmas Market has been named one of the best in the world and it's no mystery why. There is something magical about roaming around the streets of the square with fairy lights all around, a huge Christmas Tree towering over the whole market, and the beauty of the Old Town Prague's architecture around. 
Stalls line the square selling different products to visitors and locals alike such as chimney cakes, hot wine, beer, Czech sweets, and so much more. There's even a skating rink for families and the younger crowds to enjoy.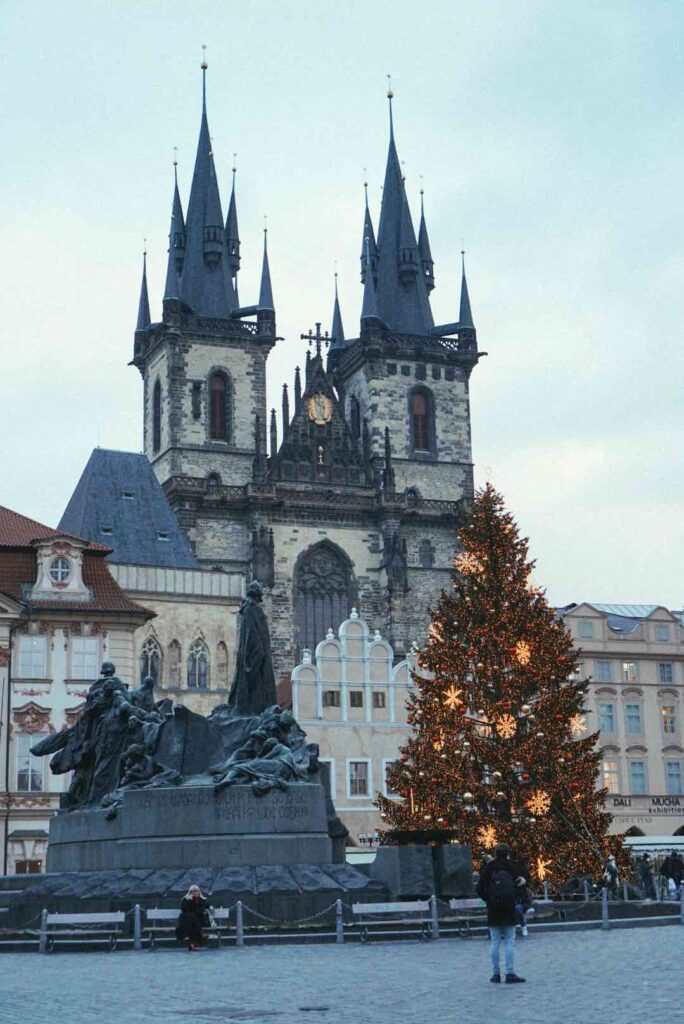 Watch an Opera at the Estates Theater
Another incredibly stunning building that is situated in Old Town Prague is the Estates Theater. This theater is a popular hub for opera shows and classical music concerts.
Historically, it is also one of the last operational theaters in the world that was, a matter of fact, built as early as the 18th Century. 
One other interesting fact about the Estates Theater is that Mozart presented his famed operas, "The Marriage of Figaro" and "Don Giovanni", in this theater. Today, you can still catch these two operas playing regularly.
Discover the Josefov District (Jewish District)
The Jewish Square, also known as Josefov (the Jewish Quarter), is a small neighborhood that is a minute away from Old Town Prague. This area gives travellers a peek into the history of the Czech Jewish Community. 
From historical statues, the old Jewish Cemetery, and various synagogues like: Pinkas, Maisel, Klausen Synagogue, and our personal favorite, the Spanish Synagogue – you are sure to experience an in-depth tour to the life of Jewish People back then here in Prague. 
The Old-New Synagogue also lies in the heart of Josefov. What's interesting about this synagogue is that it is known to be the oldest active synagogue in all of Europe.
For the best experience, we recommend booking your tickets in advance and going on a walking tour to learn more about the history of the Jewish (Josefov) Quarter.
Just a stone's throw away, your tour of Old Town Prague wouldn't be complete without ending it (or starting it) at Charles Bridge. And if you end up coming at the end of the day, make it a sunset session.
When one thinks of visiting Prague, they immediately think of this iconic landmark. Constructed in 1357, Charles Bridge is situated in Vltava River and connects Old Town Prague to Lesser Town. 
On each side of this bridge also stands two Gothic towers and the walk across is a discovery of 30 Baroque statues that represent famous Religious people in Czech history.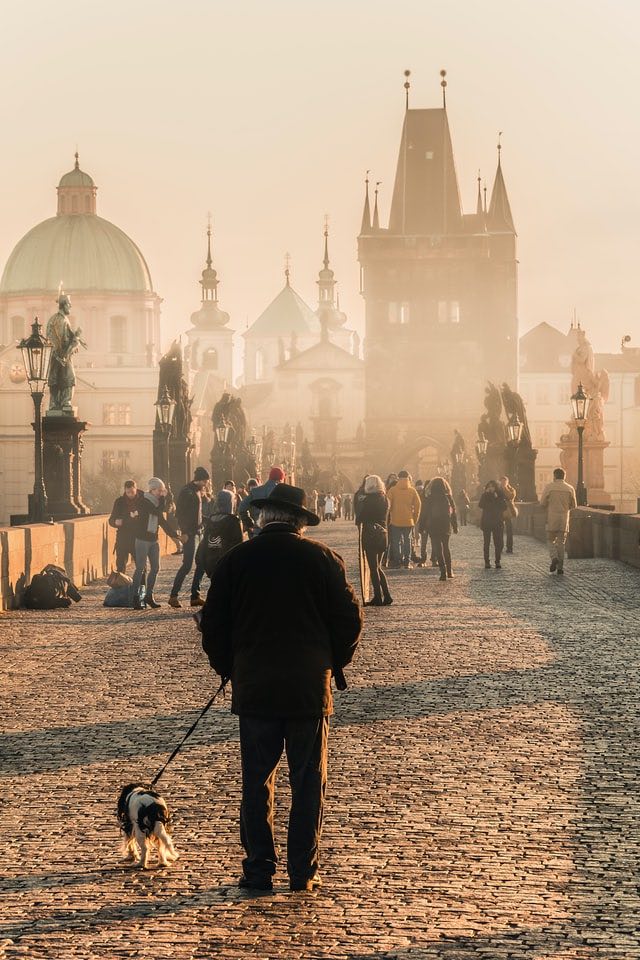 Walking Tour Map of Old Town Prague
Below you can find a free map of Old Town Prague and the mentioned activities and sights discussed in this article.
As a recommendation for your walking tour, we recommend either starting from Charles Bridge, heading to the Jewish Quarter, then ending at the Old Town Square.
Otherwise, you can also do it the other way around by ending at Charles Bridge during sunset and starting at the Old Town Square.
For this part of Prague, we only recommend that you do a walking tour. There's no need to take public transportation to get around to all the different spots. 
For us, it's a much more enjoyable experience to stroll through the city and discover everything that it offers.
Final Thoughts on Old Town Prague
So there you have it! We hope this helps you figure out your itinerary and potential travel plans for visiting Old Town Prague in Czech Republic.
This incredible area of Prague is full of history, beautiful architecture, and exciting activities all year round.
The Prague Old Town Square is a definite must-visit and is at the heart of the entire city. We also recommend that you spend at least one full day doing a walking tour of all the wonderful attractions and sights this part of Prague offers.
So there you have it! Now it's your turn to tell us: Have you ever been to Old Town Prague? What was your experience like and did you love it? 
Let us know your thoughts and any other questions you may have about visiting this place in the comments below!
LIKE THIS POST? PIN IT FOR LATER!
Or start searching for your next destination below